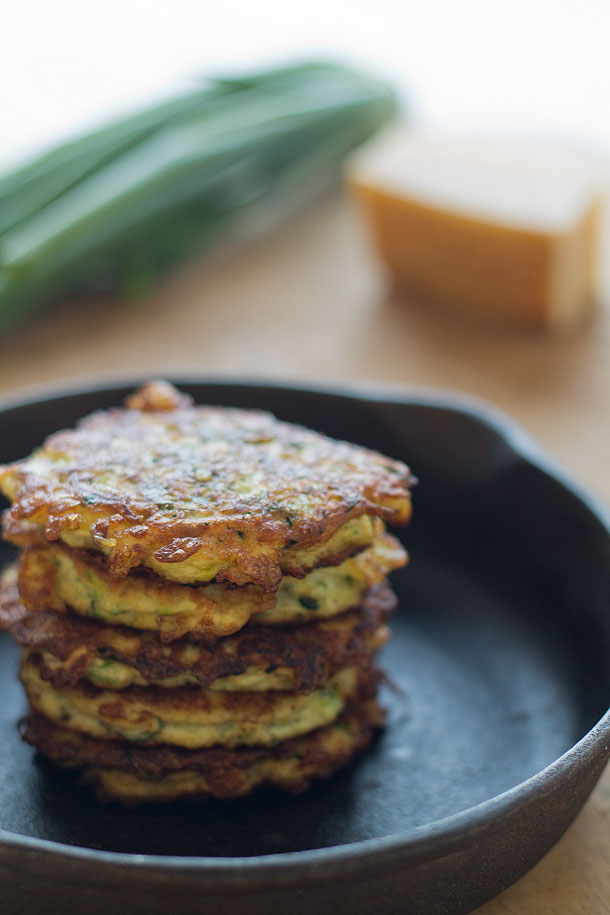 You know what happens when you have an over abundance of zucchini in the fridge? You pick up more at the store because you forgot that you already had an over abundance in the fridge. That way you can be left with a fridge that is overflowing with zucchini. Now that you're in the predicament that I was in you now have to make a bunch of fun things with zucchini. Well, okay you don't have to do it like I did, but you can definitely do a lot of really great tasting and quite gorgeous recipes with zucchini.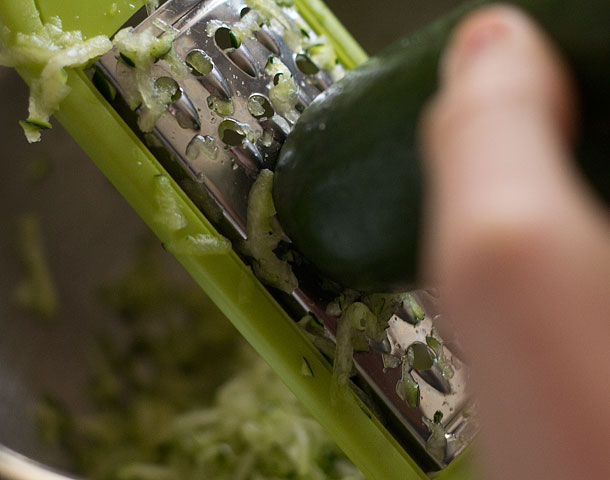 In fact zucchini may just be the most powerful vegetable in the world. It needs a little cape and everything because you can make just about anything out of zucchini. Zucchini noodles, zucchini bread, zucchini spread, im even considering zucchini ice cream and maybe even zucchini infused coffee. I may be getting ahead of myself here with the coffee. But the point is that zucchini is awesome.
Especially in fritter form. They are a lot like potato latkes that I used to have when I was really little. There was this awesome deli when I lived in California called Morts Deli. Man that place was amazing. Me and my mom would always go down there for a quick lunch and usually meet up with my nanny Chachi. To which I wish to express to you who that is, but I'm going to save it for another post.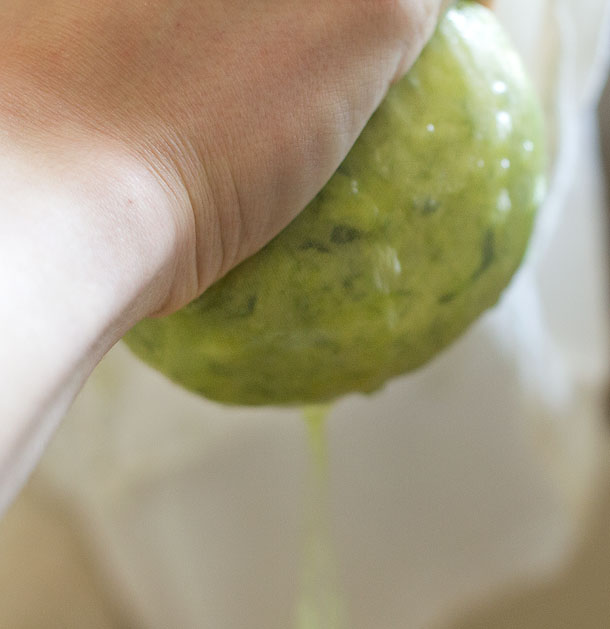 That deli was like a second home for us, whenever we would go there they would know what I wanted to order every time and treated me and my mom like family every time we went in there. This is the place where I discovered  potato latkes. My mom basically taught me how to eat them too. If i remember correctly the process consisted of centering the latke on your plate, then placing a dollop of sour cream on said latke but not in the center on an area that your ready to cut off, then place a slightly smaller dollop of applesauce over the dollop of sour cream and then cram it in your mouth.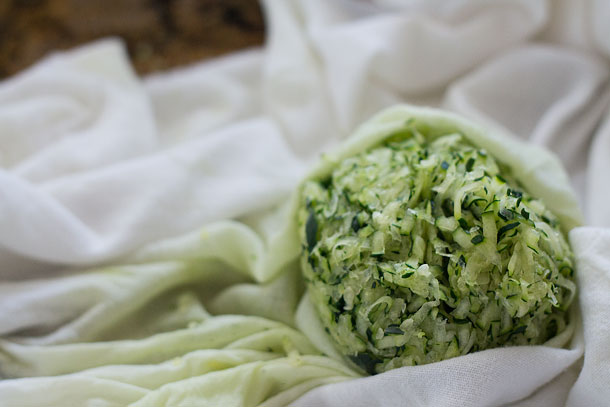 My first thought was disgust but once I ate it I was hooked. But with the way I eat now I'm not all that into potatoes. Sure I love the taste of them but they are just too starchy and sugary. Sure I could just have 1 or 2 but to be honest I want like 4 or 5. So with my overabundance of zucchini in the fridge and my knowledge of zucchinis versatility as a mega vegetable I decided to do some research. And It turned out quite a lot of people have made zucchini latkes.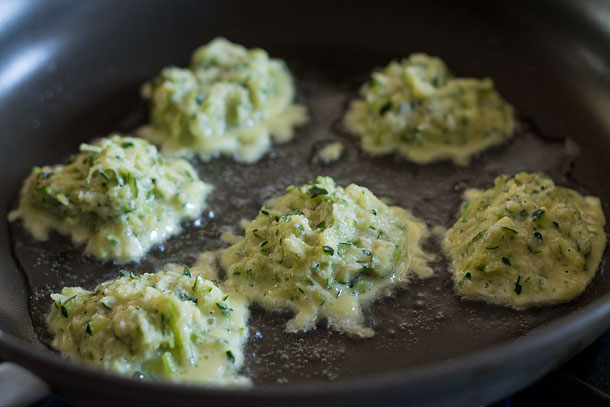 So it was somewhat of a miracle when I saw all of these recipes. Although as I looked I started finding several recipes for zucchini fritters which were pretty much the exact same thing just with a different name. And in my opinion zucchini fritters fits these better than zucchini latkes.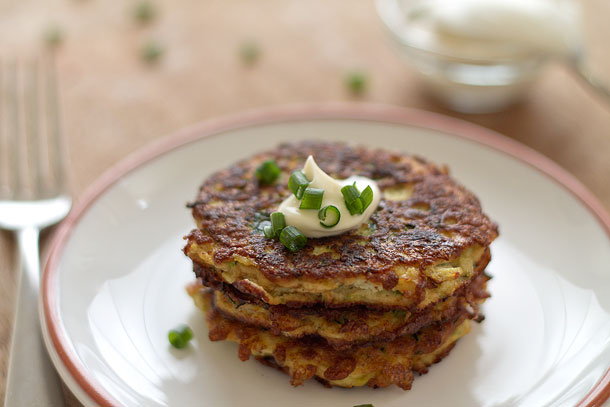 Plus it would be total sacrilege to call these actual "latkes" since they don't have traditional ingredients you would find in a latke. So we will stick with fritters.

Zucchini Fritters (Paleo, Grain Free, Gluten Free)
Ingredients
2 medium zucchini (about 350-400g)
2 green onions thinly sliced (12g)
¼ cup almond flour
¼ cup (about 1 ounce or 28g) fresh grated parmigiana reggiano (packed down)
2 eggs
salt and pepper to taste(make sure its fresh ground black peper)
Optional: 1 teaspoon lemon juice
oil for frying (I used 2 tablespoons of walnut oil. Avocado oil or coconut oil would work great too)
Instructions
Grate zucchini with a medium sized grater so you get decent shreds of zucchini.
Add salt and place shredded zucchini in a clean dishtowel and squeeze to get as much liquid out of it as possible. (It doesnt have to be perfect but do try to get as much as you can)
Once squeezed place back in bowl and add beaten eggs, thinly sliced green onions, almond flour, parmigiana reggiano, and fresh ground black pepper and mix thorougly.(this is where you would add the lemon juiceif you choose to use it)
Heat 2 tablespoons of yoru choice of cookign oil over medium heat and wait for that pan to get super hot.
Once oil is shimmering add spoonfuls of mixture in hot oil and fry until golden brown on each side. About 2-3 minutes per side.
Place on platter lined with paper towels to soak up any grease that sticks to the fritter and serve with sour cream and extra green onions on the side. And if you want to be really traditional you could serve it with sour cream and applesauce both on the side so each person can control how much sour cream/applesauce goes on.