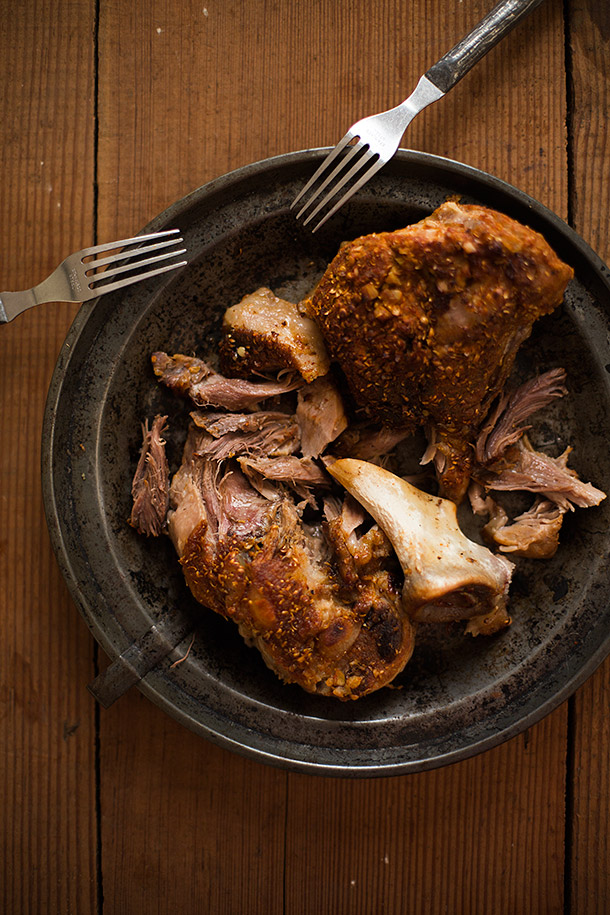 Just a quick heads up to my friends in California before I continue on with this post. I will be in SF at Book Passage in the Ferry Building on July 19th at 12:30, and in LA at Pages A Book Store at 7:00pm. You can find all of the info here on my book tour page. I cannot wait to go back to where I grew up and really hope to see everyone there. Anyway, enough with my shameless self plugging, onward to the post.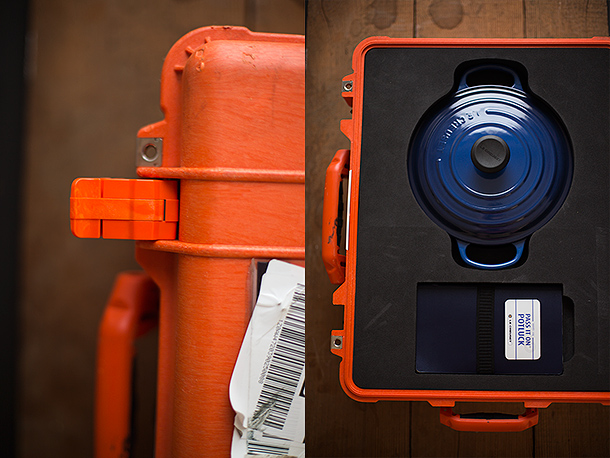 I received an email from my friend Stephanie who invited me to partake in this fun virtual potluck called the Pass It On Potluck that is being hosted by Le Creuset and Williams Sonoma. They basically ended up sending me this orange tactical looking box that looks like it's been through hell and back which contains the precious cargo new Lapis colored French oven.  The idea is that I'm supposed to create a recipe for the potluck itself and talk about my experience. Easy enough, bring on the meat.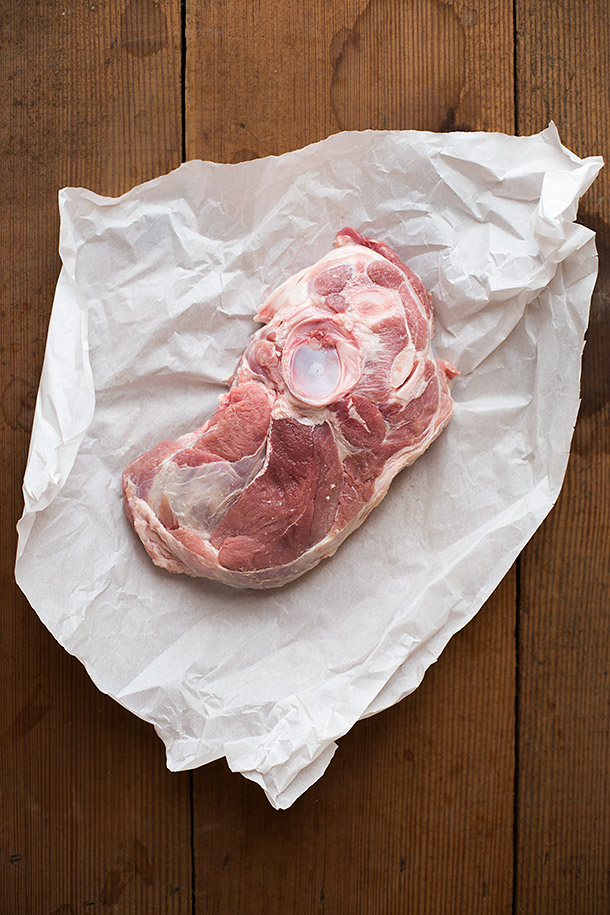 When I was devising the recipes for my cookbook I really had to pay attention to the amount of pork recipes I was inserting. I wanted to have a relatively even ratio of different types of meats that way none outweighed the other. My problem was that pork, among others, is one of my very favorite meats. More specifically pastured pork from a local source like my friends at Yonder Way Farm.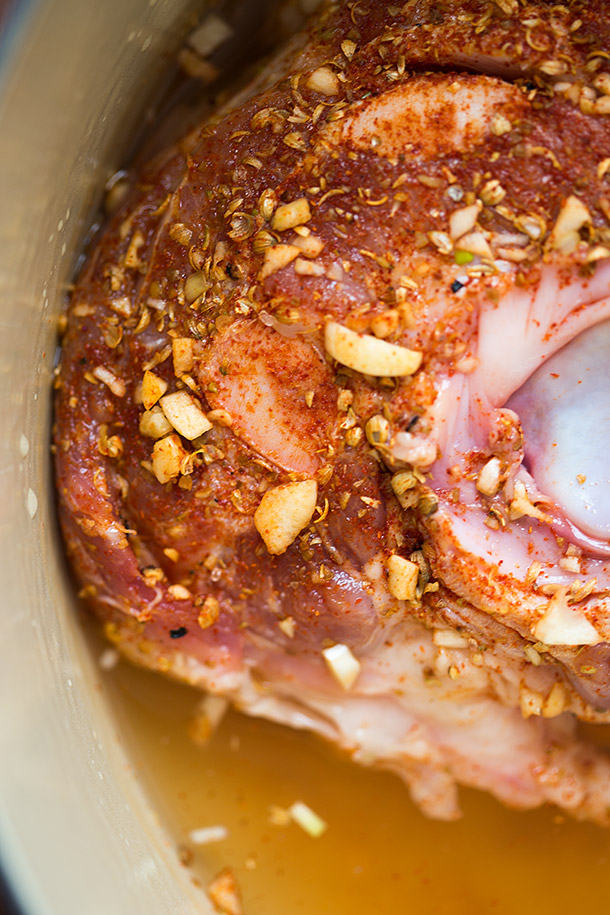 Pulled pork has always been a hardcore favorite of mine but if you're going to smoke or roast it, then you are going to be in for a drastically longer cooking time if you want that pork roast to be falling apart just by laying your eyes upon it. Not that I have a problem with that but sometimes I'm not always the person you want to rely on when it comes to planning ahead for longer cooking times. Enter braising, it's one of my favorite cooking methods, and it does the job just as well in a little less time. Plus you'r left over with a wonderful sauce to toss the pork in. It's basically fancy pulled pork, you'll love it.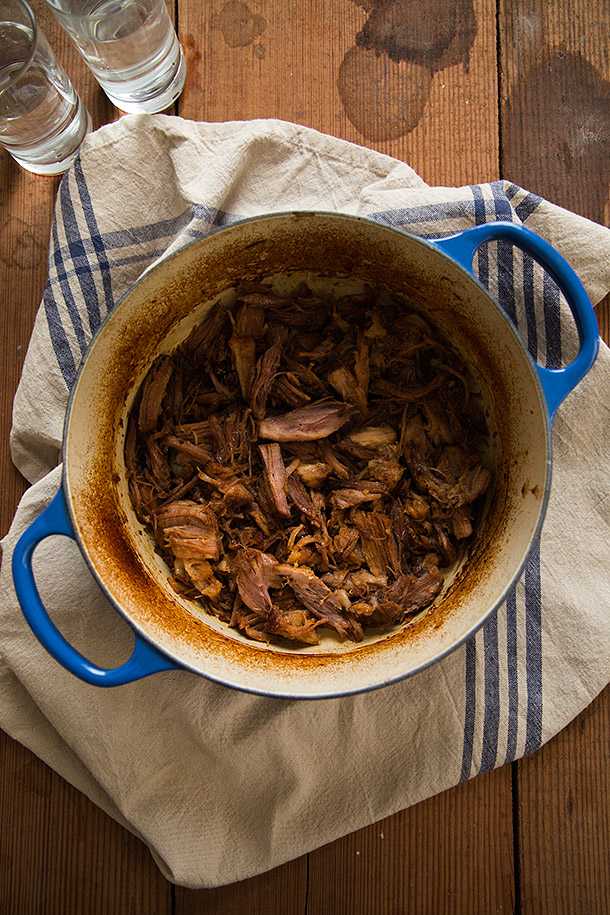 Yuzu Braised Pulled Pork with Coriander
Ingredients
3-4 pound bone in pork shoulder roast or boston butt
¼ cup yuzu juice (if you don't have yuzu juice you can substitute lime or lemon juice if you like and it will still be good)
½ cup unseasoned rice vinegar or white wine vinegar (make sure to get unseasoned rice vinegar to make sure it doesn't have any additives like sugar)
½ cup water
1 teaspoon fish sauce
1 tablespoon mirin (look for additive free miring like this one)
Spice Rub:
1 tablespoon coriander seeds
2 teaspoons paprika
¼ teaspoon salt
¼ teaspoon black pepper
4 cloves garlic minced
small pinch of nutmeg
Instructions
Pour the coriander seeds into a small dry pan over medium heat and toast, shaking the pan frequently to prevent burning for about 3 mins or until fragrant. Place the toasted coriander seeds into a spice grinder or mortar and pestle, and grind until it's only slightly coarse and mostly ground.
Mix all of the ingredients in the spice rub including the now toasted and ground coriander in a small bowl until thoroughly incorporated. Rub the spice rub all over the pork roast and refrigerate over night if you have the chance. (the overnight refrigeration is not necessary but does add a far deeper penetration of flavor in the final product).
Preheat the oven to 300 degrees. In a large dutch oven or heavy bottomed pot with a tight fitting lid add the yuzu juice (or lemon or lime juice), rice vinegar or white wine vinegar, water, fish sauce, and mirin. Place the pork roast into the braising liquid and cover with a tight fitting lid and place into the preheated oven.
Let cook for 3 hours, then carefully remove the lid from the roast and broil it for 3-4 minutes or until the outside begins to turn slightly golden brown. Remove the pot from the oven and take the pork roast out of the pot and place it on a cutting board tented with foil. Slightly defat the braising liquid and bring it to a boil. Boil and reduce the liquid begins to thicken and until only about ⅓ of a cup of it remains.
Shred the pork into chunks with two forks and toss in the reduced braising liquid and serve.