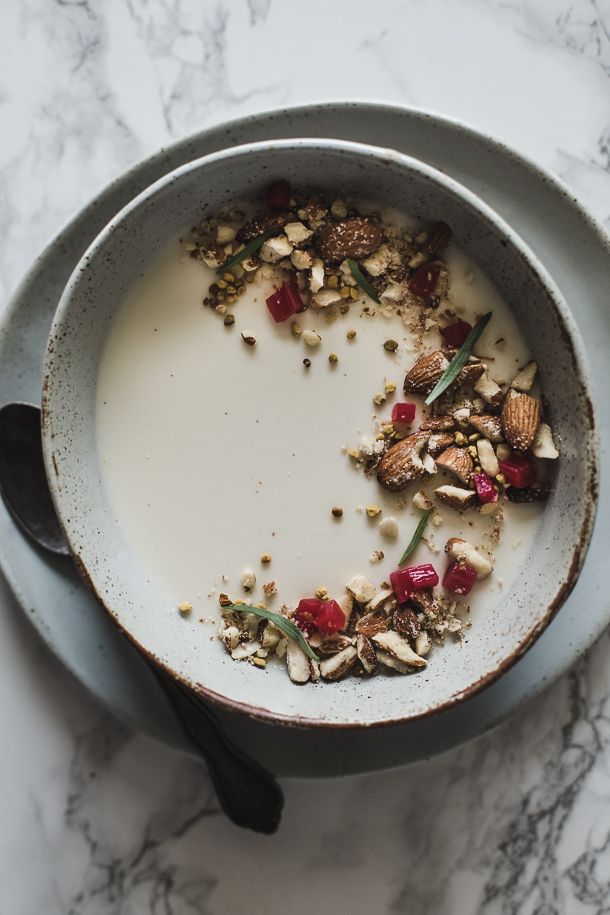 Panna cotta is one of those things where it can either be really good, or really gross. You don't want to use too much or too little gelatin otherwise you're gonna end up with a weird texture. I like a smoother, creamier texture, with just a little bit of jiggle. I also think that panna cotta needs more texture added to it in general since it's completely uniform in texture. Hence why I added some crunch to this recipe through the form of crushed almonds.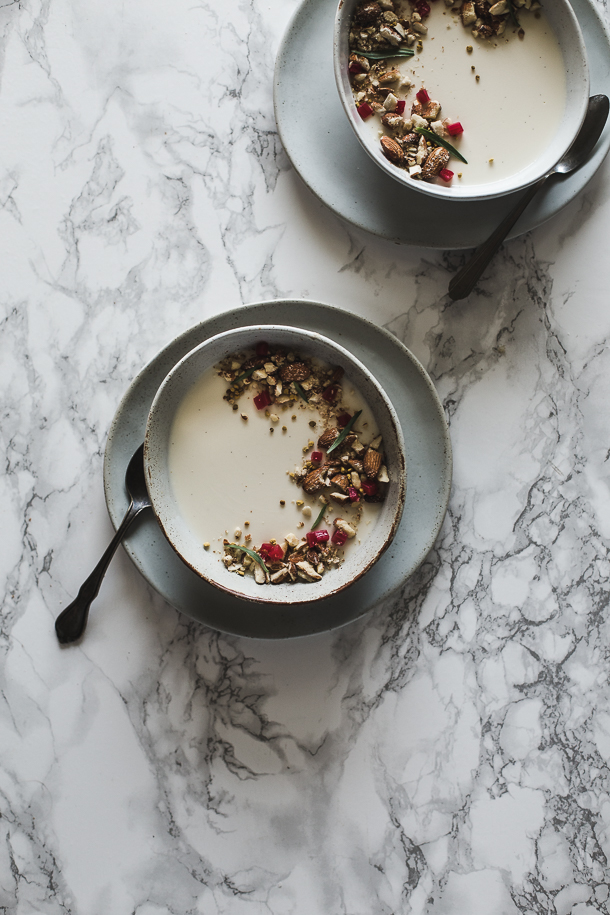 I was talking to Bella of Full-Filled over the phone and this was a potential recipe that I was going to guest post on her site, but unfortunately rhubarb will likely not be as seasonal by the time we do that. So, I figured what better time to post, than right now? I ended up having a wonderful chat with her about the dogma in the food community as well as the unnecessary politics that inevitably surround it as well. Long story short, we can't have a dogmatic community if we want to move forward in helping others eat and cook better food.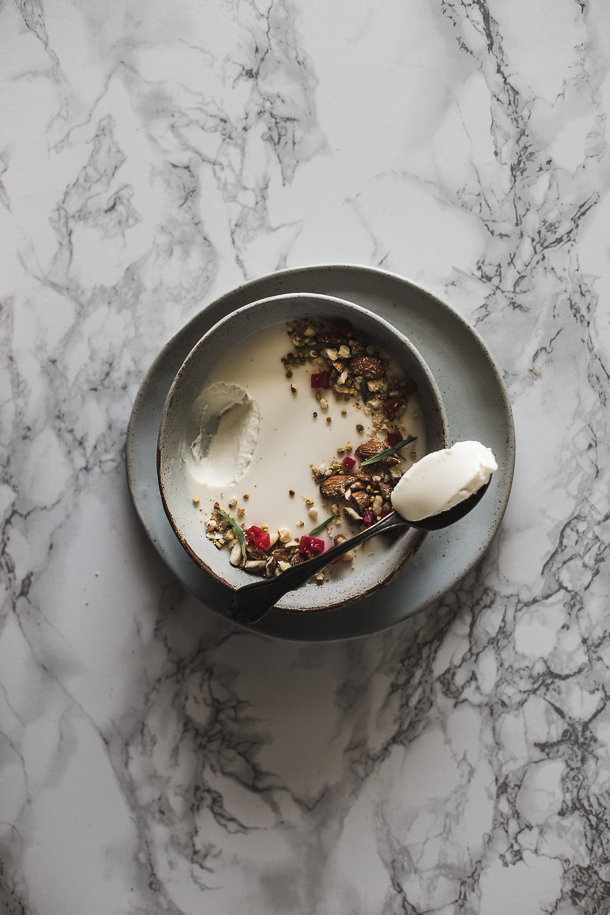 I could go on and on about that (Bella and I definitely did) but I'll stop myself now. Let's talk about this panna cotta. This panna cotta will likely be one of the easiest yet most impressive things to make for either yourself or for guests. It only takes a few minutes on the stove and then a chill in the fridge. If you do this ahead of time, it will make for a really easy transition into dessert. Also, don't forget to post a photo of my recipes if you make any. I just love seeing when y'alls creations, it just makes me happy. You can tag me in them and use the hashtag #joshuaweissman on them! Until next time folks!

Vanilla Bean Panna Cotta with Pickled Rhubarb and Bee Pollen
Ingredients
Panna Cotta base:
2 cups heavy cream
1 cup whole milk or coconut milk
½ cup granulated cane sugar or coconut sugar ( if you use coconut sugar it will lightly dye the panna cotta brown)
2 teaspoons powdered gelatin
1 vanilla bean seeds and pod or 2½ teaspoons of vanilla extract
¼ teaspoon salt
Pickled Rhubarb(optional):
2 large stalks rhubarb cut into 3-4 inch segments
1¾ cup apple cider vinegar
1 cup water
½ cup granulated cane sugar or coconut sugar
3 tablespoons honey
6 juniper berries
2 tablespoons coriander seeds
Other toppings:
crushed almonds
bee pollen
fresh tarragon leaves
Instructions
For the pickled rhubarb:
Toast your juniper berries and coriander seeds in a pan over medium heat, shaking often, until fragrant.
In a medium sized pot add the vinegar, water, ½ cup cane sugar, honey, toasted juniper berries, and toasted coriander seeds. Bring to a boil.
In a large jar or mason jar add your cut rhubarb. Pour the boiling liquid over the rhubarb and let it sit for at least 2 hours before using. Keep this in your fridge after it's completely cool.
For the panna cotta:
In a medium sized pan add your milk. Sprinkle the gelatin over the top of the milk and let it sit for 5 minutes.
Set the sauce pan over low heat and stir frequently until the gelatin is entirely dissolved. Do NOT bring the mixture to a boil.
Once the gelatin is dissolved add the sugar. Keep stirring until the sugar is entirely dissolved still avoiding bringing the mixture to a boil. If you need to take the pot off the heat to keep it from boiling that's okay.
When the sugar is fully dissolved at your remaining ingredients, the heavy cream, the vanilla bean pods, and the salt. Whisk and let sit for 5 mins off of the heat.
Remove the vanilla bean pod and pour the panna cotta mixture into ramekins or small bowls. Place in the fridge to solidify for at least 4 hours or overnight. This is best done ahead of time.
Once your panna cotta is set, finely dice your pickled rhubarb and lightly sprinkle some of the pieces on top. Mind you these little bites of pickled rhubarb are very powerful so don't use too much. You can add more if you want more later. Then finish topping by adding some crushed almonds, bee pollen, and fresh picked tarragon leaves on top.