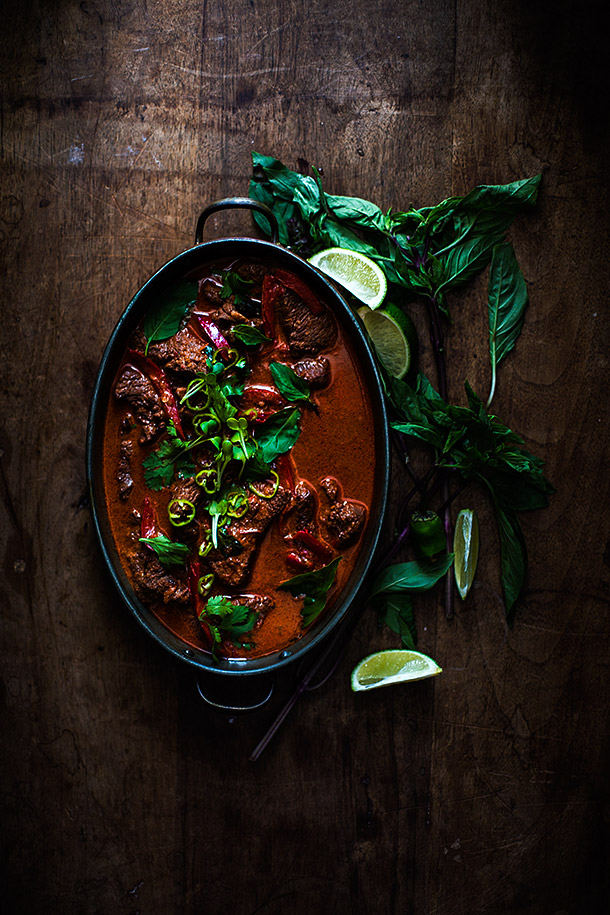 Alright so I posted a teaser recently on my instagram on fourth of july about some cute little galettes that I made. The recipe for those will have to wait because I had to first share this absolutely wonderful recipe for a thai red curry from the new cookbook Paleo Takeout by my buddy Russ at The Domestic Man. This book is not playing around and is filled to the brim with excellent takeout favorites including one of my favorites, thai red curry.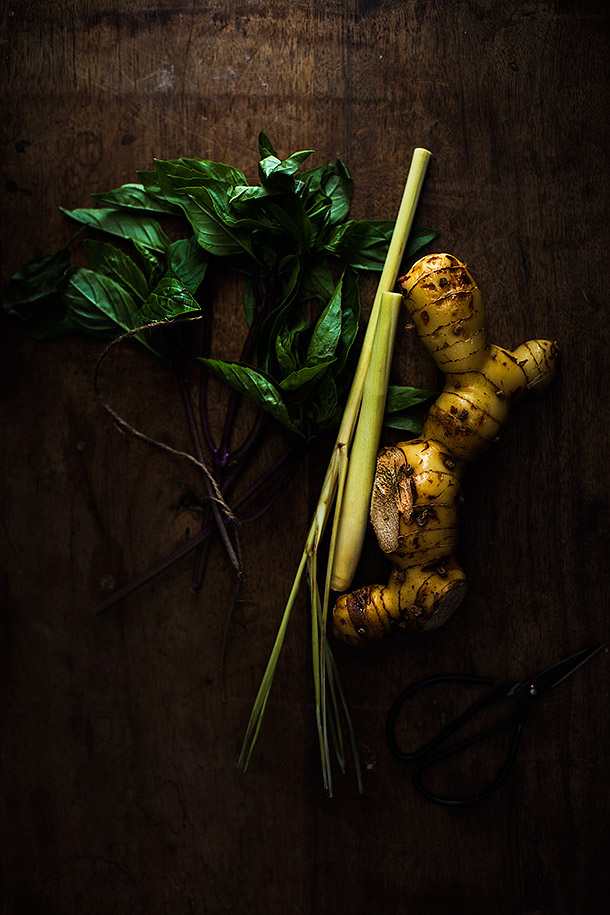 My favorite part about this curry is that it's not made with a pre made curry paste. Instead it utilizes fresh ingredients to make your very own homemade versatile curry paste. I think many of you can probably assume that making your own will be far superior to that of a pre made paste. The freshness of the ingredients as well as the ability to control what goes in makes for a paste that is perfect for your taste.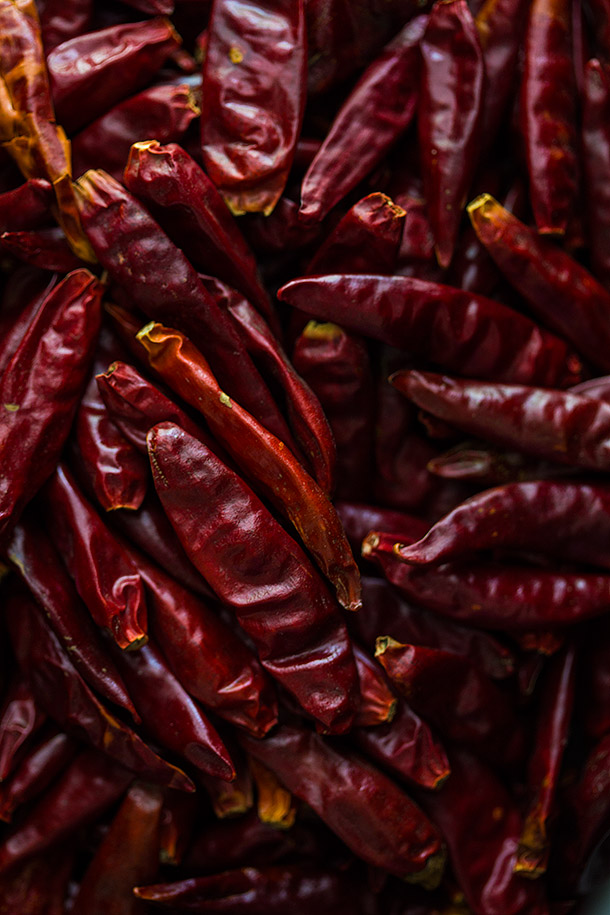 Ironically while I have always made my own curry paste for my indian curries I've actually never made my own paste for any of my thai curries. I always had a hard time understanding where to obtain certain ingredients, mainly galangal, but it turned out that they are all readily available at my local asian grocer.  My only mistake on this was the chiles that I bought. It's important to look for larger ones and not the sichuan or arbol kind.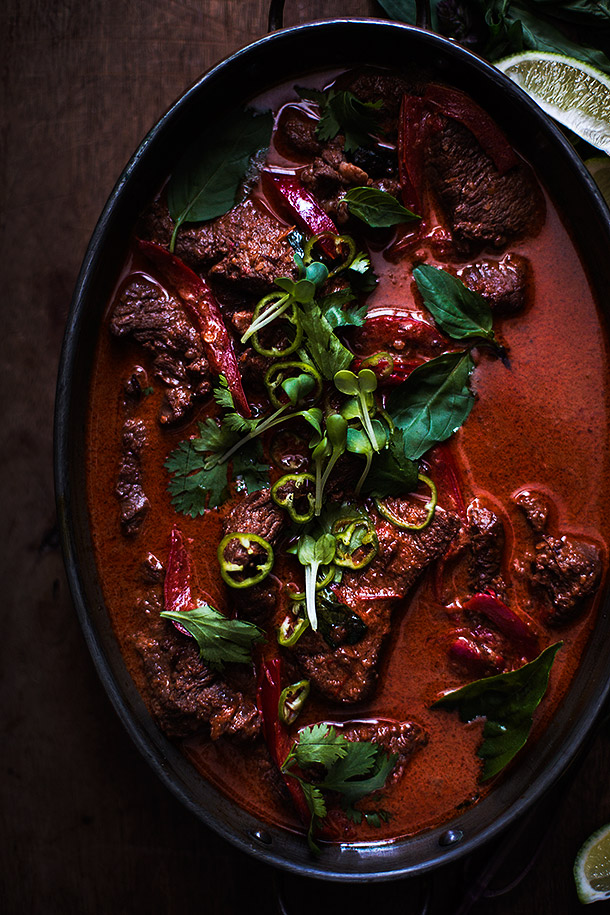 If you're a fan of curries or asian food in general you will love this curry. If you have never tried anything from this style of cuisine then I think this is a good place to start. Don't forget to grab your copy of my buddies new cookbook Paleo Takeout as well since it's chock full of recipes like these.

Thai Red Curry
Ingredients
Curry Paste:
4 large dried red chile peppers, seeds removed (I recommend guajillo)
2 thai chilis or 1 jalepeno, seeds removed (add more for more heat)
10 cloves garlic, peeled
1 teaspoon ground cumin
1 teaspoon ground coriander
½ teaspoon shrimp paste
1 tablespoon white peppercorns
3 shallots peeled
grated zest of ½ lime
1 inch galangal or ginger, peeled (I recommend using galangal *see notes for where to buy*)
1 stalk lemongrass, white part only, thinly sliced
small handful of fresh cilantro
General Curry Portion:
2 tablespoons extra virgin coconut oil
2 pounds steak, chicken breast, chicken thighs, or shrimp, cut into bite sized chunks
1 can full fat coconut milk (14 oz)
1 tablespoon plus ½ teaspoon fish sauce
1 red bell pepper, thinly sliced
juice of ½ lime (1 tablespoon)
small handful of thai basil leaves
To Garnish:
sliced thai chiles (optional)
lime wedges
fresh cilantro
Instructions
Soak the dried chiles in hot water for 30 minutes.
Place the soaked chiles, ¼ cup of the water in which you soaked them, and the rest of the curry paste ingredients in a blender. Blend until smooth, adding water if needed to help the blending process, then set aside. The curry paste can be made ahead and stored in the fridge for up to a month or frozen for up to 6 months.
Warm the coconut oil in a large skillet over medium-high heat, then add the steak, chicken, or shrimp. Stir fry until browned and cooked through, in batches. 1 minute for shrimp, 3 minutes for steak, and 6 minutes for chicken. Remove from the skillet and set aside.
Reduce the heat to medium and add ¼ cup of the curry paste to the skillet. Bring to a simmer and sauté until aromatic and darkened, stirring constantly, about 4 minutes.
Add half of the coconut milk and stir to incorporate. Simmer until thick and darkened, about 8 minutes, then stir in the steak, chicken, or shrimp and any accumulated juices. Stir in the remaining coconut milk, and bell pepper, and cook until the pepper starts to soften, about 1 minute, then add the lime juice, fish sauce, and thai basil leaves. Taste and add salt if needed, then serve, garnished with your choice of garnishment ingredients.
Notes
I know a lot of people are probably going to want to use ginger instead of galangal but I urge you to check your nearest asian grocer first. They will likely have it and it is important for creating the proper flavor.