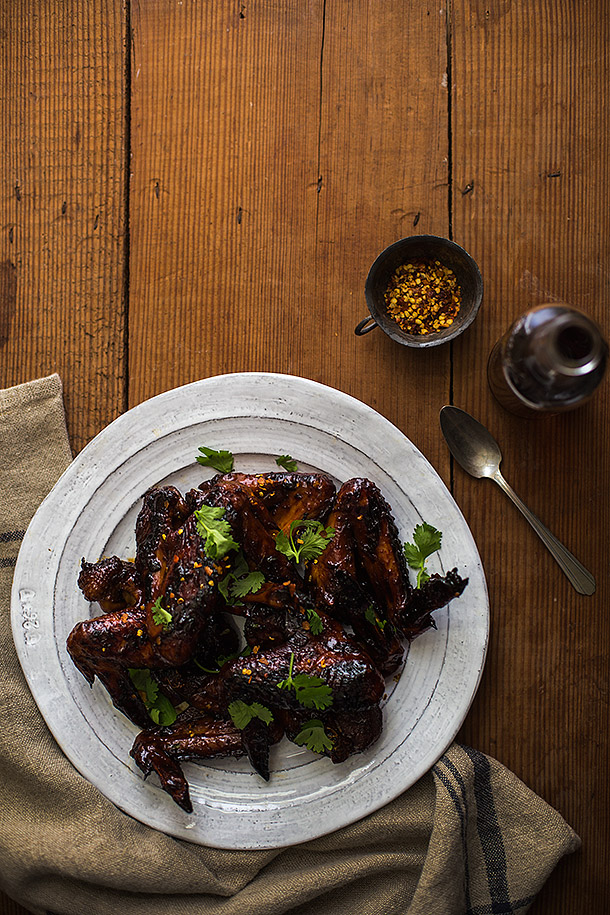 I really don't like the saying "Ain't no thang but a chicken wing!" because chicken wings are actually very important to me. So don't say those kinds of things to me or around me because I might get upset. By upset I mean murmur intensely angry things about the life choices you have made about chicken wings. Like…get your chicken wing game together please.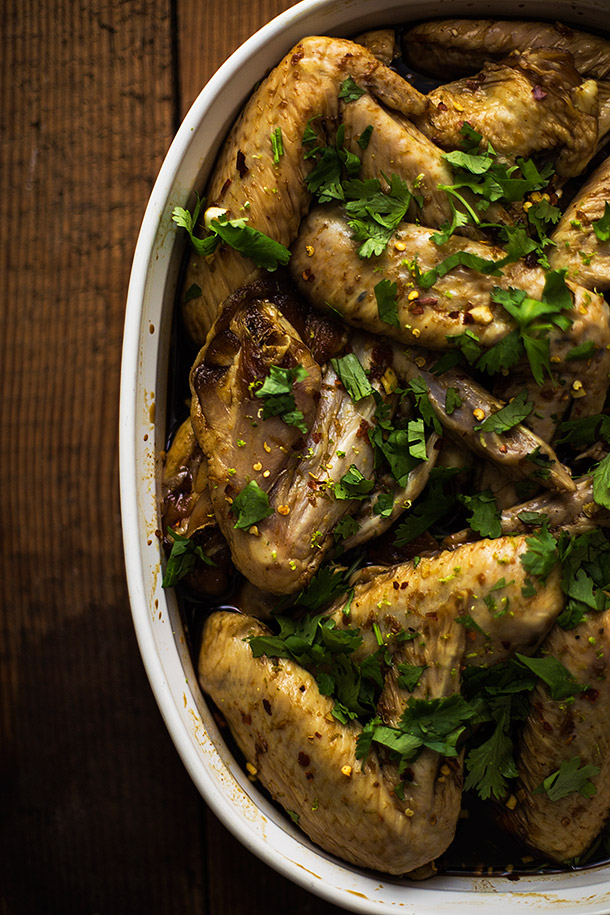 Chicken wings are a long lost love of mine for a couple of reasons. Mainly because I mostly order my meats (& poultry if you consider it a different category which I personally do not) from Yonder Way Farm. I try to eat the whole animal as much as possible given my obligations as a food blogger. This means that I don't typically buy large quantities of wings because if you think about it…that probably took like 30 birds to make.
Instead I just happen to eat a plethora of chickens but remove the wings and freeze them for later use. Over time and about 10 chickens later I have a full bag ready to serve a party full of people. Sure it's not the fastest way and sometimes you just need chicken wings on hand right away but I appreciated and enjoyed the wings with ferocious abandon quite a bit more than if I had not done that.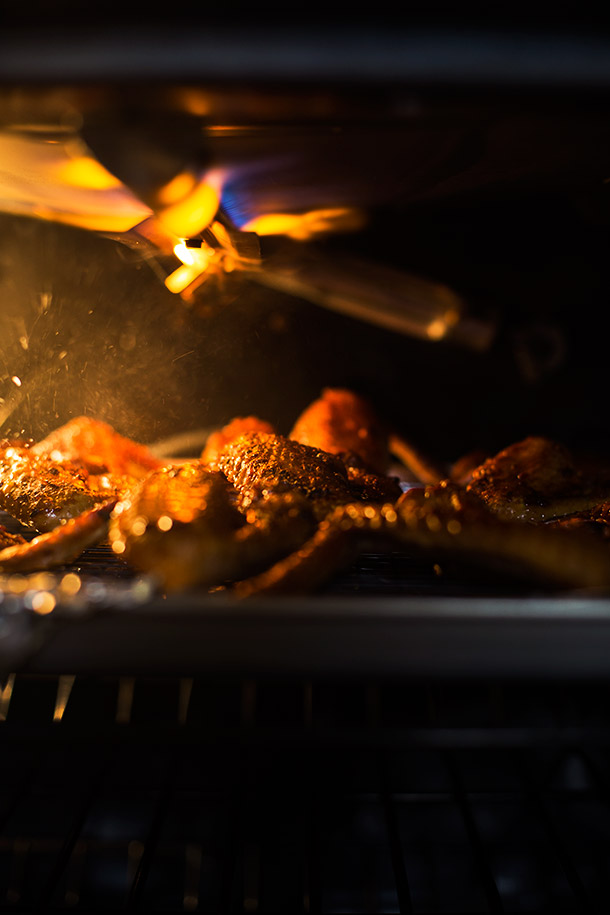 Obviously you don't have to commit yourself to this method for your chicken wing eating right now but at least try it once sometime in the future. You may end up enjoying your finished product much more than usual. Of course this is coming from a biased perspective since I'm all about eating that whole animal; it's a respect thing. Plus I practically eat a whole chicken in one sitting so it really doesn't take me long to have a good amount of wings stockpiled. Actually I kind of like that, let's call it "wing stockpiling". I guess since I gave you this idea you could call me your wing man…I'm sorry.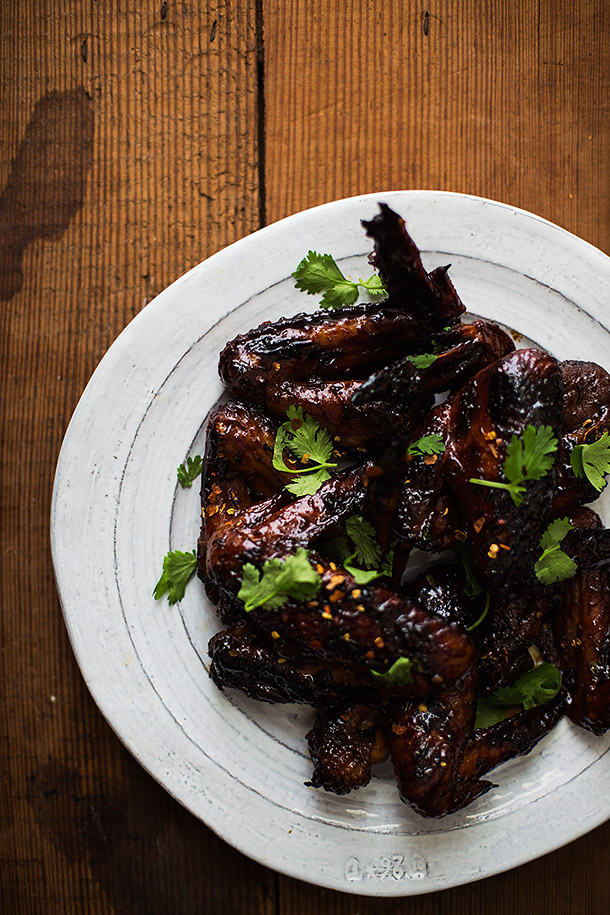 Sweet Chili Chicken Wings
Ingredients
3 pounds chicken wings with tips still attached
1 cup tamari or coconut aminos (I used Tamari)
½ cup honey
1 inch knob ginger peeled and grated
2 cloves garlic peeled and minced
juice of ½ lime
1½ teaspoons molasses
2 tablespoons tamarind paste *optional, see notes*
¾ teaspoon chili flakes (or more depending on how spicy you like your wings. If you like super spicy then go for 1½-2 teaspoons)
½ teaspoon lime zest
fresh roughly chopped cilantro
Instructions
Rince your wings with water and pat dry.
In a small bowl mix together all ingredients except the wings to make the marinade.
Place the wings in a medium sized bowl and pour the marinade over the wings. Place wings in the refrigerator for 2-3 hours (don't go any longer or else your wings will be way too salty).
After marinating line a large baking sheet with foil. Pull your wings out of the marinade and pat dry, reserve the marinade. Place the wings along the baking sheet and avoid overlapping any wings. You may have to do this in two batches if they don't all fit.
Pour your marinade in a small pot and bring to a boil on medium high heat, stirring often. You will probably have to lower the heat and bring it back up a couple times until you find a good sweet spot for it to stay at a consistent boil without boiling over. Do this until the marinade reduces by ¾ and remove from the heat. Preheat your broiler on high and place your rack about 3-4 inches from the broiler.
Brush the wings with the marinade (I would recommend drizzling a bit of it with a spoon onto the chicken wings and then brushing it to avoid brushing the raw chicken and then contaminating the sauce). Place the wings under the broiler and broil for 3-4 minutes each side, moving wings that didn't get browned around the sheet if necessary. Remove from the oven and toss with the remainder of the sauce.
Serve immediately and garnish with cilantro
Notes
I get my Tamarind paste from
PEAS farm
at a farmers market but you can also get it at asian markets or even some local grocery stores. Just be sure to read labels and avoid any artificial additives or high fructose corn syrup. If you can't find it or don't want to look for it then you can omit it.