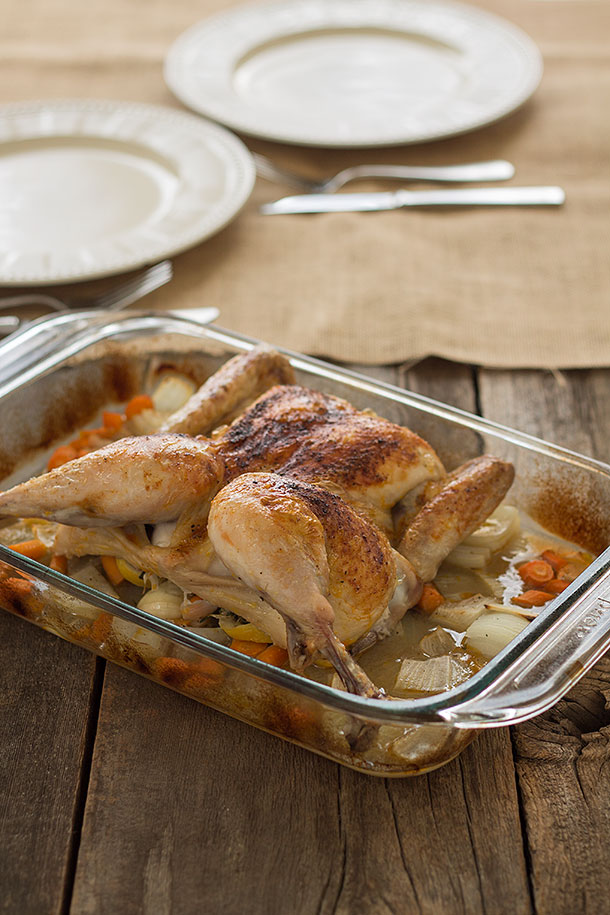 Now there is a downside to having all of your meat frozen and being a meat eater like me. I end up halting myself and thinking oh great, I forgot to defrost something for lunch or dinner. With an hour before it's time to eat I do everything in my power to defrost something as quickly as possible. This is not fun, nor is it something I like to practice. So I try to have some sort of left over in the fridge I can easily warm up or whip out in case of emergency.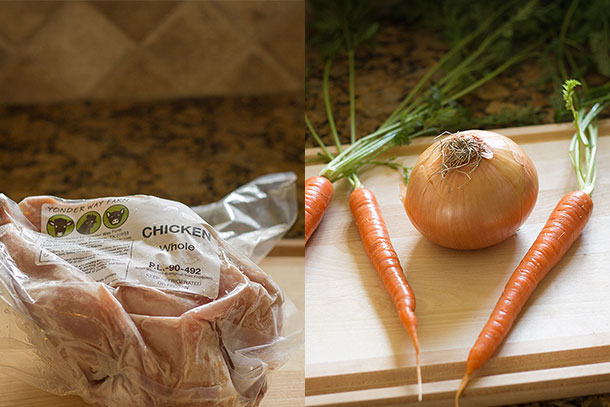 That's where a whole chicken can come quite in handy. Usually after a dinner with my parents I'm left with enough leftovers to last me one to two more meals since we only have 3 to feed in our house. Enter the easiest roasted chicken ever. This chicken is first Spatchcocked, which is basically removing the back bone and then flattening the bird by breaking the breastbone so that it cooks faster and more evenly. Then it is roasted at a nice even temperature for about 45 minutes to crispy skinned perfection and the most succulently moist chicken meat you I have ever eaten.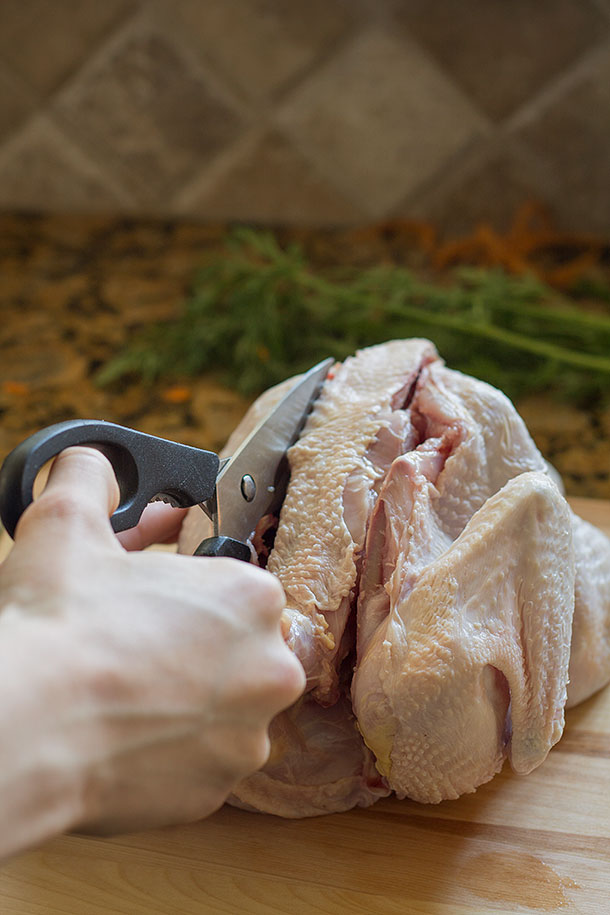 This may sound complicated but believe me it is probably one of the easiest and fastest dinners you will ever make. It's never stressful, always fast and fairly relaxing. And if I'm ever in a rush for a dinner the night before I always have something to turn to and I know I'll have leftovers the next day. A lot of my Crossfit friends who have just gone Paleo are also looking for some kind of Paleo roast chicken recipe and have asked me a few times about one that they can do that's fast and easy and this one seemed to be pretty popular amongst them.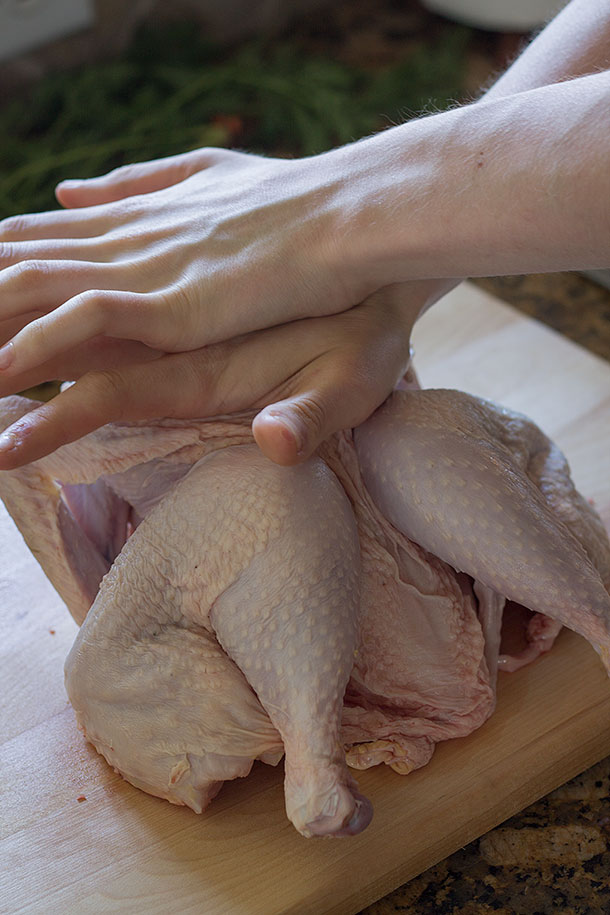 I think my favorite part about this way of cooking is the incredibly delicate and moist inside and beautifully crackly crispy skin on the outside. If you're a crispy skin lover like I am then this might be one of your favorite ways to get crispy skin. By rubbing the softened butter all over your bird it is continuously basted by the butter as it roasts, thus infusing its already flavorful skin with a seductive buttery sweetness that blends oh so well with crackly, crunchy goodness. What I'm trying to say is, the term everything is better with butter isn't just a saying, I think it could easily be accepted somewhat as a fact.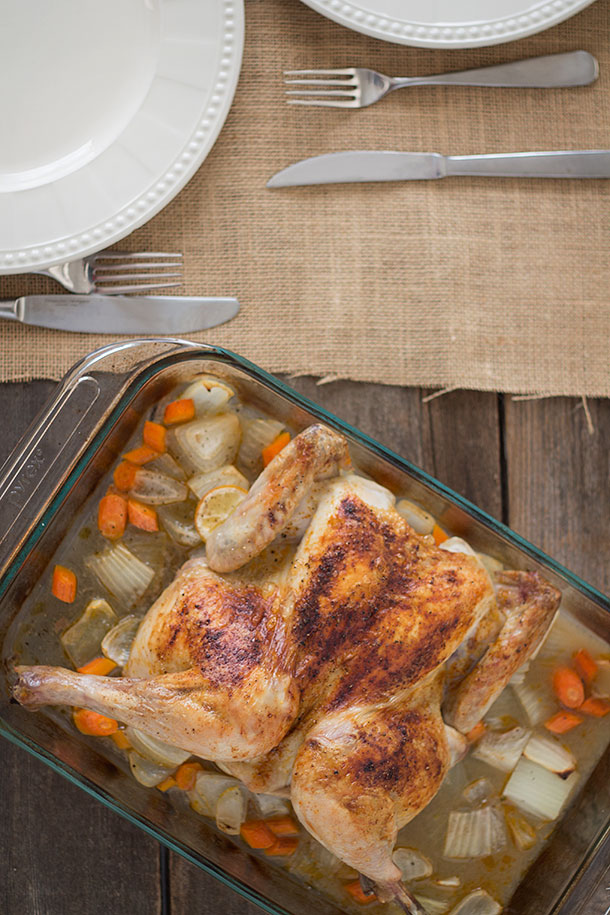 Spatchcocked Roasted Chicken
Ingredients
1 whole chicken 3-5 lbs
1 large yellow onion chopped coarse
2 bay leaves
5 sprigs fresh thyme
1 lemon sliced
3 carrots chopped on the diagonal about ¼ inch thick
4 cloves garlic crushed lef inside skin
¼ teaspoon cayenne pepper
¼ teaspoon paprika
½ cup dry white wine or chicken stock
2 tablespoons butter softened
salt and pepper to taste
Instructions
Preheat oven to 425 degrees.
Take whole chicken and place breast side down on a cutting board then cut back bone out with kitchen shears by cutting along backside to cut around the entire spine and remove the backbone. (be sure to save this and freeze it for later use such as a broth instead of throwing it out).
Turn the bird over so that the breast is now facing up, place palm over breast of the chicken and press down firmly until you here a crack, this means you have broken the breastbone and it should now lie flat like an open book. Then rub softened butter all over the chicken so that it is thoroughly coated and sprinkle cayenne pepper, paprika and salt and pepper to taste over the chicken.
In a large baking dish place onions and carrots and scatter around then place bay leaves, fresh thyme sprigs, and sliced lemon where you are going to put the spatchcocked chicken (somewhere in the center). Carefully pour in white wine or chicken stock and add salt and pepper to taste.
Place the chicken on top of vegetables in baking dish and put in the preheated oven for 45 minutes or until an internal temperature of 165 is reached. If the skin is browned enough (which mine usually is but sometimes it isn't it really depends on the size of the bird) then simply turn on the broiler on high until it browned to your liking.
Place chicken on a clean cutting board and allow to rest for at least 10 minutes before carving.