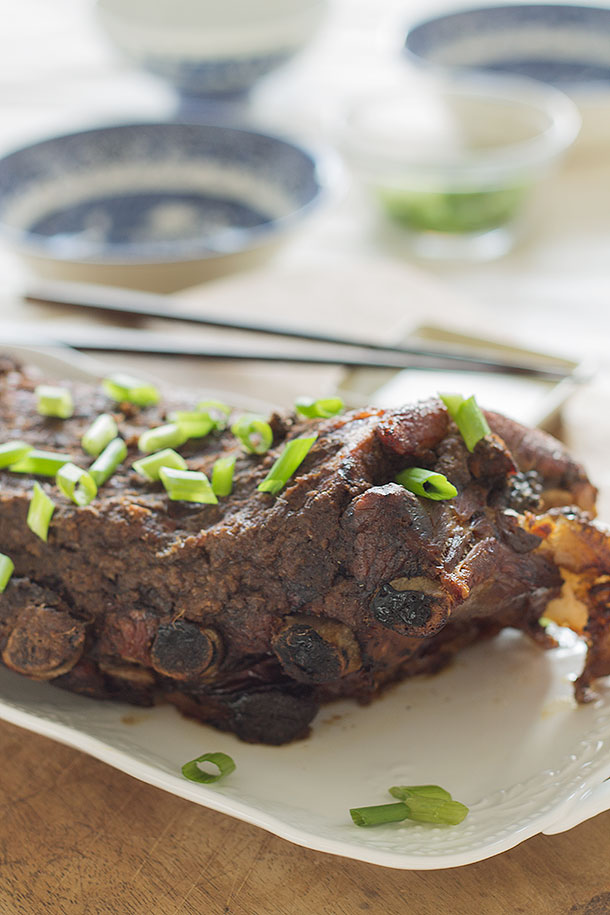 Out of all of the many names for cooking utensils I think my absolute least favorite is the name crock pot. It has such flaccid ring to it that goes off like a limp whoopee cushion when ever someone says it, to me that is. I really prefer to call it a slow cooker, which doesn't sound elegant or anything like that but at least it doesn't have any unfavorable ring to it like crock pot does. Forgive me if I offended anyone by "slandering" crock pots name, it's just my opinion.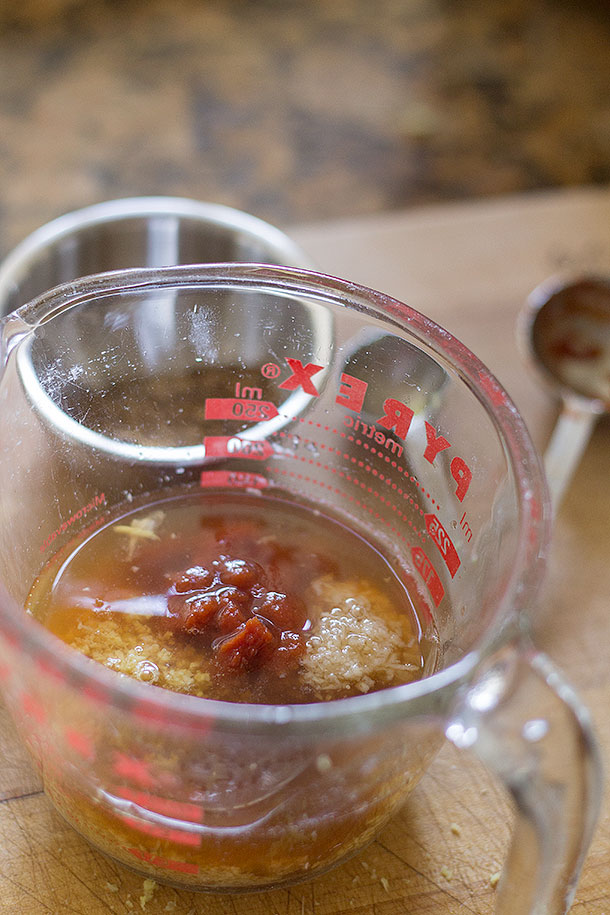 Even with a conflict of a name, a slow cooker actually does a pretty good job in terms of dealing with tougher pieces of meats. I still prefer a braise in a braiser or Le Creuset Dutch oven, but when I have no time for that then I usually switch to a slow cooker. The idea to using the slow cooker came about in this recipe not necessarily for ease, although it is very easy, but because I wanted that tender fall apart rib that you get when you slowly smoke something. Since I don't have a smoker then there is no reason in trying to attempt smoking something or even go for that of a smoked flavor.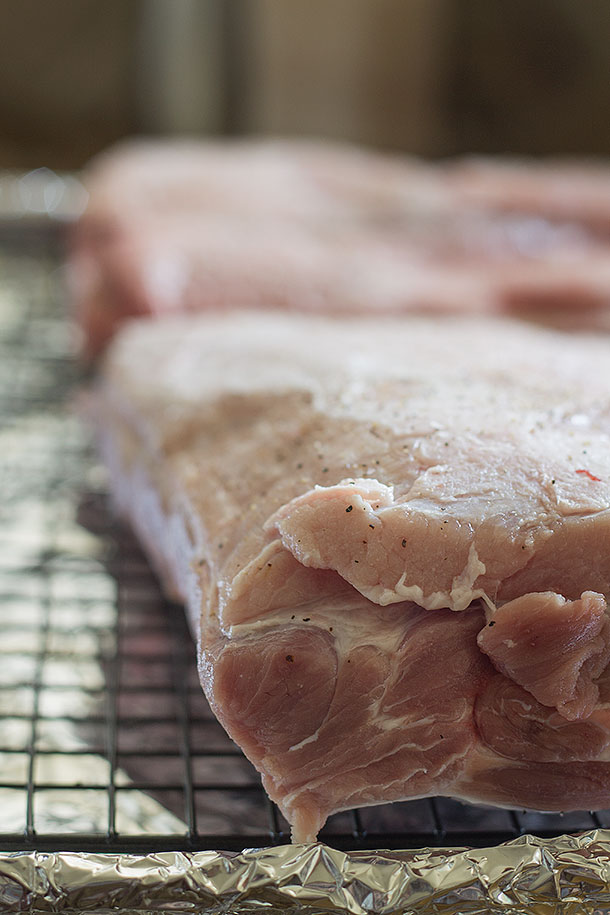 That's where my reminder of Chinese spare ribs rolled right into my mind. Well spiced, balanced, and slightly sweet. It's basically an umami powerhouse. A lot of people actually like to barbecue their Chinese spare ribs, which is great, but this method has by far proven itself to possibly be an even more delicious method. After these beautiful ribs are browned to crisp perfection under the broiler they rest in the crockpot for 7-8 hours with a nice sauce mixture poured over it to mingle and seep into meat slowly. Yielding the most tender spare rib you will ever put on your fork. Incredibly moist, rich and succulent accompanied by bold flavors and a subtle sweetness.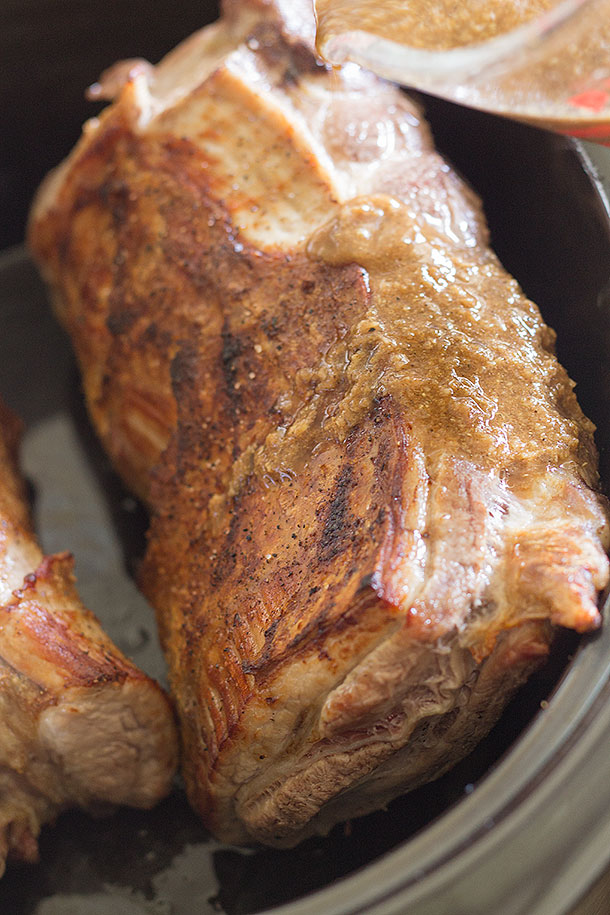 I noticed after looking at the different ways that people do their Chinese spare ribs, that they marinte them. The plus side to using the crockpot her eis that it get's it's cooking and "marinating" done at the same time. It sits with that beautiful sauce poured over it and then seeps out some it's own juices to mix with the sauce that gets to the bottom of the crockpot making a beautiful slurry of flavor at the bottom to spoon over your ribs. And nothing looks better than sinfully tender ribs with delicate torn pieces of meat running along where it was cut and a nice warm sauce packed full of umami.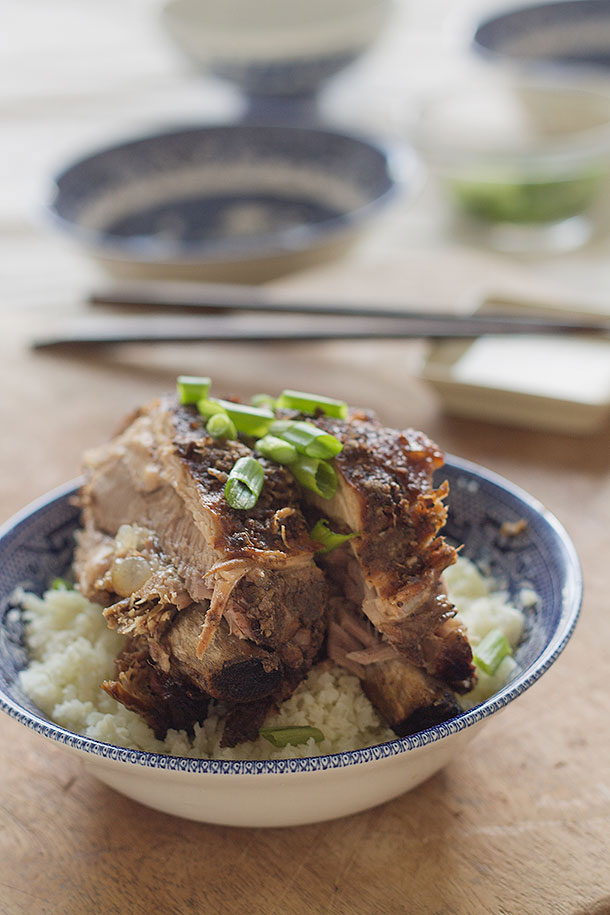 Slow Cooker Chinese Spare Ribs
Ingredients
4 lbs pork spare ribs
1 tablespoon Chinese five spice
1 tablespoon plus 1 teaspoon fresh grated ginger
2 teaspoons grated fresh grated garlic
¼ cup dry white wine or sherry
1 tablespoon plus 1 teaspoon apple cider vinegar
2 tablespoons coconut aminos or tamari (I used coconut aminos)
1 tablespoon tomato paste
1 tablespoon plus 1 teaspoon lemon juice
optional 2 teaspoons of honey (I actually do not to add the honey because in my opinion the tomato paste that I added seems to add a nice subtle sweetness that fits my tastes a little better but it depends on the person, just taste your sauce and see if you want it.)
Instructions
In an oven make sure an oven rack is 4-6 inches away from heating element and preheat broiler on high.
Line a medium baking sheet with foil, place a wire rack on it and place spare ribs on it fat cap side up.
In a measuring cup or small bowl add Chinese five spice, grated ginger, grated garlic, white wine or sherry, apple cider vinegar, coconut aminos or tamari, tomato paste and lemon juice and optional honey if using and stir until thoroughly combined and place to the side.
Once broiler is hot place ribs under broiler and brown both sides until nicely browned and crispy. 4-6 minutes each side.
Place ribs on sides in slow cooker and pour the sauce mixture you place on the side earlier all over the ribs. (It's okay if it runs down the ribs and into the bottom of the slow cooker, in fact that's a good thing.)
Place lid on slow cooker and cook on low for 7-8 hours.