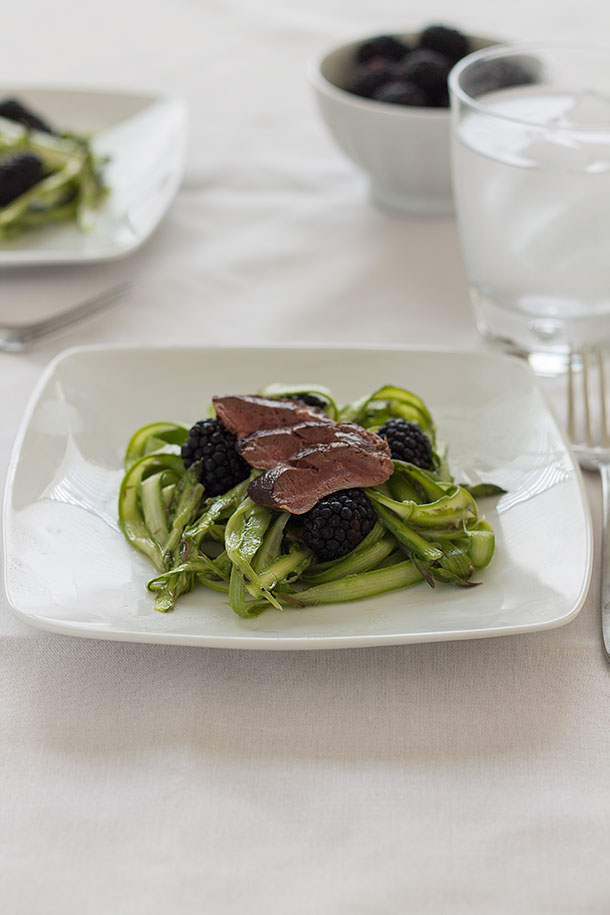 I have quite the attraction to asparagus pretty much all of the time. Something about those gorgeous spears with tightly wrapped buds at the top never cease to amaze me. My only dilemma is that I always ended up sauteeing them or roasting them, never really much anything else. I just couldn't think of any other way to possibly have them. Then it hit me, why not raw, why not in a salad, I've seen it done before.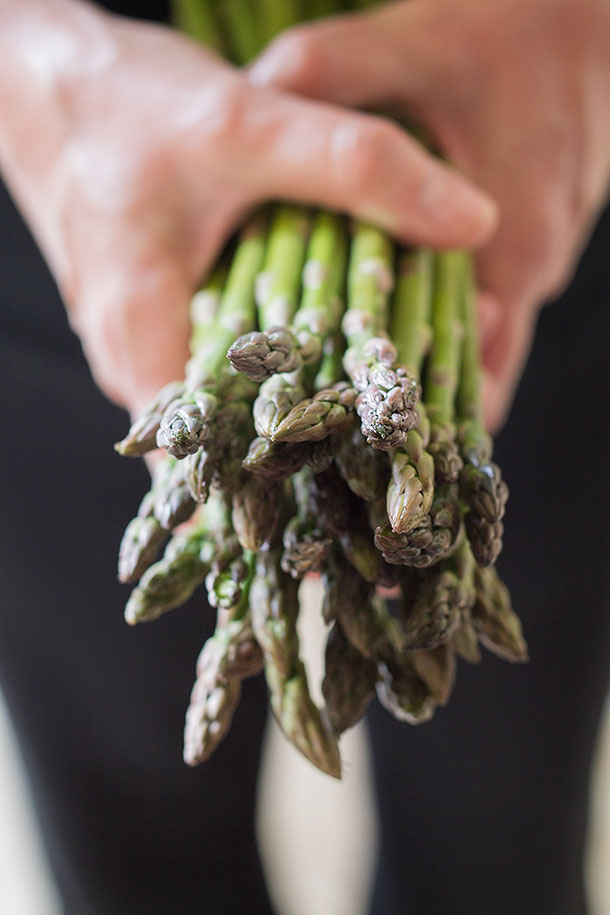 Maybe It just slipped my mind but I don't know why I never tried it. I suppose I was sort of afraid that it might not taste as good raw and might have a bitter taste. I could not have been more incorrect. Raw asparagus is probably one of the absolutely most tasteful ways I have ever enjoyed asparagus in my life. It has a slightly sweeter and more fresh taste that is not bitter what so ever. It's especially light tasting when you shave it like in this salad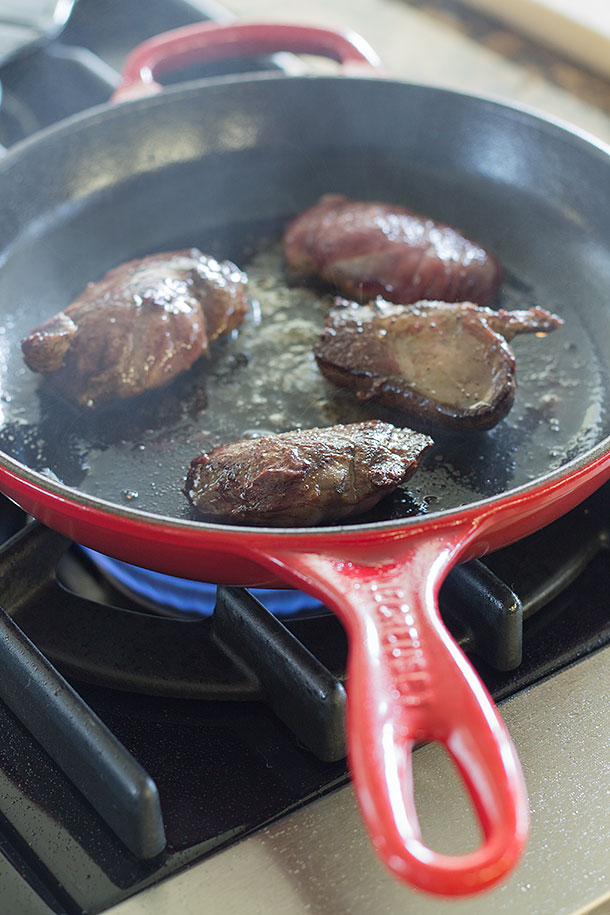 The salads that I usually create tend to be the same thing over and over. Usually something like romaine or spinach with the same array of veggies I always pick. Well I say out with the boring old leaves and in with the shaved asparagus, especially while it's still in season. I don't know why I ever even use leaves now because I could eat a nice bundle of ice cold and refreshing shaved asparagus any time of the day. So if you ever had any problems like me and end up making the same salad over and over I'm telling you that shaved asparagus might just be your savior.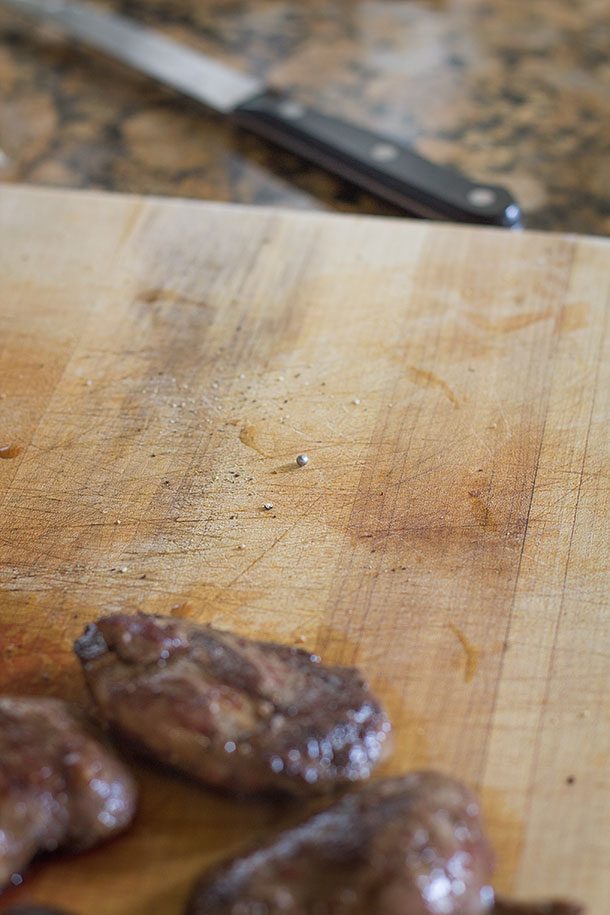 Now of course the dressing is important in this as well but because the asparagus is so light tasting any tart dressing will probably do just fine if you don't have any lemons on hand, just be sure not to touch any of the store-bought stuff and make your own or grab some Tessamaes. When it comes to the duck breast part I'm not going to lie, this really does make this salad quite gorgeous in flavor but is not an absolute necessity. You could easily substitute chicken breast or any meat of choice really I was just super excited to use the wild duck breast that my Uncle Larry got for me.
He truly does quite an amazing job with the way that he hunts, and he is probably one of the few that I would trust with wild game unless I got it myself. When I got the duck breast I wasn't actually sure if it was wild or not so I asked my mom and she told me that it was and that Larry got it. There were no more questions at that point, but there was one more piece of evidence that proved that to me as I tore of a small piece of the duck to taste it before placing it on the salad and bit into a buckshot (which is pictured above). Yeah, definitely wild and fresh.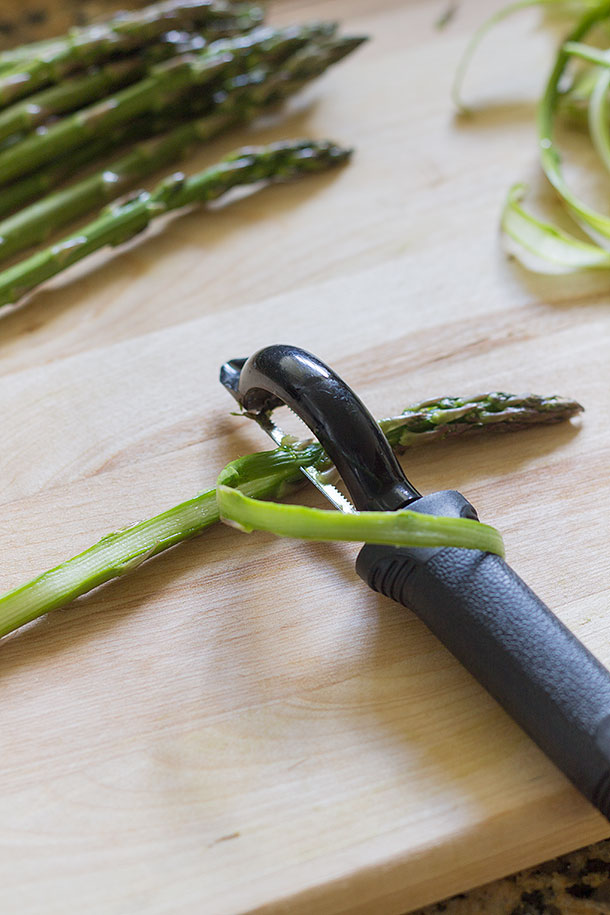 I like to shave a little bit of grassfed kerrygold cheese or some of my local raw cheddar on top of this salad right before serving for a nice salty touch to it, but it is just as good on it's own believe me. I think I just need the addition of cheese because that's how my mom does it, a nice touch of cheese to finish a salad is almost a necessity to her. I like her style.
I don't know about everyone else, but if this doesn't change your life in some way than I don't know what will. I'm trying not to be redundant on how life changing this salad was to me, but it feels like a whole new world to a salad utopia with unlimited possibilities was just opened for me.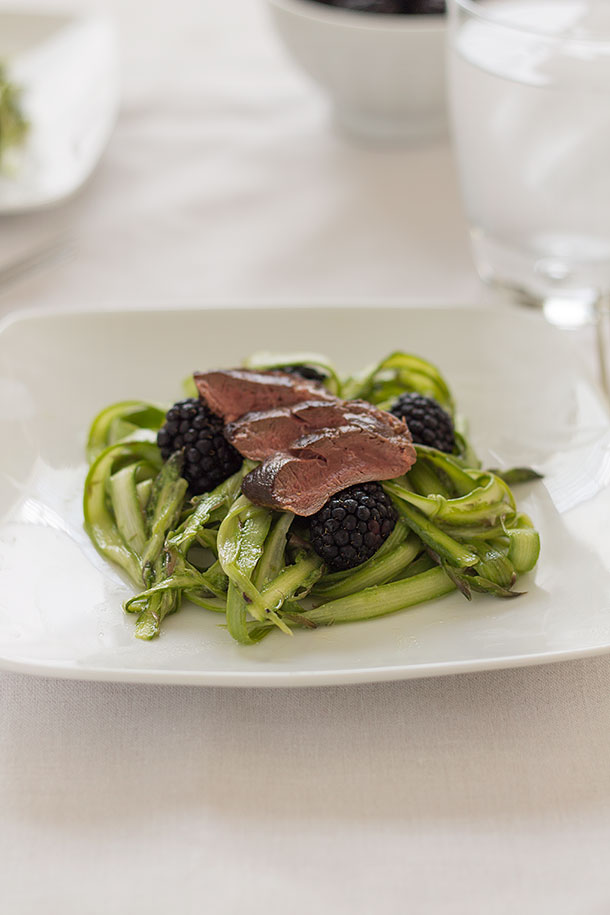 Shaved Asparagus, Blackberry and Seared Duck Breast Salad
Ingredients
For the Salad:
3 duck breasts or could substitute 3 fully cooked chicken breasts and just skip the first step
1 tablespoon ghee
1 bunch asparagus
1 cup blackberries
optional shaved kerry gold Ivernia or parmesan cheese for garnishing
salt and pepper to taste
For the Lemon Vinaigrette:
¼ cup extra virgin olive oil
juice of 1 lemon
1 teaspoon dijon mustard
1 clove of garlic grated
Instructions
Heat ghee in a medium pan over medium high heat and place duck breasts in pan skin side down if they have skin and let cook for 3 minutes. Flip duck breasts and let cook for addition 2-3 minutes and pull out of the pan and place to the side and allow them to rest.
While your duck breasts are resting assemble your dressing by combining extra virgin olive oil, lemon juice, dijon mustard and grated garlic and whisk well until fully incorporated.
With a vegetable peeler delicately shave the asparagus lengthwise to create ribbons. Place shaved asparagus in a medium sized bowl along with blackberries and toss with vinaigrette and salt and pepper to taste.
Now that your duck breasts have rested slice them and place them atop each divvied up salad and garnish with optional cheese.
Notes
The duck breast I used was already sliced, don't worry about this just sear your whole duck breasts as normal if using duck breast.
Related Recipes: