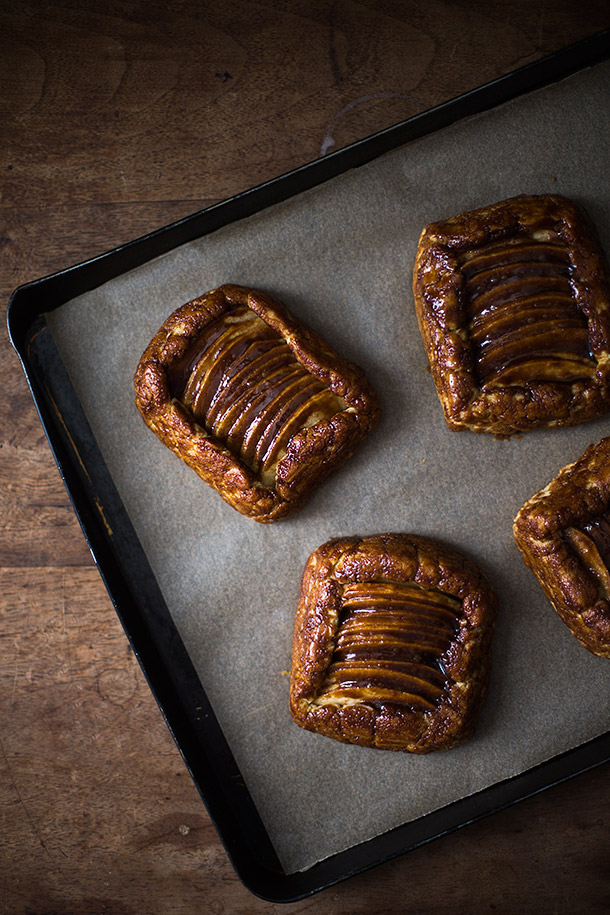 Well, I will be departing soon for Europe, four days from now to be exact. The excitement and pressure is mounting but I'm confident everything will go over wonderfully. In case those of you who didn't know from my last post I'll be there for about 2 months with a Eurail pass so if you think you might have a place for me to stay while I'm there please email me. For those of you in the states I hope you find some time to live vicariously through me since I'll be blogging every bit of it, and yes recipes will be included in some as well. Don't forget I have a new email subscription set up so you can subscribe to that and get updates on where I am, what I'm eating, recipes, etc. and you can sign up here or sign up on the sidebar on my website.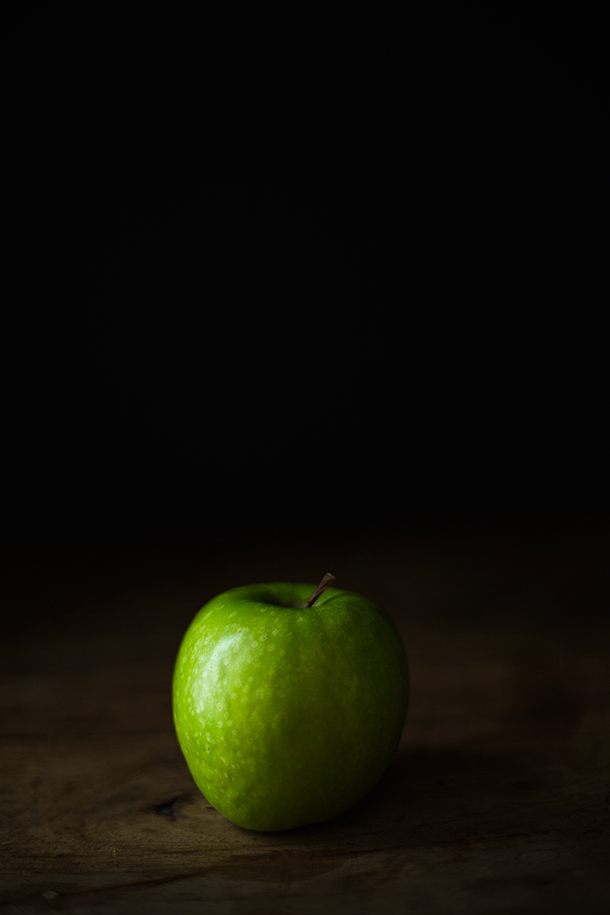 Before I leave I wanted to put up one more recipe from my actual home and what better to celebrate the nearing of a great travel than a treat with caramel all over it. I'll be completely honest with you though I actually adapted a majority of this from my good friend Simone's new cookbook The Zenbelly Cookbook. I was at a major impasse when I had to choose between the apple cider donut holes and the rustic apple tartlets that I adapted. I find it very difficult sometimes when life makes you choose, and this was one of the moments where I had no choice but to pick only one. My deciding factor was that I knew which one would be better covered in a rich salted caramel glaze.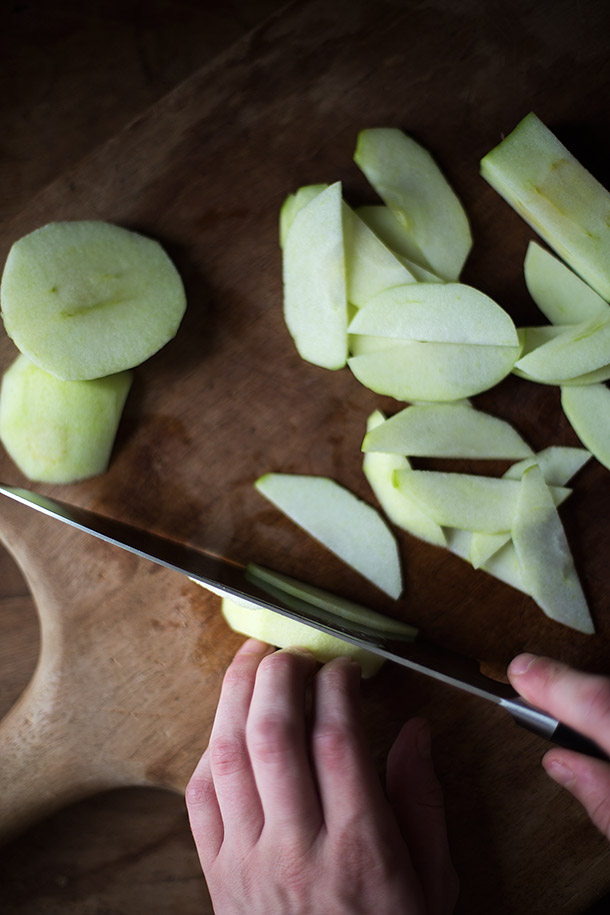 A few weeks ago I saw a tweet that really resonated with me that said something along the lines of "I really dislike the saying ain't no thing but a chicken wing because chicken wings are very important to me.". This is so true and it happens to be such tragedy that with live in a day and age that chicken wings "ain't no thing". I feel the same way about tartlets actually, they are often looked over yet have so much to offer. My realization of the tartlet-chicken wing dilemma came to me when I visited my girlfriends house and brought one of these tartlets with me. Her family viciously and ruthlessly stole bites from her tartlet while she wasn't looking and she wasn't too happy with that. I've never heard her mention a love for tarts but that one moment revealed the truth.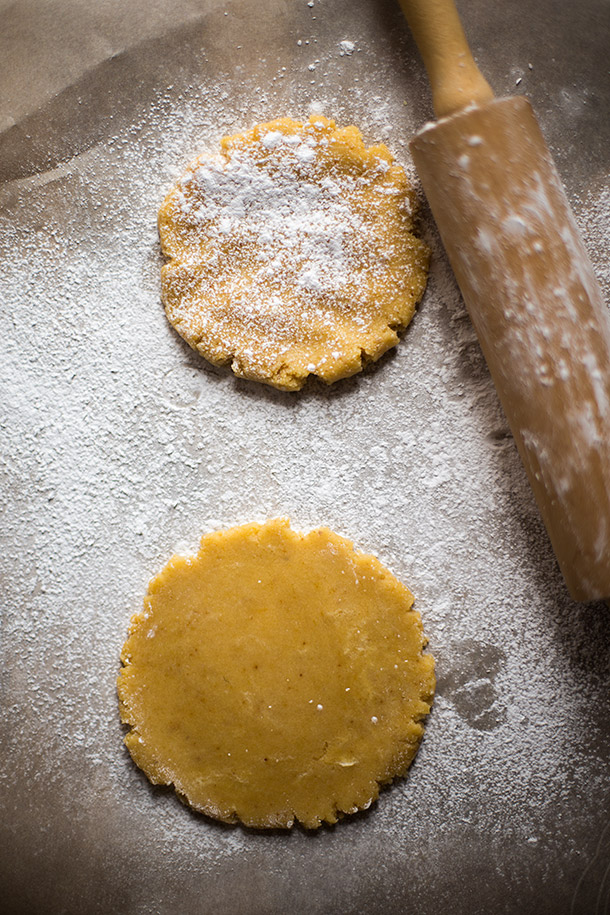 These tartlets are actually the first I've ever made in my life and I think they turned out pretty good. So yeah, I'm entirely proud of my apple layering skills. It's not perfect, not yet, but it looks good for a first time. I'm only saying this in hopes of motivating you to make this as well since it looks so intricate yet is actually quite easy. Think about how badly you want tartlets, if your answer is unsure then let me help you. The proper answer is yes, you always need tartlets in your life.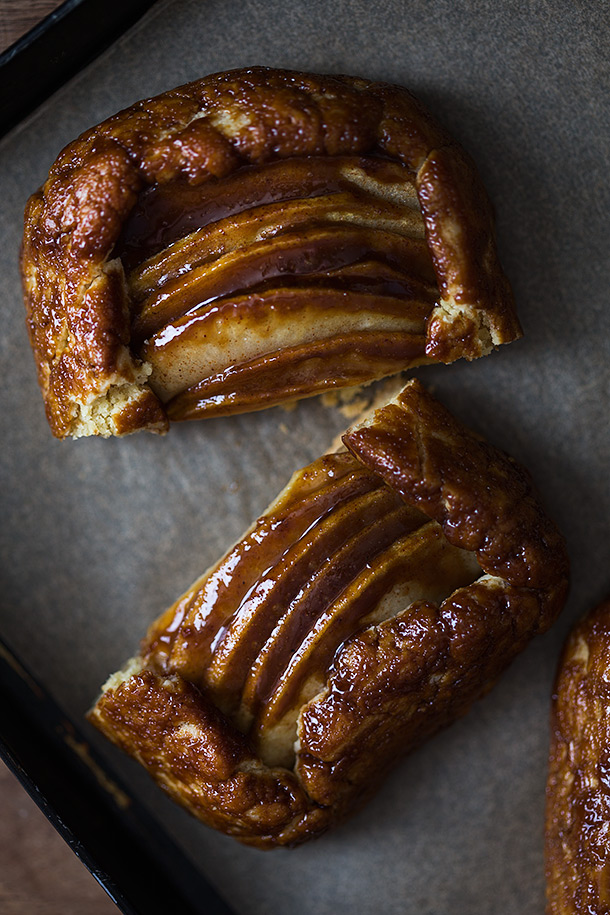 Salted Caramel Apple Tartlets
A grain free, gluten free, apple tartlet with a rich salted caramel glaze. Recipe adapted from
The Zenbelly Cookbook
by Simone Shifnadel
Ingredients
2 green apples (14 oz/400g) peeled and sliced into half moon shapes (watch this video on how to slice into half moons)
1 tablespoon coconut sugar divided
1½ teaspoons plus ½ cup arrowroot powder plus more for dusting (separate the 1½ teaspoons with the ½ cup)
1½ teaspoons lemon juice
½ teaspoon ground cinnamon
1½ cups blanched almond flour
pinch finely ground sea salt
4 tablespoons cold unsalted butter
2 eggs
1 teaspoon vanilla extract
For the salted caramel:
¼ cup coconut sugar or organic cane sugar *see notes*
¼ teaspoon sea salt
3-4 tablespoons of heavy cream or coconut milk
2 tablespoons butter or ghee
Instructions
Preheat the oven to 350 degrees. Place the apples, 1½ teaspoons coconut, 1½ teaspoons of the arrowroot, lemon juice, and cinnamon in a medium sized bowl. Carefully stir to thoroughly combine and place to side.
In another bowl add the almond flour, remaining ½ cup of arrowroot, remaining 1½ teaspoons of coconut sugar, salt, and whisk together to combine. Cut the butter into small cubes and cut it into the dough with a pastry cutter or two knives.
Mix one of the eggs and the vanilla extract together then add into the almond flour mixture and mix well until a dough forms. Divide the dough into four equal sections and roll into a ball. On a arrowroot floured piece of parchment paper, press each ball into a disc. Dust the disks and a rolling pin with arrowroot and roll them out into circles about 5 inches across, re dusting the rolling pin when it starts to stick.
Beat the remaining egg in a small bowl and lightly brush the tops of the disks. slide the parchment and dough on a baking sheet. Arrange a snug row of apple slices in the center of each disc, leaving a space around the outside large enough to fold up.
Carefully fold up the sides of the discs around the outer edges of the apples working inch by inch. Don't try to fold an entire side up quickly all at once or else the dough will break easily as it's quite fragile. Work it inch by inch all the way around the pastry using your fingers, creasing the dough together and patting down the cracks slightly to create somewhat smooth edges.
Place the tartlets in the oven for 20 minutes. Once the tartlets have cooked for about 12 minutes, begin making the caramel glaze. Add the ¼ cup of coconut sugar, and salt to a small heavy bottomed pot and turn the heat to medium high and let the sugar melt, stirring often for 2-3 minutes being careful to avoid burning, until it turns a copper color. Remove from the heat and add the butter or ghee and stir until melted, then add the cream or coconut milk and return to the burner at medium heat and continue stirring. Cook for only another minute at the very maximum and no longer and place to the side until needed. If it is not fully incorporated or to thick keep stirring and add a little more cream or coconut milk. You may need to reheat and stir the caramel if it begins to thicken to much to brush after sitting there for a little.
Once the tartlets are finished pull the out of the oven and brush the revealed apple section generously with the caramel and brush the crust sides of the tart with the caramel as well.
Place the tartlets back in the oven for 5-10 more minutes, until the crust is firm and the apples are soft.
Notes
About the coconut sugar in the caramel: I used coconut sugar when I made this caramel but it got very close to burning and it's a little difficult to tell when it's done because it's already a somewhat dark color so if you're hesitant about that I would suggest using possibly an organic cane sugar.