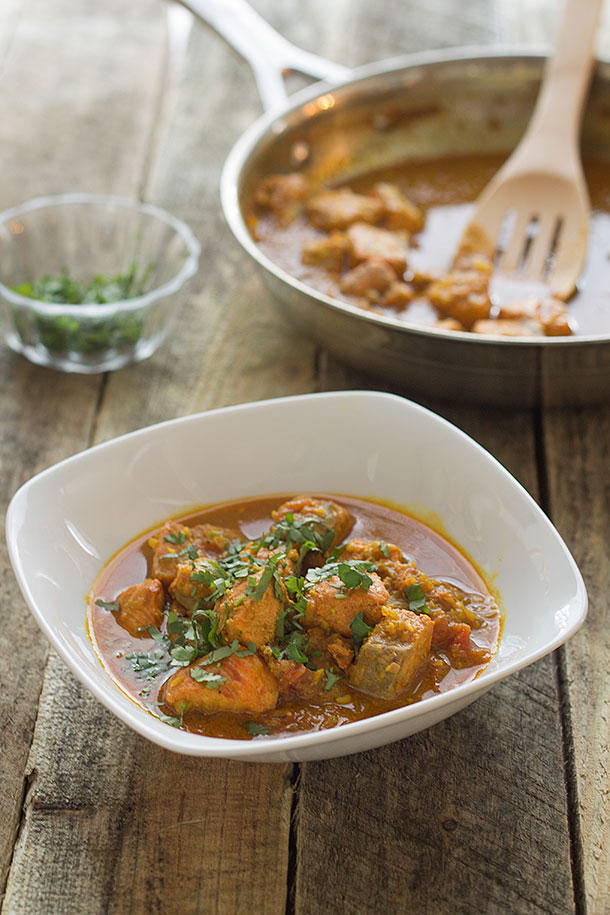 Salmon is one of my favorite fish to eat because it usually cooks fairly quick and it's usually pretty satisfying without feeling too heavy. I usually make my Crispy Skin Salmon whenever I have salmon because it's super quick and I almost never get bored of it. Something about the alluring crispy skin get's me every time. Well, I say every time, but that is obviously not the case because I am posting this recipe.
On top of loving salmon I also really like a good curry. I make a lot of curries whenever I get the chance, even with the knowledge that the house will smell of garlic and ginger hours afterwards. It can't just be me that likes the lingering scent of garlic and ginger , that sweet and musty smell that gets your gut rumbling. Maybe it is just me.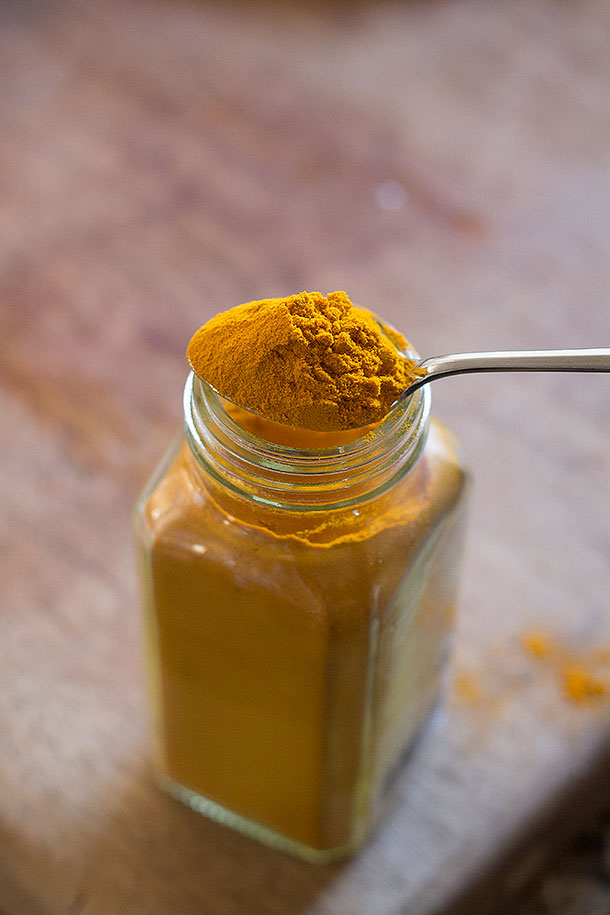 When ever I make a curry I usually brown my meat first. For two reasons, color and flavor. Which are actually completely related when it comes to cooking. Most of the time color means flavor, if it has no color it probably wont have much taste either. Which is what is interesting about this dish. I don't brown the fish at all, rather I just let it simmer in the curry base immediately. Not only does this save time, but it actually enhances the flavor of the entire dish quite a lot by letting all of those beautiful salmon flavors leech into the curry sauce.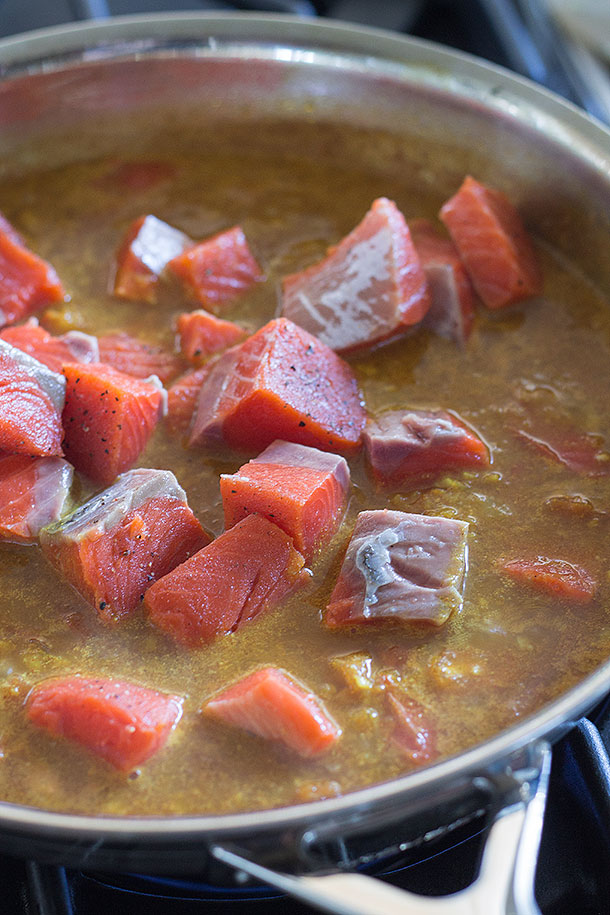 I would absolutely consider this an instant gratification meal because it's so fast but it tastes like it was a long braise. Most of the time if you want a braise you have to take some time to get it done. Last minute cravings for braises are usually not good for your stress levels, well they aren't for mine at least. This doesn't give that feeling of accomplishment of a long braise until you taste it. The flavors have a surprising depth even after such a quick cooking period. I am probably sounding like a broken record explaining over and over how much depth the flavor has with a quick cooking time but you should have seen the look on my parents face when they tasted it.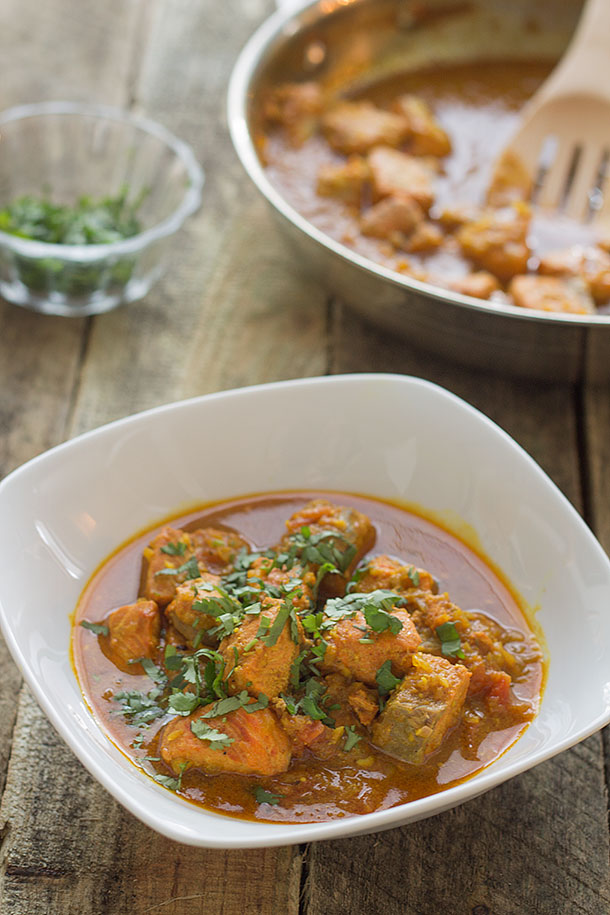 Salmon Curry (Paleo, Grain Free, Gluten Free)
Ingredients
1½ lb salmon filet skinned and cubed into 1 inch pieces
1 inch piece of ginger peeled and sliced
4 garlic cloves peeled
1 medium onion
2 roma tomatoes peeled and chopped
1 cup chicken stock
1 lime
2 teaspoons almond butter
1 teaspoon fish sauce
1 tablespoon coconut oil or ghee (I used this incredible ghee)
Curry Spice Mix:
2 teaspoons paprika
2 teaspoons turmeric
1 teaspoon coriander
1½ teaspoons cumin
1½ teaspoons cinnamon
½ teaspoon mustard powder
¼ teaspoon black pepper
¼ teaspoon red pepper flakes
¼ teaspoon salt
Instructions
In a small bowl mix spices from spice mixture and place on the side
Cut onion into fourths and place in a food processor with garlic and ginger and pulse until you get a paste.
Heat coconut oil or ghee in a medium sized pan over medium heat and add onion, garlic and ginger paste and saute until slightly transluscent.
Add spice mixture to the paste and mix to prevent burning. Saute for 2 minutes or until mixture begins to become very fragrant.
Deglaze the pan with chicken stock scraping the bottom of the pan to release any stuck bits then add fish sauce, lime juice from 1 lime, almond butter and tomatoes and bring to a simmer.
Once simmering add cubed salmon and lower heat to low heat, cover and cook for 10-15 minutes or until salmon flakes with a fork.
Serve with sauce and chopped fresh cilantro on top.