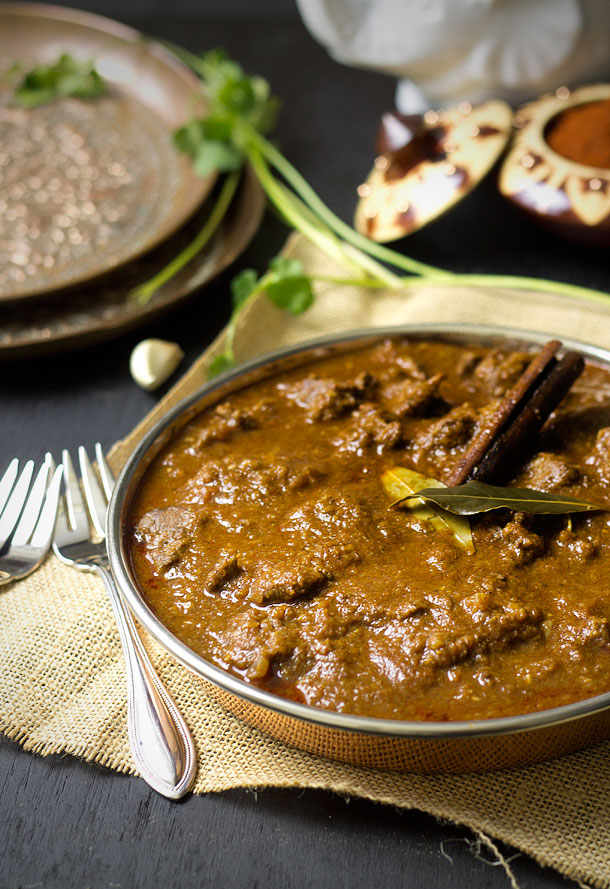 No I did not choose to make this because It has my name in it. I'm not that egotistical. Okay, maybe the name gave me a slight push to want to do this recipe. Regardless of my senseless favoritism in choosing recipes, this is probably one of the most difficult dishes I have ever cooked in my entire life. Although, not relating to the actual cooking part. The reason why this was one of the most difficult dishes too cook in my entire life is because it literally took me a week to get it prepared and was an incredible hassle due to ridiculous levels of unluckiness. With that said I don't want to make a really long post about how I ran all over the place so I'll explain it shortly. I basically ended up running all over Houston for over 8 hours only to return home empty handed and no lamb to cook due to people "forgetting" things. I know, my worst nightmare, returning home with NO lamb. How terrifying.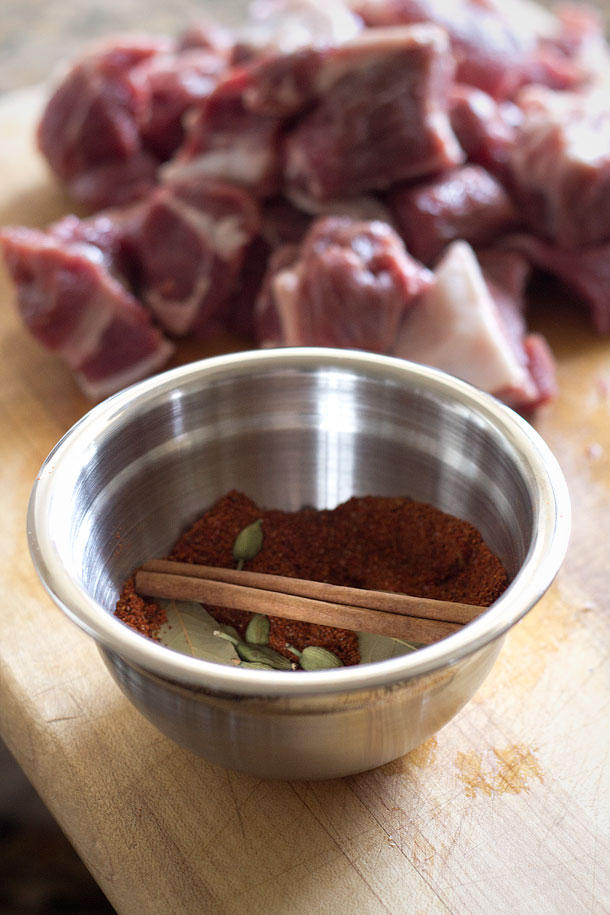 Apparently it was a mass forgetting day that day or some kind of peculiar lunar alignment. But maybe it's best that I just keep myself from ranting about that. Moving on, if you don't know who Russ Crandall of  The Domestic Man is, then I'm quite sad for you. Not disappointed, just sad because you are seriously missing out on some incredible food you could be shoveling in to your unhinged jaw. He has a lot of really wonderful ethnic dishes on his blog and all of them stick to tradition and classic flavor which I really respect.  I started speaking with him a while back and it turns out he's a pretty laid back guy, with a son that is quite literally the cutest kid I have ever seen in my life. I have never actually said "awwww" aloud until I saw a picture of his little guy.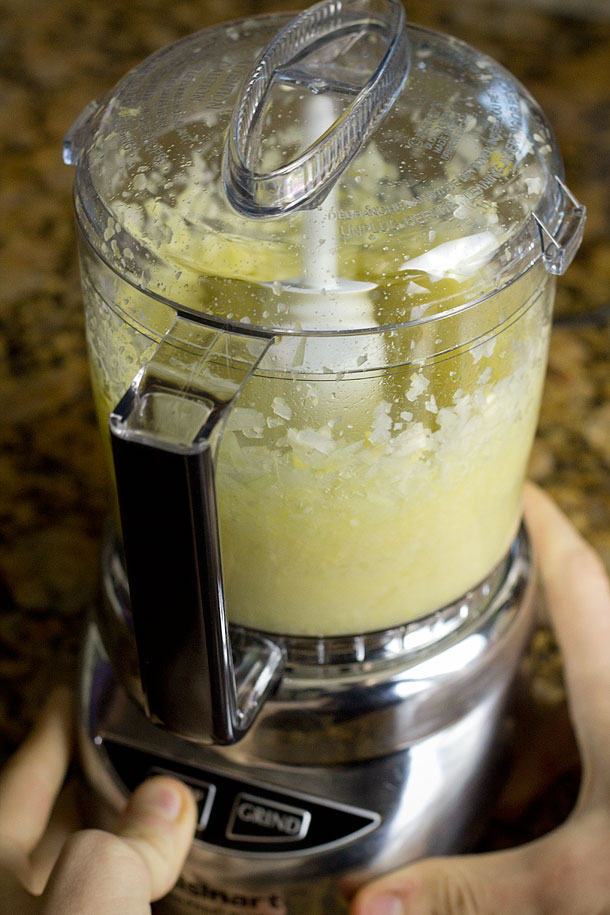 Once me and Russ spoke for awhile we found that we both had mutual respect for each others recipes and photography. After compliments being thrown back and forth we decided that we wanted to tackle one of the others recipes with the allowance of slight modifications. Little did he know that I was already planning on trying some of his recipes, but now I started searching for the perfect recipe. Then I saw it, Rogan Josh. One of my favorite dishes in the whole world is a gorgeous curry, such as this one.
And since I had just starting falling in love with lamb  and this had it in it I knew that the Rogan Josh recipe was a necessity to my very being. The thing I really find amazing about curries is their flavor depth. All of the spices working in unison to hit every spot on the tongue in the perfect way,  like a set of fire works setting off to make a beautiful array of colors that seem to paint pictures in the sky.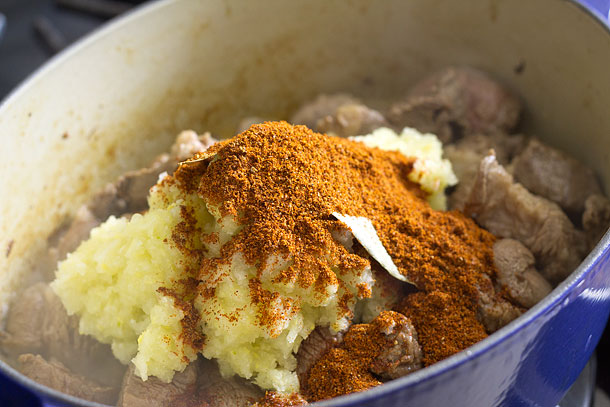 This curry has an incredibly warm and slightly spicy touch when it comes to taste. The combination of fruity cardamom, warming cinnamon, smokey paprika, slight bite from the onion, and subtle sweetness from the tomato make this curry into an incredibly satisfying and aromatic dish that will melt your stress away. Whenever I take a bite of this stuff my eyes roll into the back of my head with curry brimmed pleasure. Not to mention I could honestly see this as a comforting healthy meal to eat when you have been out in the cold and rain or have had a bad day.
Now I made this Rogan Josh a little bit more like the Hindi Rogan Josh by adding a little bit of freshness and creaminess from the coconut milk. I was going to use some grass fed yogurt but I had so many cans of Native Forest Coconut Milk in the pantry I knew I needed to use at least one before we needed a requirement to put on a life vest before entering the pantry.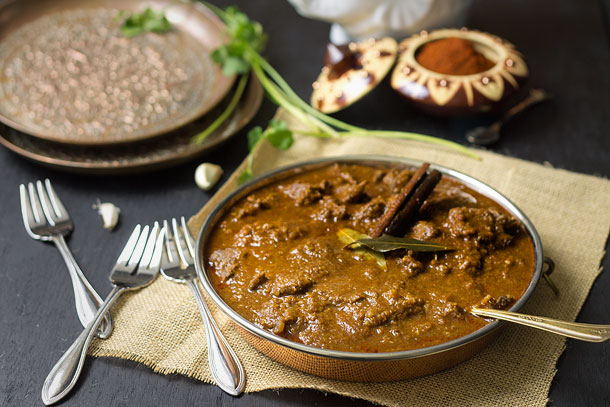 Rogan Josh (Lamb Curry)
Ingredients
2 lbs lamb shoulder cut into 1-2 inch chunks (You want a little bit of fat on this but be sure to trim it juts a little bit to keep from having a huge pool of fat on top of the gravy, although there should be a thin layer)
2 tablespoons or enough to coat the bottom of the pan or dutch oven of avocado oil or macadamia nut oil (I used the avocado oil)
Onion and Garlic Paste:
1 medium onion
8 cloves garlic
Spice Blend:
2 bay leaves
10 whole cardamom pods
1 stick cinnamon
½ teaspoon ground cloves
1 teaspoon coriander
2 teaspoon cumin
2 tablespoon paprika
1 teaspoon cayenne pepper (reduce to ½ teaspoon if your sensitive to spicy dishes. This dish is not that spicy but its about a medium in my opinion)
¾ teaspoon salt
1 teaspoon pepper
Sauce Base:
3 medium fresh roma tomatoes blanched and chopped fairly fine but leave it a little chunky. (remember the tomatoes will kind of disintegrate in there so don't get them too small)
¼ cup coconut milk or yogurt (yogurt keeps this dish much more traditional and is probably the best way to go but coconut milk works almost as good too)
Instructions
Combine all of the ingredients under spice blend in a small bowl keeping the cardamom, cinnamon stick, and bay leaves whole.
Blanch your fresh roma tomatoes by submersing them in boiling water for about a minute or until they pop and allow them to become cool to the touch then peal them, chop them and place them to the side.
In a food processor add the onion and garlic and process until you get a fairly fine paste and place in a small bowl on the side.
Now that everything is ready on the side heat oil in a dutch oven over medium high heat (or a large skillet)
Once hot add meat in batches if necessary and brown well on all sides and place to the side. (Your going to add the meat right back after this but I do it this way because I can get better browning and keep from steaming the meat)
Once all the meat is browned place it back in the dutch oven, reduce the heat to medium and add the onion and garlic paste along with the spice blend.
Stir everything in gently making sure not to crush the bay leaves.(they will begin to soften and be easier to stir around in there later)
Let simmer for 3-5 minutes or until very aromatic.
Add the chopped and blanched roma tomatoes and coconut milk and stir until thoroughly combined.
Once it is combined and has come back to a simmer reduce the heat to low and place the lid on the dutch oven and simmer lightly for 1 hour and 15 minutes or until fork tender.
Once finished serve with fresh chopped cilantro sprinkled over the top. (I served mine over saffron cauliflower rice)
Notes
Simmering Note: While simmering at step 10 make sure that it's not simmering too hard. If it is simmering too hard then warm a diffuser on the side. Then move the dutch oven or skillet over and place the warmed diffuser over the burner that the duch oven or skillet was on and place the dutch oven or skillet onto the diffuser and place lid back on and continue simmering at low. Leftovers Note: If you happen to have leftovers this makes an amazing breakfast. Simply reheat in the oven at 350 for 10-15 minutes stirring occasionally or in the microwave at 30 second intervals with a splatter guard on top until hot and eat with your eggs in the morning. Whats better than a lamb curry and eggs? I had my bit of left overs served over wilted spinach and topped with two fried eggs for breakfast, and it was amazing.