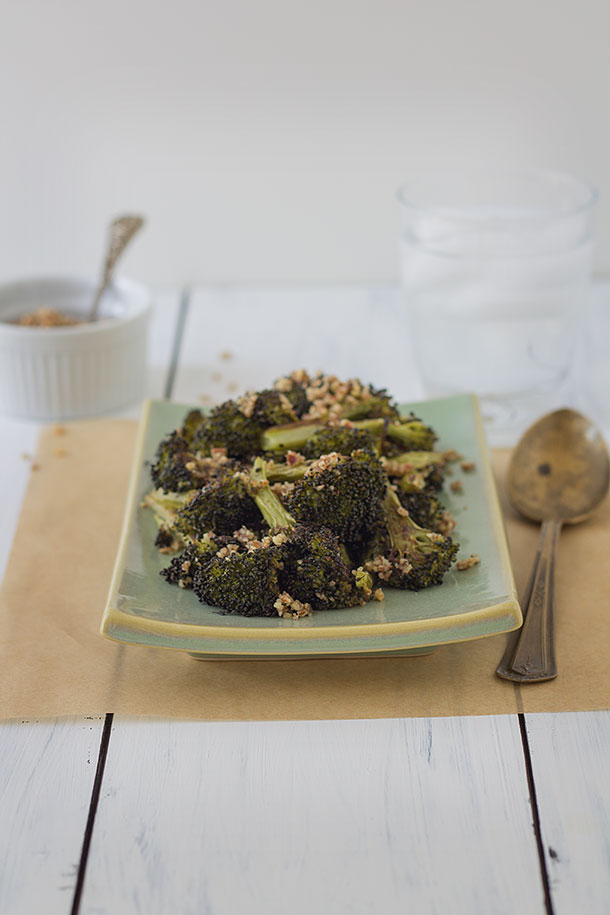 I've mentioned before how much I love to roast vegetables. If you want to turn someone on to vegetables this is exactly how you are going to do it. Roasting vegetables takes away any of the harsher tasting parts of a vegetable if there are anyway and makes them much more smooth tasting. It also manages to give the veggies a nice smokey and nutty taste with a slight sweetness at the end. Not to mention it's almost always incredibly healthy and Paleo so long as you don't use any gross oils.  Like vegetable oil,  gross. Just the name makes me shudder.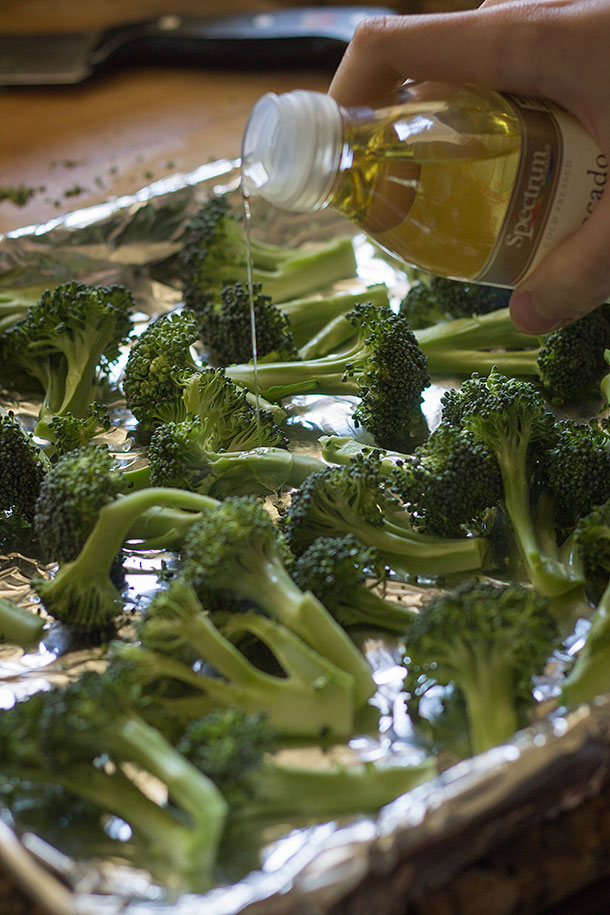 You can use pretty much any vegetable for roasting but broccoli is one of my absolute favorites. All of the little fronds stemming from the base of broccoli become golden and crispy on the outside while the stem gets browned edges and cooked perfectly. I could seriously live off of roasted broccoli and shovel it into my mouth all day long. It's very easy to eat to, so if your making this for a group I suggest not tasting it until it's time to eat. I only suggest that because yes, I have actually eaten a fourth to a half of the batch by "tasting it" after I cooked it.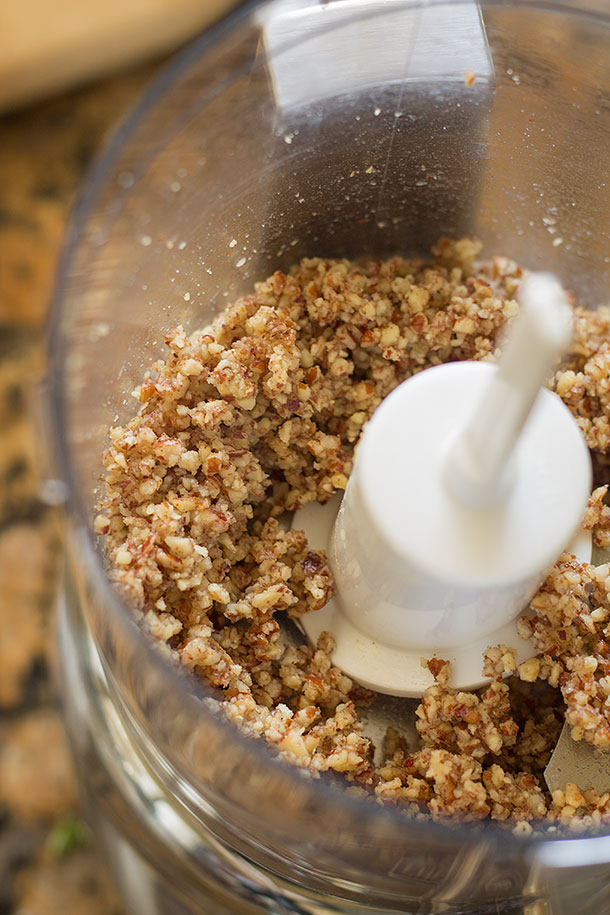 Although I don't necessarily feel bad about it, you never really here anyone say something like oh I ate too much broccoli. Actually I take that back, I've said that before, I think it was when I ate my half that batch I made for my parents. But hey they still got some, it just happened to be two or three florets and a guilty grin from me. Now if you like roasted broccoli or veggies like me you probably have had it so many meals in a row that you are starting to get tired of the same old salt and pepper.
Don't get me wrong, I love the simplicity of just the pure flavor of the beautiful vegetable roasted to perfection with just a little bit of salt and pepper to exemplify the taste of the veggie. But after I went to PaleoFX I actually stumbled upon a newer method to apply to the plain old salt and pepper. There was a Paleo buffet that had this broccoli that was roasted with pecans. To me this was sort of a revolution. But it wasnt just the addition of the pecans that made it special, it was more the way they included the pecans.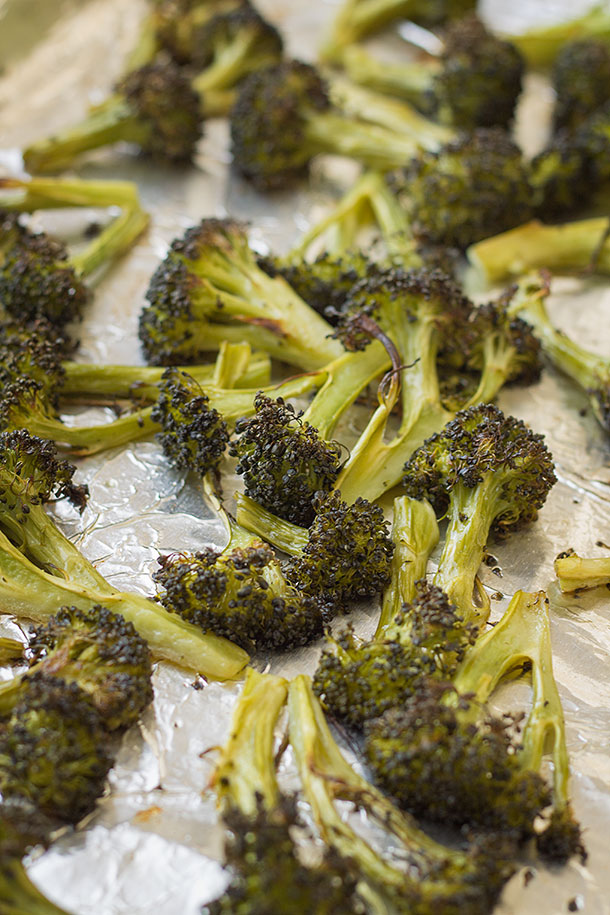 So I tried my own version of it with a huge success and incredible ease. I prefer to add the pecans at the end so you get a littel bit of a more delicate taste of the pecans and it keeps the pecans from burning. You could also add the pecans after it cooks and then place them back in the oven for 5 more minutes to get the pecans a little sweet tasting and slightly toasted. Whatever you decide to do just be sure you don't eat all of the broccoli the second it comes out, other people want to try it too.
Roasted Pecan Broccoli
Ingredients
1 medium head of broccoli
3 cloves of garlic whole and unpeeled
1-2 tablespoons avocado oil or melted ghee (I find it faster and easier with the avocado oil)
⅓ cup pecans
2 teaspoons ghee melted (separate from the other measurement of ghee if using ghee to roast the broccoli)
salt and pepper to taste
Instructions
Preheat oven to 400 degrees and line a baking sheet with foil.
Slightly trim stem off each broccoli head and cut each heat into fourths or sixths so you have wedges of broccoli (you can use the pictures as a reference)
Place cut broccoli onto baking sheet and drizzle avocado oil or melted ghee and sprinkle salt and pepper over the broccoli and toss to coat evenly. Spread the broccoli back around the baking sheet evenly so they lay in a flat layer then add the whole unpeeled garlic cloves around the baking sheet.
Place baking sheet into oven for 25-30 minutes shaking the pan a couple of times in between cooking or until broccoli is browned around the edges.
Once the broccoli is done roasting pull baking sheet out of the oven and remove all of the now roasted garlic cloves and remove the skin and place in a food processor along with pecans, melted ghee and a pinch of salt and pulse until you get a moderately fine grind not too fine but not too coarse and starts to clump, it should stick a little bit together when you squeeze it together.
In a medium sized bowl add broccoli and pecan mixture, toss well to combine and serve.
Related Links:
Bacon Fat Roasted Brussels Sprouts with Crispy Garlic and Thyme
Roasted Curried Cauliflower from Nom Nom Paleo
Roasted Rainbow Carrots from The Spunky Coconut
Roasted Butternut Squash from Urban Poser
Dill Roasted Carrots from Civilized Caveman Cooking Creations