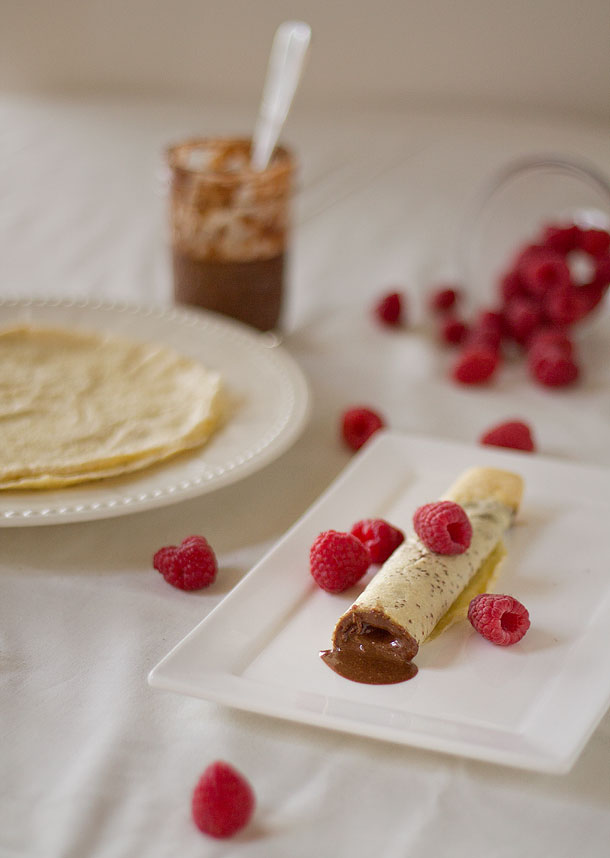 Before I start I would just like to say that I have been nominated for best food photography and best healthy cooking blog on The Kitchn and it's currently voting week. I would really appreciate it if you could please vote for me here. You do have to register but it only takes a second. Anyway, moving on, I still constantly make my Raw Cacao and Roasted Hazelnut Butter so I have a constant supply in the fridge. You can never have too much of that stuff. I practically have a spidey sense for whenever I'm about to run out.
I can feel the nearly empty jar droning from the fridge of it's imminent hollowness. Almost like I have some kind of spiritual connection with it. Besides the fact of my psychotic trifles with the storage in my refrigerator I knew I had to do something with it because believe it or not I had actually made some this week but It wasn't getting depleted nearly as fast as usual. I know, quite the shock.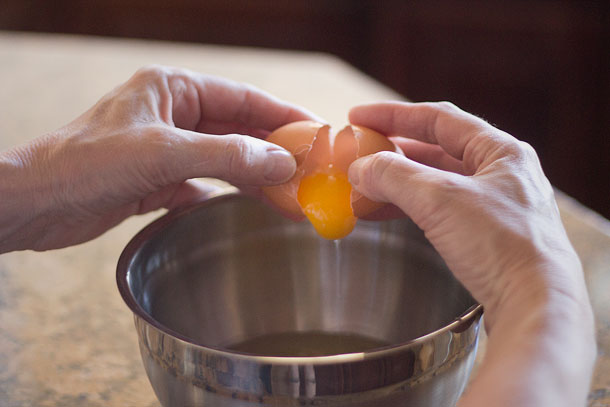 It really is rather difficult just to forget about this hazelnut butter though so I of course thought about it daily until I realized that I could slather it on anything. I started thinking of weird things like putting it in my eggs and slathering it with tuna. Gross. Obviously something here needed to be done. So instead I gave it some justice and put it in a crepe with some raspberries. Sure it's simple, but it's also incredibly addicting. Especially if you melt a little bit of butter over one of these devilish little things.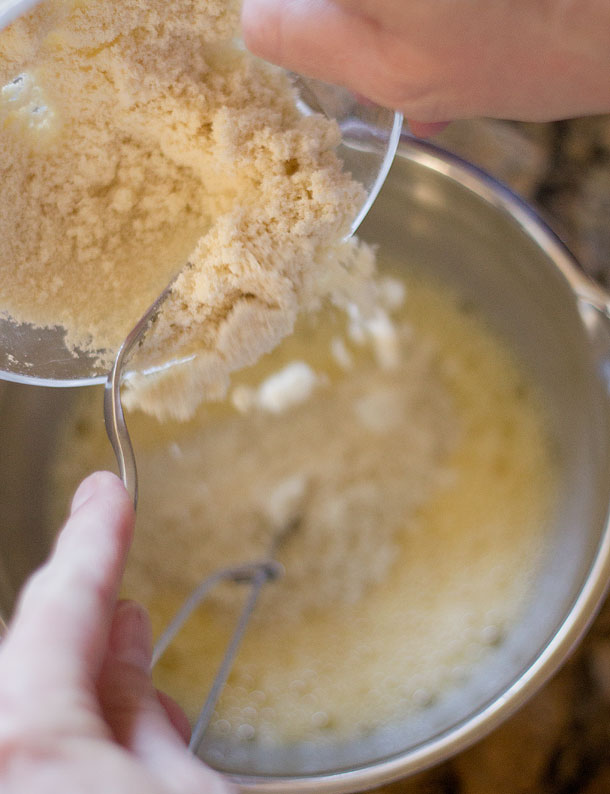 Although I act like it was my idea to put this in crepes, as if I was so clever. What really happened was I woke up in the morning with a strong urge to make pancakes. I couldn't find any recipes that I liked and too many of them had too much almond flour for my personal opinion. Not that it's unhealthy, more of the fact that I simply don't want to start my morning with a batch of pancakes that called for 3 cups of almond flour. Seems a bit excessive.
So instead I tried to make my own recipe and thought "maybe I can post this as a recipe if this works out". So I whipped it up and my parents asked what I was making and I said pancakes. So I poured the alarmingly runny batter into the pan and continued on with little concern for the fact that I knew deep in the back of my mind that these were not looking so great.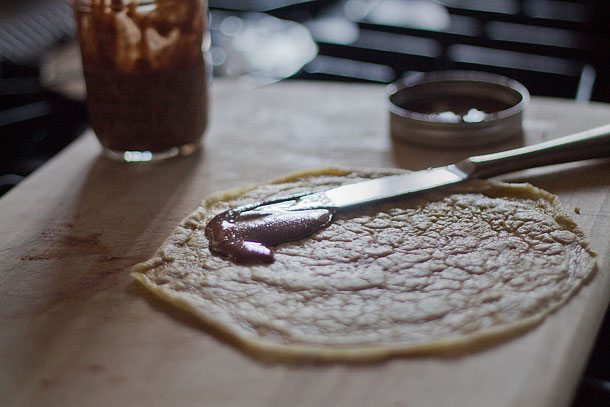 Well, I got crepes. Sure it wasn't what I was going for, but they turned out to make incredibly good crepes. It can be our little secret, just be sure not to tell anyone and make me look good. So after I made them I plated a few of these, put some small pats of grass fed butter on each and mushed some of the raspberries that were starting to get a little soft and rolled them up. Which as a side note these are great just like that. After I ate them like that I reminded myself later in the day how funny it was that had happened and how good of crepes they turned out.
Which lead me to the thought that everything is better with chocolate, thus re routing me back to my initial thought of what to do with the rest of my Raw Cacao Hazelnut Butter. A beautiful food cycle depicting the power of that delicious spread. Wow I really have gotten off to a topic that is probably making you think I am completely insane.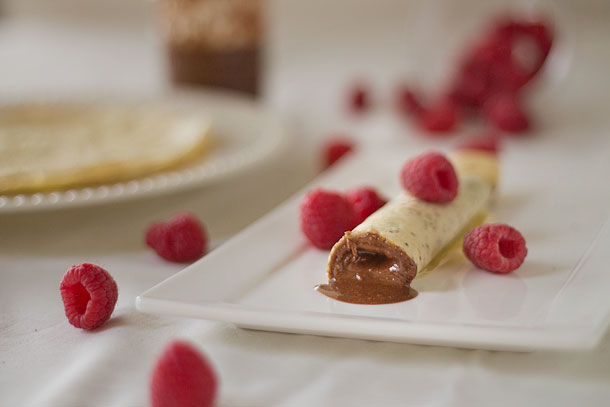 Very well, just try these crepes at least, you could say that you learned how to make them from an insane person.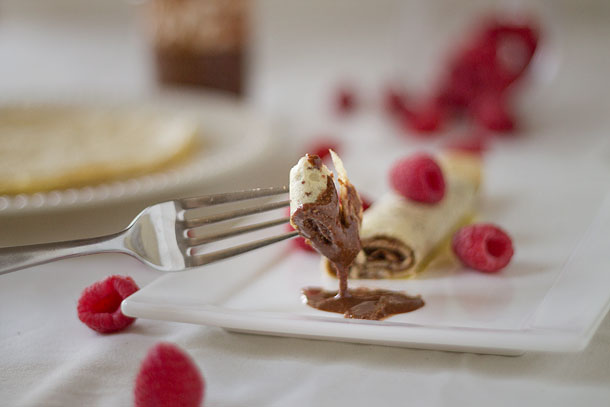 Raw Cacao Roasted Hazelnut Butter Stuffed Crepes
Ingredients
Dry Ingredients:
½ cup almond flour
½ teaspoon baking soda
½ teaspoon arrowroot powder
Wet Ingredients:
Filling
Instructions
Place all wet ingredients into a medium sized bowl and place all dry ingredients into a small bowl.
Whisk wet ingredients until very frothy and then add dry ingredients into wet and continue beating until thorougly combined.
Heat a pan over medium low heat and coat with avocado oil or butter to keep crepes from sticking.
Once pan is hot pour batter in pan while swirling pan around to coat the entire bottom of the pan. (Only pour just enough batter to evenly and thinly coat the entire bottom of the pan.
Once the sides of the crepes begin to roll up carefully run your spatula around the crepes and flip them carefully but quickly to not break them and cook until they begin to turn slightly golden.
When all of the crepes are evenly distribute Raw Cacao and Roasted Hazelnut butter evenly in each crepe. (You may use more to get them nice and gooey on the inside) and place berries on the inside or save them to top the crepes then roll the crepes up and serve.
Notes
This makes 7-10 crepes.