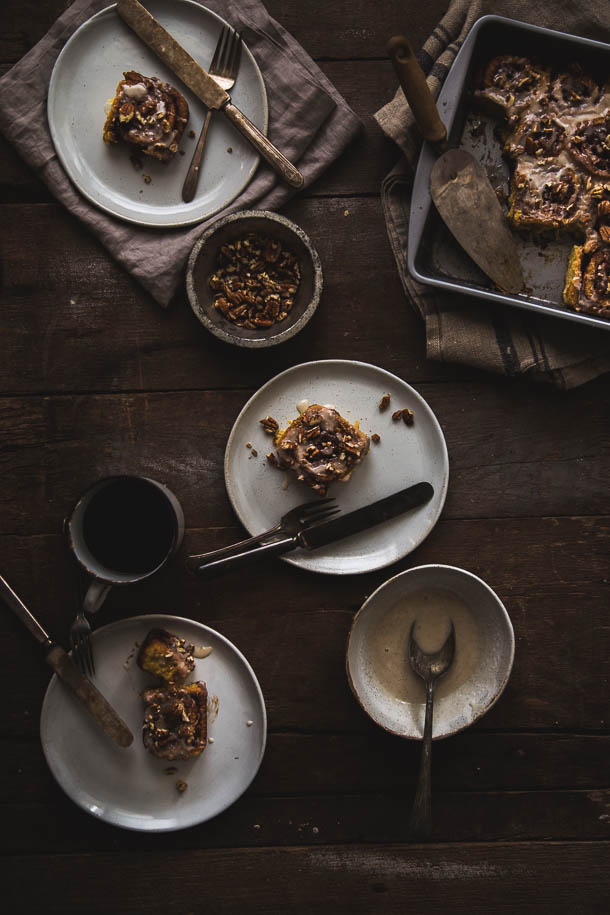 Okay here we go, cinnamon rolls. Something I have long awaited to make and put on here for you guys to try. I figured with the fall season rolling around might as well add some "white girlification" and make it pumpkin spiced. Click here to see the full video of the process of making this. .
These lovely things are made with a yeast risen dough which means these will be extra light and airy and packed full of flavor. There really is nothing better than filling your house up with the sweet smells of fall and fresh cinnamon rolls. Seriously, nothing better. Who needs an organic soy wax candle when you can just make these. Just make sure you have the right spices when making this. These were so incredibly delicious smelling thanks to Primal Palates pumpkin pie spice, which is easily hands down my favorite of all the blends of pumpkin spice I have tried. You're welcome.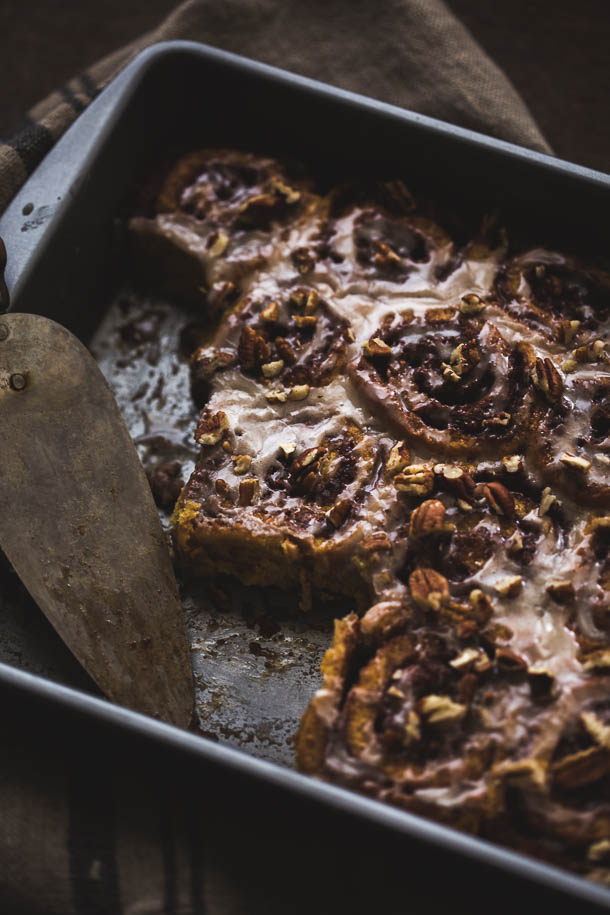 Plus when I made this recipe I accidentally made it in a way that  it could serve 345 people so this could easily serve beautifully on a nice chilly fall weekend breakfast with the family. Think about it, everyone will be happy, the house will smell great, and the kids can get their sugar high.

Pumpkin Spice Cinnamon Rolls (Video)
Ingredients
The Dough:
2¼ teaspoon active dry yeast
3 cups all purpose flour (I prefer heb organics or you can use einkorn but you might want to dial down the flour a touch or add more pumpkin if using einkorn)
½ cup + 2 tablespoon pumpkin puree
6½ tablespoons unsalted butter, melted
½ teaspoon salt
1 large egg
½ cup whole milk, lukewarm (90-100 degrees)
5 tablespoons white sugar
¼ cup dark brown sugar
1½ teaspoon pumpkin pie spice *see notes*
Filling:
melted butter for brushing
½ cup dark brown sugar
½ cup granulated cane sugar (white sugar)
2 tablespoons ground cinnamon
pinch of salt
Icing/topping:
Instructions
Make the dough:
In a small bowl add the lukewarm milk and active dry yeast. Whisk to combine and let sit for 7-10 minutes in a non drafty area, lightly tented with plastic wrap. It should get a little bit frothy and smell very yeasty.
While that is sitting, add the flour to a large bowl. To that add the ¼ cup dark brown sugar, 5 tablespoons white sugar, pumpkin pie spice, and salt. Once the yeast milk mixture is ready add that to the flour mix along with the egg, 6½ tablespoons unsalted butter, pumpkin puree. Mix thoroughly with a spoon until it begins to clump together and form a dough. Finish by kneading the dough until all ingredients are fully incorporated. Be careful to not overwork the dough.
Cover the bowl with plastic wrap and set it out to rise for 1 hour; it should double. If your kitchen is on the colder side then place it in an inactive cold oven with the light or pilot light on.
Add the FIlling:
In a small bowl whisk together the ½ cup dark brown sugar, ½ cup granulated cane sugar, ground cinnamon, and pinch of salt.
Once the dough has doubled dust a large work surface with flour and roll the dough into a 16x12 inch rectangle or until the whole thing is pretty thin and the dough is a little under a quarter inch thick.
Brush the dough with your melted butter to coat the whole surface then sprinkle the filling sugar mixture all over the entire surface of the dough.
Shape the Cinnamon Rolls:
Grease a 8x12 baking tray with butter or oil.
Starting from a longer side, roll the dough in a tight spiral to form a long log. Then with a serrated knife slice the log into 1 to 11/2 inch long rounds (don't add to much pressure, just saw away at the log and let the weight of the knife do the work. This will ensure you don't squish the dough as it gets sliced).
Place each log into the greased baking tray, cut side down, and line them up side by side. It's cool if they touch, all of mine touched.
Cover again with plastic wrap. At this point you can make these ahead and place them in the fridge overnight and let them rise in the morning or you can set them out to rise right now. Either way when you do choose to rise them, they will take about 1 hour to rise in a warm area with no draft. *see notes for making ahead*.
Bake and Make:
Preheat your oven to 350 degrees fahrenheit (make sure your cinnamon rolls are NOT in the oven yet!) for at least 15 minutes.
Place your cinnamon rolls in the oven for 25 minutes or until your house smells like mount olympus in fall or until the rolls are golden brownish.
As for icing you can do anything you like. Simply mix powdered sugar and milk until you get the consistency you like. Add the milk drop by drop to ensure you don't go too far and waste ingredients in that process. Drizzle your icing all over the cinnamon rolls, be careful not to add too much or they'll be too sweet, then top with chopped pecans.
Serve these immediately and enjoy on a lovely fall weekend with a nice cup of joe and some bacon.
Notes
If you're making these ahead go ahead and follow the steps up until you place all the cut cinnamon rolls into a greased pan and then place that greased pan immediately in the fridge. Finish their proof (A.k.a second rise) in the morning. That way it's perfectly timed for breakfast! When proofing these in the morning I recommend proofing them in an oven that is completely turned off and cool with just the light or pilot light running. This will ensure the yeast gets nice and active before actually getting baked. Just remember to take them OUT of the oven before you preheat it. The only reason you put them in there is to have them be in a semi-warm environment (80 degrees or so) to get them to rise more efficiently.
As for pumpkin pie spice, I've tried so many different brands and none of them compare to
Primal Palates blend
. It is hands down my absolute favorite. The greatest part is that it comes with a pack of apple pie spice and gingersnap so it's a win win. Also I bet those other flavors would go greatly in the filling of this recipe. Click
here
to get it.