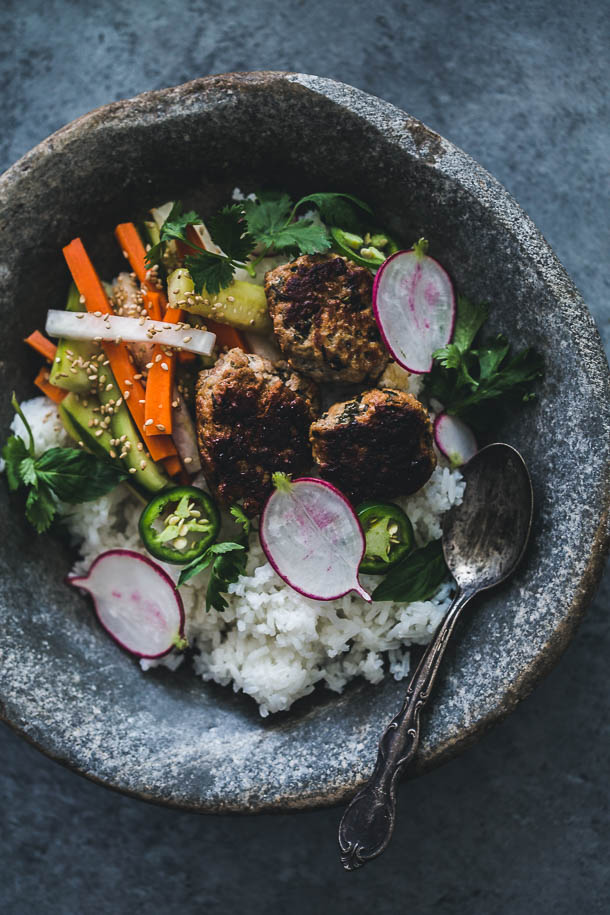 So this recipe was originally going to be a recipe for an asian style cucumber salad. As soon as I sat down with these cucumbers, this recipe accidentally turned into a bahn mi, transformed into a bahn mi style rice bowl. Don't ask me why, this is just how my thought process sometimes works. Basically having full intention to do something specific, then do something completely different that ends up being extravagantly better. Well, better in my mind at least.
My grocery list started with the only ingredients I needed; soy sauce and sesame seeds. Then I added carrots, then daikon, then rice vinegar, then cilantro, and suddenly I am making a bahn mi bowl recipe.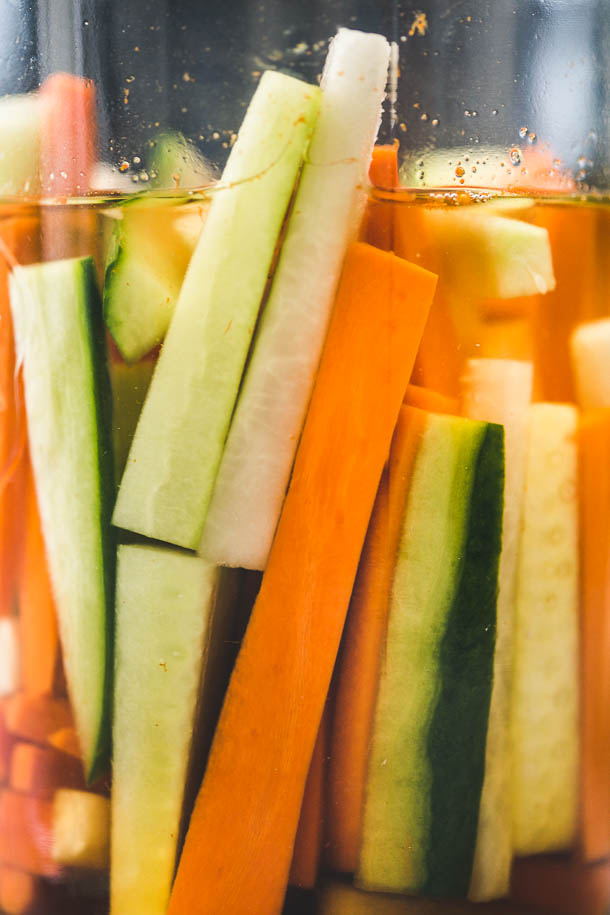 As discussed in my last post (sourdough pancakes) I have repositioned my mindset back into a career direction I feel good about again. Starting a successful career/business during my adolescence took a toll on my ability to see if I was building the career that I wanted and was truly passionate about. Don't get me wrong, I know I'm passionate about food and cooking but there was still some questions in the back of my mind unanswered.  I spent a lot of time looking around for other things that I might enjoy on top of food but It was a futile effort. It was food all along that I am drawn to. I ended up spending my first year in Austin trying to find myself in too many things which in turn just made me progressively unhappy. Meanwhile I was sort of ignoring the fact that I constantly undertake kitchen projects without even thinking about it. Ding ding ding, yet again, food being the winner.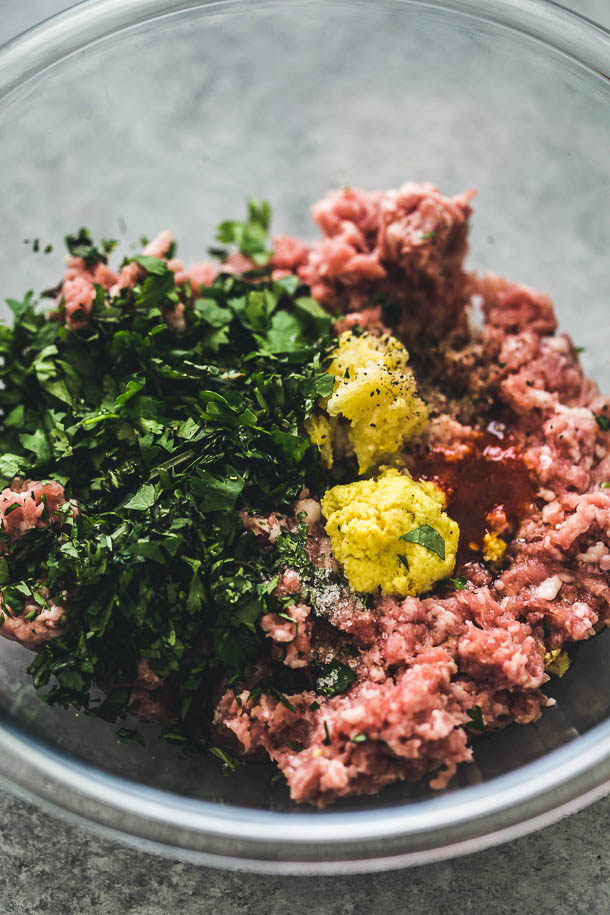 With that all said and done it feels good to have some equilibrium again. I also have the notion that I'm likely not the only one who has gone through this struggle, which also makes me feel a lot less outlandish. I don't know, I feel as if I'm sharing some unusual thoughts right now but I'm going to continue forth with it anyhow.
I have so many ideas overflowing in my mind now that I feel fresh again. It's all just a matter of where to begin. I think I should maybe start hiring people to help me with certain aspects that way I can focus on some of the other things that need to be done by me. It's funny because looking back I remember never wanting to hire anyone because I thought that I could do it all myself and that I would do everything best myself anyway. I actually took a really great UT summer course on the fundamentals of entrepreneurship a couple months ago so I think that contributed a lot to that decision.
I digress…the only thing that is growing as I type this is my hunger. Until next time, here is a delicious bahn mi bowl recipe to keep you company.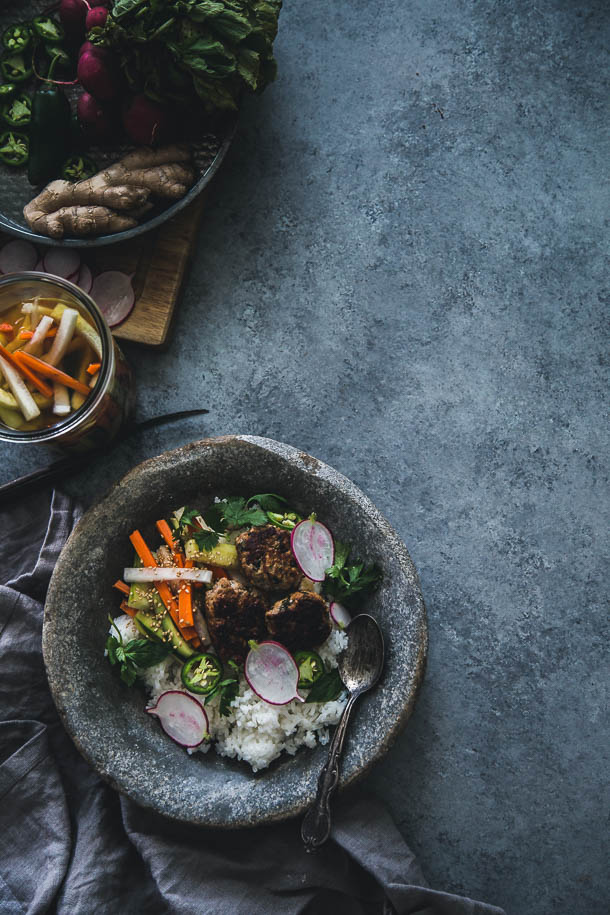 Bahn Mi Bowls
A gluten free and fun rice bowl version of a vietnamese bahn mi. This is a great recipe for when you have leftover rice you don't know what to do with or if you just feeling like having a rice bowl with all of the delicious profile of a bahn mi sandwich.
Ingredients
Steamed rice or cauliflower rice for base of the bowls. You can have serve as much of this as you want per person.
Pickled Vegetables:
1 cup julienned carrot
1 cup julienned daikon
1 cup julienned cucumber (peeled)
1½ tablespoons sugar (coconut or cane)
¼ teaspoon salt
1 teaspoon soy sauce
rice vinegar to cover
Meatballs:
1 pound ground pork
1½ teaspoons grated ginger
3 cloves garlic grated
¼ cup minced thai basil
¼ cup cup minced cilantro
1 teaspoon sesame oil
½ teaspoon sriracha
1 teaspoon fish sauce
very light pinch salt
cracked pepper to taste
Garnish:
Thai basil
cilantro
sesame seeds
radish, sliced thin
jalapeño, sliced thin (optional)
Instructions
Pickle the vegetables by adding all the carrots, daikon, and cucumber in a large jar with sugar, salt, soy sauce, and fill with rice vinegar to cover. Let sit out at room temperature for at least 30 mins; can sit out for a couple days.
In a medium sized bowl mix together all the ingredients for the meatballs until thoroughly incorporated. Form into meatballs to the size of your liking.
Preheat an empty pan to medium high heat and add your meatballs, browning them 2-3 minutes per side. Lower heat to medium low and lid the pan to finish cooking for about 5 minutes or until fully cooked.
Assemble your bowls by starting with rice at the bottom, then add your pickled vegetables and sprinkle them with sesame seeds, then add the garnishes to your taste. Serve with sriracha (or maybe a sriracha mayo if you're really feeling adventurous) on the side.