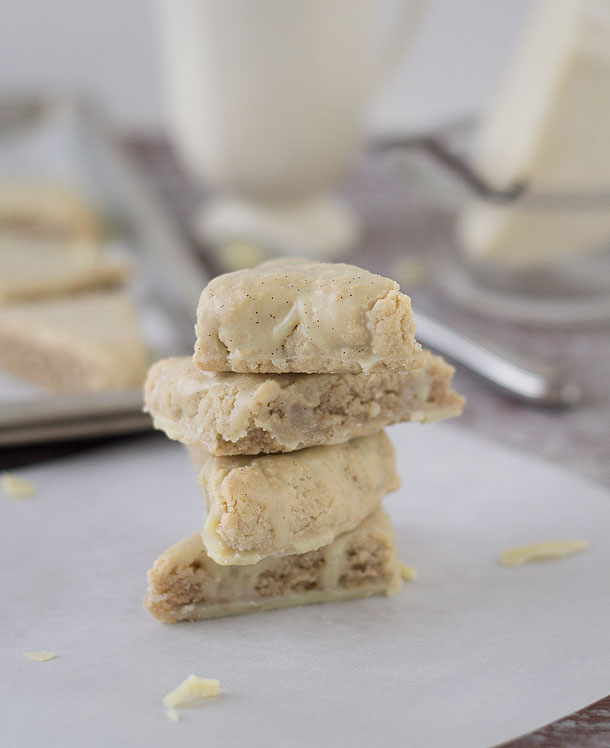 For those of you who go to Starbucks or went to Starbucks probably know about their little devils known as Petite Vanilla Bean Scones. Yeah well I'm ashamed to admit it, but I loved those things. I used to eat those like mad and pretty often. Sadly they aren't made with the best ingredients in the world and aren't the healthiest but what if they were. Now that was something I had to investigate, I mean come on, how could you not take a look at one of those bad boys and want one. I rarely get cravings, but when I started thinking about these I could smell them already.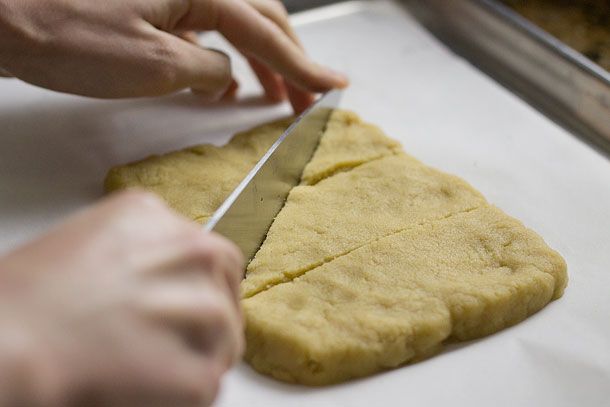 I haven't been thinking about baked goods or any treats lately until I started browsing some other recipes that were rather naughty. Initially my first thoughts were pretty sound and didn't really initiate until I started thinking about those vanilla bean scones from Starbucks that were oh so irresistible. Now I don't think anyone can say they haven't ever gotten cravings, but I think I do well with dealing with them. Maybe a little too well, maybe to a point of obsession. Oh well, deliciousness done with healthy ingredients is an okay obsession in my book.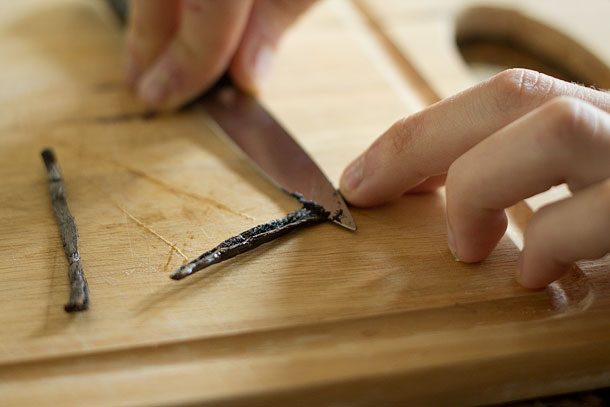 Now, the idea behind these was to keep that wonderful buttery, crumbly scone texture but with that oh so comforting icing. The scones were relatively easy because of the way Almond flour works when you don't use many eggs. It gets a very small rise, it's fairly dense, and has a great velvety and buttery taste with that classic scone crumble. I wouldn't be surprised if the dough part of this recipe had multiple uses apart from just doing scones. I thought of some pretty weird things I could do with it after I made these. Maybe I should save that for another time. I know, how suspenseful.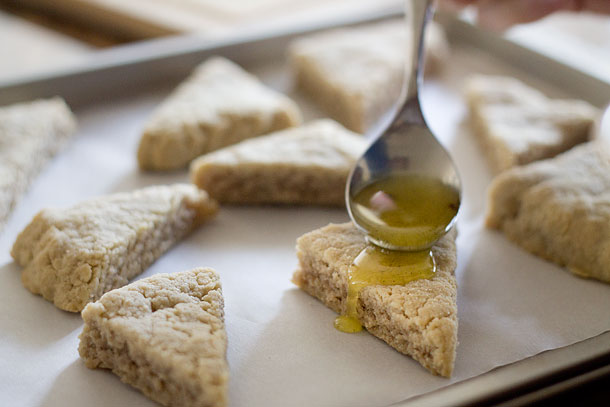 Now,  icing is very tricky without the use of sugar. Especially since it's made with sugar. Impossible right? Wrong, cacao butter is the answer. A decadent, slightly sweet and incredibly flavored block of ivory colored heaven. Cacao butter was definitely my savior in this because I distinctly remember that cacao butter cools and hardens very quickly when added to something cold, and when it is hardened it has a similar texture and appearance to icing. The flavor is purely up to whatever you put in the cacao butter after it's melted, in our case it was vanilla beans.
Which not only makes it taste like vanilla bean which I would hope that it would, but it also accompanies the taste of pure cacao butter incredibly well. Even if your not into the whole healthy eating thing, don't be dismayed by this because this brings raised eyebrows and wide eyes to just about anyone to anyone who takes a bite. In a good way of course.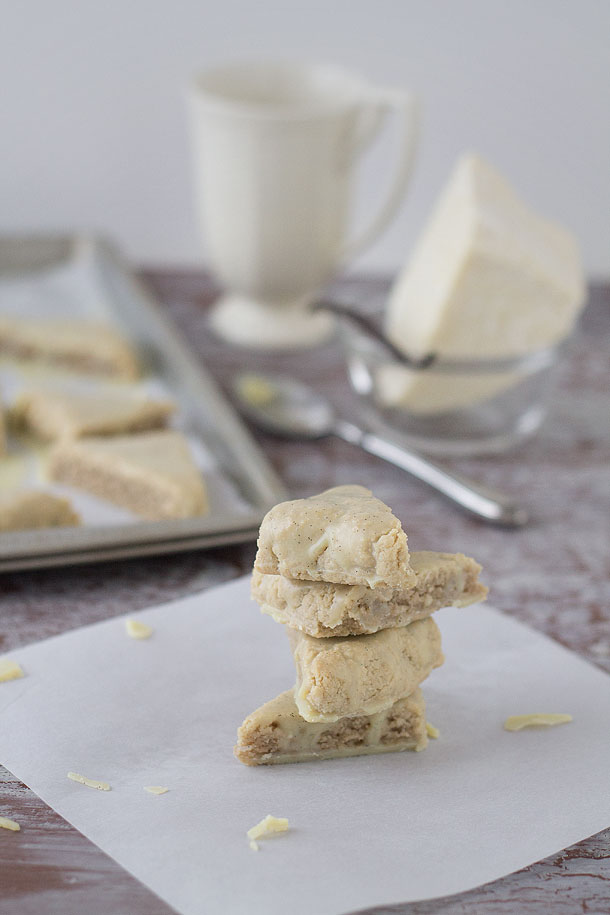 Petite Vanilla Bean Scones (Paleo, Grain Free, Gluten Free)
Don't be intimidated by the number of steps as this is incredibly easy to do and fairly quick.
Ingredients
Scones:
2 cups almond flour
1 egg
¾ teaspoon baking powder
½ teaspoon liquid stevia drops or ¼ cup honey
¼ teaspoon vanilla extract
1 teaspoon lemon juice
pinch of salt
Vanilla Bean Frosting
65 g cacao butter chopped roughly (about ½ cup)
½ vanilla bean pod scraped
2 packets of stevia or 2 tablespoons of honey warmed(I used pure stevia packets without any additives because this works better with a solid or dry sweetness going into it so the cacao butter doesn't seize up, but if you do use honey just make sure it's warmed and you add it in slowly while mixing the melted cacao).
Instructions
Preheat oven to 350 degrees and line a baking sheet with parchment paper.
In a large bowl add almond flour and baking powder and pinch of salt.
In a small bowl mix 1 egg, stevia or honey, lemon juice, and vanilla extract and whisk until combined.
Pour wet into dry and mix until thoroughly combined and you have a thick dough. (It might not look like enough at first but just keep stirring and incorporating with a spoon and not your hands)
Flatten dough out onto parchment lined baking sheet and shape into a rectangle shape about 7-8 inches long and 4 inches wide.
Cut the dough with a knife long enough to cut it all the way through width wise. Cut it into 3 even sections width wise by pressing your knife through the dough do not slice it and do not pull them apart just slowly lift your knife back out so that they lay gently next to each other.
Then cut horizontally, the same way you did last time, all the way across to cut the entire thing in half. This should leave you with 6 even squares. diagonally but not all the way across the rectangle just stick to 2 out of the 3 sections so that you are cutting one of the four squares diagonally and repeat in both directions this is just and easy way to keep you from having to cut each individual square diagonally.
You should have 2 more whole squares remaining on one of the edges, simply cut each of those diagonally across once and you should be left with 12 total mini scones.
Place scones in oven for 10-15 minutes or until very slightly golden brown. (you don't want it browned but slightly golden browning is an indicator to take them out immediately)
Once scones are done pull them out and let them cool slightly for about 10 minutes before breaking them apart and then placing them on a cooling rack for 10 more minutes.
Once they are no longer warm place them on back on the baking sheet and into the refrigerator to get cold for about 10-20 minutes.
Once cold leave them in the refrigerator and begin making your icing by melting your cacao butter in the microwave.
Microwave for 20 seconds and then stir to disperse the heat and keep heating and stirring at 10 second intervals until all of the cacao butter is melted.
Once it is melted add stevia or warmed honey and scraped vanilla bean pod individually and while continuously stirring until combined thorougly.
Pull the cold vanilla bean scones out and gently spoon on the cacao butter mixture over the scones guiding the melted cacao butter all over the scones. (You'll want to get them iced in one spoonful because doing multiple makes the coating look unappealing and splotchy)
The cacao butter mixture should begin to solidify very quickly so pour gently and slowly but move quickly and make sure to keep the mixture stirred so the vanilla bean seeds stay thoroughly incorporated and don't sink to the bottom.
Once all of them are iced you can leave them out at room temperature for about 2-3 days or refrigerate them for up to 2 weeks.
Notes
As stated before you do not want to pull these apart after you press your knife through the dough just let them fall gently next to each other as you slowly pull your knife out. You can look at the photo of me cutting it in the post as a reference.