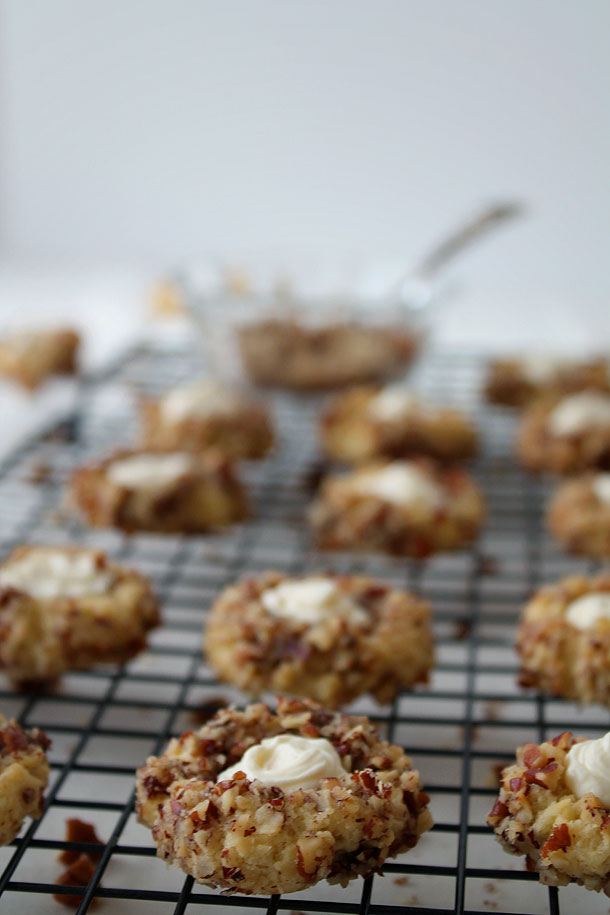 One thing I have always looked forward to on Christmas when I was really little was the Christmas thumbprint cookies from the family cookbook. My grandma Jessie would make them and send them to me express shipping so I got them right on Christmas day even though we lived far. They would only be in transit for about a day so they were quite fresh, and the second you open the box you're just overwhelmed with the scent of buttery, crumbly goodness. The distinct scent note that I really notice is the warm smell of velvety butter radiating off of the cookie, and then that hint of sweetness from the crumbly shortbread and then finished with the smell of toasted pecans that wrapped this beautiful cookie.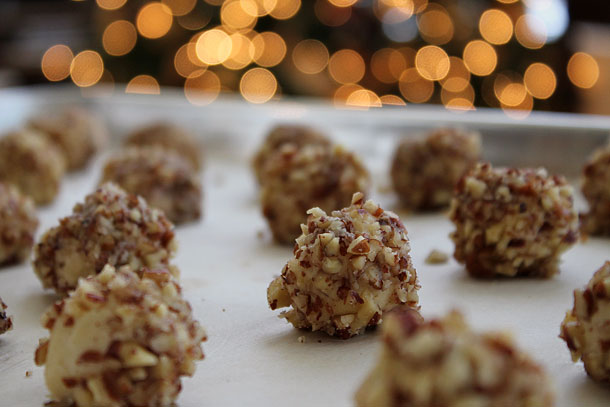 To me this cookie has always signified Christmas time, and a time of happiness and always brought a wide smile on my face and a fluttered heart beat. Now that the season is so close I started to fear that I wouldn't be able to have them because of my commitment to eating healthy. So I though really hard for a while and realized that I could try to make them as close to the real thing as I possibly could but a much healthier version. After a lot of ingredient shoveling I managed to get a thumbprint cookie that tastes almost exactly the same. I'm not even kidding.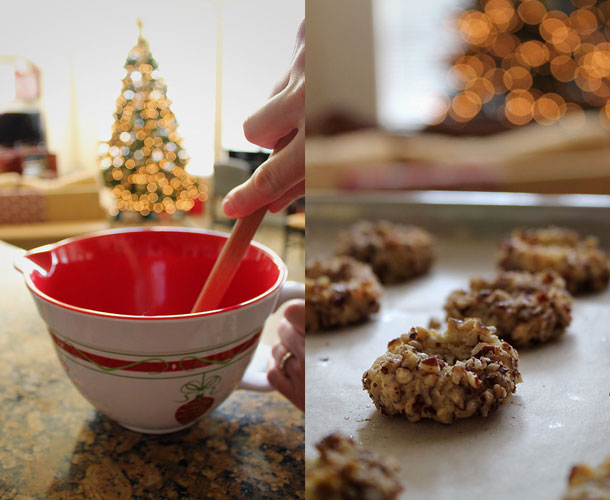 Not counting the frosting though because our family cookbook version calls for a standard icing, which I think we all know is not going to be possible. So I made a cream cheese frosting that actually accompanied this quite well and wasn't overpowering to the taste  of the entire cookie. Which in my opinion, actually makes it work just like a regular frosting in my opinion, because you can hardly taste the cream cheese in the frosting. And even if you can taste the cream cheese it doesn't really matter because cream cheese is delicious on something like this none the less.
But I was so happy when I got this recipe to work because it still brings that smile on my face and satiates that longing for these wonderful cookies even though its made with slightly different ingredients.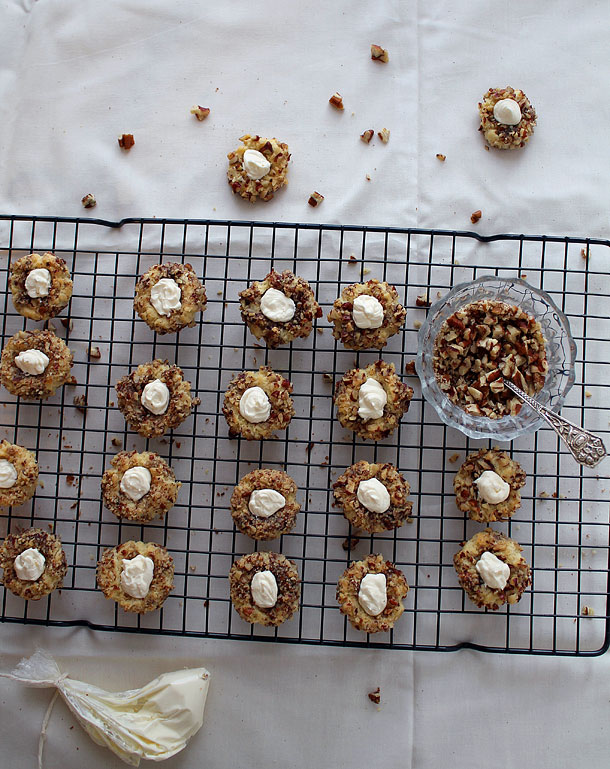 But I must give credit to the family for creating such great recipes. I think my moms side of the family may just be a group of secret culinary geniuses. We can call them..the Feland Gourmand Elites. Seriously though, way too good.
And this is a recipe that has been passed down my family for quite a while and has always been iconic, so messing with the recipe was a little bit scary. I was afraid I was going to get struck by lightning or something when I started messing with the ingredients. Luckily, I in fact did not get struck by lightning, but there were some strange noises radiating from outside which I cannot explain.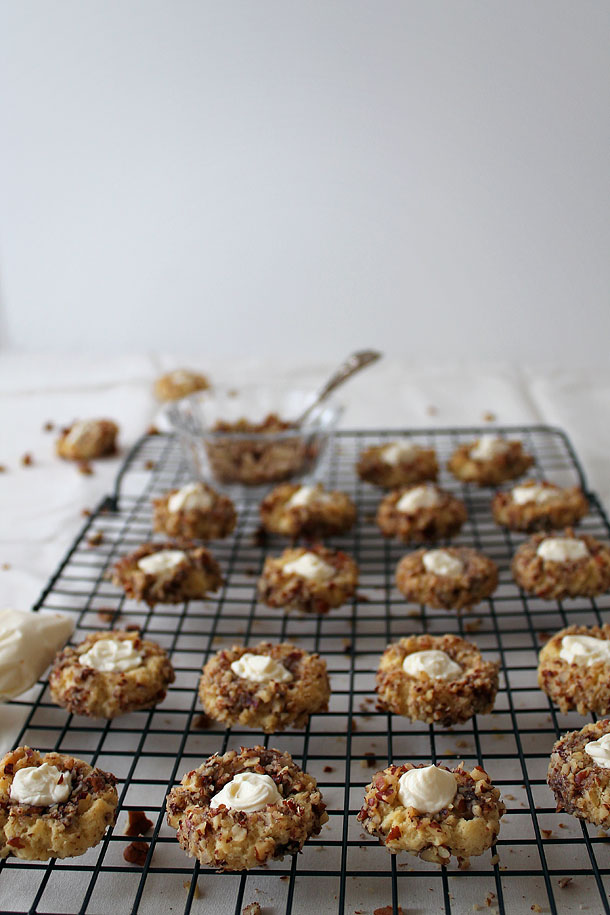 If I don't get struck by lightning anytime soon then I might just test more recipes out of our family cookbook. And if you want it to be dairy free or don't want the cream cheese frosting you can use my Raw Cacao And Roasted Hazelnut Butter, which I bet would be amazing. Maybe too amazing…. nope just a really good idea.

Pecan Thumbprint Cookies With Cream Cheese Frosting (Paleo, Gluten Free, Grain Free)
Ingredients
Cookie
1 cup almond flour
pinch of salt
¼ cup butter (I used my favorite pasture raised butter because it is delicious)
1 egg
½ teaspoon vanilla
30 drops stevia or 1 Tablespoon honey ( I used Sweetleaf Steviaclear Stevia Drops)
2½ oz chopped pecans *for rolling* (about a half a cup plus 2 tablespoons)
1 egg white lightly beaten *for rolling*
Cream Cheese Frosting
60g cream cheese (1/4 cup)
30 drops of stevia or 1 Tablespoon of honey
1 teaspoon almond milk
Instructions
Thumbprint Cookies
In a small bowl pour Almond flour and a pinch of salt and set aside.
In a medium bowl add egg, vanilla, and your choice of sweetness(stevia or honey) and whisk until egg is mixed then add softened butter and whisk until butter is thoroughly mixed as much as it can mix into the mixture.
Once mixed thoroughly add the almond flour and pinch of salt you have on the side to the wet ingredients and mix until fully incorporated.
Once fully incorporated refrigerate dough for 15-20 minutes to harden.
Now begin preheating your oven to 350 degrees and line a baking sheet with parchment paper.
While the mixture is hardening place chopped nuts in small bowl for rolling. And in a separate bowl place lightly beaten egg white.
Once the dough is done hardening pull it out and roll it in to small balls about ½ inch in diameter.
Carefully drop each ball and quickly roll around in egg white and then drop in nut mixture and roll around quickly just enough to cover the surface and place on baking sheet lined with parchment.
Once baking sheet is filled with balls evenly spaced a part with some room in between each of them place them in the oven for 5 minutes.
After 5 minutes quickly pull them out and lightly press your thumb in each cookie to create a little impression for filling. (Be sure not to press to hard, just press enough to create a little impression but not enough to squish it all the way down)
Once all of them have been pressed place them back in the oven for about 10-13 minutes or until just starting to turn golden. (Make sure your pecans don't burn)
Pull them out and place them on a cooling rack to cool. (25 minutes to an hour but an hour is preferred)
Cream Cheese Frosting
Add all ingredients to a small bowl and mix until thorougly combined.
Place mixture in a small ziplock baggie and cut an end off for piping.
If the cookies are fully cooled carefully pipe just enough filling to touch the rim of the top of the impression you made in the cookies.
Serve and enjoy!
Notes
Both the frosting and the cookies can be made ahead of time and either kept separate or together. Once made these can also be stored in the refrigerator in an airtight container. I'm not sure for how long they can stay in the fridge as they haven't lasted that long in the fridge seeing as everyone keeps eating them!