So I noticed quite the interest in anything that I used zucchini noodles in. Specifically how to make them,well my secret is behind the Paderno World Cuisine Spiral Vegetable Slicer, and I absolutely love my it. In fact I love it  so much I decided to give one away. That way some lucky winner can finally have one of these awesome kitchen utensils that I not only love but use all the time. There are just so many crazy things you can do with this besides making zucchini noodles, although zucchini noodles are awesome, you can make noodles out of practically anything with this. It even has interchangeable blades for different types of slices and cuts. I could go on and on about it but I think it would be easier just give one away and let someone find out for them self.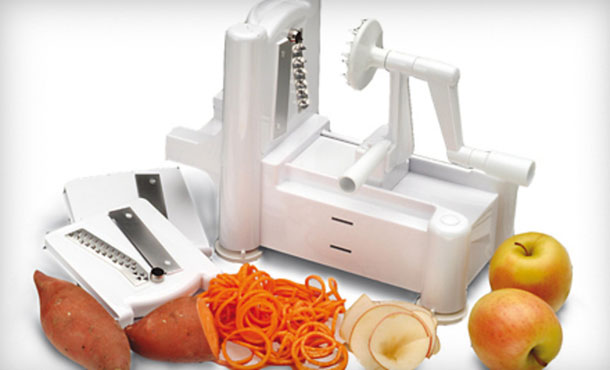 This giveaway is over, thank you to all of you who participated. Be watching out for more and even better giveaways in the future!
Here's how you enter:
1. (Required) Subscribe to my email subscription on the right hand side and leave a comment on this page saying you did it.
2. (Optional) Like my Facebook page
3.(Optional) Follow me on Twitter
4. (Optional) Share this contest on Facebook/Twitter/Pinterest etc. (at the bottom of the post)
For each option you do on top of the required one you will get an extra entry. So if you do all of  them that's a total of 4 entries per person! That gives you an even better chance of winning. Just be sure to leave a comment in the comment section on this page letting me know which ones you did so I can count your entry or entries.
This giveaway will end on Sunday February 17th where I will tally up all of the entries and use a random number generator to choose the winner. Good luck to everyone!