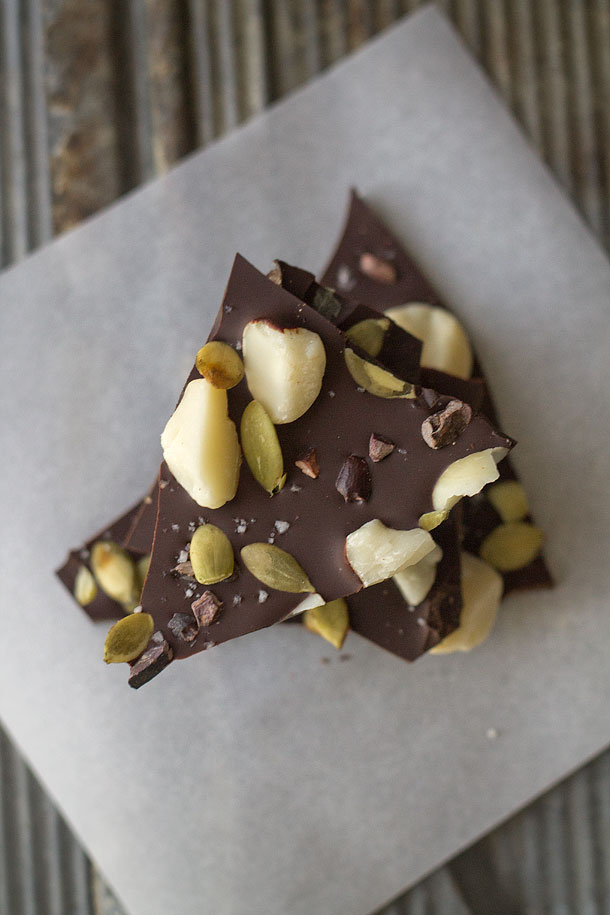 I've said many times how chocolate is a powerful tool to bend peoples will. Well this time it was more the chocolate seeping it's way deep into my cerebrum and controlling me. For the longest time the first thing I thought about when I woke up was chocolate. The roasted and acidic aroma that emits from a fresh opened bar of it. I felt that my very being was in jeopardy if I didn't soon hear that familiar snapping of a bar when you break it in two.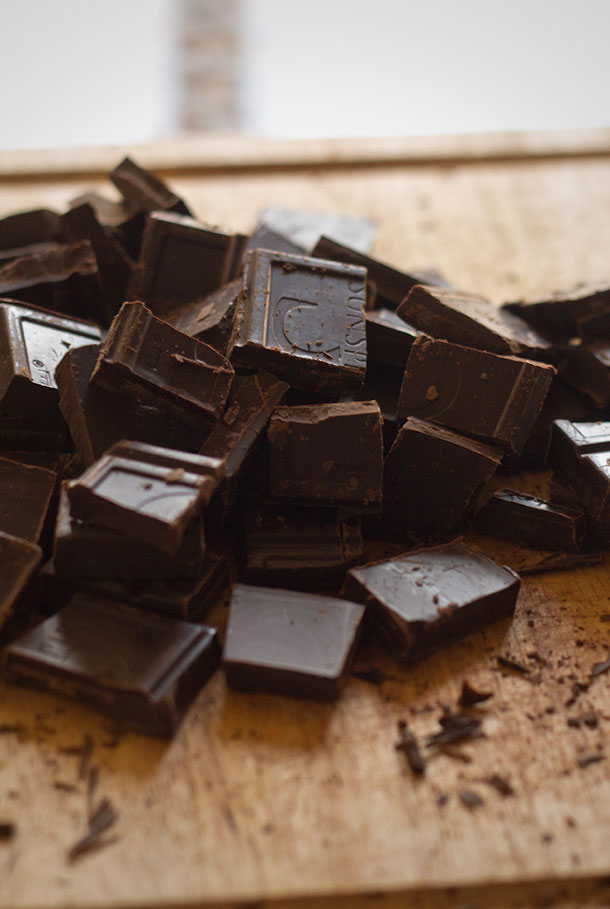 As I thought of all of this I realized there was only one solution to this. I had to make something with chocolate in it. I thought about it for a while and made the second realization that it couldn't just "contain" chocolate, that should be the main ingredient. That's where chocolate bark came about. There are so many elaborate bark recipes that have so many ingredients it kind of begins to take away from any initial flavor it had to begin with. The flavors become a big jumbled mess in a way and you cant really identify one as it's own.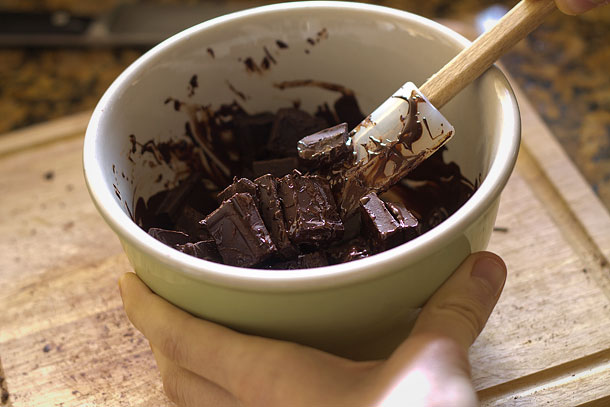 Which is why I wanted to keep this more simple and focus on the taste of the chocolate with slight nutty undertones and a texture enhancement from the crunchy big macadamia nuts and the subtle chewiness of the raw pumpkin seeds. I also added raw cacao nibs as an extra dose of chocolatey richness with a bite to the rest of this which kept the undertone of the nuts strictly as just that, an undertone. To me there are a lot of very important factors that play in food. Texture is really exemplified in this recipe in terms that I played with it in a way that the texture is actually quite, well, sexy. Don't get me wrong or think I'm going for a perverted angle on this, thats just the best way I can explain it. Whenever you bite into this you start with that strong snap of the chocolate and are immediately flooded with the flavor of chocolate and as you chew you travel your way around the bite you made and stumble upon an obstruction in the texture a big hunk of macadamia nut.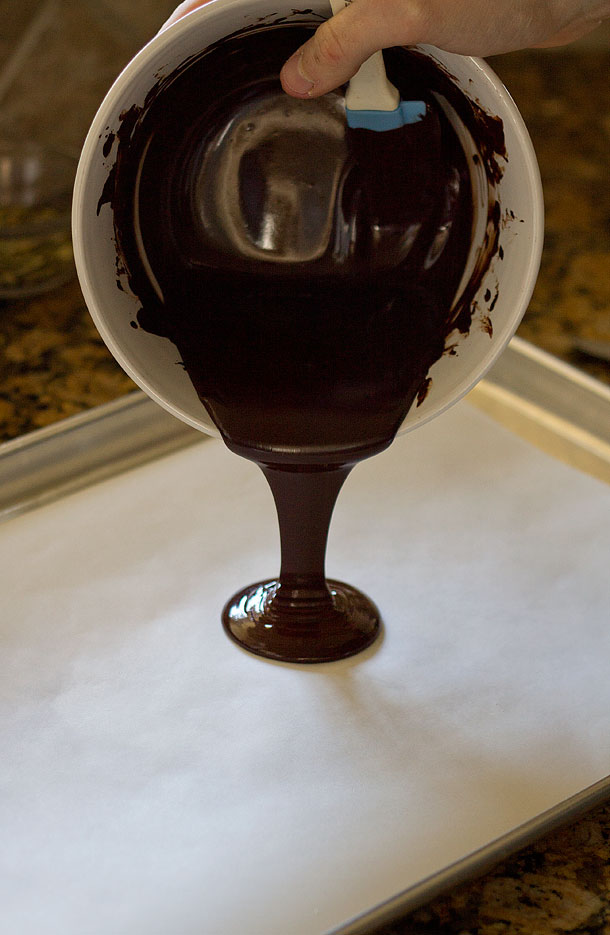 With that macadamia nut there you bite into it with hesitation but then anticipation once you realize it's alluring contrast of texture. Once you've rid your self of the major obstruction and continue to chew the macadamia nut hunk you stumble upon another unknown texture, this time much nuttier and chewier than the last which at this point you begin to notice the slight bitter sweet chunks that you were already biting in known as the raw cacao nibs and then it all starts to meld together into a beautiful symphony of flavor and just as you begin to search with eagerness for another nuance, another texture change, you crunch right into the salty fleur de sel and immediately bring all of those fading flavors back into the picture and twice as powerful as before.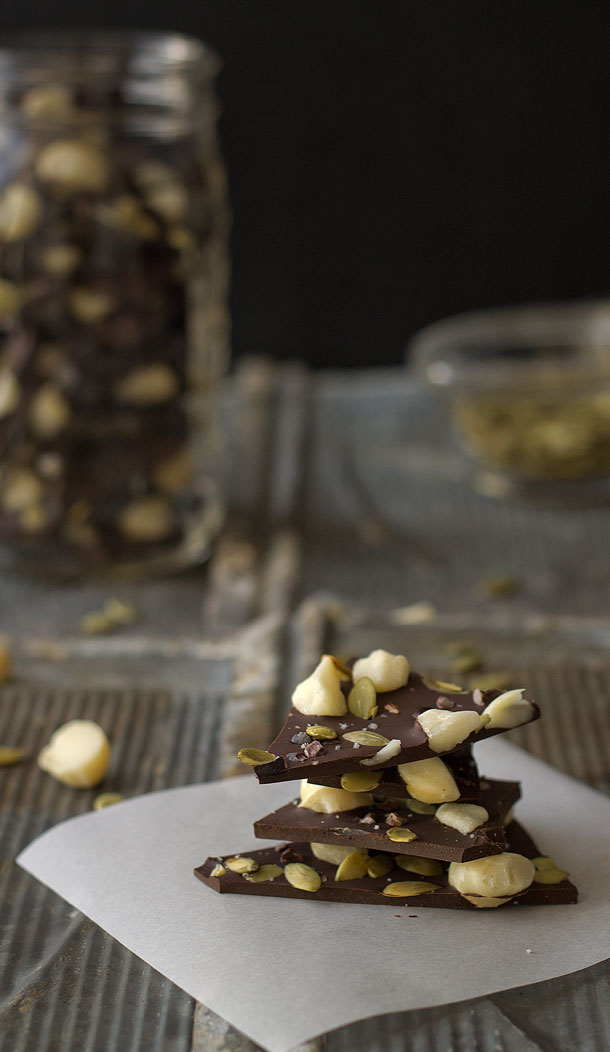 Nuts and Nibs Salted Dark Chocolate Bark
Ingredients
8 oz dark chocolate 70 percent or higher (I used Sunspire Organic Unsweetened Baking Bars sweetened with sweetleaf powder stevia)
½ cup raw macadamia nuts
⅓ cup raw pumpkin seeds
2 tablespoons raw cacao nibs
fleur de sel sea salt for sprinkling
Instructions
Set out a baking tray and line it with parchment paper
Chop up chocolate and place it in a microwave safe medium sized bowl and microwave it for 30 seconds and then stir for a while to distribute the heat evenly.
Place back in the microwave for 20 more seconds and stir again until the heat is evenly distributed.
The chocolate should be melted by now but if it isn't then keep microwaving at 10 second intervals and stirring in between each interval until almost melted and keep stirring and it will incorporate and continue melting. (try not to overheat it as we are trying to temper the chocolate right now)
If your adding stevia to your chocolate make sure it's powdered pure stevia extract with no additives and carefully stir it in the melted chocolate at this point otherwise skip this step.
Pour chocolate into the center of parchment lined baking sheet and spread around slightly thinly so the chocolate isn't too thick in any parts into a rectangle shape about 12x10 inches in size.
Once spread evenly sprinkle macadamia nuts all around the freshly spread melted chocolate followed by sprinkling the pumpkin seeds, raw cacao nibs evenly all around the melted chocolate. After that sprinkle the fleur de sel or flaky sea salt very sparingly evenly around the melted chocolate. (remember when using the salt not to use to much we are just adding a ever so slight salty undertone so keep it super sparing when you sprinkle it.)
Once everything is evenly sprinkled around the chocolate place baking sheet into the refrigerator for 20 minutes or until completely hardened.
Take the hardened chocolate out and break it up into medium pieces by snapping in random spots (make sure the broken pieces arent to big or to small, you want pieces you can eat within 2-3 small bites)
Place broken chocolate bark into a large mason jar or storage container and store in the fridge.