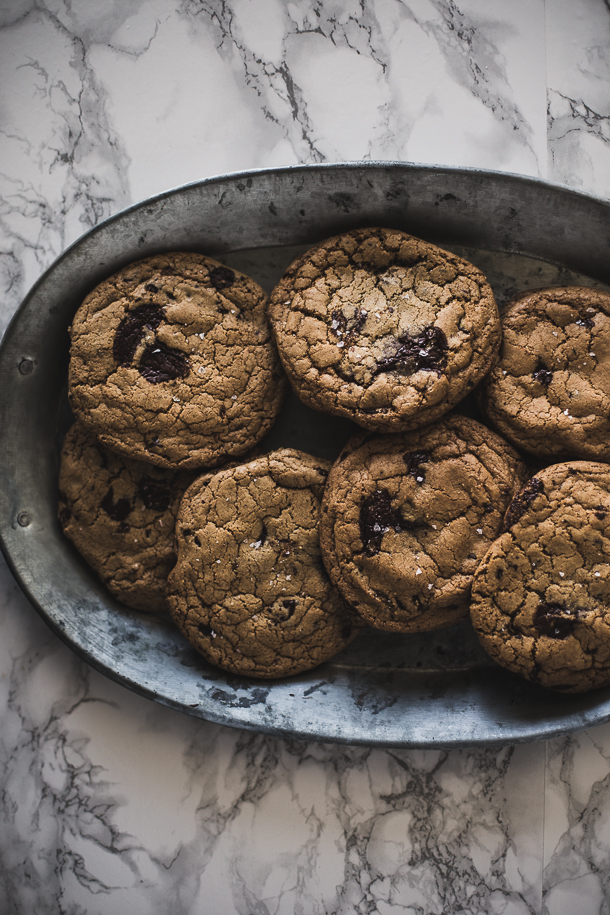 When I say traditional I mean made in a classic way. Yes I have a fan favorite paleo and gluten free chocolate chip cookie but since I've incorporated some locally milled wheat in my diet I figured it was time to post my best recipe using real flour. Of course you can sub gluten free all purpose flour and it will be fine, I'll put the substitution amount in the recipe. If you want to read about my dealings with the whole paleo thing you can read it here and here.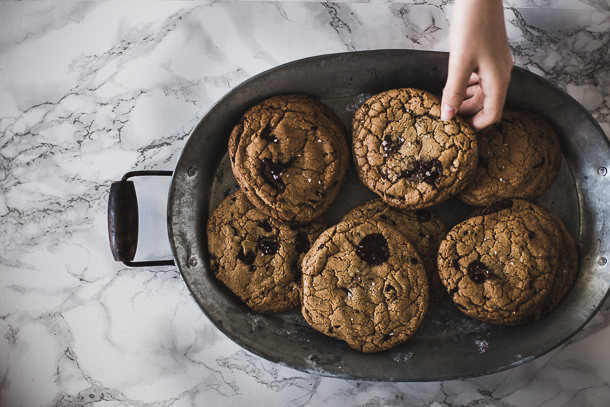 Like my paleo version of chocolate chip cookies, these cookies are crispy on the outside but chewy, fudgey, and dense on the inside. The chopped bits of chocolate make for randomized bites of moderate chocolate and then bites of molten oozing pools of chocolate. It truly is a beautiful experience. As usual I topped these cookies with flakey sea salt as well. I noticed that by doing cookies made with flour makes for a really nice dense mouthfeel when you first bite into the cookie.
Not a necessarily a food that is entirely perfect for your health but it is a treat that is entirely perfect for your soul. Remember that folks, you've only got one life. If you're going to indulge make sure it's as high quality and wonderful as possible.  Also heads up, I posted a video on how to make these cookies on my recently launched youtube channel! You can watch the video by scrolling down past the written recipe in this post. It will be embedded at the bottom of this post. If you guys like the video I would really appreciate a like and a subscribe on my youtube.

My Favorite Traditional Chocolate Chip Cookie
Ingredients
2¼ cup all purpose flour *see notes for gluten free*
¾ cup plus 2 tablespoons butter, melted
2 eggs
1 egg yolk
1¼ cup brown sugar
½ cup granulated sugar (I used evaporated cane sugar)
2 teaspoons vanilla extract
1 teaspoon baking soda
½ teaspoon salt
6-8 oz chopped dark chocolate roughly chopped into chunks (70% cacao or higher)
flakey salt for sprinkling
Instructions
Preheat your oven to 350 degrees Fahrenheit. Line two baking sheets with parchment paper.
In a large bowl add your sugars. Whisk together to combine. Add the melted butter and whisk until thoroughly incorporated. While whisking add in your eggs, egg yolk, vanilla extract. Whisk until completely incorporated then add the baking soda and salt. Keep whisking until everything is thoroughly mixed. Add half your flour and stir with a wooden spoon until incorporated then add the remaining amount of flour and mix until combined. Add your chopped chocolate and fold it into the cookie dough with your wooden spoon until evenly distributed.
With an 2 oz. disher scoop (you can also use a regular cookie scoop it will just make smaller cookies), scoop 5 cookies per baking sheet (or more if using a smaller scoop). This should use all of the batter, if there is any remaining you can freeze it for up to 3 months.
Place your cookies in the oven and bake for 15-17 minutes if using a large cookie scoop or 12-15 minutes if using a smaller cookie scoop. The cookies should look golden brown and craggly (not a word but you know what I mean) when they're done.
Let them cool for 2 minutes on the baking sheet then carefully transfer them to a wire rack to finish cooling just enough till they are cool on the outside but the chocolate is still melty. Trust me they are best when they have had some time to cool. They will be chewier and nicer overall.
Notes
You can make these cookies gluten free by subbing all purpose gluten free flour, just drop it to 2 cups of flour instead of 21/4 cup. The outcome won't be exactly the same but it will still make some decent cookies.

Also the yield of these cookies is highly dependent on the size of your cookie scoop.