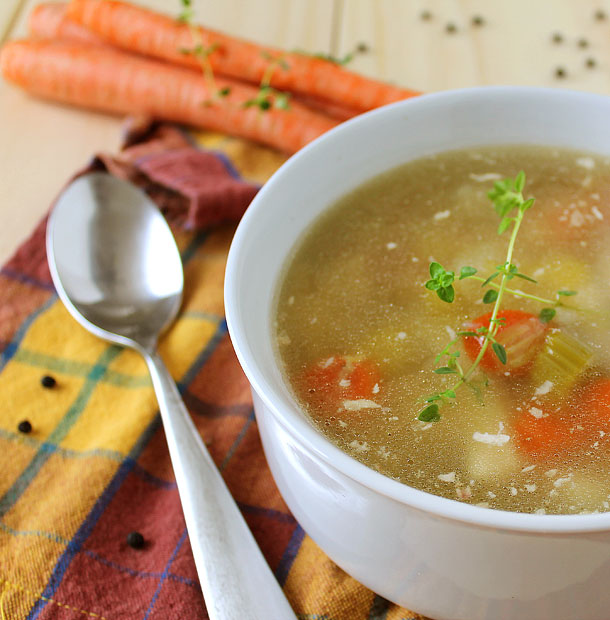 Warm, comforting, loving, beautiful. Those are the words that describe my Mom's chicken soup. Now this is her recipe but I must say I made a slight change in the recipe, because back then we of course made it with noodles. But why add noodles to such a hearty and incredibly healthy dish. Oh wait I did, but I went with zucchini noodles. Which in my opinion are actually better taste wise in this. They give the soup a bit of extra freshness that matches the beautiful flavor of the dish incredibly well. Plus zucchini noodles are really fun to make if you have a spiral vegetable slicer. I love mine so much and I use the heck out of it.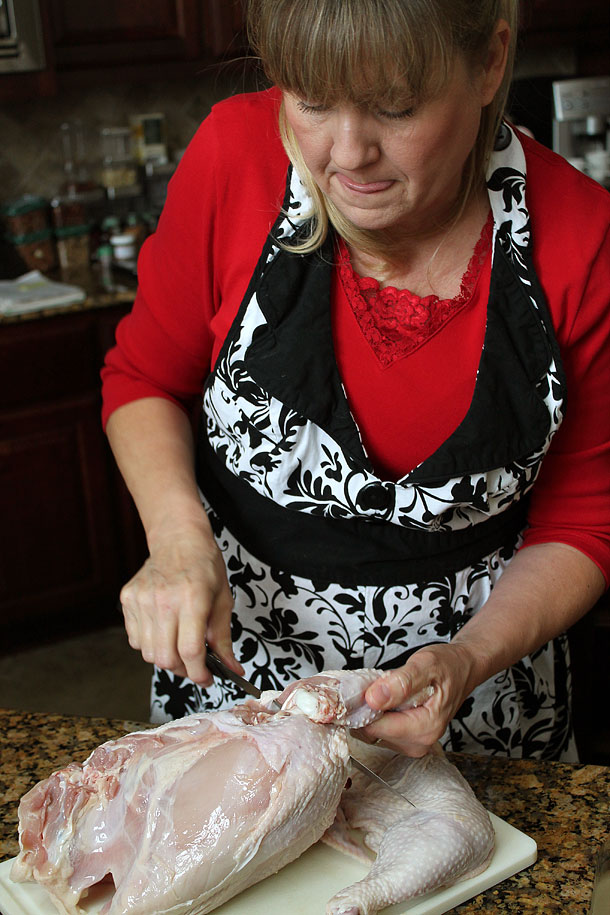 Something about this soup is so amazing, its a little hard to explain. But I shall attempt to explain it. When you come inside from the harsh cold and into the warm house the gorgeous and hearty smell of this soup fills your lungs like the warmest blanket on cold feet. Whenever I smell this soup cooking it always makes me happy and puts a smile on my face.
If I'm having a bad day and I walk in the house smelling this, its the most relieving and comforting thing ever. Now don't get me wrong I love all kinds of soups, especially vegetable soups. Call me biased but I don't think anything can really beat my moms chicken soup.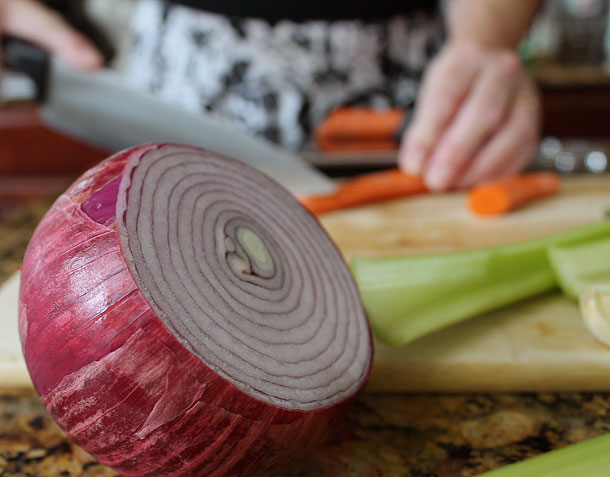 Sure its simple, sure its easy, but who cares, because sometimes the simplest easiest recipes are the best. And when I say easy I mean super easy. This is mostly slow cooking the chicken and getting a nice rich and hearty broth. Letting all of that beautiful flavor seep into the water creating an elixir that wraps the tongue in an intoxicating array of flavors that you would never expect from so few ingredients.
Also, try and get the freshest ingredients you can for this because the more fresh the ingredients the better this is going to taste. And like I say practically all the time fresh is always the best. That was not an intentional rhyme by the way, so, I'm not trying to be corny I swear.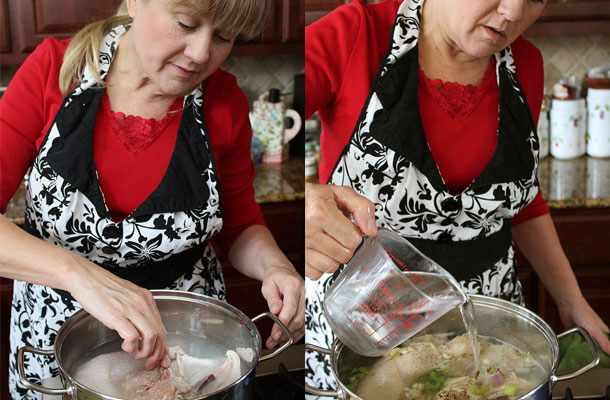 The thing I really love about this soup besides how delicious it is, is the fact that its not overwhelming and its very versatile. All of the flavors are fairly subtle and then kind of work together and blend to make a perfect balance of flavor and then they dissolve all into each other. And you can add any extra vegetables if you want towards then end like zucchini noodles, broccoli, mushrooms, or anything you like and it will give it a nice flavor boost and some extra body.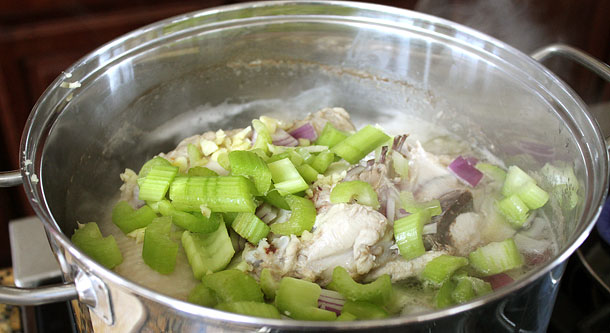 Or you can simply enjoy it as it is and still have it be as satiating and delicious. Not to mention you can make this for an easy family dinner for any family or friends staying over for the holidays or simply surprise everyone in the house with homemade soup on a cold day. It's kind of a magical thing how happy happy this soup makes people when they hear about it or smell it.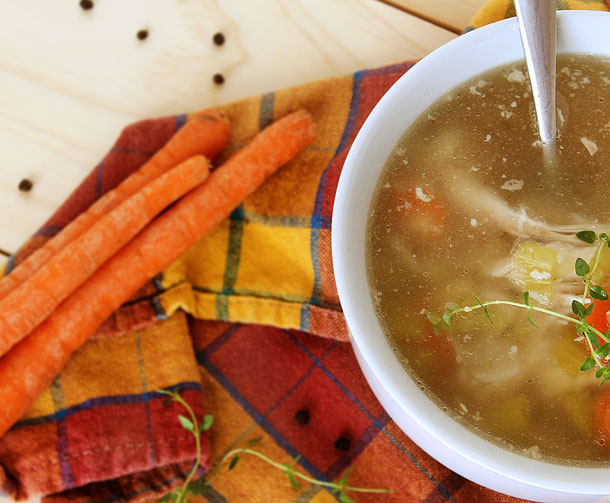 Id recommend trying to start on it before everyone is home if possible so you can see the look on their face when they walk in and smell that gorgeous aroma floating around your house.

Moms Chicken Soup
Good old fashioned chicken soup the way my mom makes it. This soup is a fun simple recipe that will keep your families hunger at bay and most likely knock them out within the next few hours of eating it. My mom always serves this when there is a crowd and its a really cold day.
Ingredients
1 whole chicken 4½ - 6 lb (preferably pasture raised)
2-3 quarts water
140g (about 3½ - 4 stalks) celery
84g (1/3 large) red onion
46g (1½ large) carrot
3 cloves garlic
2 sprigs of thyme
1-2 sprigs of rosemary
salt and pepper to taste
Instructions
Clean and cut up whole chicken by seperating wings, breast, backbone, legs and thighs.
Remove skin from chicken breasts but keep skin on everything else.
Pour water into large stock pot enough to hold at least 4 quarts and place cut up chicken in water.
Turn burner on medium high heat.
Once water reaches boil turn to medium to medium low and simmer for about 10 minutes and then add onion, celery, garlic, salt and pepper to taste.
Simmer on medium low heat for 30 minutes, then add thyme and carrots.
Simmer on low for another 30 minutes.
Once meat falls off bones skim as much of the fat that has risen to the top( this is very important, if you don't do this you will have greasy textured soup)
Once you have skimmed as much fat off the top transfer chicken with a slotted spoon to a separate bowl to debone, once deboned, return chicken meat only, to the pot and add rosemary sprigs.
Simmer at low heat for 10-20 minutes
Serve with zucchini noodles or whatever other add-ins you like.