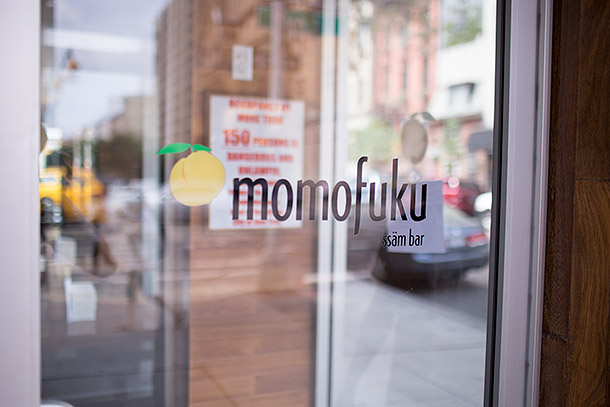 I'm a fan of many chefs across the world such as Gordon Ramsay, Paul Bocuse and as a more related one David Chang. Despite the fact that I have all of these influences and chefs that I look up to I had not ever dined at one of their restaurants. I finally got my first chance while I was in New York  I was able to visit one of David Chang's many Momofuku restaurants.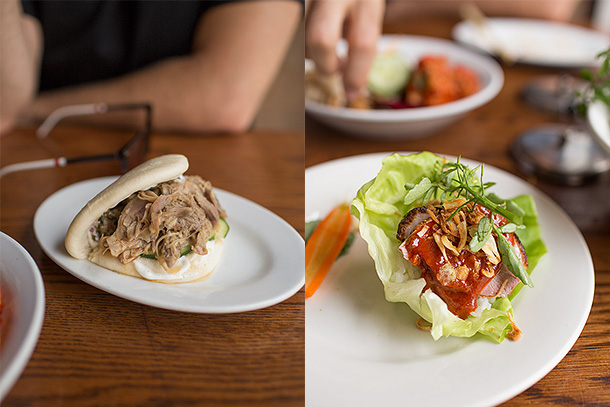 There are actually several different Momofuku Restaurants, each one specializing in something different. There is the Noodle Bar which obviously specializes in noodle dishes and soups(I know, I know totally not Paleo), Milk Bar which focuses on desserts mainly (also not Paleo). There is also Má Pêche and Ko which both are much less casual and more sophisticated. I really wanted to go to Ko but the reservations are required to be scheduled 10-14 days in advance in order to eat there and I waited too long to do it. I would assume it's because they only have a total of 12 seats in the entire restaurant so the space is incredibly limited.
Ma Peche was also an option that I wanted to try and fit in but I we didn't have time to. After discovering that I couldn't make it to Ko or Ma Peche I started to feel pretty bummed out. That is until I made it to Ssäm Bar. Regardless of the fact that it was fairly casual I was still completely blow away by what they offered and how the restaurant was styled. Beyond the decor then we received the menu which to my surprise came on freshly printed paper. Interestingly, they actually rotate their menu daily so they have to print out a new menu every day. Now while that does necessarily sound super environmentally friendly It's still pretty cool to me. Plus I really admire the fact that they use sustainable and local ingredients in their food, oh and they cook with lard.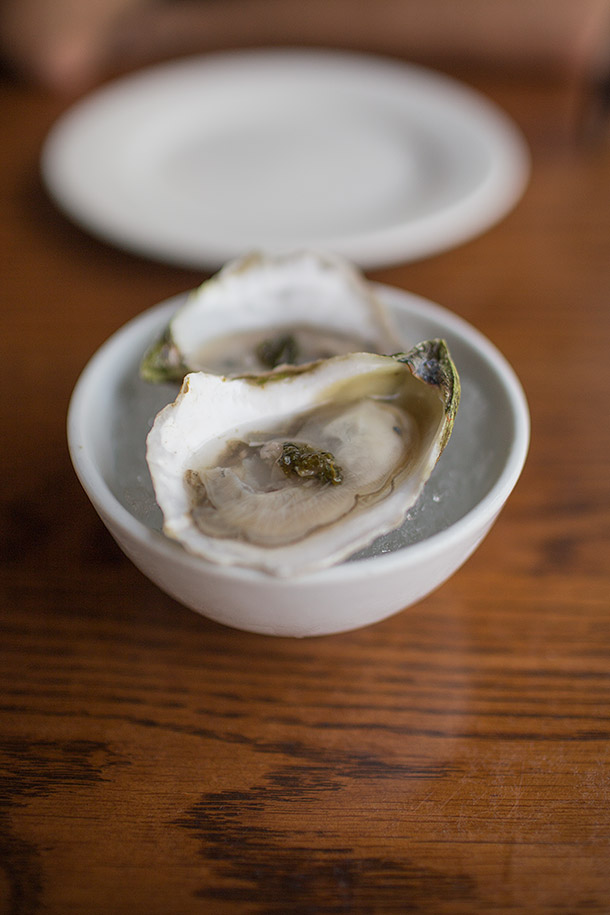 When my brother and I made it to Ssäm Bar we took a moment to look at the menu. If I ever have a list of choices of food in front of me I end up being the most indecisive person in the room but for some reason the moment I looked at the menu I figured out exactly what we should order the second I got there. We ordered a couple starters to get us prepared for the main course. The first thing we ordered was their East Beach Blonde Oysters with a Ramp Mignonette. The oysters themselves were incredibly fresh and would have been fine on their own. I was shocked awake by there refreshing and briny oceanic splash to the tongue when I slurped mine down. The ramp mignonette gave a wonderful bite that was subtle yet powerful enough to balance the flavors to make that single gulp so much more enjoyable.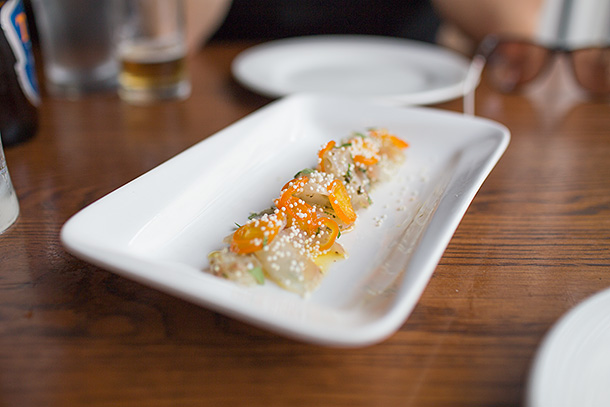 We also got another starter because I of course wanted to taste as many things as I could while I was there. To try and stay remotely economical we only wanted to go for two starters so I made my decision to get the striped bass sashimi with meyer lemons. This starter was probably one of my favorites out of all the things I tasted.  The sashimi was beautifully fresh just like the oysters. The flesh of the fish itself texturally was simply perfect and had a very mild taste that was amped up with the citrusy and sweet meyer lemons and given a little bit of extra freshness and zest from the chopped cilantro.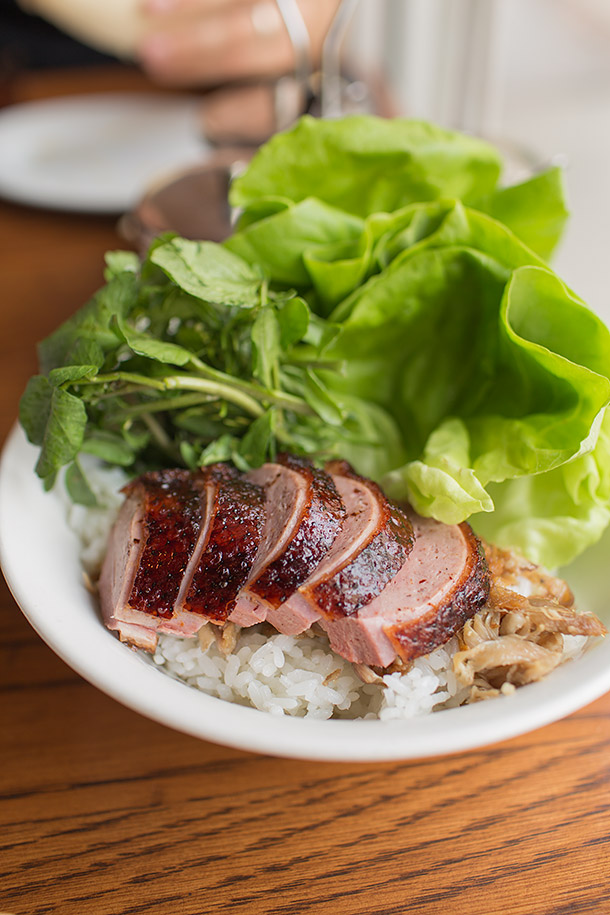 Once we had eaten our starters on came the main course. I ordered Rotisserie Duck over rice with lettuce. Now reading that off it seem kind of bland if you were to ignore the duck part, but it is quite the opposite. It comes with sliced duck and perfectly crispy skin atop a bed of perfectly cooked white rice. There was also a few leaves of boston bib leaf lettuce to fill with your duck and rice and make your own little lettuce cups. The skin of the duck was seductively crispy and the flavor of the duck was absolutely stunning. If you're wondering I did eat the white rice and it was perfectly cooked. I never really thought that rice could ever be cooked this perfectly but it apparently it can, it wasn't overly sticky and it wasnt tough at all, it was tender, slightly sticky and just right.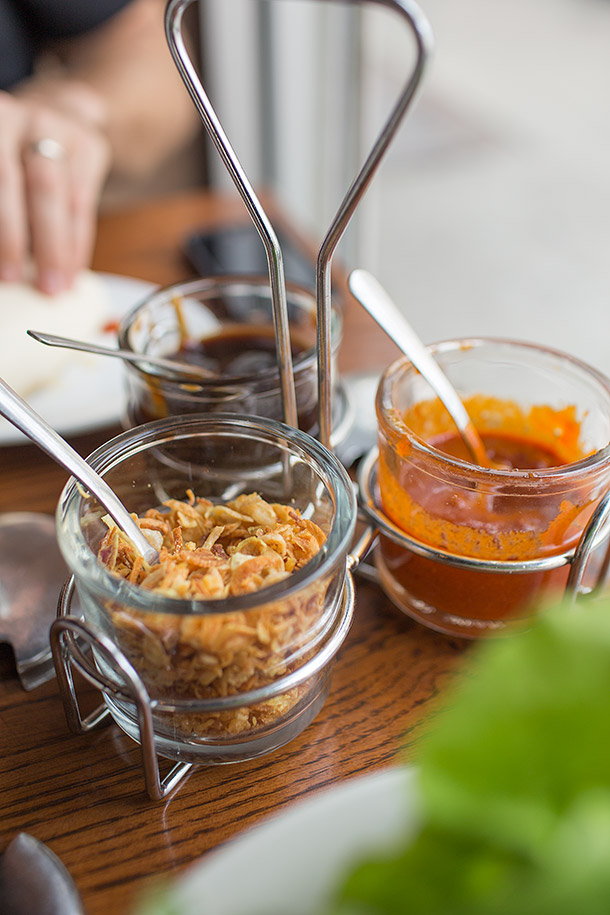 With this dish came three connected containers, one with their famous Ssām sauce, another with a sweet deep dark sauce, and another with the mother..crispy shallots. All together these made the perfect lettuce cup in my opinion, a nice crunchy lettuce leaf filled with rice a slab of duck and crispy skin, some of their Ssäm sauce drizzled over it and covered in crispy shallots. The crispy shallots were so intoxicating that once I ran out of duck I actually ended up filling a couple of the lettuce leaves with just crispy shallots and sauce, it was amazing of course.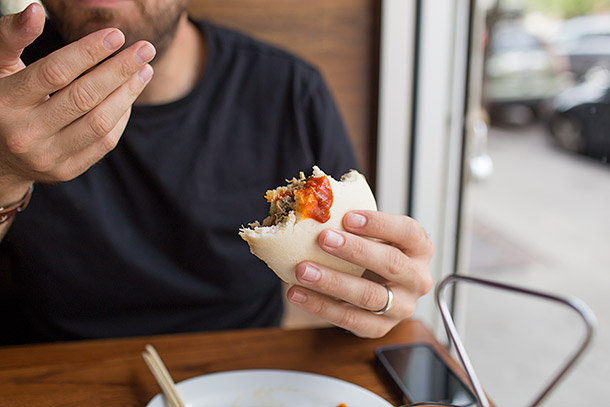 My brother ordered a pulled duck bun which came with a tzaziki sauce, harissa and pickled ramps. I didn't eat the bun but I absolutely had to try the pulled duck with a little bit of the harissa and pickled ramps. The taste reminded me a lot of a greek type of sandwich called a gyro, which as an FYI I don't really eat any more but I still remember the taste. Almost as if they are trying to do an asian rendition of a greek classic. The flavor of the meat was quite powerful but in a good way and the tzaziki toned everything down really well. I wouldn't have changed anything about the taste of it but my brother kept stealing some of my Ssäm sauce to put on it.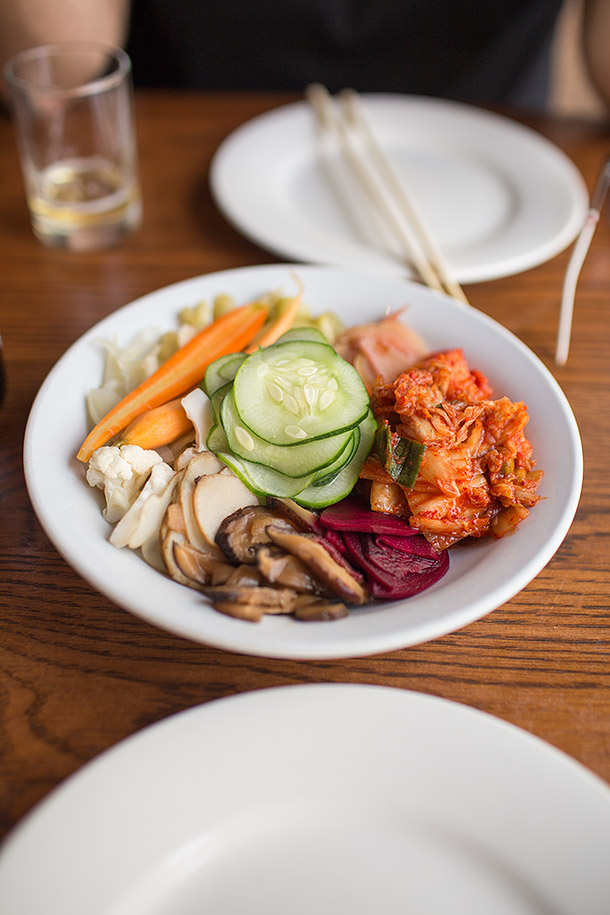 Last we ordered the seasonal pickles platter which I assumed that it was just going to be regular pickles but instead it came with a variety of beautiful pickled creations. There of course was a classic semi sour cucumber pickles in the center, pickled mushrooms, beets, cauliflower, sunchoke, carrot, ginger,two others that I could not identify but were delicious and their kimchi. Surprisingly out of all of them my favorite was their pickled mushrooms. They were incredibly smooth with that classic earthiness that mushrooms taste of with the addition of salty and slightly sweet from the pickling.
I enjoyed every single thing I tasted here accept for the pickled cauliflower, it tasted like it needed a bit more time to pickle because it tasted slightly bland but none the less everything else on the platter , in fact practically everything I tasted, was absolutely  flawless. I'd imagine that it is fairly difficult ot get pickled goods perfect to others tastes because pickled and fermented foods are usually pretty varied in taste because the fermentation or pickling time is determined by the taste of the person making it.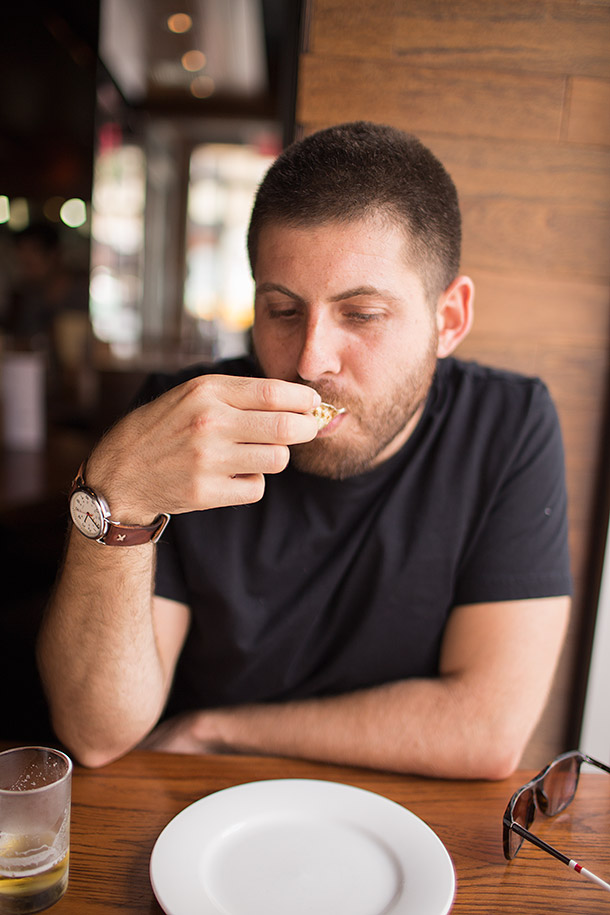 After all the food was eaten and we were satisfied I still sort of wish that I had ordered another set of those oysters. My brother  has seriously good oyster eating skills, just look at him, so majestic. He was the one who taught me to love that salty, slimy ocean creature. So even though I was unable to go to Ko or Ma Peche, I'm incredibly happy with what I got from Ssäm bar and slowly savored each and every morsel. I only hope that next time I head to New York that I'll be able to go to Ko or Ma Peche, I guess I better start planning.
207 second avenue
at 13th street
new york, ny 10003
Related Links:
Momofuku Ko – FitBomb