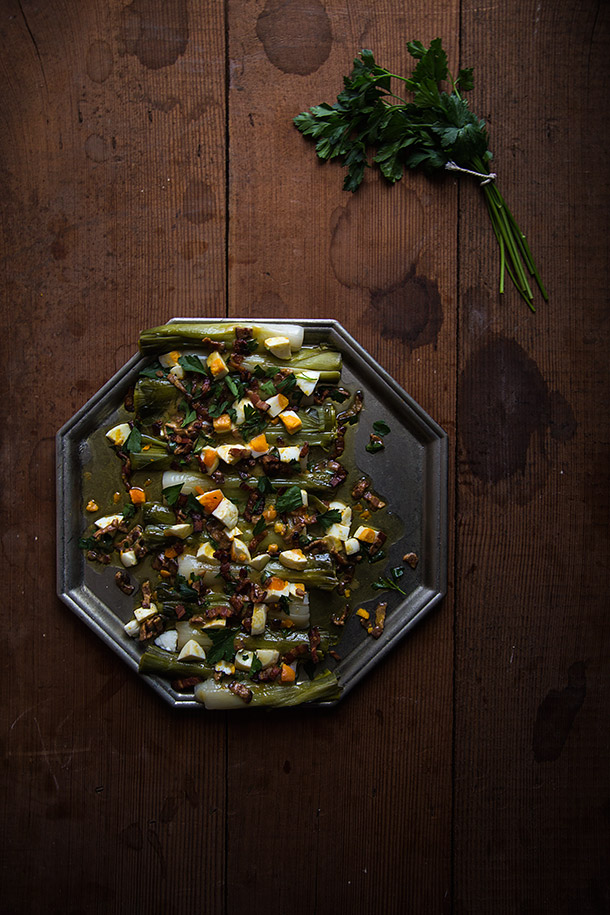 I've been food blogging now for almost two years now, and I have certainly learned a lot about food, photography and writing. It even turned into my very own cookbook, which I'm very proud of. Despite my immense weight loss and love for food motivating me to start a food blog, I truly must admit that it was a couple influential bloggers that actually helped make that final push to put it in inaction. David Lebovitz, and Michael Ruhlman were the very first food blogs that I had ever read and tried recipes from, and they were the initial fire starters for me.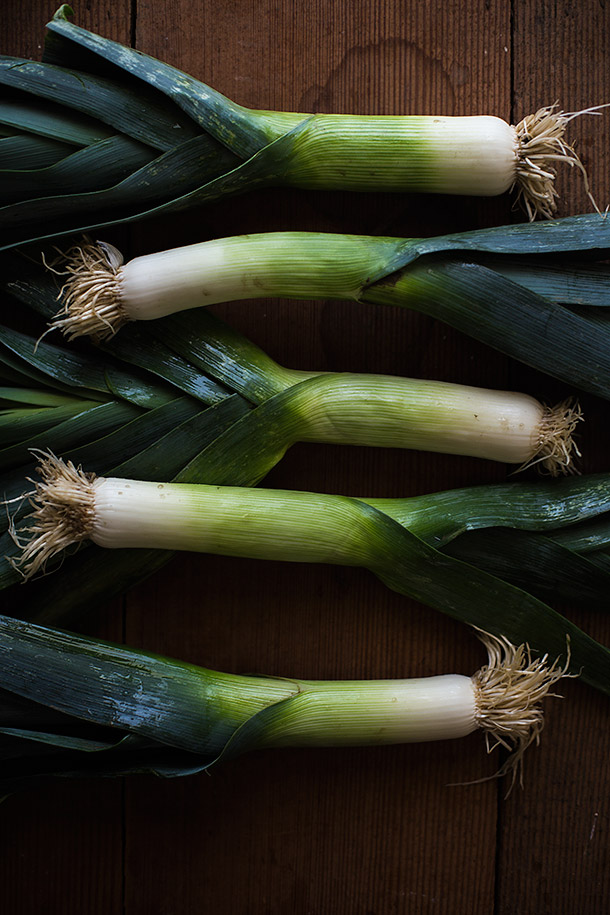 David published a new cookbook My Paris Kitchen fairly recently, and I wish I had done a recipe from it sooner, my only inhibiting factor was that I left the country (and my copy of his book) for 2 months. Of course, now that I'm back I'm not going to let his book sit on my shelf, I'd much rather put it to work. There are a lot of recipes that he's created that I'm brimming with excitement to try, hence the reason his book won't shut all the way due it being stuffed with sticky notes. The first one I thought I would try is his take on a classic french recipe, leeks vinaigrette.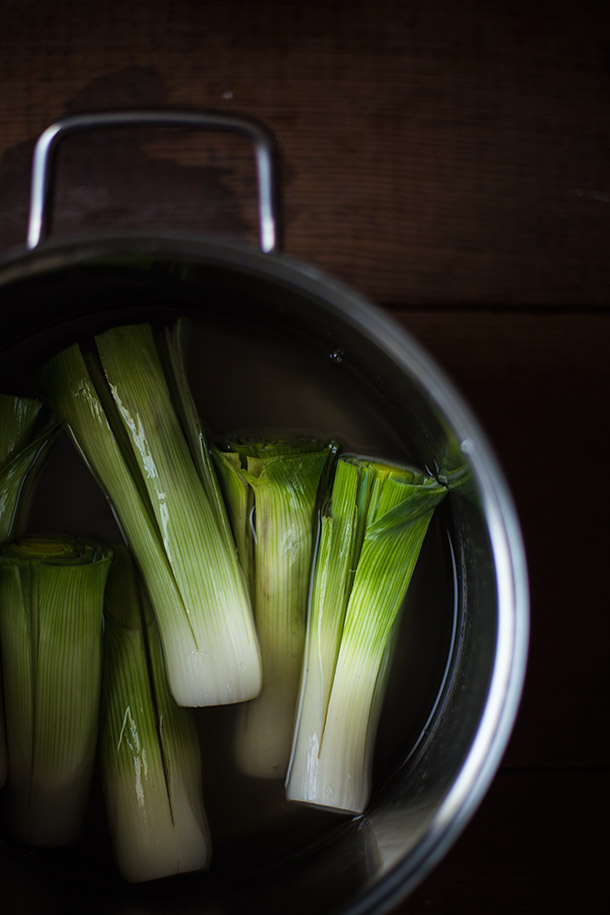 What I loved about his version of the old classic is that he added a some flare to keep it from being drab and boring. Not that I'm saying that the classic was drab or boring, but I mean come on, among the couple things he added one of them happens to be bacon.  I love how it has varying textures now vs the one single texture and I love that there is a bit of richness and a stronger bit of acidity and flavor to cut that richness.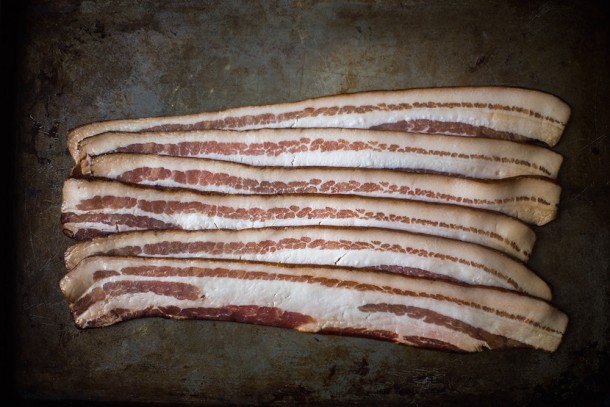 I really wanted to wait it out and use my homemade bacon in this recipe but I decided not to since I have to wait a few more days before I can even smoke and slice it. And when I say that, the reality is that I was far too impatient to wait for my bacon to be done to try this. You simply can't rush the wonderful process of bacon so I ventured out to the store for the bacon in this recipe. And despite what many paleo heads may believe, there are a lot of cookbooks out there such as Davids that have plenty of "paleo", and "gluten free" recipes that are just as nourishing as they are delicious despite not being labeled as such.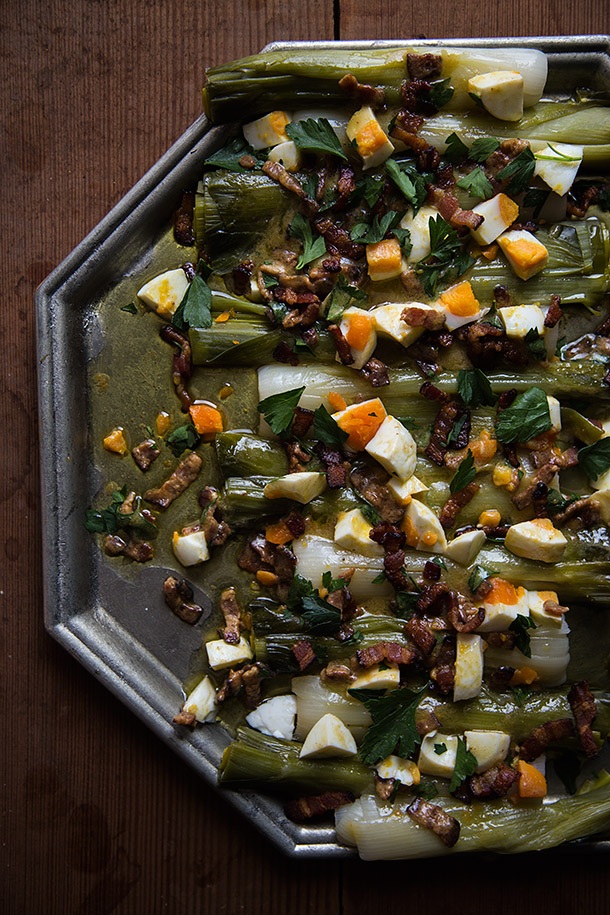 I absolutely love leeks and the flavor they lend to dishes and I feel like this updated oldie recipe that David has pulled together will certainly bring others together to revel in the wonderful world of leeks. Leek lovers and bacon lovers alike will love this dish.

Leeks with Mustard-Bacon Vinaigrette
Leeks Vinaigrette with a exciting twist from
My Paris Kitchen
by David Lebovitz.
Ingredients
2 cups (200 grams) thick cut smoked bacon sliced ½ inch thick
1 tablespoon sherry vinegar or red wine vinegar (I used red wine vinegar)
1 tablespoon dijon mustard
½ teaspoon sea salt
5 tablespoons extra virgin olive oil
2 tablespoons chopped fresh flat-leaf parsley
5 large or 10 small leeks
2 hard cooked eggs
Instructions
Trim the dark green and hard tops of the leeks and cut off the roots just where they meet the base. With a sharp knife make 4 incisions down the sides, lengthwise, turing through just about to the center but leaving the whole leek and root intact. Soak the leeks in cold water for 15 minutes, swirling them around from time to time. Remove from the water and rinse with cold water and pat dry.
Cook the bacon over medium heat in a willet until nearly crisp. Transfer the bacon to a paper towel to drain. Whisk together the vinegar, mustard, and salt. Whisk in the olive oil one tablespoon at a time then stir in 1 tablespoon of the parsley and two-thirds of the bacon. Set aside.
Fill a large pot fitted with a steamer with a couple inches of water. Bring it to a boil over high heat and add the leeks. Cooke the leeks until tender; when you poke them with a sharp paring knife, it should have no resistance at the root ends. Small leeks take about 15 minutes while large ones will take about 30 minutes.
Remove the leeks and let drain on a plate lined with paper towel. Cut the leeks in half cross wise if large or lengthwise if the leeks are smaller. Arrange them on a platter head to tail.
Remove and dice the hard cooked eggs and scatter them over the leeks. Pour the vinaigrette over the leeks and toss them and the pieces of egg to coat them thoroughly. Then scatter the remaining pieces of bacon and parsley over the leeks.