Well it's going down you guys. I'm excited and proud to announce my first youtube series Cooking Isn't That Hard. It'll be hosted entirely on Youtube as of right now so if you want to see more of these I would recommend going and giving me a quick subscribe here before going through this post. Without further adieu, How to Cook A Perfect Steak.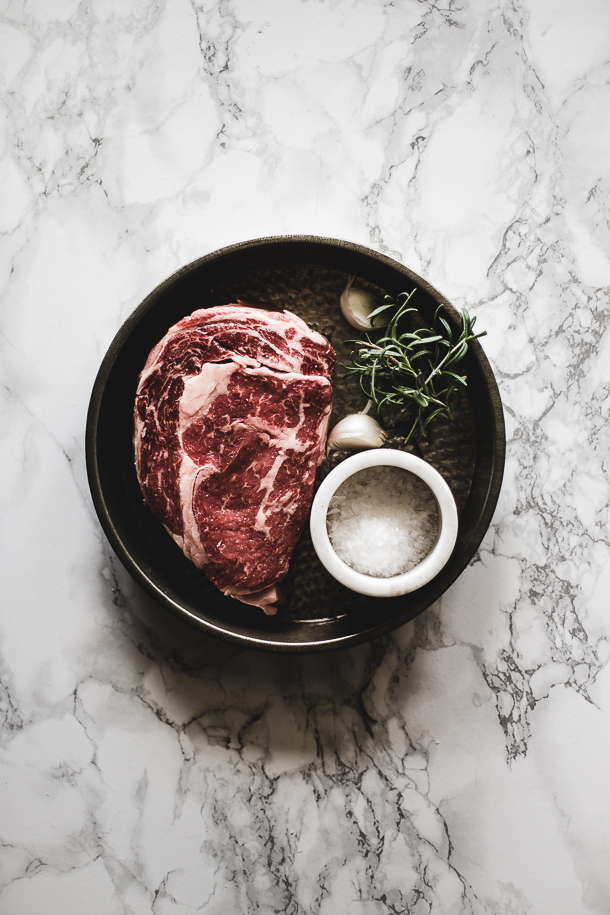 Steak to me is one of those things that should be kept relatively simple, but not too simple. Don't be that person that says "my steaks are so good they don't need salt.". That's not a good person to be. Pretty much everything needs some level of salt, no matter how high quality or how great of a cook you are. A great cook would know this. Salt isn't just something our body needs in order to live, it also gives the spark to flavor that you need. In the case of steak, you'll need a pretty generous amount on both sides in order to give it maximum flavor. It's pretty hard to over season a steak unless you're using really fine grain salt. I prefer kosher salt when seasoning my steaks. Some people like flakey salt, but that stuff is expensive and you have to use A LOT of it in order to get the right amount of salt on there.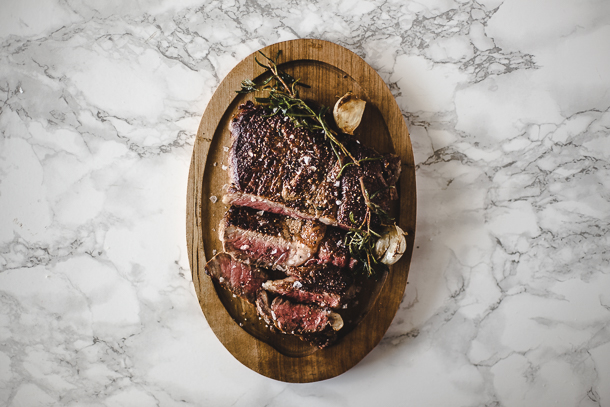 One of the things I love about steak is it's complexity of flavor and texture despite the fact that it really should only take about 5-10 minutes to cook. Assuming you're cooking it medium rare. I'm not going to shame you if you like yours cooked above that, I'm just going to say that there is definitively a significant loss of flavor when you do that. If you're cool with that, then no biggie. As for a cut of beef for steak I think that's definitely going to differ based on the individual. I l0ve a good thick ribeye. Not too chewy, a good fat to meat ratio, and it has multiple parts of the steak that each have their own textural differences. A good sub for this would be maybe a new york strip, or a t-bone steak. The only downside to a t-bone is that they tend to cook rather unevenly considering the fact that there are two different steaks on on bone. No matter what your choice, if you follow this cooking method, you will have a delicious, nicely cooked steak, just like the restaurants do it.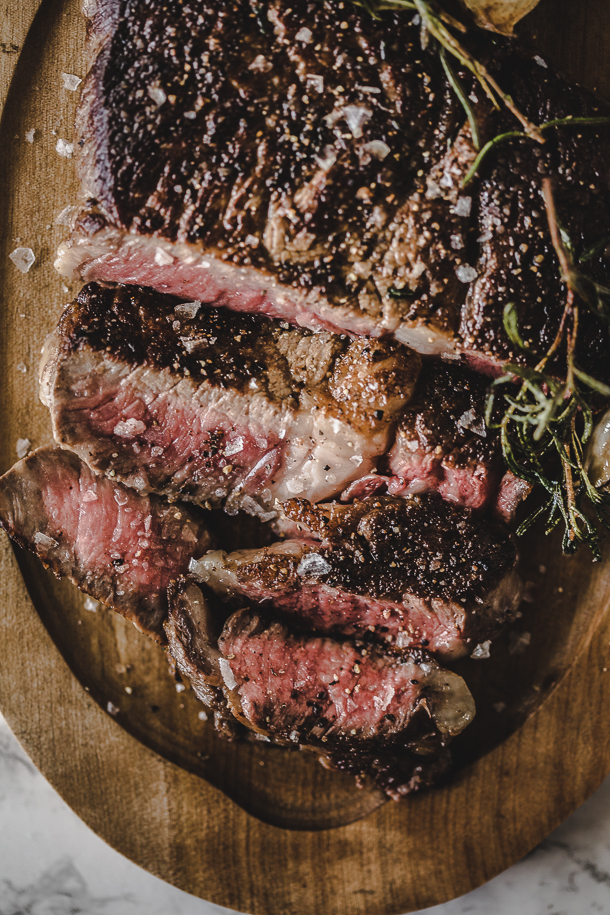 How To Cook A Proper Steak
Ingredients
1 steak (you can do multiple here but I would limit it to 2-3 steaks per large pan when cooking)
2 tablespoons cooking oil of your choice (avocado oil, olive oil, pork fat, etc.)
kosher salt for seasoning (not ice cream style, we just want something a little coarser than fine grain)
black pepper for seasoning
3½ tablespoons of butter
Instructions
Pull your steak out of your fridge and let it come to room temperature. If you're strapped for time please try and let it sit out for at least 15 minutes, this is a huge contributor in the browning process.
Pat your steak dry with paper towels. Season both sides generously with salt and pepper.
Heat a large pan with your cooking oil over medium high heat. Once the oil begins to slightly smoke and move around the pan quickly, add your steak. Sear for 2-3 minutes or until nicely browned, not black.
Flip the steak and sear for 1 minute then reduce heat to medium heat. Add your butter to the pan. Lightly tilt the pan so the butter pools at the bottom of the edge of the pan. Using a large spoon, baste your steak repeatedly for 20-30 seconds. Remove the pan from the heat, then remove the steak from the pan and place on a cutting board to rest for 5-8 minutes.
Once the steak has rested serve however you like. You can either serve it whole or slice it before it's served. This steak goes well with just about anything, mashed potatoes, green beans, salad, etc. Enjoy!