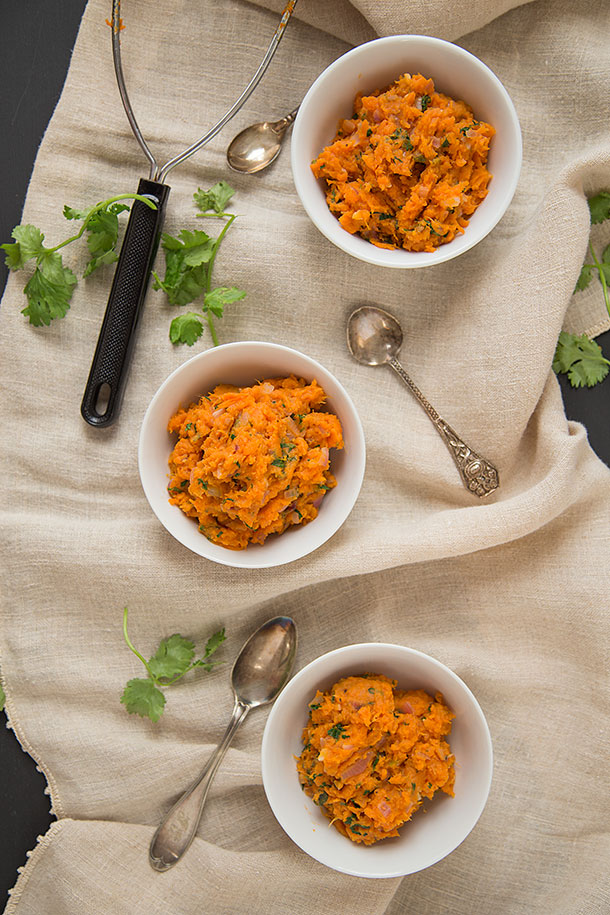 My family has always had a strong attraction to potatoes of all kinds. Among all the many types of starchy root vegatables known as potatoes, sweet potatoes would seem a more seasonal thing. That is until I realized the nutritional benefits compared to regular potatoes. I've personally never been a fan of the sweetened up type of sweet potato dishes out there and not just because I abstain to eating processed sugar but I just find it too sweet. If I'm going to be eating a savory main dish then I want a savory side to go along with it.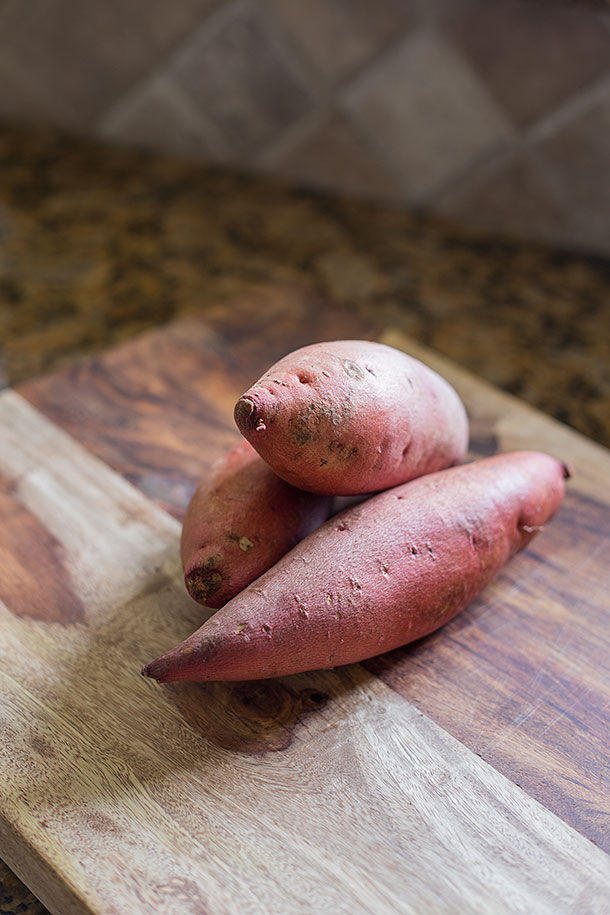 Just because sweet potatoes are moderately sweet doesn't mean you can't make them savory. I love making different savory types of sweet potato dishes like my Spiced Sweet Potato Rounds. While I do love that dish, this one is my favorite to do because it has such a unique flavor that goes really well with a wide variety of dishes, especially a nice steak.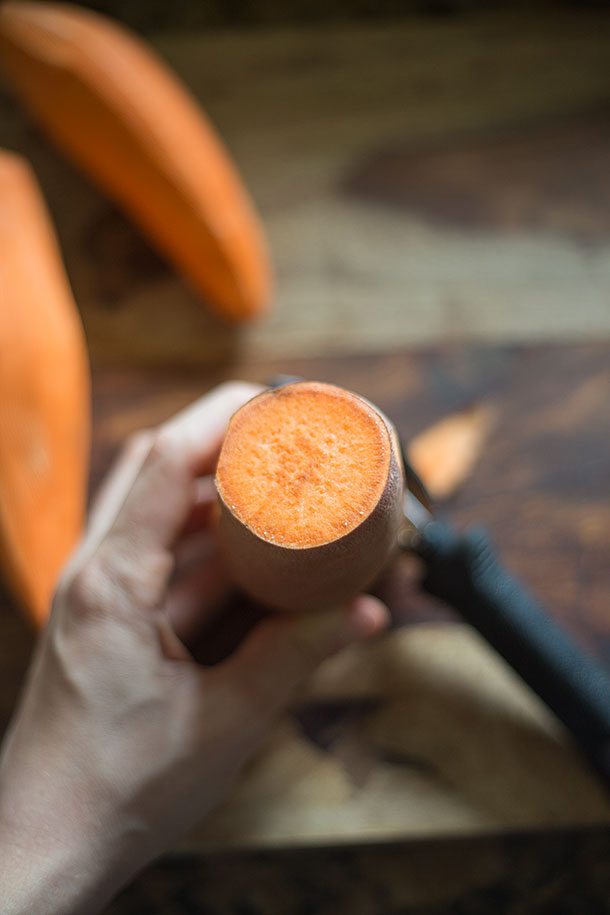 This is best served fresh but holds it's flavor surprisingly well in the fridge. Often times I find myself making it ahead of time and stuffing in the fridge for after my WOD. Although since it's so incredibly easy to make it's slightly unnecessary to make it ahead of time.  You can simply use the same pot the whole time, which is a huge time saver and dish saver because I always seem to have a massive clutter of dishes every time I'm done in the kitchen.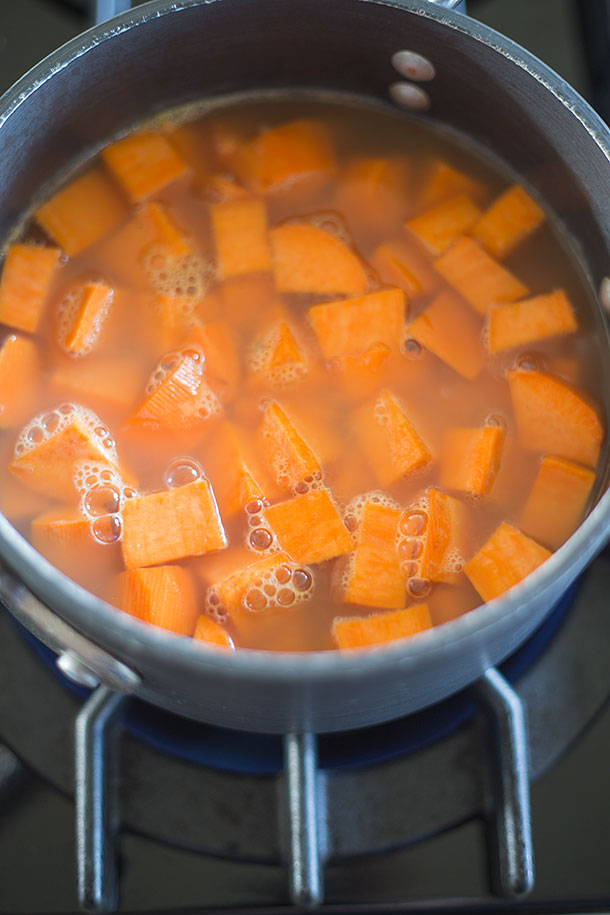 It's actually kind of ridiculous because no matter how much I try to tidy up as I cook it just seems to continue to clutter in the same spot that I just cleared of cooking utensils. I remember hearing Gordon Ramsay once saying that an important trait of a chef is cleanliness so I might need to work on that just a tad. Which actually brings me to the fact that I don't necessarily want to be a chef even  though that's what  a lot of people assume of me. If you're wondering what I want to be or what I want to do, since that is seriously on my mind now that it's my senior year in high school I can tell you now that I know just about as much as you do. I have absolutely no idea.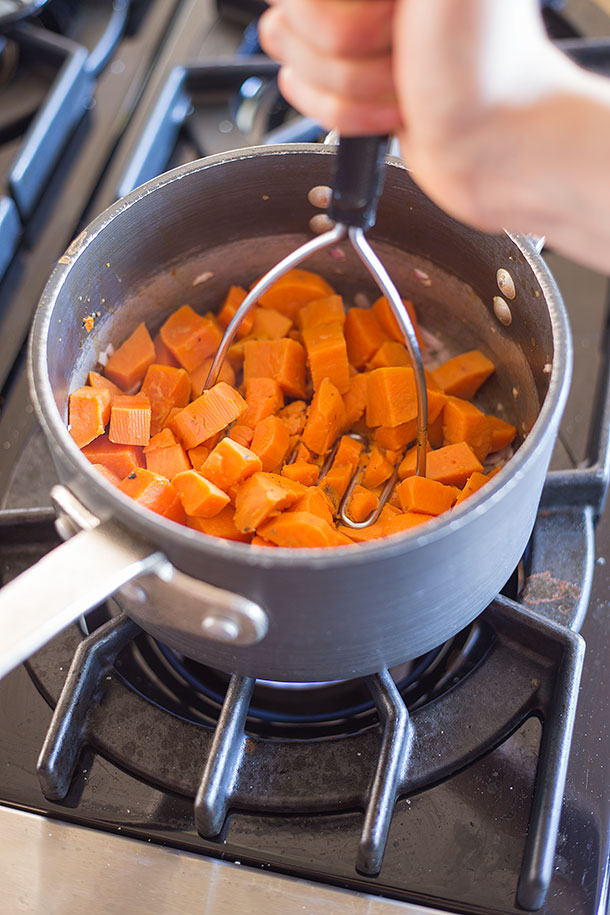 Especially since my senior year in high school is coming up in two weeks and I can hardly think properly. One subject enters my mind and a completely different one exits. Hopefully everything get's a little more clear as the days go by but I'm not exactly looking forward to going back either way. Not to mention waiting in line for two hours to get a parking sticker. I would much prefer a high school that focused on food, specifically good food. Yeah, let's work on that.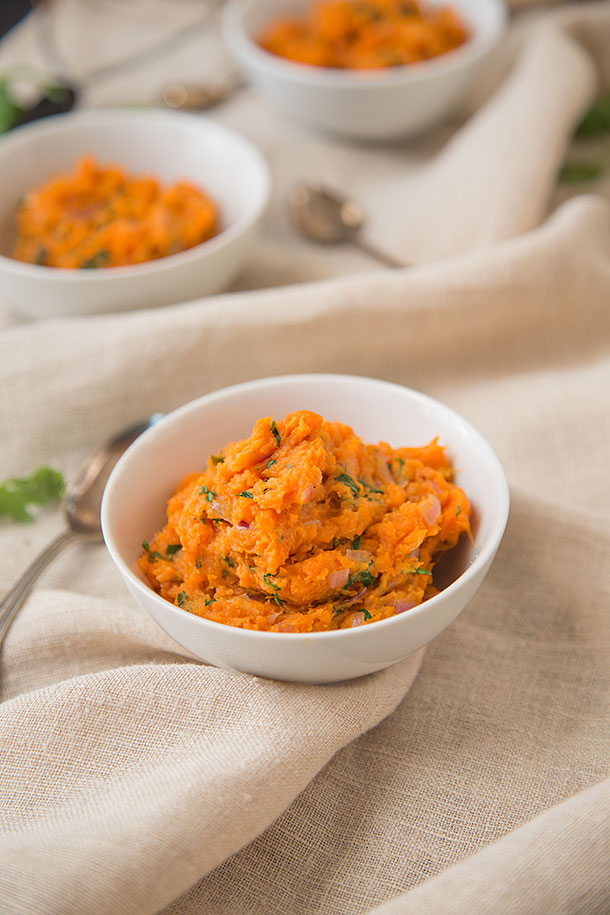 Herbed Sweet Potato Mash
Ingredients
3 medium sweet potatoes peeled and cut into 1 inch cubes
3 cups chicken stock
6 leaves fresh sage chopped finely
¼ cup fresh cilantro chopped
2 tablespoons butter or ghee (I've tested it with coconut oil and it works just fine but butter or ghee are obvious winners)
1 shallot minced
3 cloves garlic minced
salt and pepper to taste
Instructions
In a medium pot bring chicken stock to a boil over medium high heat then add sweet potato and season lightly with salt and pepper. Boil sweet potatoes for 10-15 minutes or until easily pierced with a fork.
Strain out the chicken stock through a mesh sieve or colander in a heat safe container and store in the fridge for use later. Make sure your pot is dry in the bottom then place back on the stove and heat 1 tablespoon of butter or ghee then add shallot and garlic and saute for 2-3 minutes. Add boiled sweet potatoes and mash with a hand masher then add remaining tablespoon of butter or ghee along with the sage and cilantro, season with salt and pepper to taste and continue to mash until thoroughly incorporated.
Notes
There are a lot of things you can do wIth the chicken stock left over that you strained out. I like to store it in the fridge and use it again for the same recipe with a little bit of water added to get it back to full 3 cups or use it as a base to a sauce. It adds an interesting slight sweetness from the sweet potatoes that were boiled in it.