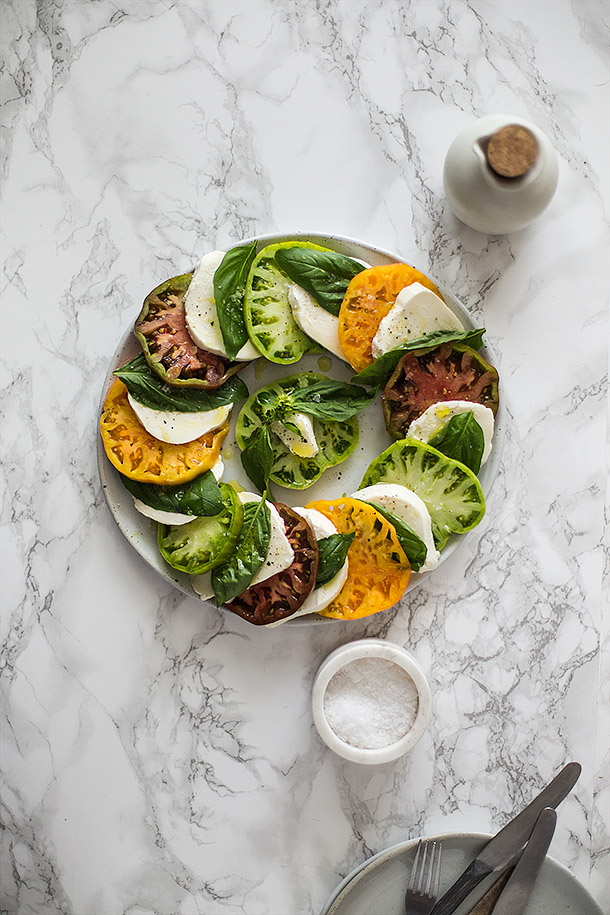 Ah, summer is here. It's funny to me when I envision summer to be a gorgeous golden sunset with cascading waves on a beach, then walk out the door to a stagnant and sweaty Austin, Texas. Don't get me wrong though, there are still some pretty great places to go to during hot weather here like The Greenbelt or Barton Springs, and I truly do love living in Austin. I just like to sometimes pretend that I don't live in a wet sauna-like environment.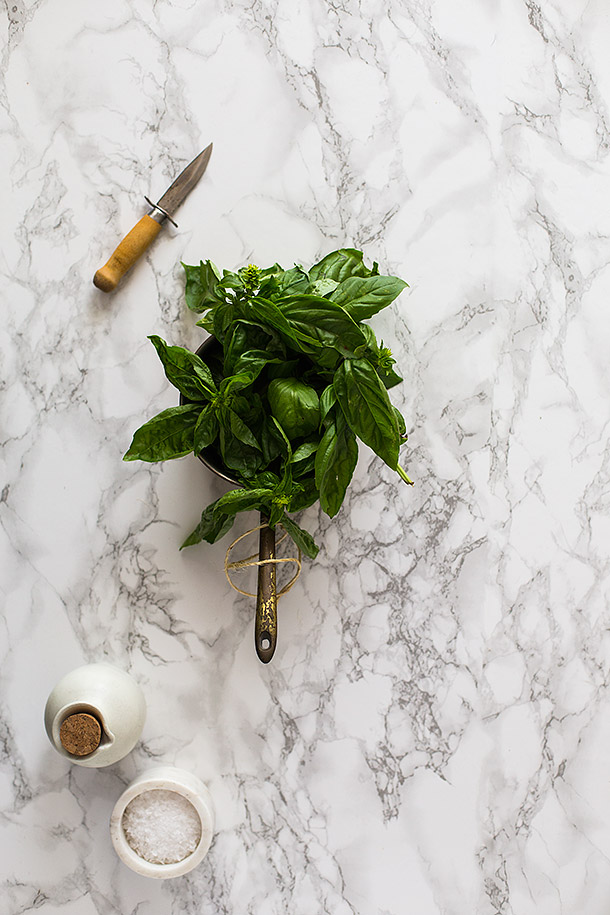 With hot and humid days like this, it's always nice to cool down with a refreshing salad. The only issue for me is that I'm a very picky salad eater. It's not that I don't like salads, it's just that I have a very specific area of things that I do not like a salad to be. For one, I don't ever want bleu cheese in a salad. Sorry bleu cheese lovers, not only is it too overpowering for me, but I just don't like it. To put it simply, bleu cheese in a salad makes me want to barf my face off.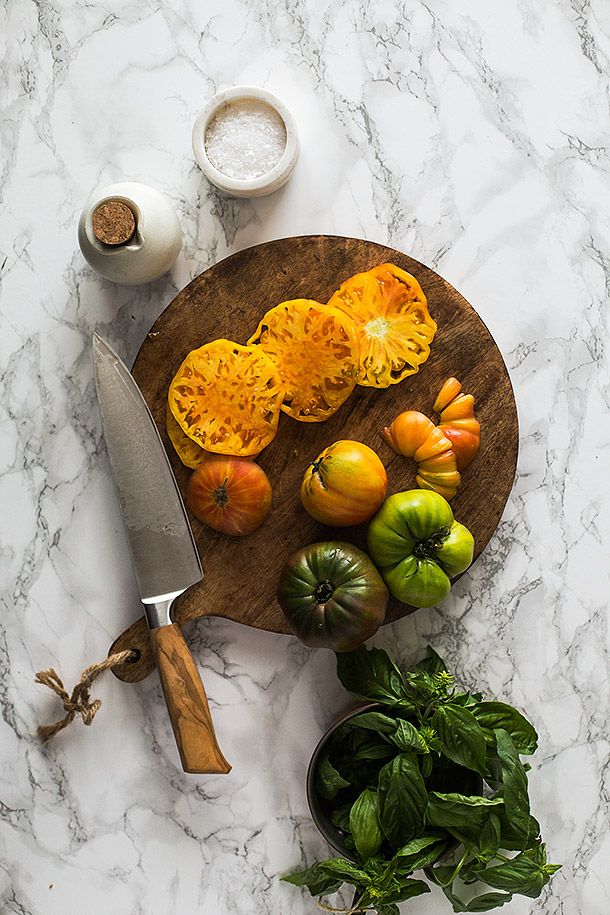 Enter heirloom tomato salad, also know as the Caprese. Now this is a salad I can get on board with, equal (sometimes higher) parts cheese to salad. With every piece of tomato that goes in your mouth, there is an equal piece of fresh mozzarella cheese to go along with it. That's my kind of salad eating experience. Okay, joking aside this is actually a childhood favorite of mine. My mom has been making it for me for as long as I can remember, and it travels all the way from Italy.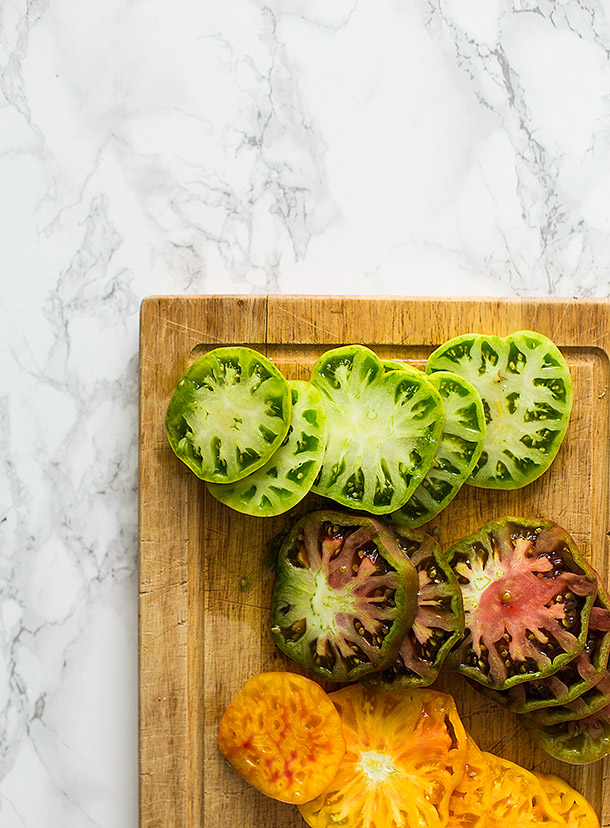 The most beautiful part of this salad is that it's so perfectly simple. Tomatoes, mozzarella, olive oil, basil leaves, and optionally some salt and fresh cracked black pepper. Nothing too crazy, just some raw fresh ingredients with a drizzle of olive oil and yet such an amazingly powerful and refreshing flavor. Make this to serve to family, friends, or eat by yourself (more for you anyway).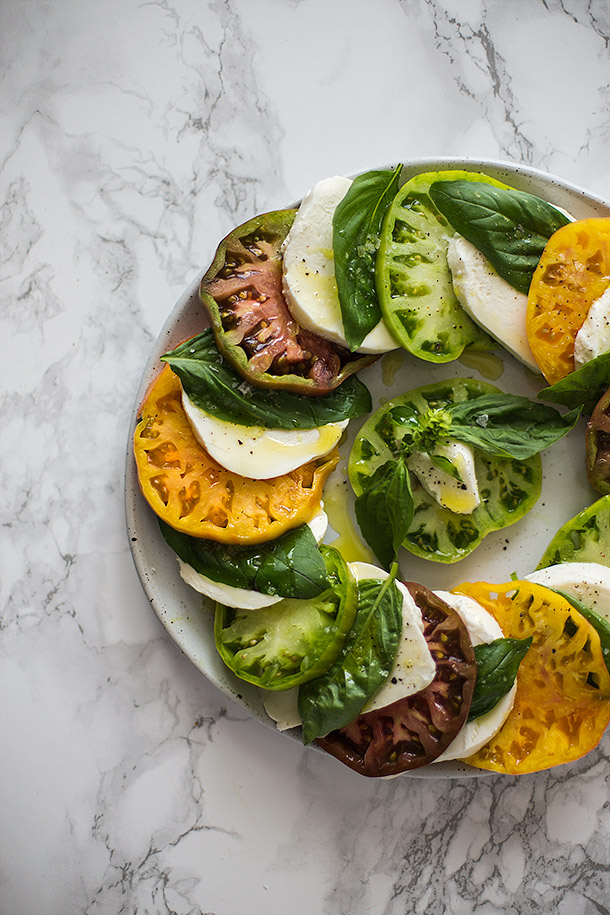 Heirloom Caprese Salad
Ingredients
4 medium-large Heirloom tomatoes (any color)
2, 8-ounce balls of fresh mozzarella
2 bunches of fresh basil (10-15 basil leaves)
flakey sea salt to taste
extra virgin olive oil for drizzling
fresh cracked pepper to taste
Instructions
Slice the tomatoes and mozzarella into ½ inch rounds.
Pick the leaves off of the basil stalk so that you leave the whole leaf intact.
Place a round of mozzarella on a large plate, followed by a basil leaf, and then layer a tomato on top so that the tomato is leaning up against the mozzarella to reveal some of the basil, and some of the cheese. Repeat the process alternating cheese, basil, tomato, all the way around the plate until it connects like you see in the photo. You can do this either around the rim of the plate like I have or you can do it in a straight line on a serving tray, it's totally up to you.
Drizzle generously with a good quality extra virgin olive oil, sprinkle with flakey sea salt, and crack some fresh black pepper on top.
Serve immediately or refrigerate and serve later in the day.