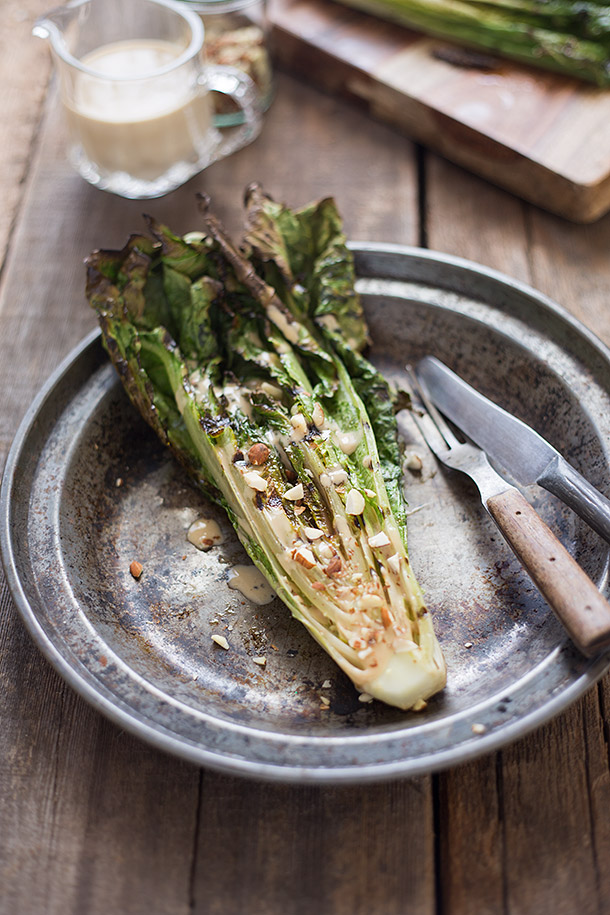 I really like romaine despite the fact that it's not really the most nutrient dense. I like it more for the sheer pleasure of it's utter crunchiness and refreshing slight sweetness. A lot of the time I'll chop it up and just toss it with other veggies and mixed greens but that gets old very quickly. I think that's what keeps me going when creating recipes. Once I get tired of something I will go to the ends of the earth to find something else. I rarely make things consecutively for several weeks in a row, I just can't handle it.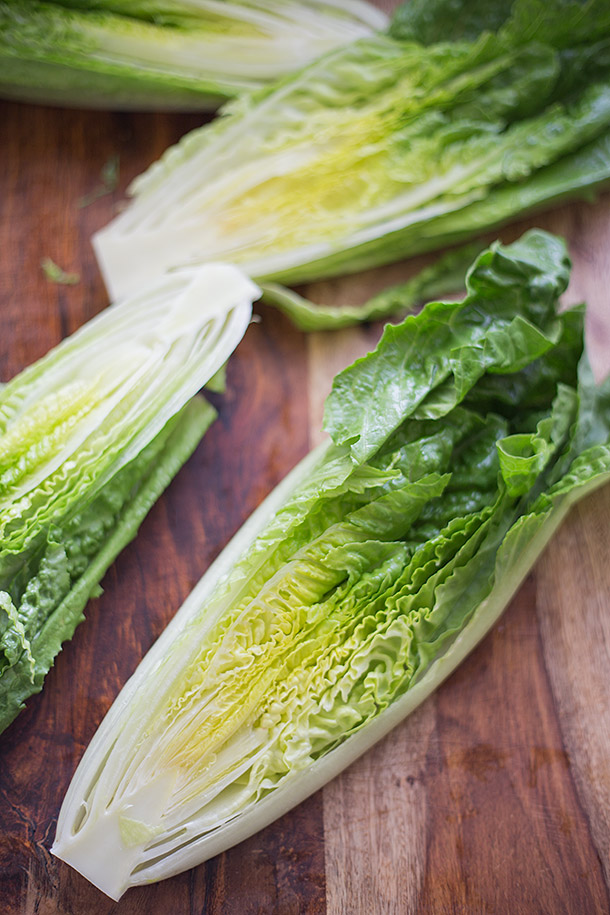 Sometimes you just gotta shake it up a bit and throw things on the grill or in a deep fryer full of pastured lard. Either way is good really. I'm sure most people have heard of grilled lettuce before but I strongly urge you to actually try it. It took me a while to step up to the plate and just try it. Not that I was afraid to but more that I just prefer an ice cold crunch when it comes to romaine. After trying it on the grill I've gotta say I'm glad I did it, in fact it was quite a nice change of pace.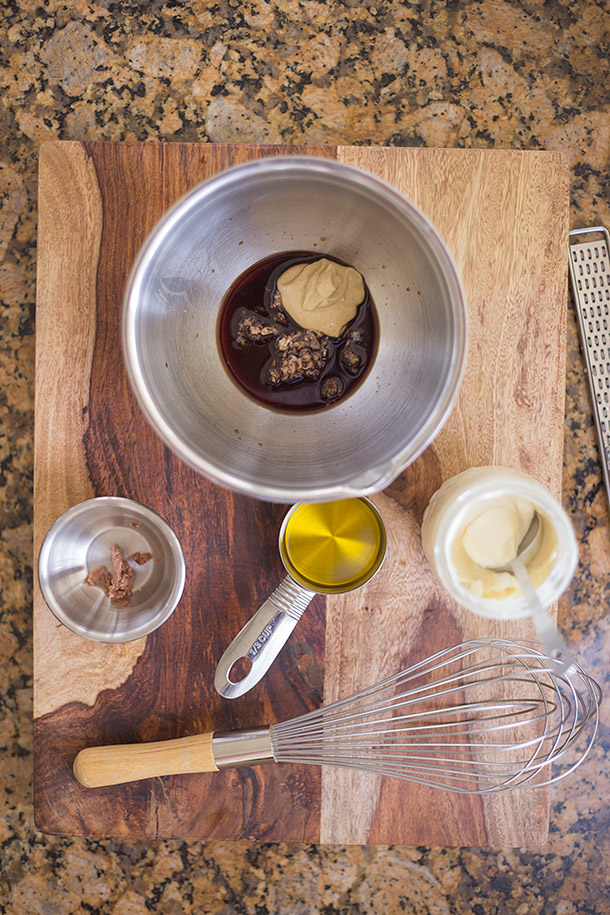 This is essentially a grilled Caesar Salad but because it doesn't mandatorily call for parmesan (or any piquant cheese for that matter) it's technically not. Although it doesn't exactly need it I still put it on anyway. For two reasons, because a nice piquant cheese grated over this is amazing and because I adore Kerrygold Ivernia cheese. Plus I'm a rebel, as I mentioned in my last post. But like I said it doesn't need the cheese so if you're dairy intolerant no worries it's still delicious, all Paleo police officers aside.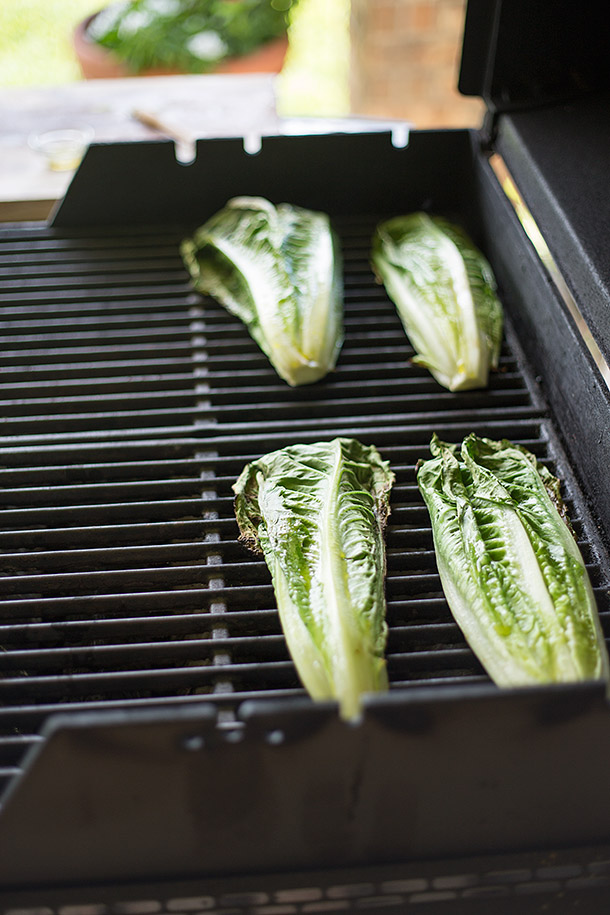 When I made this I accidentally got a piece of anchovy fillet stuck under my fingernail so every time I scratched my face the odd smell of anchovies floated about. I highly advise that you try to avoid that because it's not the most welcoming scent to ones nasal cavity. See I used the word nasal cavity, I feel like my anatomy class is paying off already. Oh yeah that reminds me I'm back in school now. Could you feel the excitement in that sentence?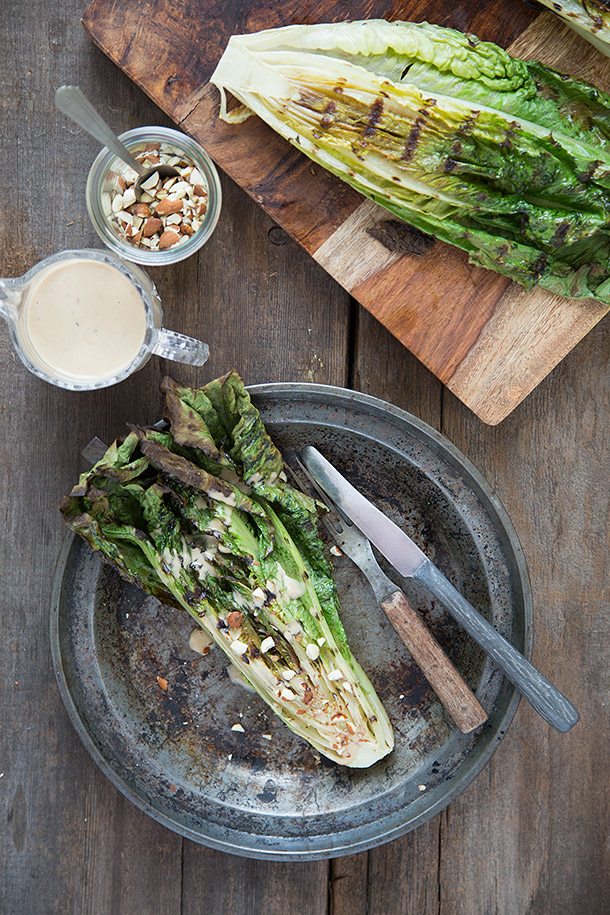 Grilled Romaine with Toasted Almonds and Caesar Dressing
Ingredients
2 Romaine Heads
¼ cup almonds toasted and chopped
avocado oil for brushing (you can use any oil here but I like to use avocado oil on the grill)
optional parmesan or sharp cheese for grating
For dressing:
5 anchovy filets packed in olive oil minced very finely
2 tablespoons mayonnaise (I make my own to avoid any unwanted ingredients and have a recipe for it here. You can make it with regular egg yolks if you like.)
⅓ cup extra virgin olive oil
1 tablespoon dijon mustard
1 tablespoon balsamic vinegar
3 cloves of garlic grated
juice of half a lemon
salt and pepper to taste
Instructions
Preheat a gas grill to high heat. In a medium bowl add mustard, vinegar and grated garlic and whisk to combine then add mayonnaise and whisk until thorougly incorporated adn thickened. While whisking at moderate speed slowly add the olive oil drop by drop until it begins to slightly thicken then continue adding it in a slow steady stream, remember ot keep whisking the entire time until all of the olive oil is used. Add anchovy filets and lemon juice and whisk until thoroughly incorporated.
Slice each romaine head in half and brush both sides with avocado oil or oil of choice and place on hot grill grates for 2-4 minutes each side or until they have nice deep dark grill marks.
Pour the almonds in a small skillet over medium heat and toast shaking every so often to prevent burning until they begin to become fragrant and start to brown. Pour them onto a cutting board and coarsely chop them.
Serve 1 half of a romaine head per person with dressing and toasted almonds.