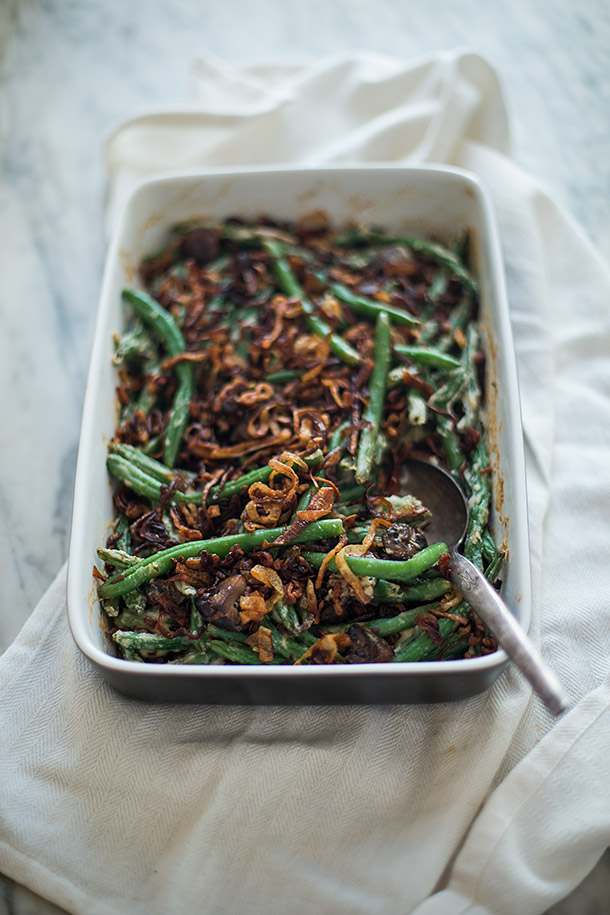 So I thought I would come back home from Europe with my mind booming with ideas for food, which it was, but the pathway to getting to a finished product was slightly dulled. I wanted to do one more recipe for Thanksgiving but I couldn't think of anything that I actually wanted to do. My girlfriend Matti insisted (she didn't really give me a yes or no option) that I do green bean casserole, one of her very favorites.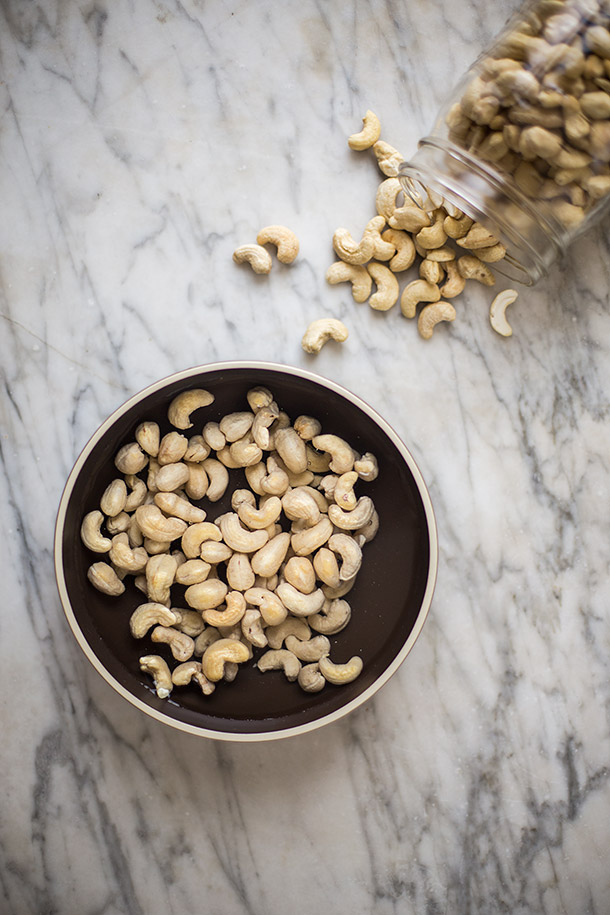 If you know me well then you know I had to fancy it up just a bit with some crispy shallots. Which in reality isn't necessarily "fancying" it up at all since a lot of people just use those pre made "french" onions. Instead I think I might consider it upping it's quality. Because friends don't let friends use pre made onions and canned soup in their food.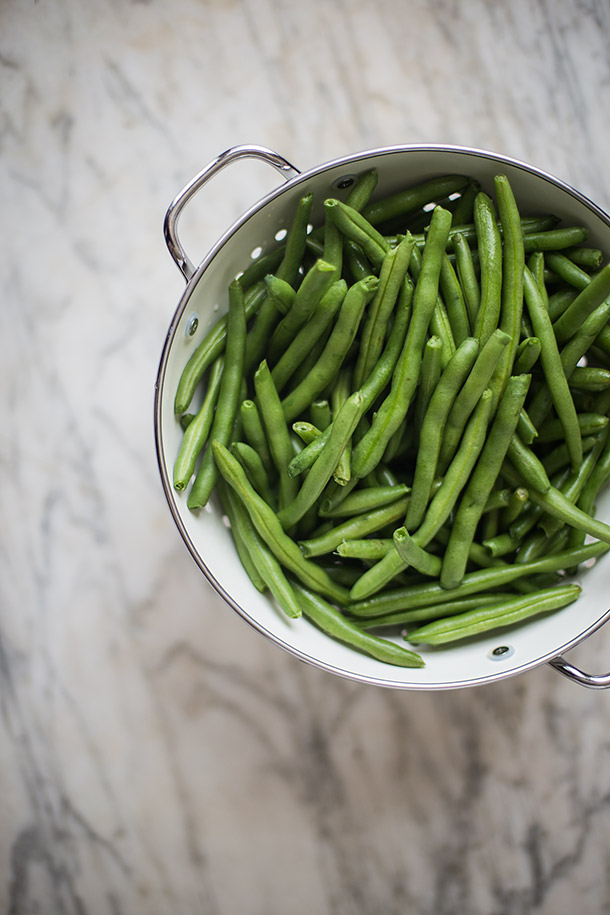 So this recipe is completely gluten free, grain free, vegan, Paleo, and dairy free so I'm hoping no one will need to ask for substitutions for anything in this recipe at all because I'm pretty sure I've got you covered. I really wanted to add bacon to this but I decided against it because I'm going to have this on my Thanksgiving table and I already have bacon roasted brussels sprouts there. There's nothing wrong with bacon everything, I just like a nice variety.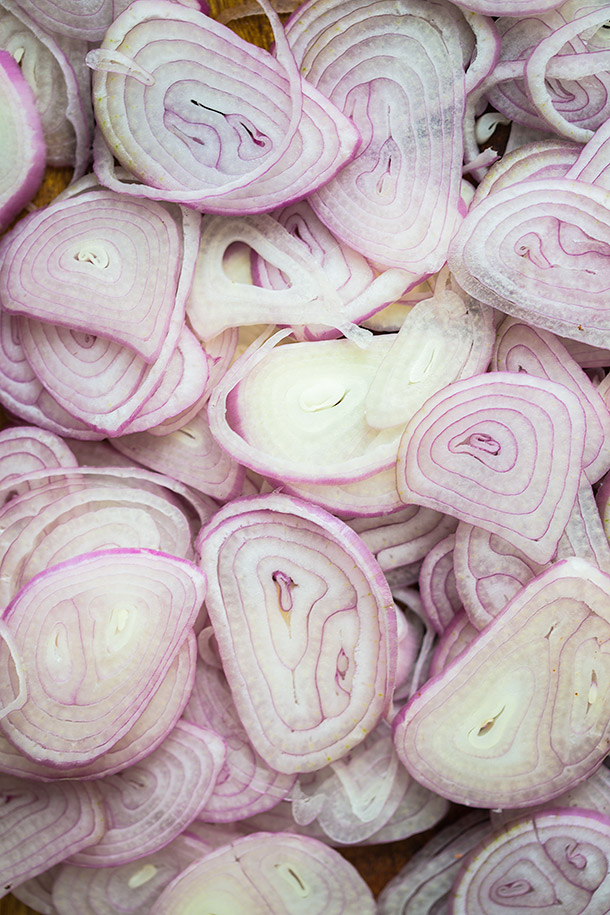 I actually fell in love with crispy shallots at Momofuku Ssam Bar when I ordered their duck. It came with an assortment of toppings including a coupe different sauces, but off in the shimmering distance was the bowl of crispy shallots. To say the least, I could have eaten them alone with nothing else. So what better way to put the power of crispy shallots to work than with a casserole?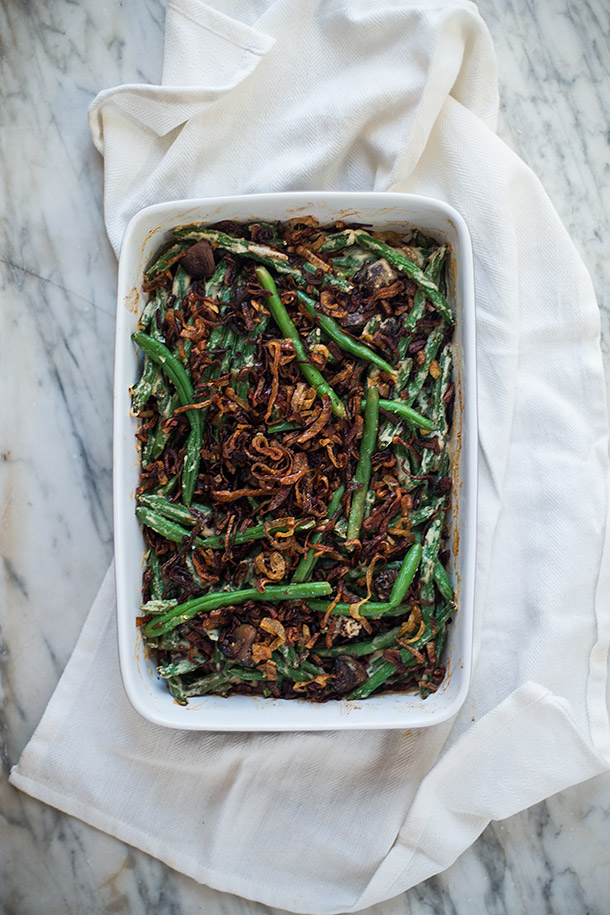 Now that I've made this recipe I feel back into the game for some reason so I'm happy the flow is starting to come back to me. Now It's time to conquer Thanksgiving. So Paleos and Vegans, eat your green bean casserole, enjoy your Thanksgiving, and above all cook it yourself that way you can show off those epic cooking skills you've got to your family.

Green Bean Casserole with Crispy Shallots
Ingredients
Cashew Cream:
1 cup raw cashews
¾ cup filtered water
½ lemon worth of lemon juice
½ teaspoon of salt
Crispy Shallots
5 shallots thinly sliced
¼ cup of coconut oil, lard, or ghee plus more if necessary
salt to taste
Casserole:
1½ cups green beans
4 cloves garlic peeled and minced
8 ounces of cremini mushrooms, quartered
2 tablespoons coconut oil or butter
½ cup vegetable or chicken stock
salt and pepper to taste
Instructions
Place the cashews in a medium sized bowl and fill with filtered water so that the cashews are completely submerged and let soak for 30 mins and up to overnight. Drain the soaked cashews in a mesh sieve and thoroughly rinse. Place the soaked cashews in high speed blender or food processor along with ½ cup filtered water, lemon juice, and salt. Blend or process until smooth.
In a large cast iron skillet add ¼ cup of the coconut oil, lard, or ghee, and heat to medium low heat. Add half of the sliced shallots in an even layer as not to overcrowd the skillet, and shallow fry stirring often until they begin to turn a deep golden brown (about 10 minutes). Then remove and place on paper towels and season with salt. Repeat this step one more time with the remaining shallots, and add more cooking fat so that it is equal to the amount you began with if need be.
In a steamer basked steam the green beans for 5 minutes then place in a large bowl. In the same skillet you made the crispy shallots in add 2 tablespoons of coconut oil or butter and heat to medium heat. Add the garlic and sauté for a couple seconds and then add the mushrooms, sauté for 6-7 minutes or until they have shrunken and are cooked. Add the cooked mushrooms to the same bowl as the green beans, along with ¼ of the crispy shallots, cashew cream, and season with salt and pepper to taste.
Pour the green bean casserole mix into a baking dish and pat down so it's evenly spread across it. Add the chicken stock and place in the oven for 30 minutes. In the last 3 minutes add the crispy shallots on top.