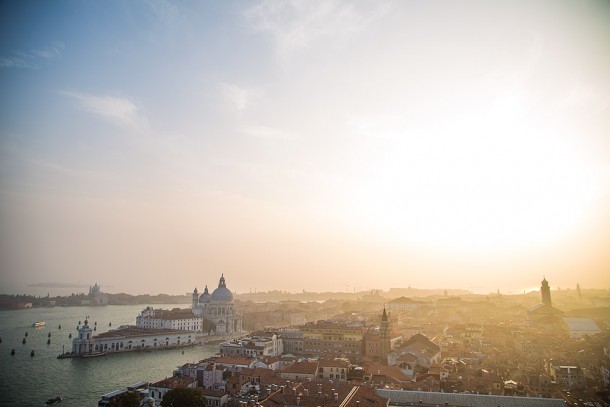 Well here is location that I know most people would get excited about. I know I was especially excited to visit this location because my parents have this painting that I absolutely adore of a gondola on the water that they got in Italy and it's always perpetuated this wonderful thought in my mind of Venice that's made me want to visit so badly.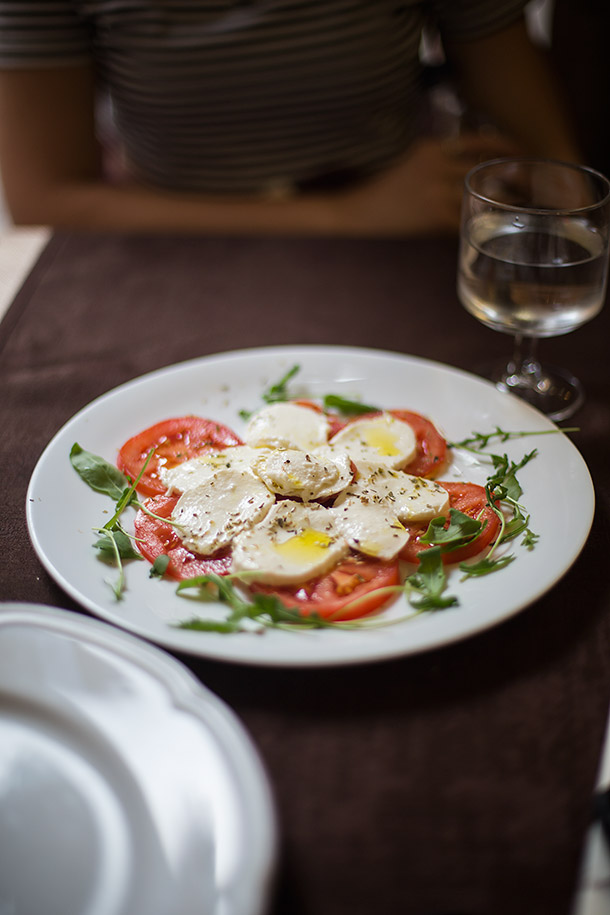 Our first day was a little bit confusing at first because we didn't fully understand how the water buses and taxis worked and which differentiated from the other but once we got that down we planned our first destination. (But only after a quick meal of course.) The whole meal itself was actually somewhat of a let-down sadly, but the caprese that we ordered was superb.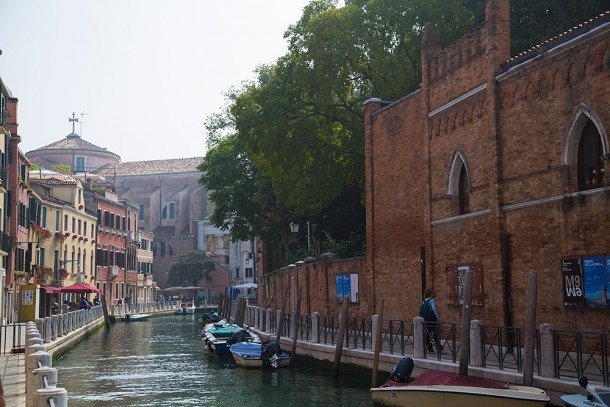 After our quick meal we walked around the strikingly beautiful city that is Venice. Our first day was a slightly foggy day which made for quite a relaxing stroll. For some reason I find a sense of comfort from fog, I don't really know how to explain it but it always makes my muscles relax when I look off into the semi-transparent void.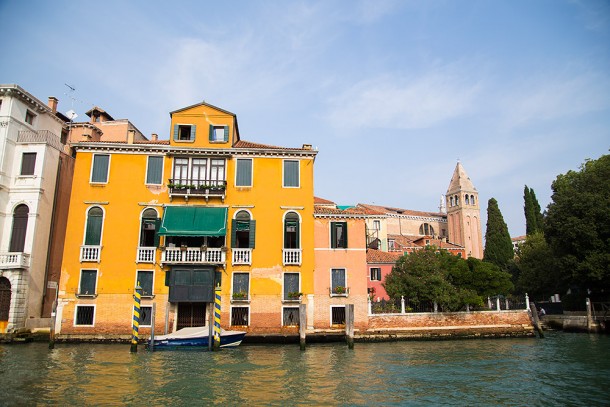 Strolling down the street we were halted by a man selling flowers whom encouraged me to buy flowers for Matti but neither of us were interested. The flower "salesman" insisted that she just take one for free and as soon as she grabbed it and began walking off he immediately asked for money from her. This was our first real life lesson in dealing with these solicitors  even after being told all the things to avoid. We moved on to Piazza San Marco at this point to see more of the city and most likely encounter more of these sellers but at least we knew how to react properly to them at this point.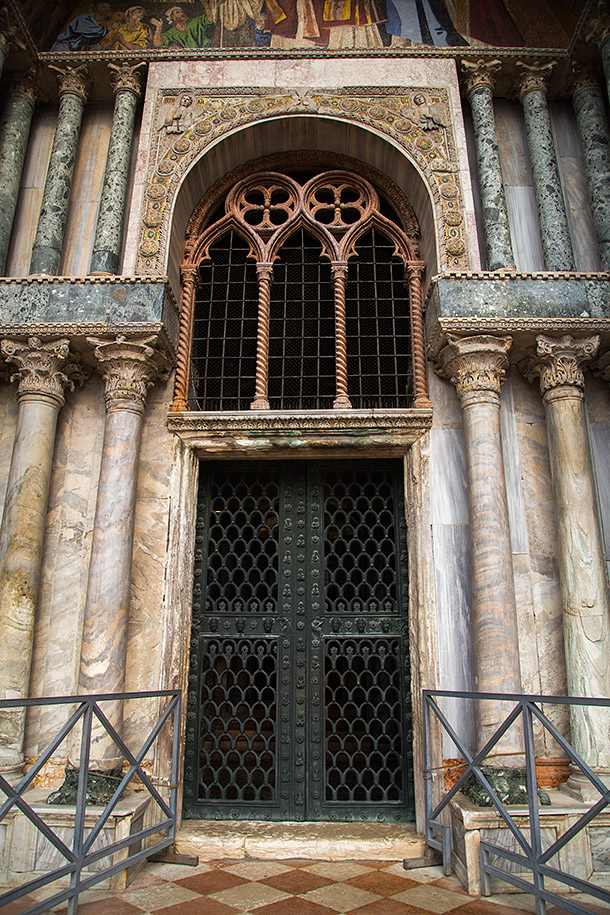 On we arrived at the Piazza we ogled the outside of the Basillica but quickly changed our ogling target to the massive line that led outside the front of it. We crossed our fingers that the line would shrink the following day and decided to go then instead of waiting in the horrific line.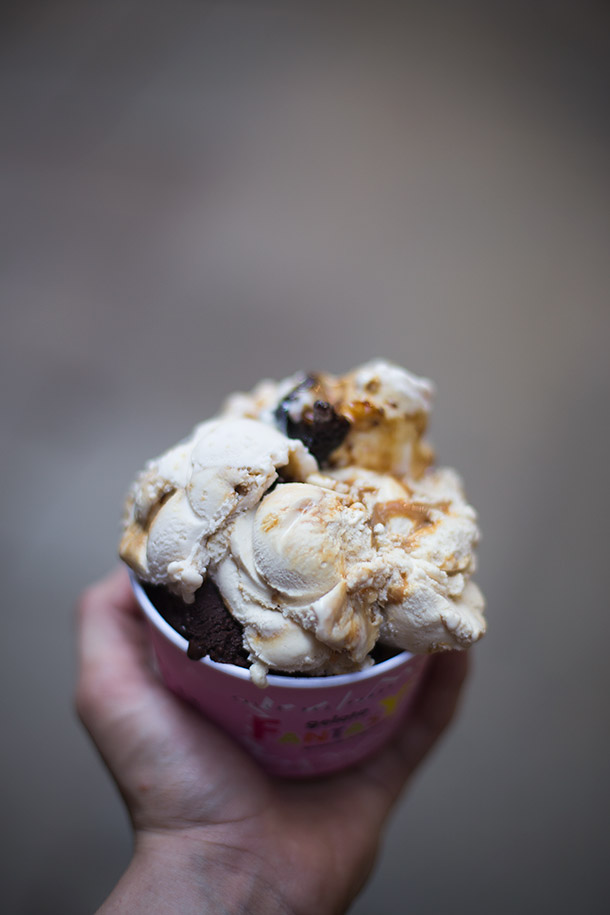 Although the Piazza is absolutely beautiful we were very interested in all of the little shops that innervate the streets around it. Murano glass, beautiful patisserie treats, and ornate masks line many of the shelves among these shops. As we perused the shops around the piazza we stumbled upon Gelato Fantasy (not my favorite name) that I remembered reading about on Trip Advisor, so of course we stopped there. In fact, it's my goal to have gelato every single day while I'm here in Italy and I'm confident that I will stay true to this vow.
I ordered a heaping 4 scoop cup that included their rich dark chocolate, caramelized fig and walnut, dolce latte, and hazelnut. Each of the flavors were quite good but the caramelized fig one was my absolute favorite. The figs were caramelized to perfection and were almost like chewy little candies.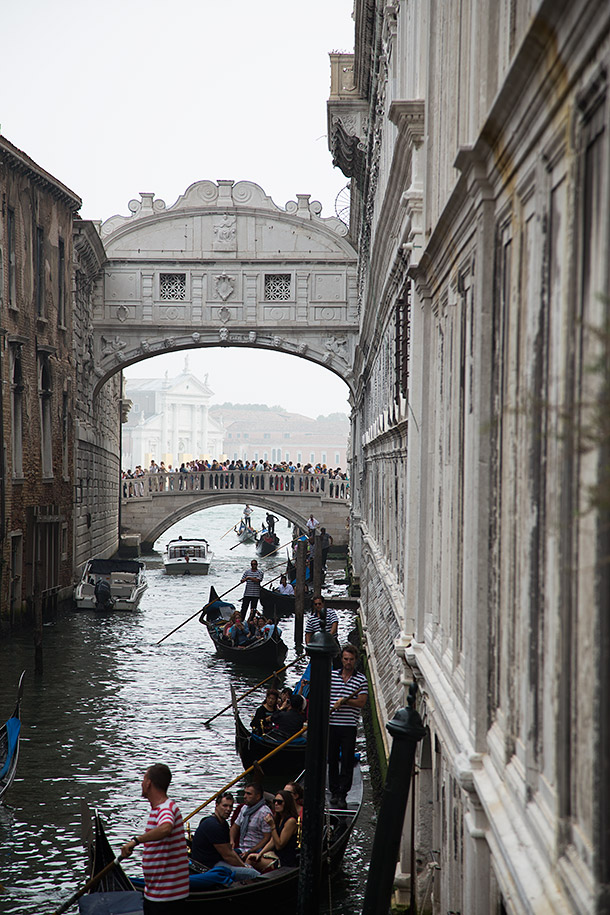 Next we walked over to take a look at the Bridge of Sighs with gelato in hand and were slightly underwhelmed by it to be honest. That is until we read up on it, which sadly was after we looked at it. It is said to be called the bridge of sighs for a couple reasons but one of them was that prisoners that were walking across the bridge to their execution would "sigh" because they were catching their last glimpse of the city. Kind of creepy for a quaint little bridge in Venice.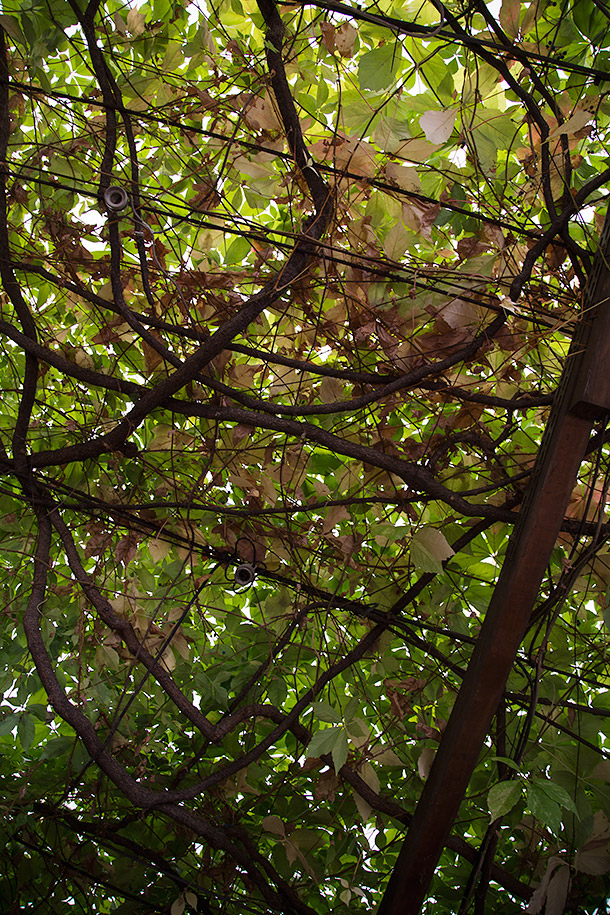 On our last day in Venice we visited a restaurant that I was recommended called Ristorante Al Giardinetto. This beautiful restaurant serves traditional Ventian cuisine in their vaulted former 1400s chapel that also has a vine covered courtyard. We promptly chose the vine covered courtyard as our lunching spot. I had high expectations for this place not only because their restaurant seems to come with some longstanding roots but also because we had a couple meals that were rather unsatisfactory and thats paying attention to the over priced touristy places.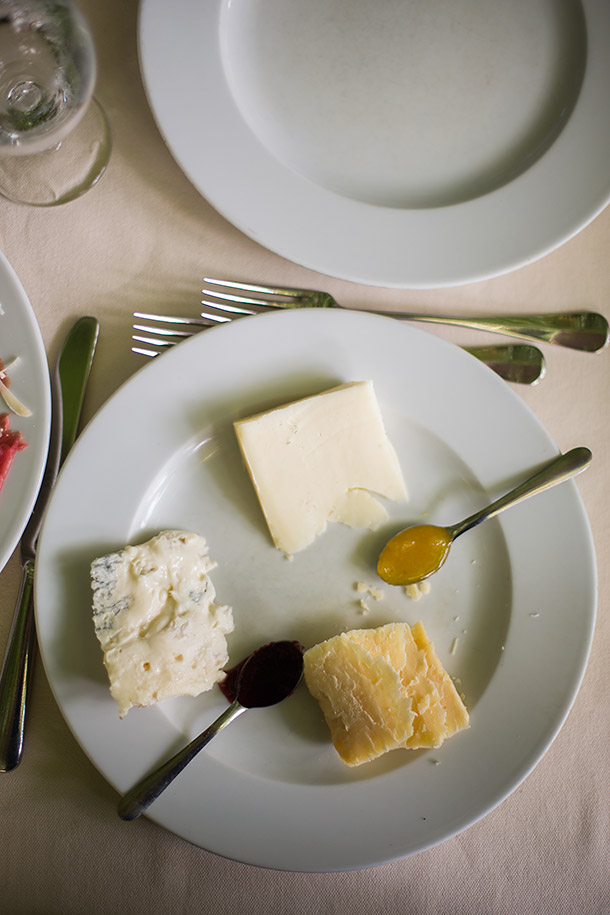 My first order was a couple of starters, one of which was a cheese platter consisting of parmesan, some type of bleu cheese, and a soft white cheese. All of the cheeses were absolutely delicious and were paired with small spoons of jam. If I had any complaint for this dish it would be that I totally needed more jam. Two tiny spoons is just not enough for this guy.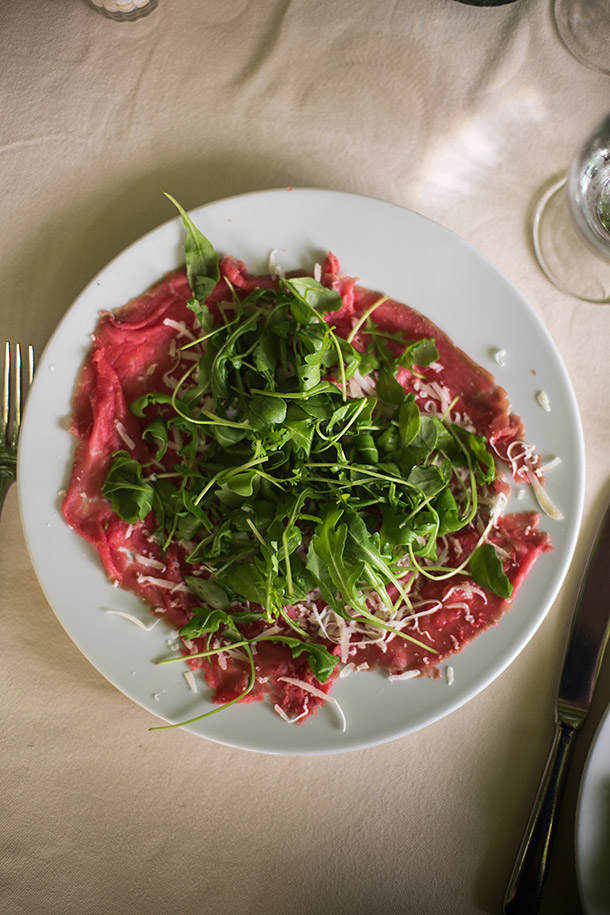 The next starter was thinly sliced raw beef with parmesan and arugula. This one was good but not my favorite out of everything. I drizzled some olive oil and added a tad more salt and it was perfect. The beef was incredibly tender and the parmesan added a nice salty spike.
Last but not least was my main, consisting of cuttlefish with a squid ink sauce and grilled polenta. I've actually noticed that I've been eating a lot of polenta cake type sides with my dishes here and I'm not sure whats up with that and it was completely unintentional, but I digress. This was my first time trying cuttlefish and I must say I'm pretty happy that I thoroughly enjoy it. Not to mention it was also my first time to try anything with squid ink in it, and this one was also a win in my book.
The flavor was only slightly undertoned with a sea water type flavor but it was actually a nice flavor accompaniment to the sauce. The cuttlefish was not chewy but rather light and tender. Of course the polenta cake was awesome because polenta cake usually is, except for the fact that it was not hot when it came out, but it was still absolutely delicious and my favorite meal in Venice.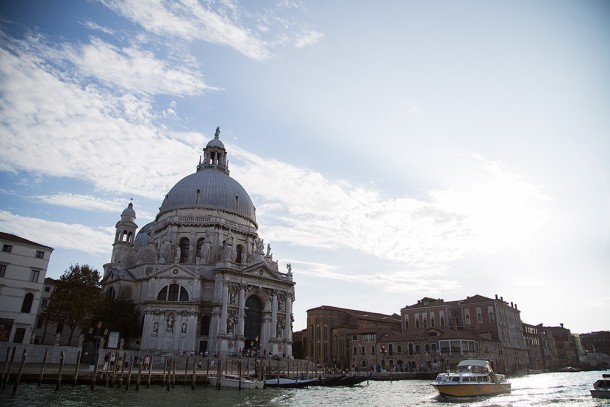 Venice was one of the most beautiful cities I've ever seen and I definitely plan to come back because I stayed in San Marco far too long and didn't even get to go to Murano, which I'm certain I would've loved. Onward to Florence!