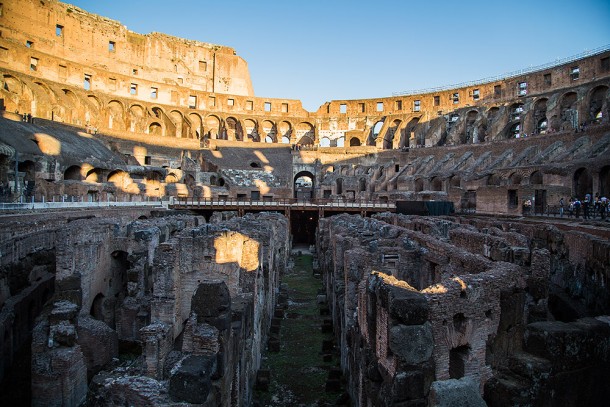 The trek to our Airbnb host spot was a fast and easy one since we were lucky enough to be picked up by our super awesome host Costa. As soon as well got settled in we were promptly greeted by one of my mother's best friends, Laura, whom I've only heard great tales of but had never met before. Exhausted from travel but far too excited to lay still we changed out of our overly sweaty travel clothes and into some nice clean ones.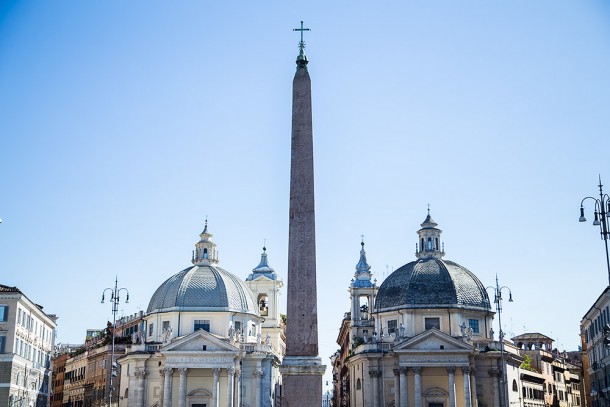 Laura "promised' my mom that she would tour our hearts out as much as possible this night, and that she would keep us up as late as she could. Once we met up and had our hugging moment we moved though Piazza Del Popolo to grab some drinks before touring around the area. Before anyone asks, the drinking age here is 18 years old, and no Matti and I did not and will not be getting blind drunk.
Laura walked us around the Spanish steps, showed us the dazzling Italian clothing and accessory stores, and best of all had some of the best information on all of the sites we have heard our whole trip.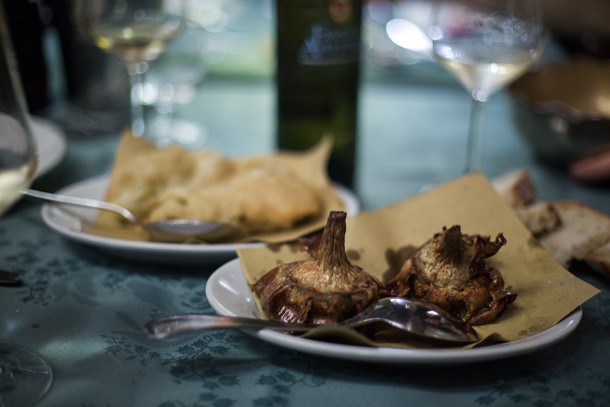 Next on our list was a tradition Roman dinner at Al 34 by the Spanish Steps. We started our order with fried artichokes and squash blossoms, a couple of classic and prevalent dishes in Rome. The artichokes were cooked to tender perfection and crispy on the outside and to my surprise were fairly light.
Now the squash blossoms on the other hand were by far my favorite. These colorful beauties were stuffed with mozzarella and anchovy which really gave them a wonderfully well rounded flavor that really complimented the flavor of the squash blossom.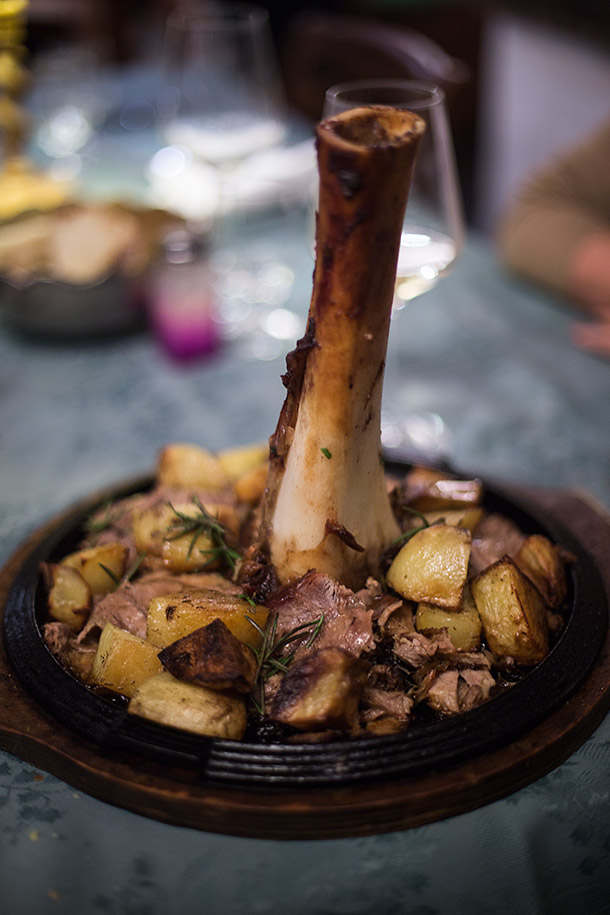 Next came the main, which truly made my heart flutter when I saw it because it was the perfect portion size for me. Roasted veal with potatoes, simple yet so incredibly satisfying and flavorful. The veal was roasted to fall apart tenderness and the potatoes were crispy and well flavored by the veal fat. All served on a hot platter that caramelized any stray pieces of meat left behind which made for quite the treat once the plate was clean.
After our meal with Laura we went out and got gelato, because yes we are sticking to our gelato every day plan so far. If only I had remembered to take a picture of it.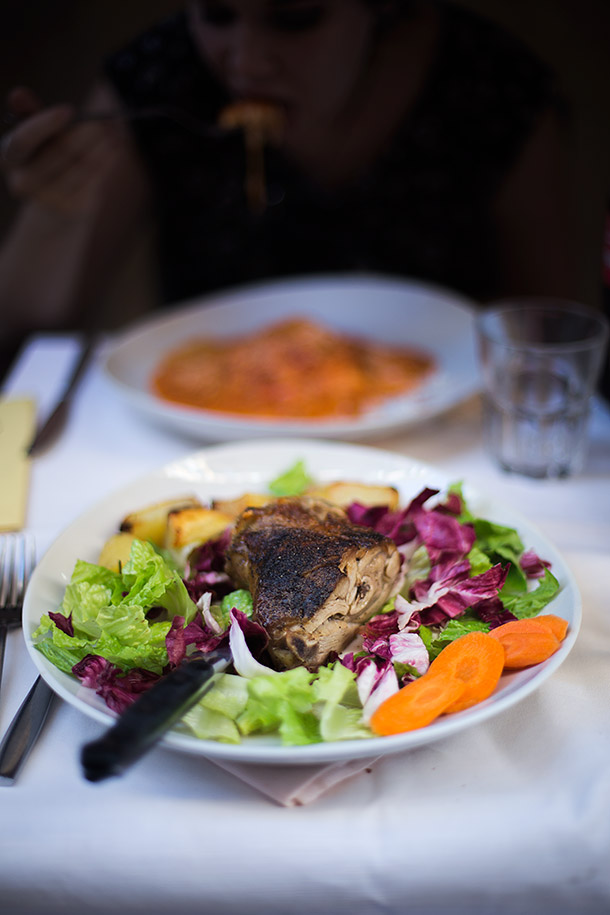 The following day we headed to the well known and beloved Colosseum. Along the way we stopped at a random restaurant, starving to death because we took too long to leave our Airbnb apartment. I ordered roasted lamb with roast potatoes and a salad. For a random restaurant stop at a restaurant that I do not even remember the name of, it wasn't half bad. The lamb was cooked well and was seasoned fairly nicely although I would've liked it to have a little more salt. The roast potatoes were terrific and the salad was plain and unseasoned. I'm just happy we got something to eat in this case since it was already 3pm and we had not eaten yet.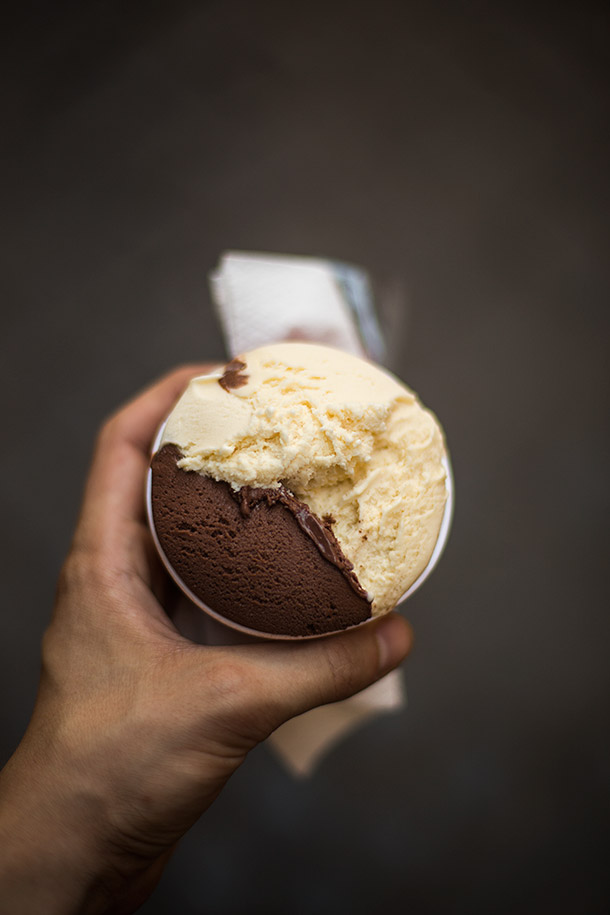 After our meal we searched for gelato of course because we had to stay true to our gelato code. We went to one of the so called "best" gelato places in Rome called San Crispino which was recommended practically everywhere I looked on the internet. Excited and ready for the best gelato ever I walked in and ordered a 6 euro tiny cup of chocolate and creme gelato. Right off the bat I felt uncomfortable because the employees were rushed and incredibly unfriendly to everyone that came in, not to mention that they were very stingy on the amount of gelato that you were given and barely scraped it in there, I even had a bubble of air in the cup under the gelato (probably because they were moving so quickly, and no there was not a line out the door so their speed was entirely unnecessary).
So all in all I got about 1/4 cup of over priced and over hyped gelato that really didn't even beat the organic gelato in Florence which we got for 4.50 euro for 3 times as much gelato. Unfortunately, I truly did not like San Crispino and I don't think I will go back there again. I'm not trying to slander them at all or sway anyone else's choice upon purchasing gelato in Rome I'm just giving my opinion of my experience.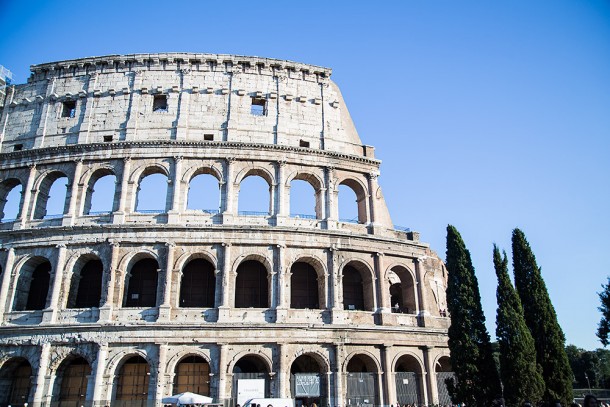 I was rather surprised upon arrival to the colosseum as it was not as large as I assumed it to be. Don't get me wrong, It was still quite massive but not as massive as I had imagined it. This still does not discount the amazing amount of man power it took to build this architectural masterpiece.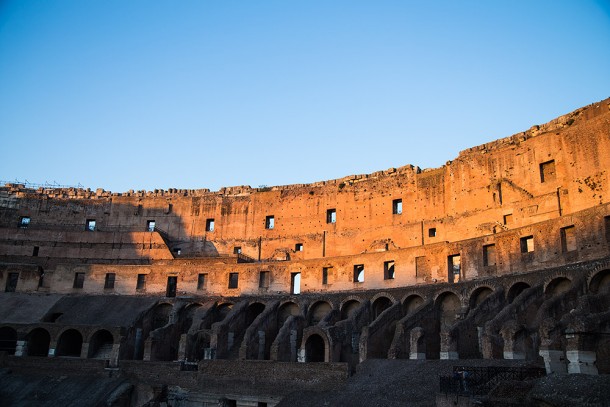 Nonetheless it is still strikingly beautiful with it's corroded walls and layout which still clearly outlines what happened in some areas. You could really feel what it was like to stand in this arena and witness great feats of strength, talent, and cunning. Rough and corroded columns lay in random spots in the area and the ground below where beasts, and various maze activities were held was open for people to look at, which you can see as the first image of this post.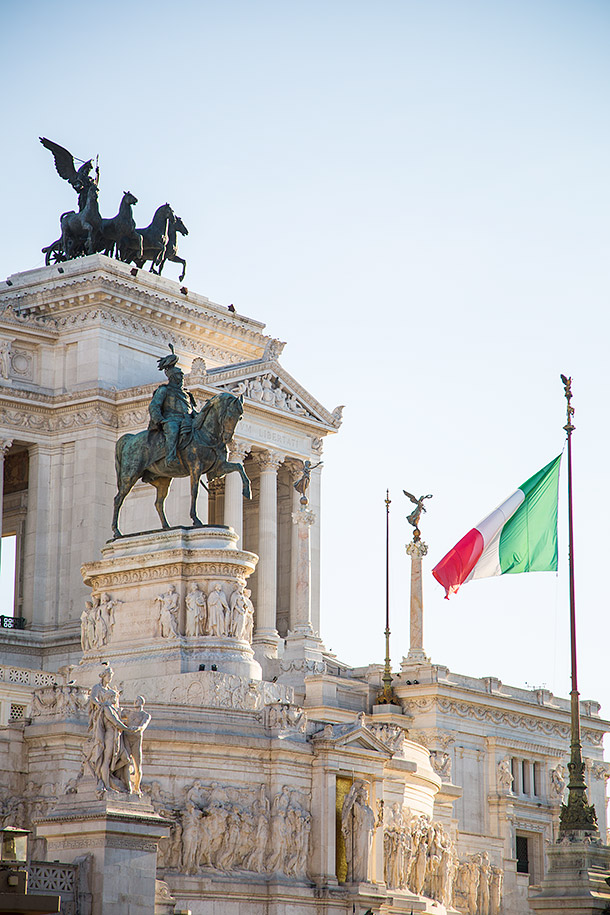 Leaving the colosseum we met a nice couple of people that we explained our travels so far as well as our plans so they decided to purchase us the gift of a selfie stick. We stuck around and chatted then moved on to go to the Jewish ghetto area for dinner. We had a good meal that was fairly similar to the meal we had the first night since we were sort of on a classic Roman kick.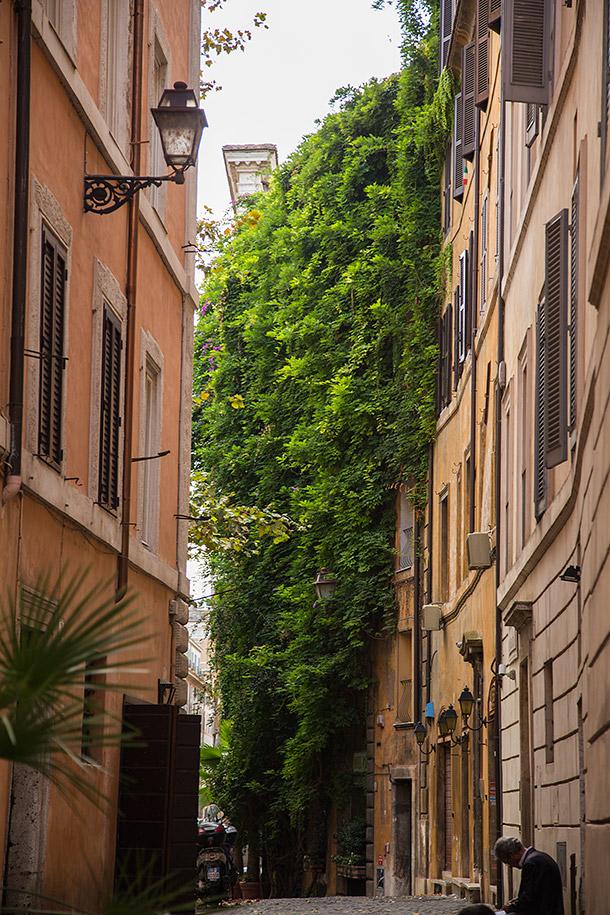 The next day we suddenly felt tired from all of our walking so we decided to relax this day and simply went to Piazza Del Popolo to search for a restaurant. Sometimes all of the traveling and lugging around large backpacks gets to us so we had to have some sort of rest day.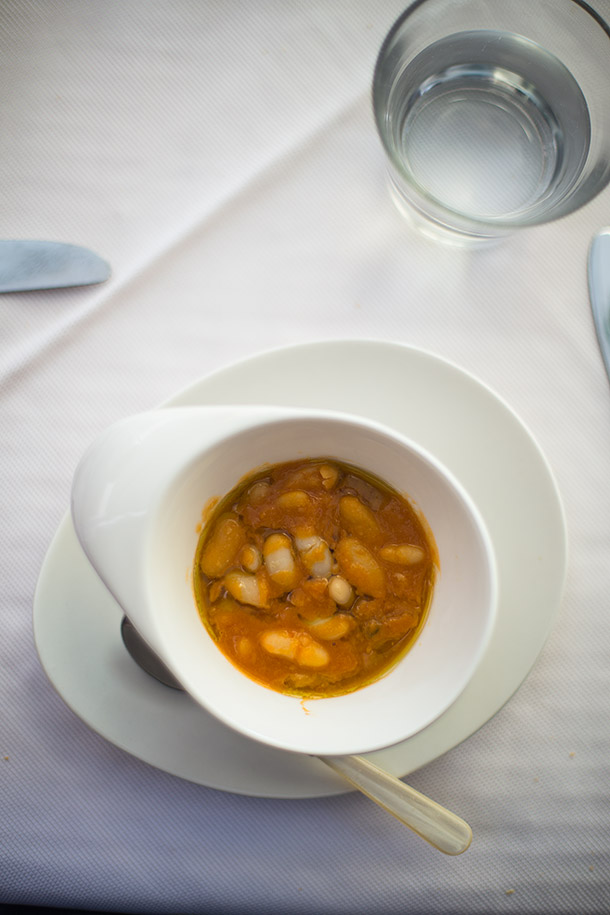 We asked our excellent "guide" Laura for a recommendation on a restaurant to eat at. Babette and a vegetarian place were our options and of course I needed some protein so we chose Babette out of the two. Due to it being a little bit more expensive than some of the other restaurants we had been to, we only ordered our mains. To my surprise they brought us out a tomato and bean soup to wet our appetite. As soon as I tasted this I knew that this restaurant was a good recommendation. The soup itself was seasoned perfectly and the tomato flavor was embellished with a generous drizzle of olive oil. Definitely at the top of my list for one of my favorite soups.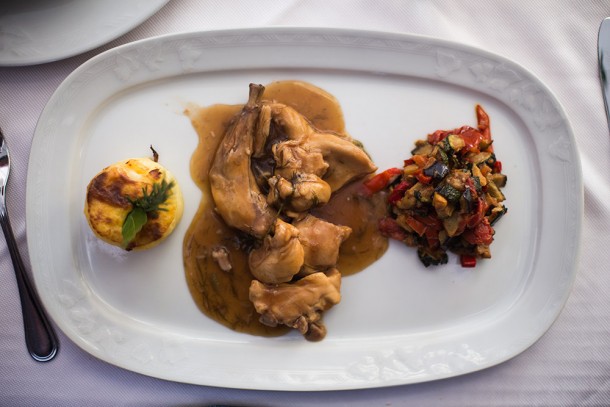 My rabbit with wild fennel sauce came out with potato gratin and some sort of ratatouille. The rabbit was falling off the bone and absolutely delicious, the sauce that accompanied it was perfect for this type of dish. It had a slightly citrusy and refreshing flavor to it from the wild fennel which helped cut the richness of the tender rabbit.
The rest of this day we simply lounged around and did some much needed laundry. You can really only re wear something so many times until you smell like a barn house.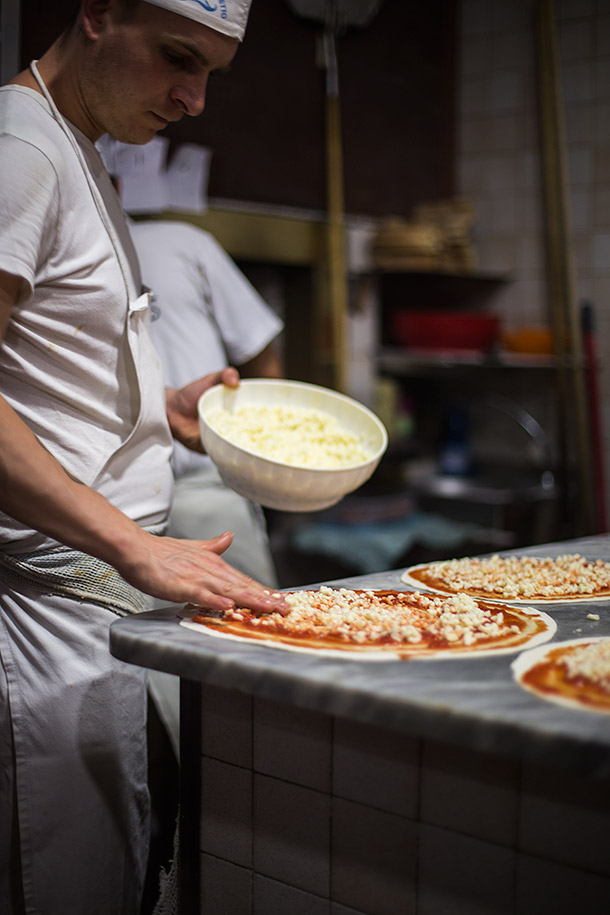 Back out our Airbnb we relaxed and did our Laundry. Costa generously offered to take us out to dinner for his favorite pizza in Rome. We never turn down a free ride in a vehicle to a restaurant so we promptly accepted. Upon arrival he told us that this was one of the oldest pizzerias in Rome and they knew what they were doing. He tried explaining how even though it was a hole in the wall place it was one of the best.
Upon walking in I made my decision that this will be one of the couple of times that I do in fact eat gluten, yes gluten. No I don't have cheat meals, no I don't have treat meals, I just eat what I like, what's healthy for me and makes me feel best and in this case it was about an experience I may not have the chance to have again. I'm a foodie, a cookbook author, a food blogger, food lover, my life revolves around food and despite the fact that I may get an upset tummy or have brain fog after this meal it could be a once in a lifetime experience and I'm absolutely not going to pass that up. So no, don't take this as me quitting gluten free, paleo, or whatever you want to call it. I'm simply eating real food just as I said I always would in order to take my knowledge of food to higher level. Plus I love pizza so, when in rome.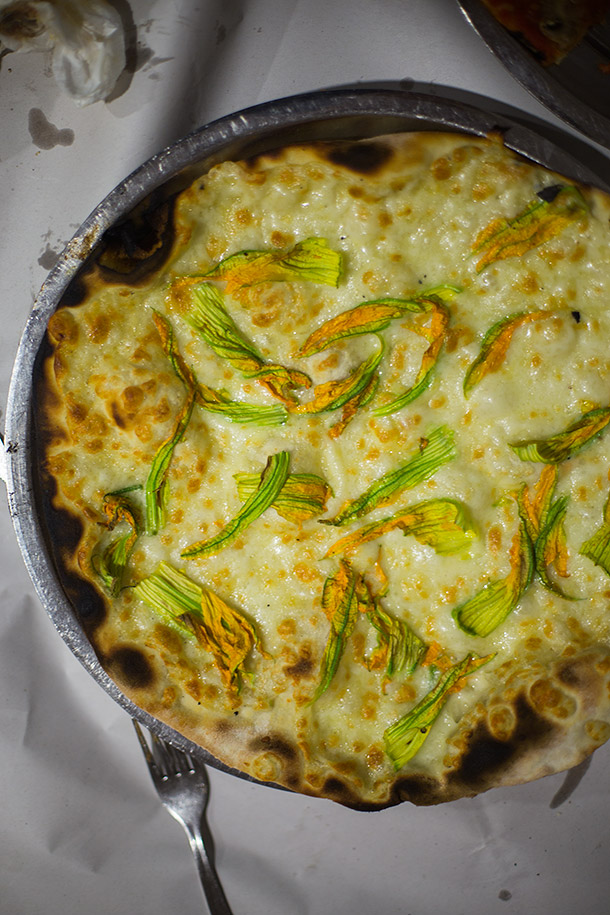 We ordered a anchovy and squash blossom pizza, a mushroom and mozzarella pizza, and a classic calzone. As we sat there and watched the chefs prep our pizzas right in front of us on a marble slab and then carefully slide them into the hot wood fired oven, I brimmed with excitement. Our pizzas came out firs,t which of the two, the anchovy and squash blossom was my favorite. The anchovy was subtle but yet again added a wonderful umami component that really lifted the flavor the squash blossoms.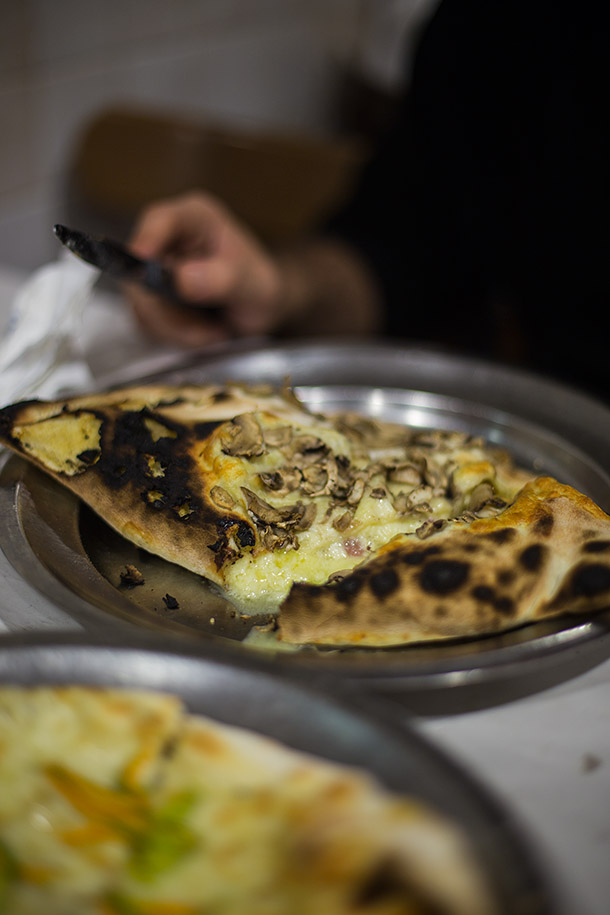 Now there are two well known and distinct types of pizzas in italy. There is the Roman which is thin and crispy (the one that we had here) and the neopolitan which just very slightly fatter and significantly chewy (the good kind) in the crust. Costa suggested that I try this pizza and remember the texture and then try the Neopolitan pizza in Naples at a place called "Michele's" and compare to see which is my favorite.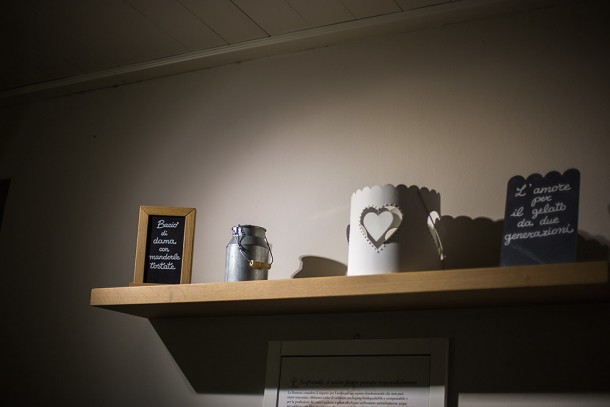 Once we finished our delicious Roman pizzas Costa kindly took us to his favorite gelato place Romana to treat us to some gelato. He swore that this was the best gelato ever but I had to find out for myself. The looks of the place already had me quite ecstatic, I absolutely loved the simplistic design and color all around their establishment.  I requested the largest serving they offered and ordered dark chocolate, Bacio di Dama, and ricotta and caramelized fig.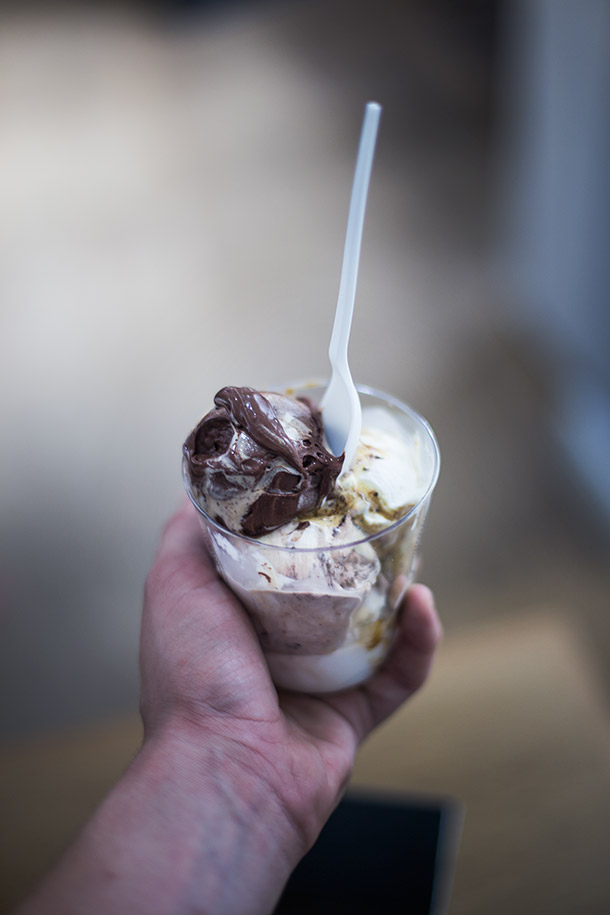 Regardless of the fact that this isn't my favorite photo and they didn't really wash the spoon so the scoops don't look super clean, in my opinion this is hands down the best gelato in Italy right now. I'm sure there are others that come close and possibly mimic it but I just cannot fathom any possibility of any other place beating this one any time soon. Try a couple of the other recommended places and then try this one and see what your opinion is.
The gelato is so unbelievably smooth an rich it's mind blowing. While most of the gelato is very smooth and hardly icy this one specifically has absolutely no detectable iciness to it at all which is what truly made this one stand out. It's as perfectly silky smooth as pudding and on top of that the flavors are incredibly powerful and rich. You can really taste each flavor rather than it being blurred out by the cold. I would come back to Rome just for this Gelato and I am completely unashamed to say that. Granted I would visit my good friends here of course but if I had to make an excuse it would be for this. Oh, and they have gluten free cones so let me give you a second while your mind explodes.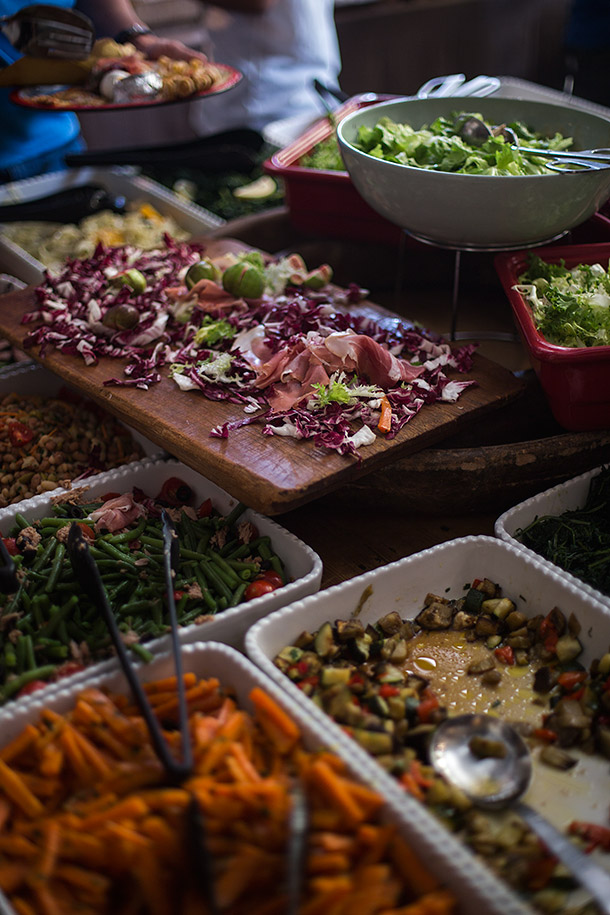 The next day Laura offered to take us to a quick brunch, museum trip, and dinner. We walked around a bit observing the various sites Rome has to offer. Such as how all of the tables were provided with olive oil and vinegar at almost every restaurant which made me realize how much olive oil they use in Italy, specifically northern Italy. Olive oil goes on practically everything and I'm not talking a little bit, they drench their food in it. Which in my opinion is absolutely fantastic so keep on keeping on with the olive oil Italy, I dig it.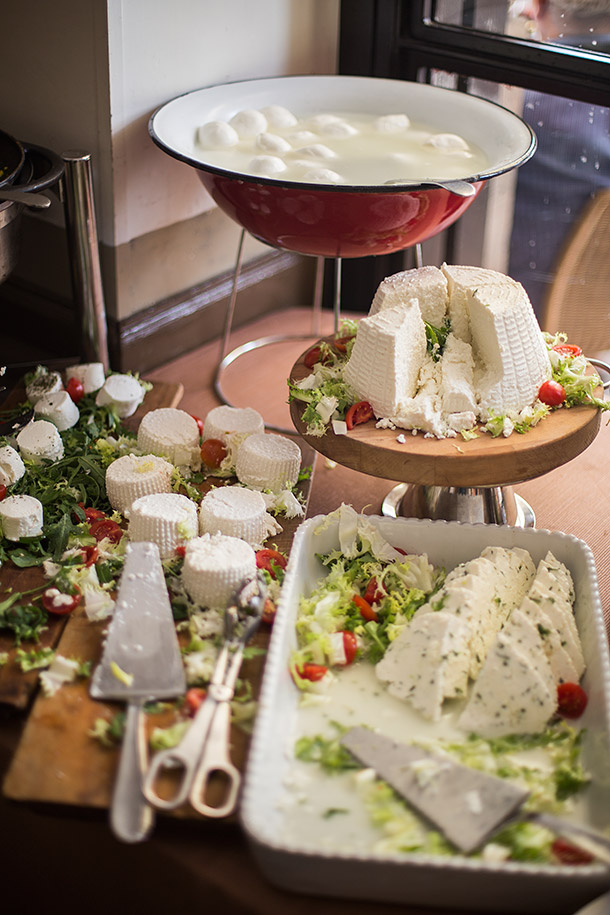 Once we arrived at Gusto to meet Laura I was surprised to find out that it was actually a buffet. Yet another thing to be enchanted by in Italy is the awesome realfoodness (thanks random instagrammer for the new word) of their country. There were vintage cutting boards lined with freshly made ricotta, serving trays with beautiful and vibrant vegetables, and several meat choices in a silver baking dish.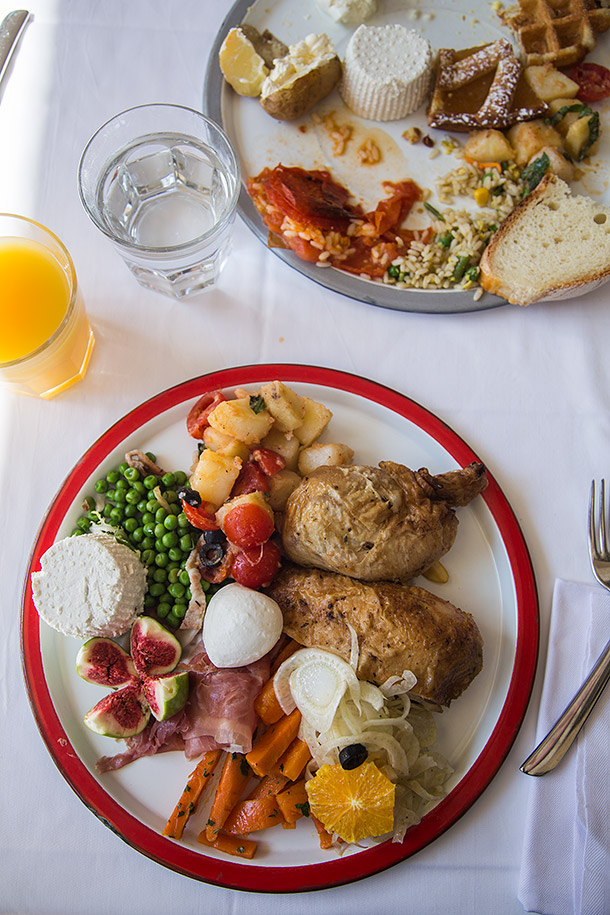 It's such a radical difference when it comes to most food in America and most food in Europe. This buffet is a great example because I highly doubt there are very many buffets in America that serve food like this. I piled my plate with roast chicken, prosciutto and fresh fig, carrot salad, fennel orange salad, peas with lardon, fresh ricotta cheese, fresh mozzarella, and cherry tomato and potato salad.
The choices were endless at this place and even after I made my choices they rotated out some of the current dishes with different ones such as the roast chicken to pork chops. I really wish I had been there for the pork chops.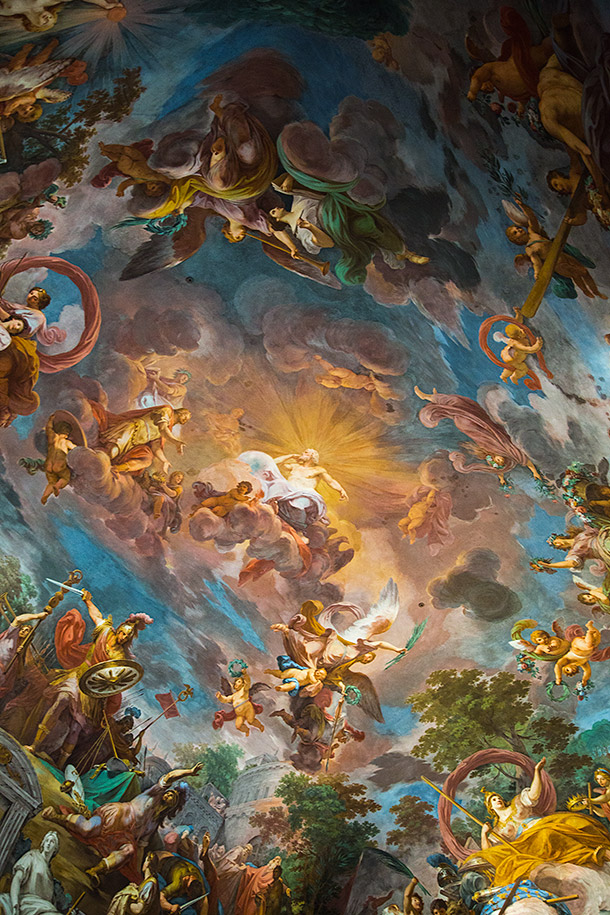 Once we had finished eating like kings we moved on to Galleria Borghese. Just the ceilings in this building were absolutely beautiful just like in the Louvre. I'm really glad Laura was there to guide us because we wouldn't have even gotten in without her because we no idea that you had to reserve the tickets ahead of time on weekdays so the woman selling tickets said a stern and annoyed no to us. Despite the annoyed ticket master, Laura worked her magic and got us in.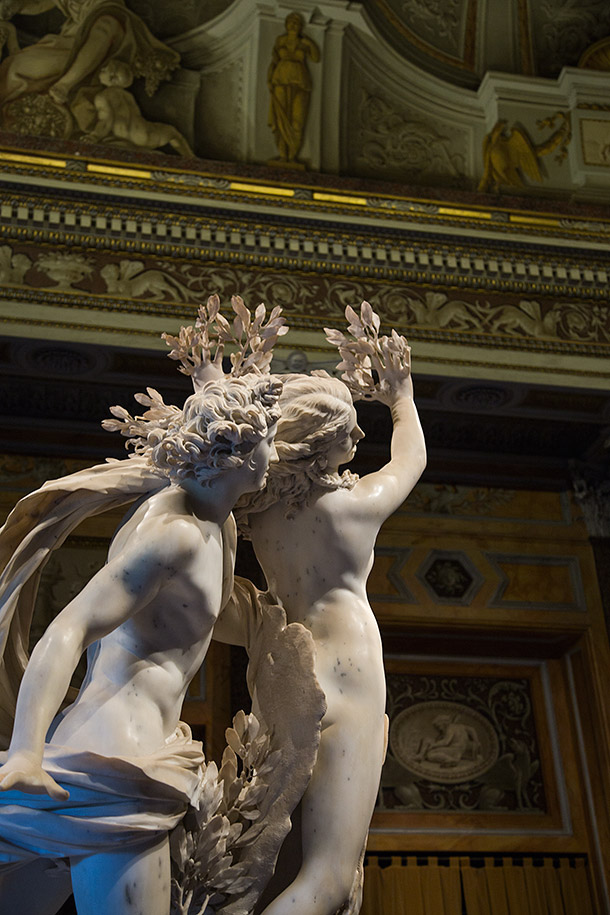 We walked around with Laura as a our personal "guide" as she explained small details of many of the different paintings and statues. Once we came to the famous Apollo and Daphne statue she gushed with excitement and explained the whole story behind this artistic masterpiece. Apollo was greatly in love with the Nymph Daphne and forever pursued her as his lover but the only moment that he would soon reach her she turned into a tree from his touch.  The rest of the story can be read on it's wikipedia but that's the synapsis of it you could say.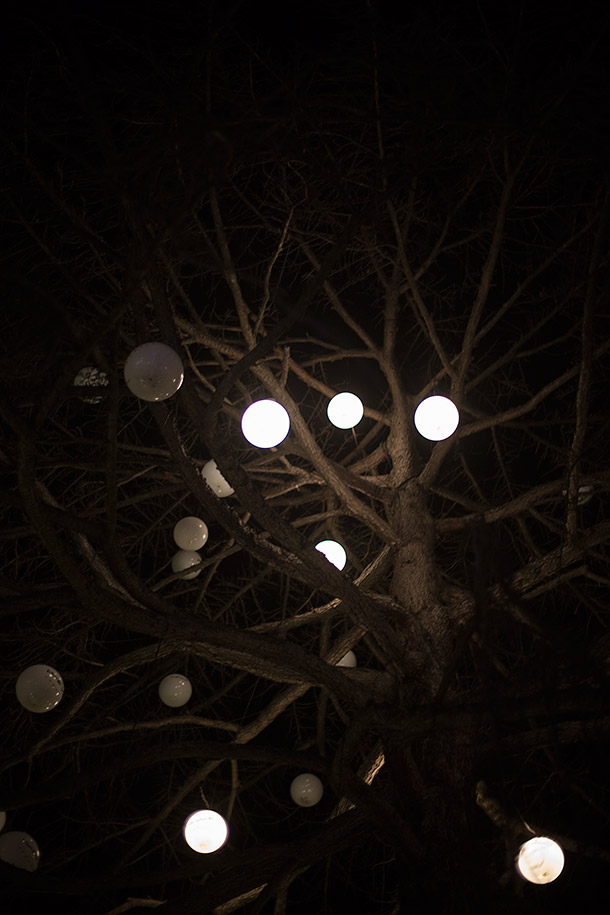 Once we finished perusing the museum we moved on to Mò Mò which was set on a beautiful piece of land with a large outside dining area. The entire outside was furnished with different types of seating based on where you were eating, they had bunnies running around the area (which Matti happened to be very excited about), and they had some of the most interesting decorations that included a tree with large white orb lights hung from the branches of it.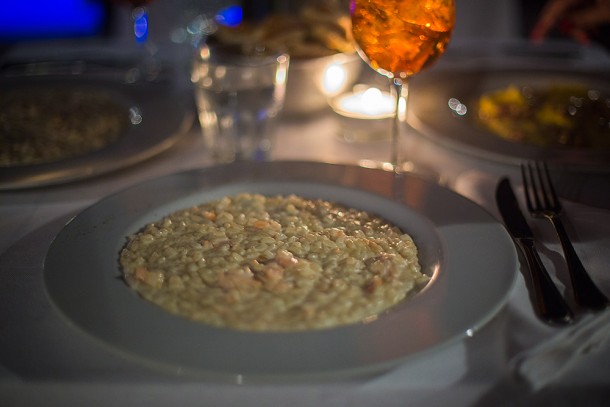 Matti and I ordered the same first course of salmon risotto which while it looks rather plain in garnishing the flavor and texture was absolutely outstanding. If you love salmon like I do then this might be some of the best risotto you've ever had. I have to emphasize that it was not "fishy" at all it just had a very meaty salmon flavor that was bolstered by the rich cream and al dente rice.
My main was a mixed grill plate since I couldn't decide on one meat dish so I simply got a small sample of just about everything. Grilled sausage, chicken, steak, and lamb. This was a very simple but satisfying dish. Everything was seasoned and cooked to perfection and the simplicity reminded me how much simple food really is.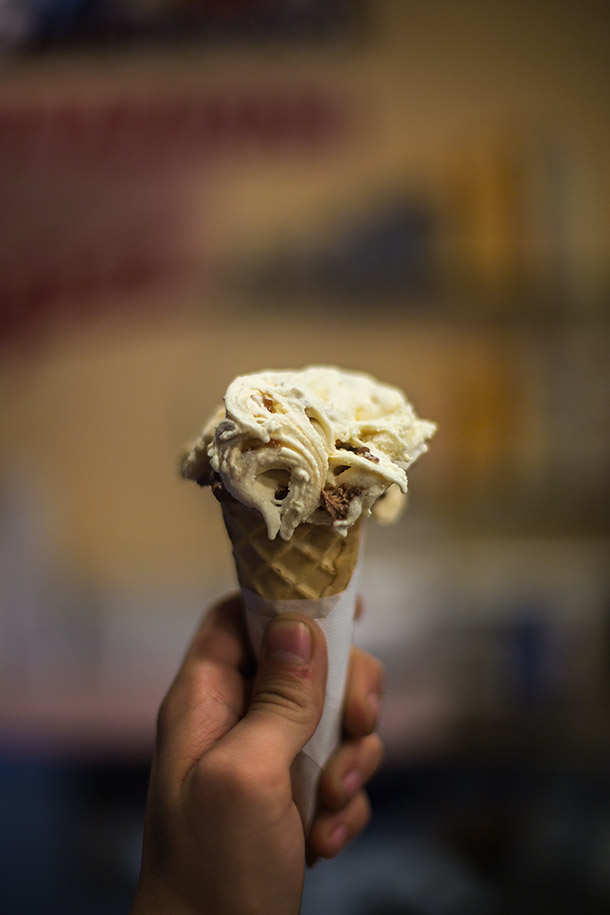 Next was gelato again because we still have not broken our code. Laura brought us to one of her favorite gelato places and treated us to gelato. The gelato I ordered was creme, hazelnut, and chocolate, all nestled in a gluten free-that's right, a gluten free-cone. Although this gelato did not come close to beating Romana in my book it was still incredibly good and definitely comes in 2nd in front of San Crispino and to top it off they also had gluten free cones, which is always a huge plus for me.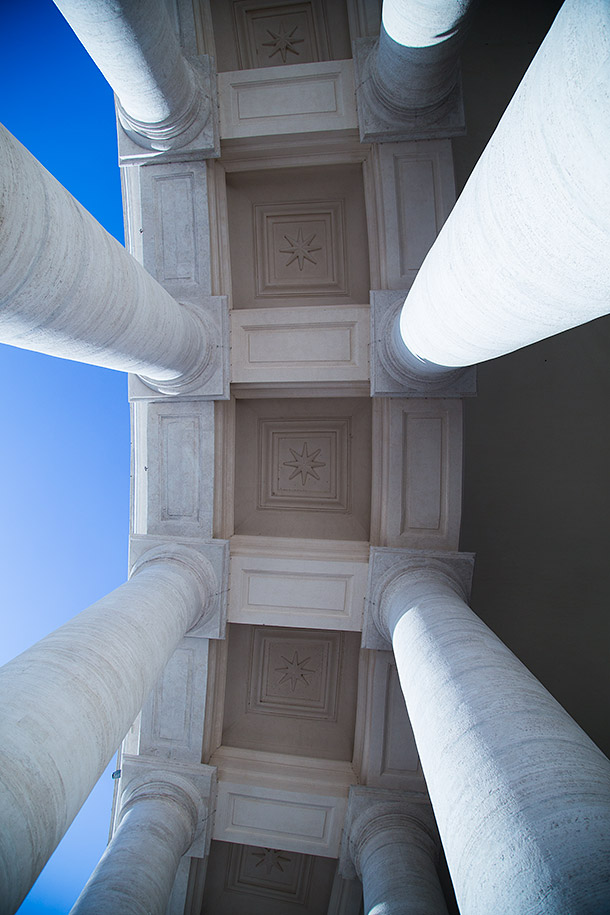 Our last full day in Rome was going to be Vatican day  for us. We visited Gusto for another round on the way there and enjoyed it just as much as the last time. At this point in our trip we felt very comfortable with our ability to get from one place to another so we made it to the Vatican quite easily. On the way there I actually stopped for some Supli because my mom extolled their greatness to me and insisted that I must try them.  Supli are basically deep fried rice balls stuffed with mozzarella, sometimes they have tomato sauce in them but technically that makes them arancini, but they're basically the same thing. They were crunchy on the outside and gooey and delicious on the inside, almost risotto like, but with melted mozzarella in the center.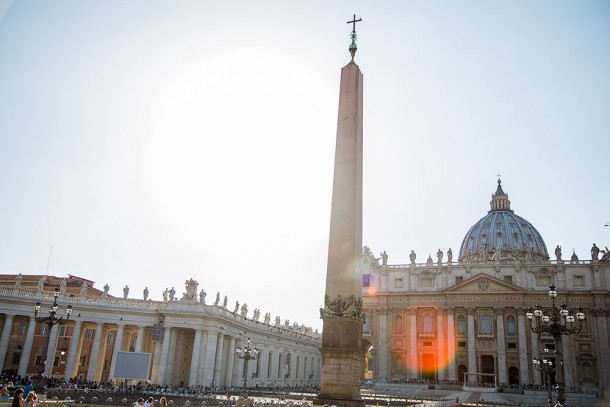 We desperately wanted to go inside the church but the line was literally all the way around the columns that surround the vatican and we still had to meet Laura later in the day for our final going away meal with her. Instead of going inside the church, we walked around outside and enjoyed the beautiful architectural mastery that this church has to offer.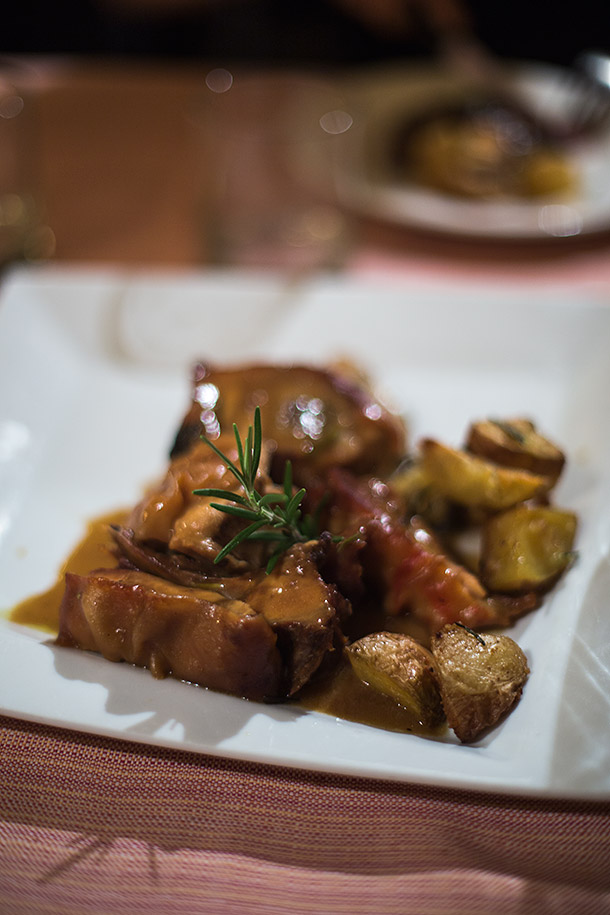 Once we met up with Laura she took us on a short stroll through the "young and hip" part of Rome, Camp die Fiori, where our restaurant Ditrambo was located. I ordered suckling pig with roast potatoes as soon as I saw it on the menu. The pork was incredibly succulent and tender, the sauce that was well dispersed around and all the way through the meat which made me want to go back for another melt in your mouth bite.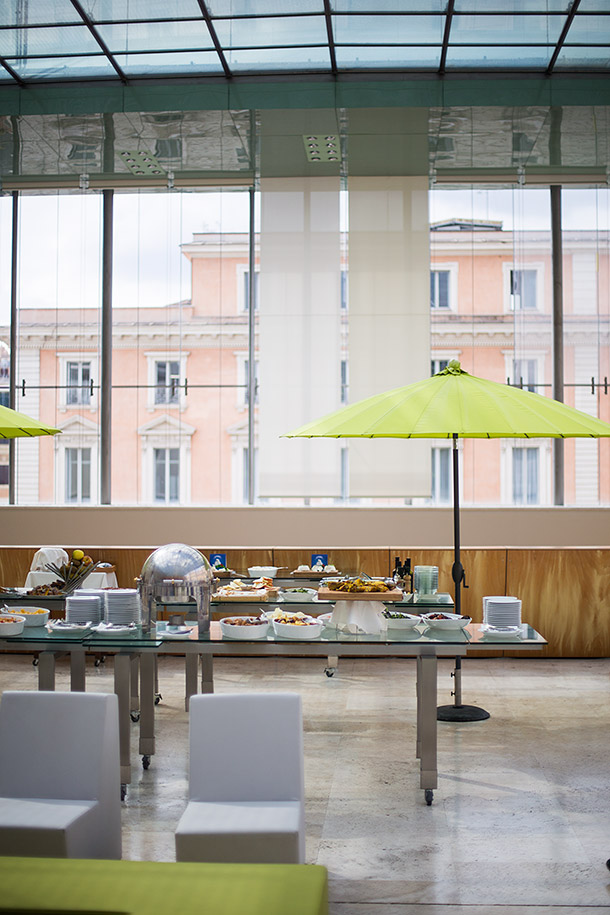 We said our goodbyes to Laura as the rest of the fun night turned to melancholy from having to leave our new friend, and not just because she paid for our food. Our train ride the next day was a little later in the afternoon, so we stopped by another recommendation from Laura. This one was Open Colonna Roof Top, another buffet set in a beautiful full glass ceiling and window building. Set on top of Palazzo Dell'Esposizione, buffet by day, five star restaurant with Antonello Colonna's food being served there.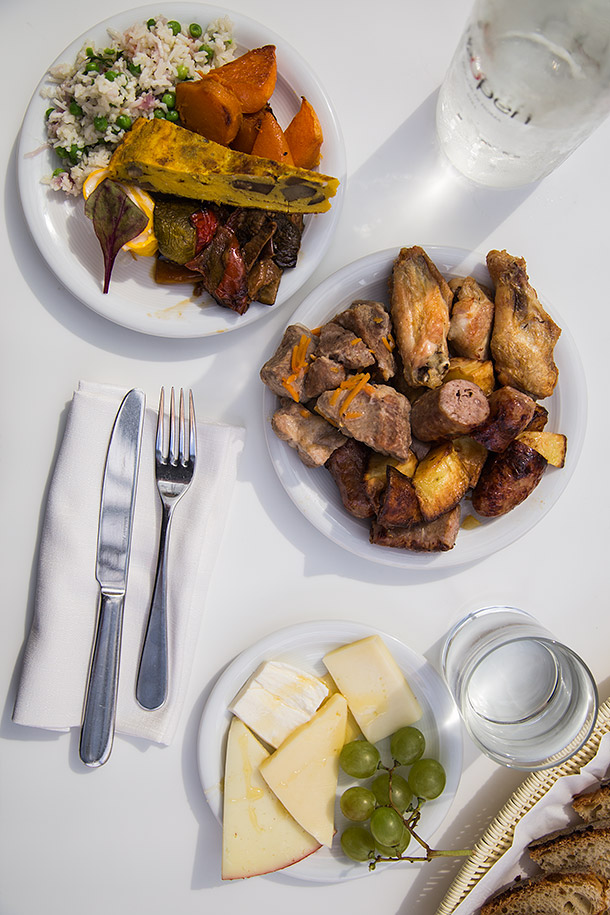 I of course grabbed everything I could since we had a train ride ahead of us. I piled my plates with crispy chicken wings, braised pork, sausage and potatoes, fritata, butternut squash, rice with peas and ham, and omelet slice, ratatouille, and various cheese with honey drizzled on them. A satisfying and energizing meal to prepare us for yet another journey to another location on our trip. Rome so far is my absolute favorite, no wonder my parents chose to live here so long, maybe I'll do the same. Or maybe not because it's really expensive here.