Unfortunately this post is going to be shorter and with few photos than I would have liked because I was only in the UK for 2 days (and it was raining like crazy the whole time). Which is mainly attributed to the fact that we stayed in some other countries longer than we planned. Not to mention the UK is incredibly expensive and Matti was running out of money, something like 75 dollars left. Don't worry though I didn't leave her hanging, I covered her meals and it would only be for a short amount of time. We also got to stay with our friend Niamh (pronounced Neev, took me a bit to catch on to that) introduced to us by my brother Nick.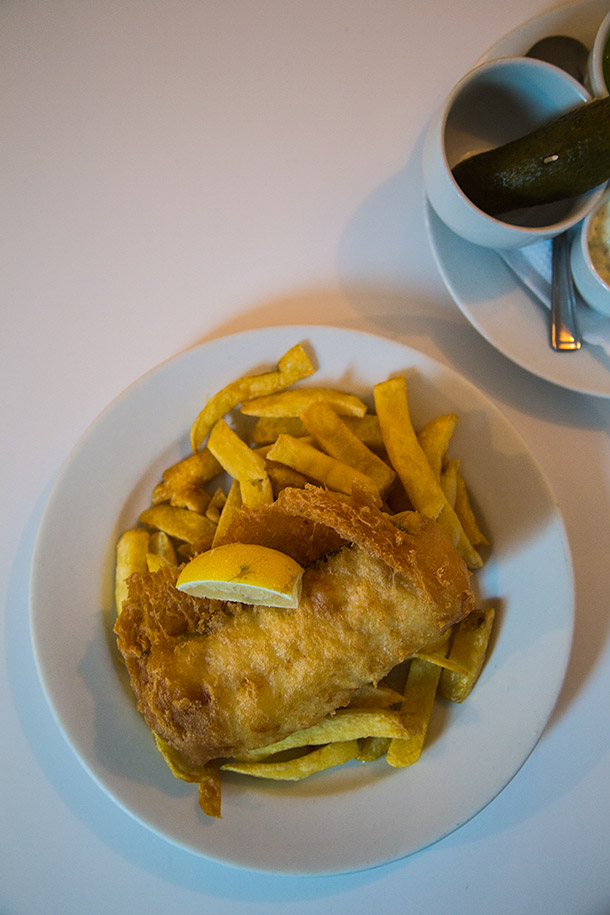 Our first day we asked Niamh what her favorite fish and chips spot was and she directed us to Fish House. We said a quick goodbye and hopped on the bus to our destination. The majority of the buses here have 2nd stories, so Matti and I sat at the top of course and giggled like small children. Once we arrived I ordered a classic cod fish and chips with mushy peas, and a pickle (please don't make me explain my piece on eating gluten on my once in a lifetime experience trip again).
The fish in this was perfectly cooked had a light but satisfying crunchiness. Everything wasn't too overly complicated so the flavors were much more defined which is exactly how fish and chips should be to me.
Post fish and chips we ventured around London looking at classic hotspots such as Big Ben, and The Tower Bridge.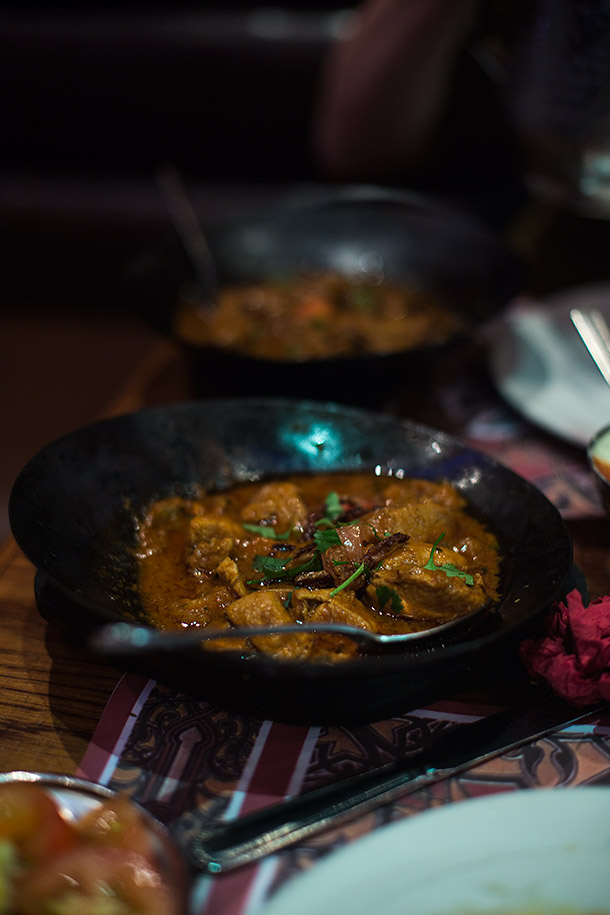 Later that night we went to Tayyabs, another recommendation of Niamh's. As soon as we got in the restaurant we were seated within seconds, I made my order for chicken karahi, and we received our orders within about 7 minutes. I vaguely remembered Niamh mentioning that this place "doesn't mess around", and now I had truly understood what she meant. Despite how quickly we got our food everything was absolutely amazing, the karahi was spicy but the flavors were so well pronounced that it didn't bother me one bit. Definitely some of the best curry I've ever had in my life.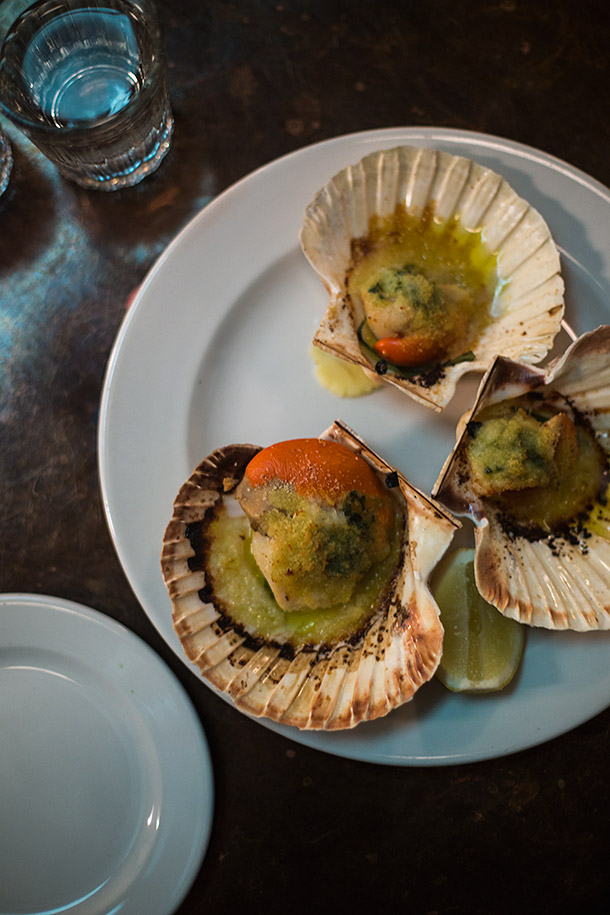 Last but certainly not least on my list is the famous Hawksmoor. I was lucky enough to be taken into the kitchen area with the executive Chef to look at the working of the restaurant and to see what everyone was doing on their specified line. I feel that the executive Chef and I had a couple things in common so we ended up chatting up a storm the majority of my time in there. After touring the kitchen he sent me back outside to sit down so he can send some stuff out for us. Brimming over the edge with excitement I sat down with Matti. Out came the charcoal-roasted scallops with white port and garlic. I loved the gorgeous presentation with it being left in the shell, which the flavor matched up with very well.  Slightly sweet with notes of fragrant garlic and port.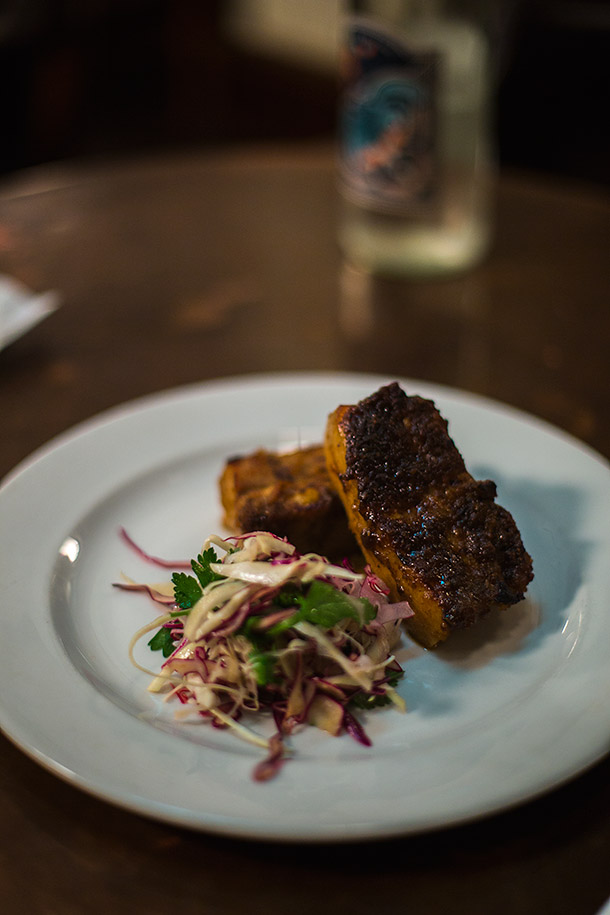 Next up were the Tamworth belly ribs with vinegar slaw. The ribs were succulent, deliciously fatty, and was intensely flavored all the way through the meat. The outside was beautifully caramelized and slightly sweet from the marinade which made for a wonderful texture contrast to the tender meat in the center. Pork belly and ribs are basically my favorite thing and although this was just one of the appetizers I could have eaten 4 of these as a main and been perfectly happy.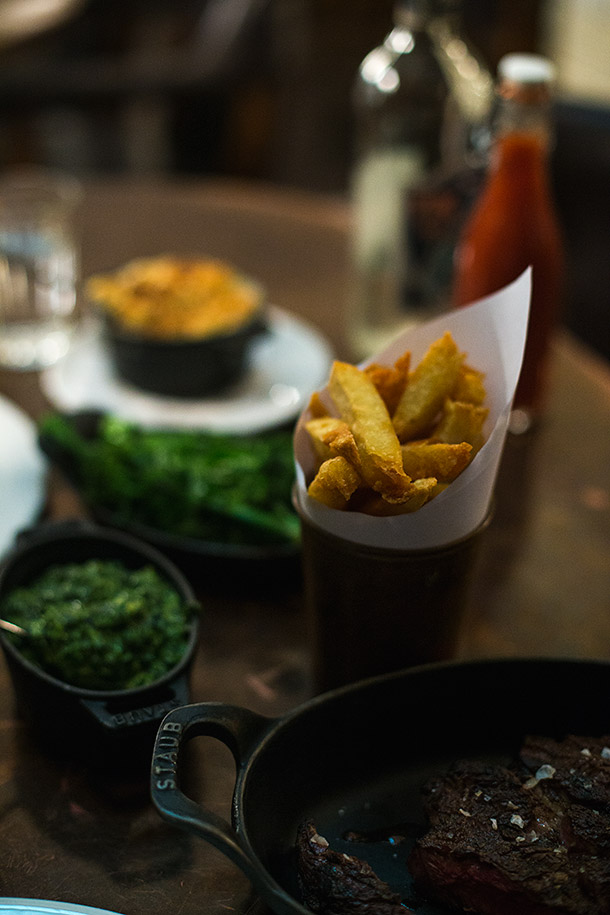 Then, all at once, out came everything. A ribeye for me, a burger for matti, and sides consisting of creamed spinach, broccoli rabe, macaroni and cheese, and french fries. Before I get started with everything lets quickly talk about these french fries. These particularly are the best french fries (or as they would call them, chips) I've eaten. I don't know how many times they're fried, triple, or quadruple, but they were the perfect amount of crispiness. There was a solid crispy layer that was at least 1/4 inch thick around the smooth inside, which basically creates the most amazing texture for a french fry there is. I understand that they're a steakhouse, and we will get to how mind blowing and amazing their steaks are but please can we have a moment of silence for how good these french fries are.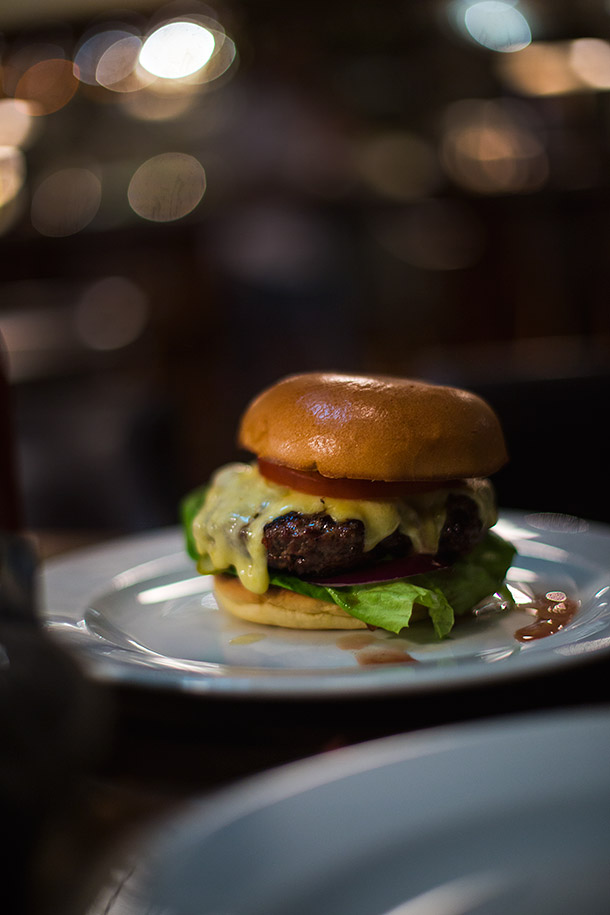 Matti's hamburger looked pretty epic coming out. A classic hamburger look with some Hawksmoor flare. Because Matti loves me she let me have a bite and I've got to say, best hamburger in a while. The meat was actually cooked properly, medium rare, which a lot of restaurants and burger joints surprisingly don't do and they used a nice cheese to compliment the rest of its flavor.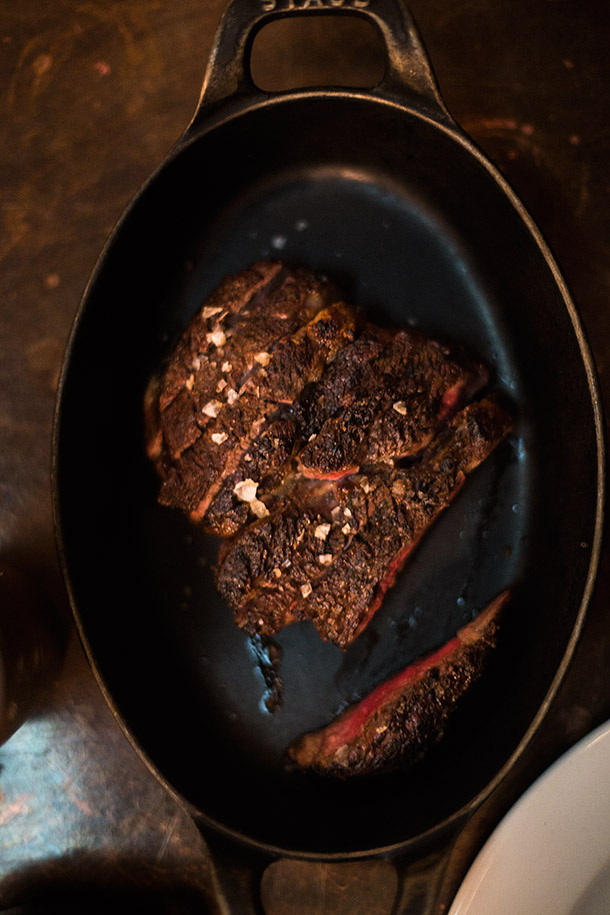 My ribeye was cooked to perfection, rare, with a thick and crispy caramelized crust on the outside. It was also topped with a nice amount of flakey sea salt which made for an intense flavor burst every time you hit one. Some of the salt fell off but it dissolved into the steak juices so it basically salted itself. Definitely what I would call, the perfect steak.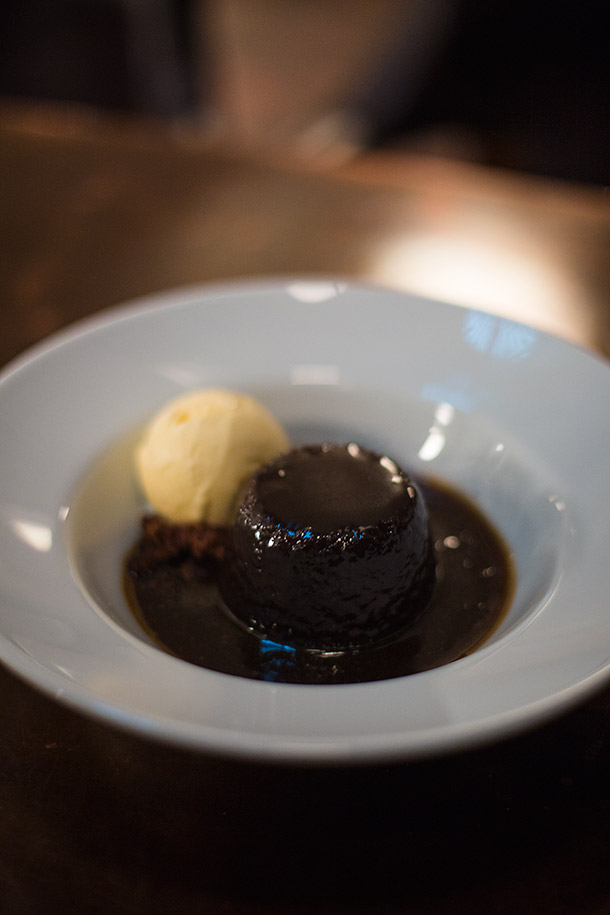 Last but not least was their sticky toffee pudding with ice cream. The cake itself was soaked in the sticky toffee sauce which pooled at the bottom of the dish it sat in. I first dipped my spoon in the sticky toffee sauce to taste it, it had a buttery, intensely sweet, and fragrant toffee flavor. Basically what I'm trying got say is that I would like to have a pool filled with that and swim in it. The cake was slightly chewy on the outside from the caramel like sauce, and soft and moist on the inside. It was so good I ate every single bit of it, despite knowing how I would feel later and it was so worth it.
All and all I absolutely loved London, Hawksmoor definitely lived above and beyond its expectations. Next time I need to come back with more than 2 days and expecting it's extreme transfer rate to the dollar. This stop is the final destination on my Europe trip and concludes one of the most amazing journeys I've ever been on and I was lucky enough to share it with my girlfriend Matti. Thank you so much to all of the people who let us stay with them and showed us around Damian (we luf you gur), Jonas (you and you're family were incredibly loving and kind to us) Laura (you're fabulous), Rut and Fernando (we miss you guys and hope Rumbo is being a good attack dog), and last but not least Niamh (you went way out of your way to help us in several instances).