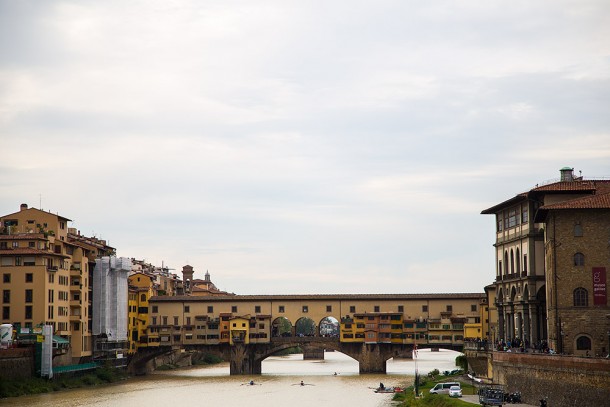 We arrived in Florence in the afternoon, rather weary from our travels, so we lounged in the hostel kitchen for a couple of hours and began to converse with two people that happened to be doing the same. We spoke of our travels thus far as well as our plans for whats next. They told us about the market close to our Hostel, Mercato Centrale that had two levels to it, a farmers market below and a series of small eateries above. With a combination like that I absolutely had to make that our first stop the following day.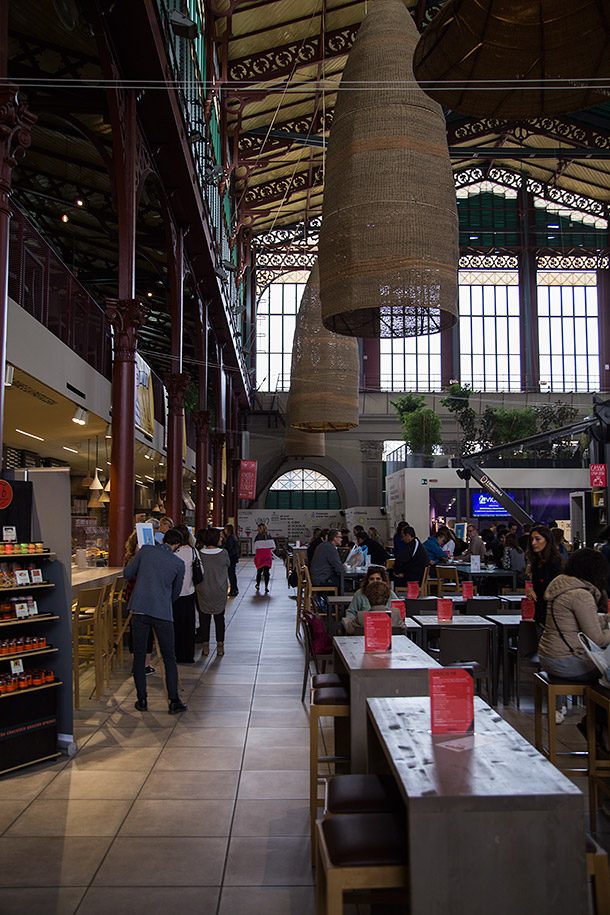 When we arrived the next day our grumbling stomachs persuaded us to explore the upper level first. The whole design of the eatery level was absolutely wonderful, with it's spaciousness and color choices. I knew this was going to be a spot I came to more than once the second I entered.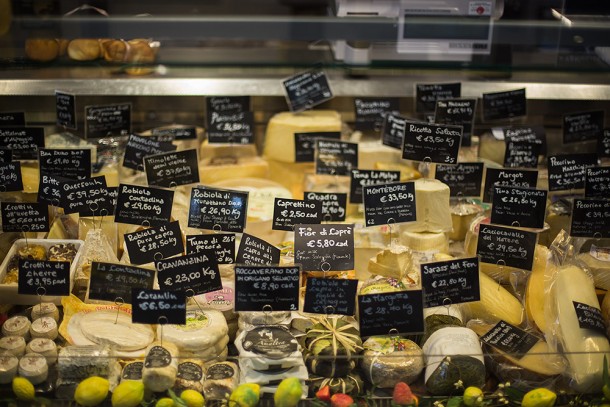 As we perused through the upper level I couldn't help but stop at every little shop and mini-restaurant. Countless cheeses lined one shelf, as another was lined with ornate desserts and pastries, and another was filled with fresh handmade pasta (yes gluten, I know).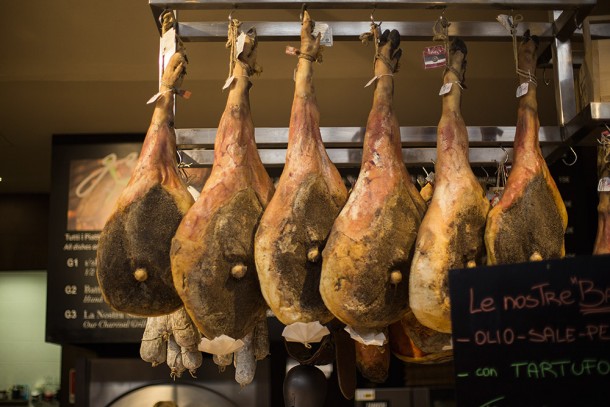 Not to mention the wonderful charcuterie and local meats offered. Right next to the butchery was also an eatery that used the meat right next door to them.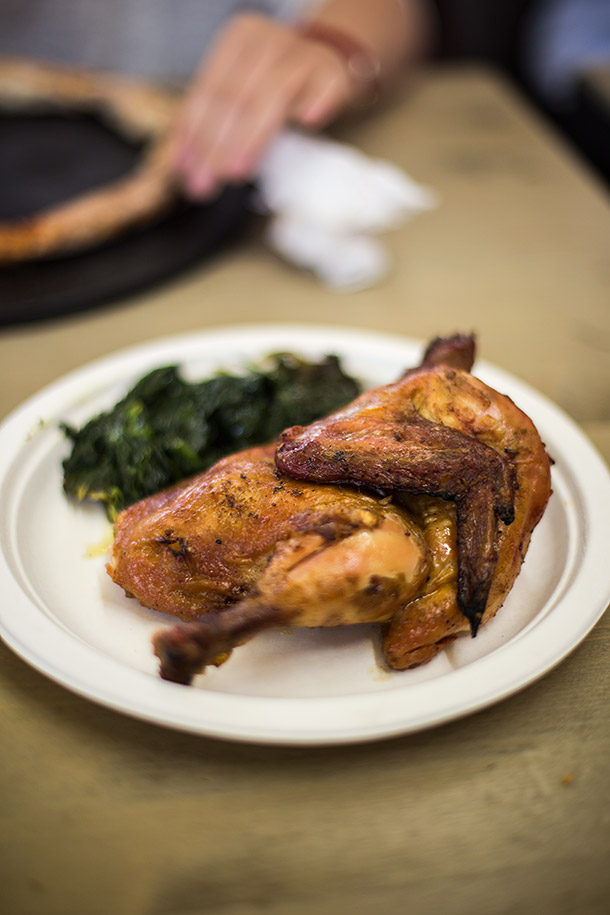 After I was finished looking around the area (which likely seemed like an eternity to Matti) I actually made an order. Naturally, I was attracted to the area surrounded with meat and ordered half of a roasted chicken. I usually don't order chicken when I'm out simply because it's usually not that good but this one was actually perfect. The breast was moist and the dark meat was fall off the bone, but most importantly the skin was undeniably crispy.
I don't know if you can tell by looking in the background, but Matti had already made her order of a margherita pizza which she finished before I got my roast chicken, and continued to make a ring out of the left over crust on her stone plate.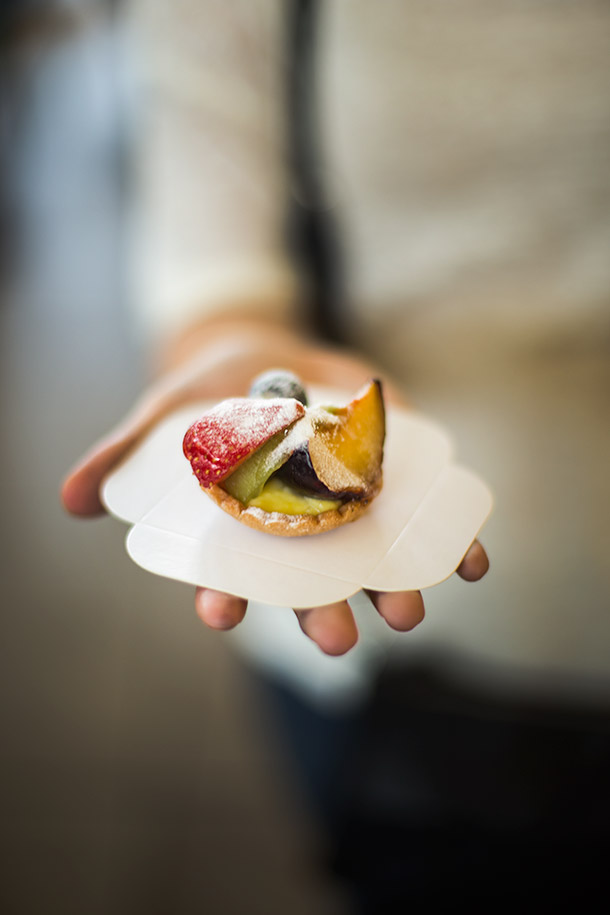 We ate our food and began to head downstairs until an adorable tart caught Matti's eye that she had to have, so of course I bought it for her. Look at it, you cannot deny it's cuteness despite the fact that it has gluten in it.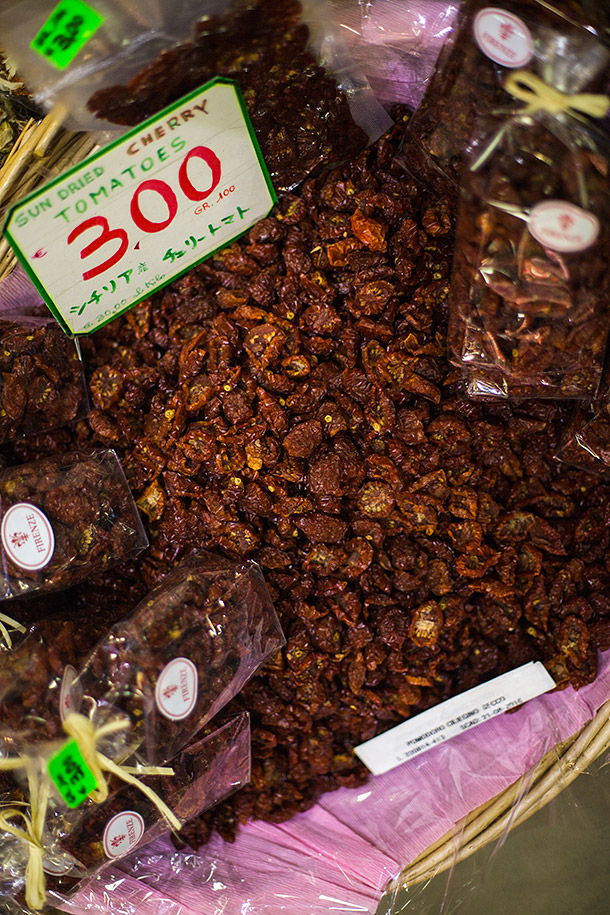 In the downstairs portion of the market we were greeted with many sellers of ingredients far and wide. I wanted desperately to grab some of the sun dried tomatoes but I completely forgot and will probably regret that for the rest of my life. The same thing goes for a balsamic vinegar that I tried that was ridiculously expensive, but was also the most delicious balsamic vinegar I've ever had lie on my tongue.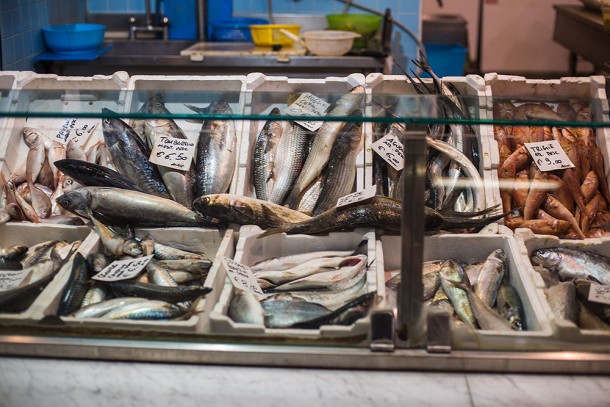 In the fish section there were masses of different species of fish as far as the eye could see. Flounder, halibut, anchovy, even a whole sword fish sectioned out. This was truly a sight of beauty for me, if only I had the cash to purchase one of these beauties to maybe roast in a salt crust back at the hostel. My only hinderance was that the hostel had a kitchen with no stove or oven, only a lowly microwave.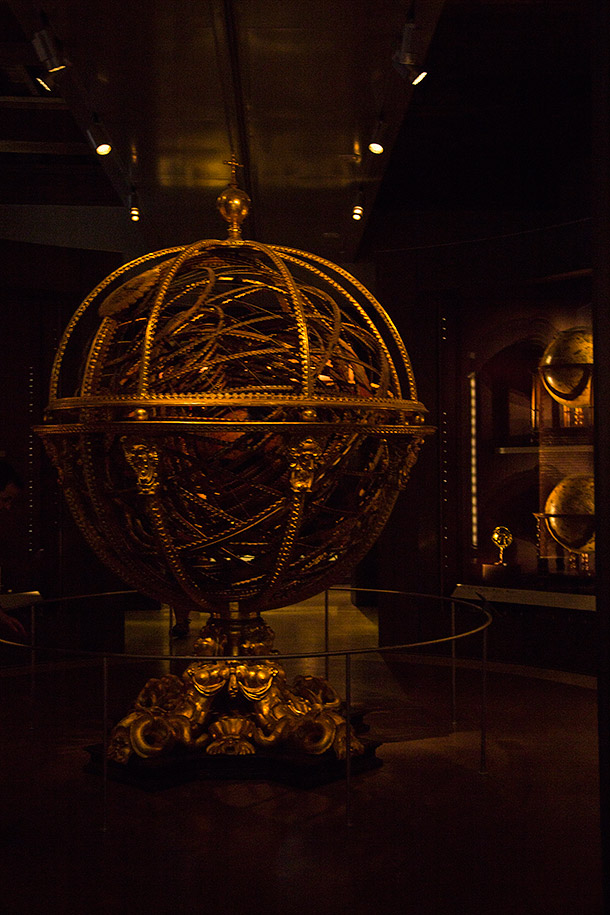 Post Mercato Centrale eyeballing we moved on to the Galileo Museum where I saw the many contraptions and designs of Mr. Galilei himself. There are only a few types of museums that I truly enjoy all the way through and this was definitely one of them since I've always had a huge interest in the works of Galileo. Globes, telescopes, physics, everything a nerd like myself needs in their life.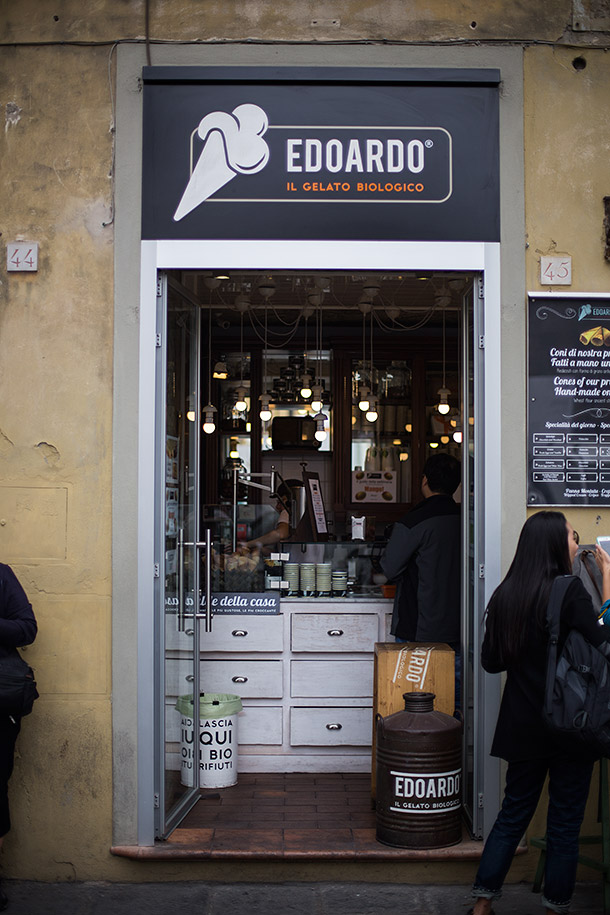 On our way back to the Hostel I was stopped by Edoardo when I saw a line that read something like "organic gelato". Plus how can you not love their adorable design they have going with the rustic interior and old milk jug sitting near the door. We walked in and purchased what was about to be the best gelato that we will ever have in Florence.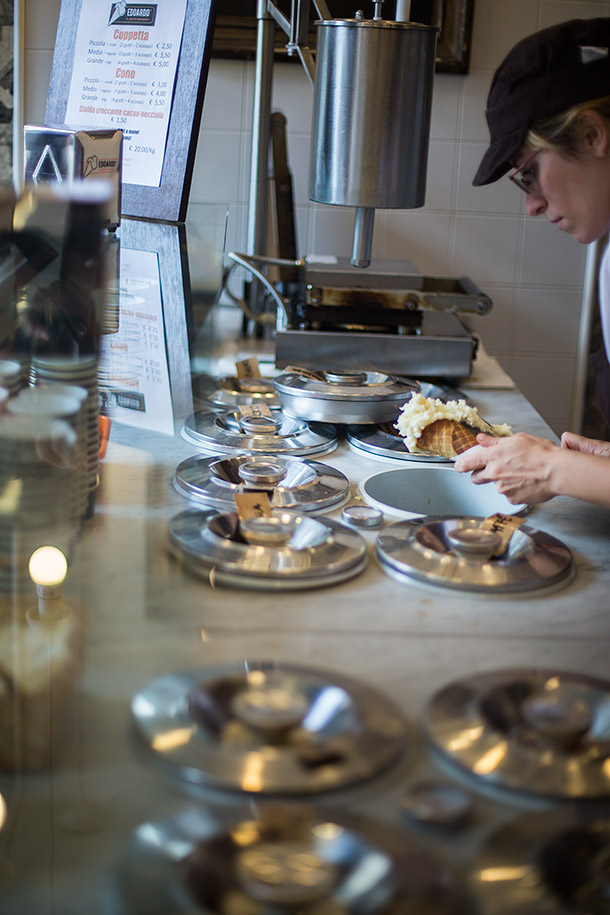 One of the most important things to look for when it comes to purchasing gelato is to look for the silver tops that cover each flavor. These silver containers keep each flavor of gelato at the perfect temperature which keeps it's excellent texture and flavor in the best condition. This way you know that the place you are dealing with is most likely pretty serious about what they do.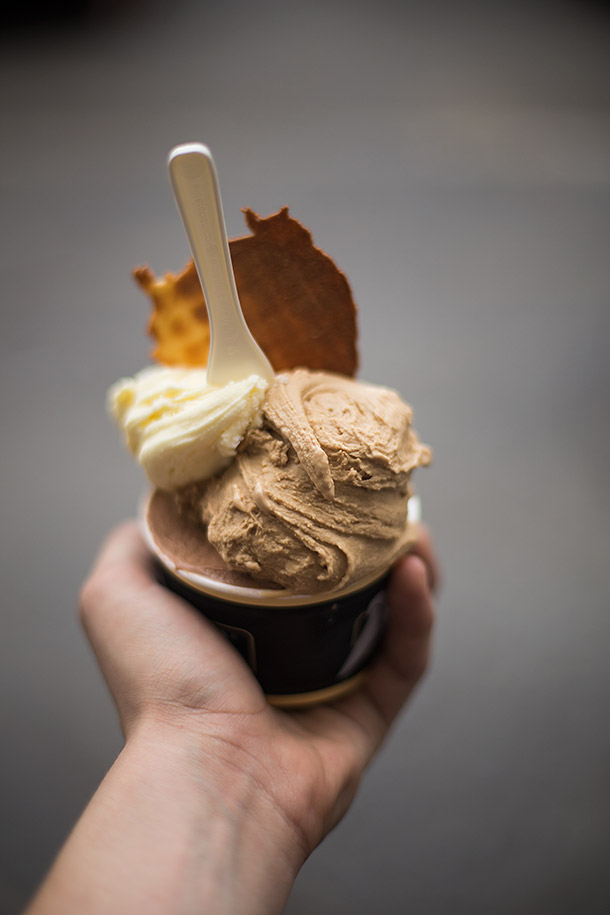 The sweet lady serving up the gelato scooped up my flavors generously for a mere 4.50 euro. My gelato mountain consisted of pistachio, chocolate hazelnut, coffee, and an Italian classic of crema (fresh eggs and cream). Surprisingly the pistachio was my favorite flavor out of all of these. It was buttery and very slightly salted to help elevate the flavor of the pistachios. All of the gelato was smooth and had that traditional gelato texture. Edoardo's Gelato is by far the best gelato I've had in Florence. In case you are wondering, yes we are still staying true to our gelato every day in Italy vow.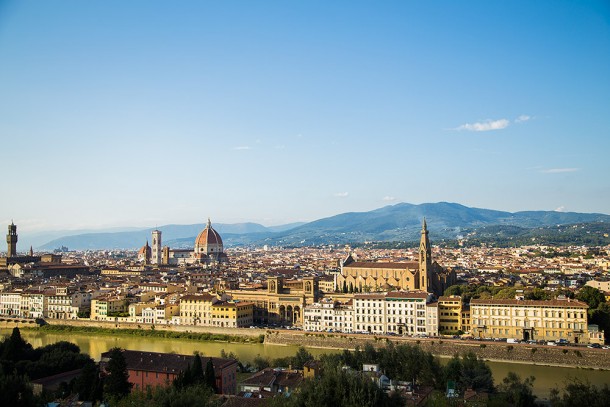 Our next day we went back to the market yet again and simply wandered around with no place in mind. Although, we did go to Piazza Michelangelo to feast our eyes on the beautiful city of Florence.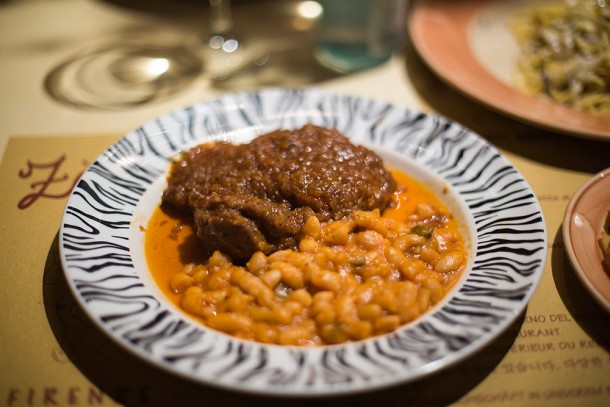 Hungry and tired, I searched around on yelp and found a restaurant that we wanted to go to, only to find that it was closed down. Lucky for us the restaurant next to it had it's doors wide open and was filled with a fine mix of locals and tourists called Trattoria Za Za. Despite it's unusual name the food was incredibly good. I made an order of Osso Bucco Florentine style which was incredibly tender and packed with umami flavor. (Although I wasn't a huge fan of the plate it was on- Zebra is just not my thing.)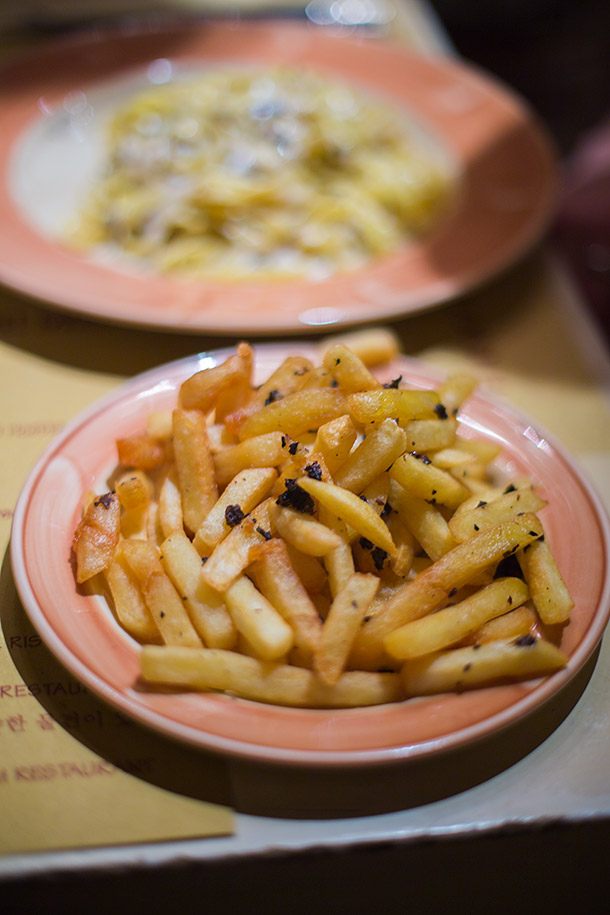 I also noticed truffle fries on the menu so of course I ordered those. No explanation needed other than they were the best fries I've had. Little morsels of grated truffle coated the fries which made for quite the epic battle between Matti and I for who would get the most fungus on their fry (weird right?).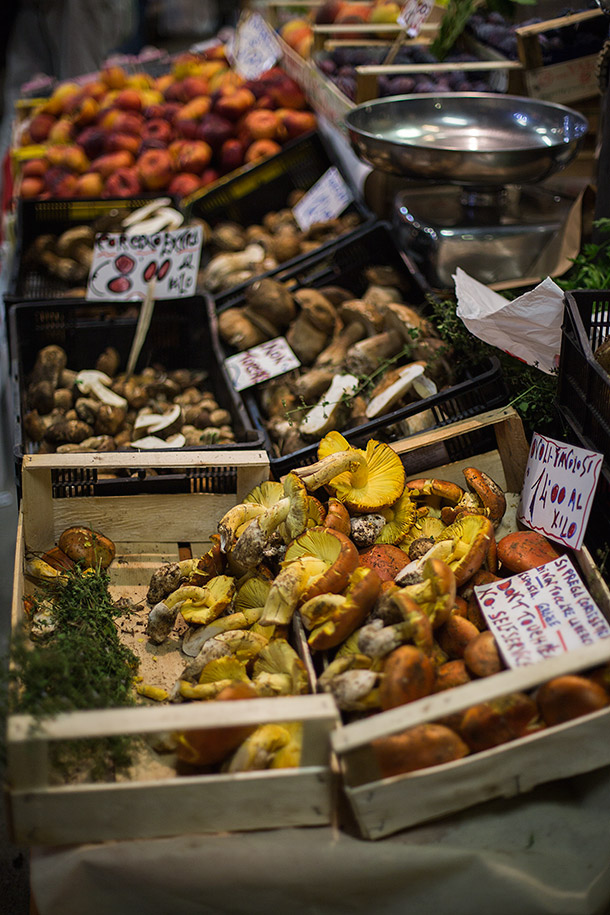 Back at our Hostel we met a different group of people, but this time it was another couple, Caj (pronounced cage) and Alex. After chatting for a while we decided to tour Florence together for the remainder of our stay. We sat in the hostel, talked, laughed, and plotted our spots to go next.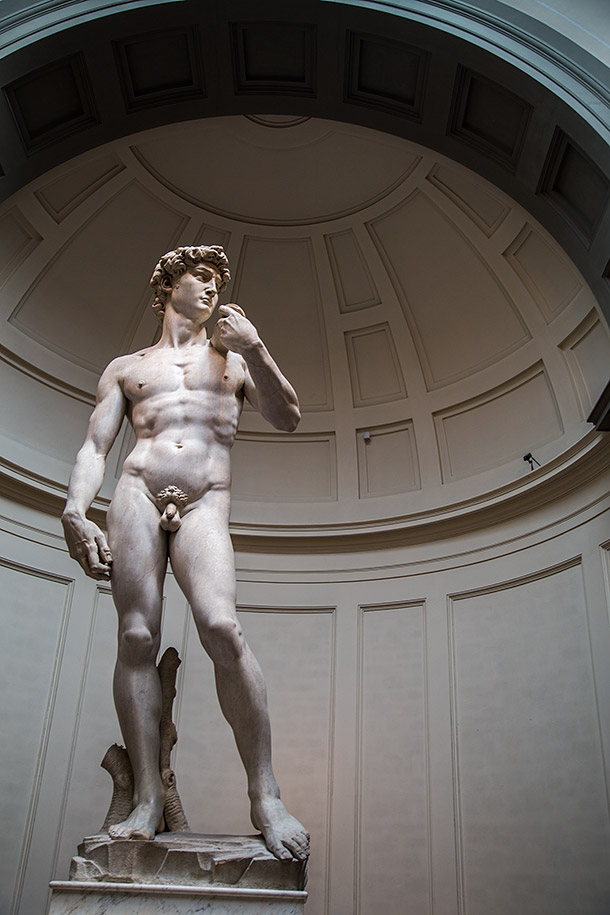 Matti, Caj, Alex, and I left the next day for the Academia Gallery. Along the way we stopped for a quick meal at Mercato Centrale yet again where I ordered meatballs in tomato sauce and decided to try hand made gnocchi in tomato sauce and deal with the gluten pains later. I ate about a fourth of my meatballs, one bite of gnocchi and then proceeded to spill everything including all of the hot tomato sauce all over myself. That's what I get for attempting to eat gluten.
I managed to clean up without much further humiliation and continued on to Academia, where we saw magnificent art sights such as the famous David Statue. All of the art was absolutely stunning but of course the David statue was my favorite. Matti was talking about how well the proportions are even when the size is scaled so much larger.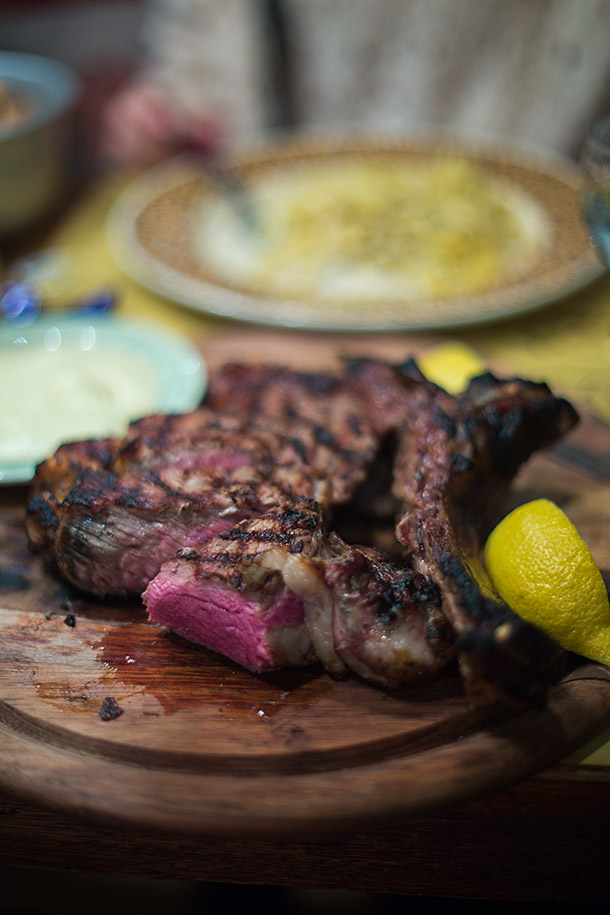 Since Za Za was so great the first time we decided to take Caj and Alex there.  Having not eaten much lunch and only gelato that day I ordered the largest portion of meat as possible on their menu, the classic 1 kilo florentine steak. The waitress told me she didn't think I could finish but we all know that I could easily finish this monster. A massive steak down plus 2 orders of truffle fries actually.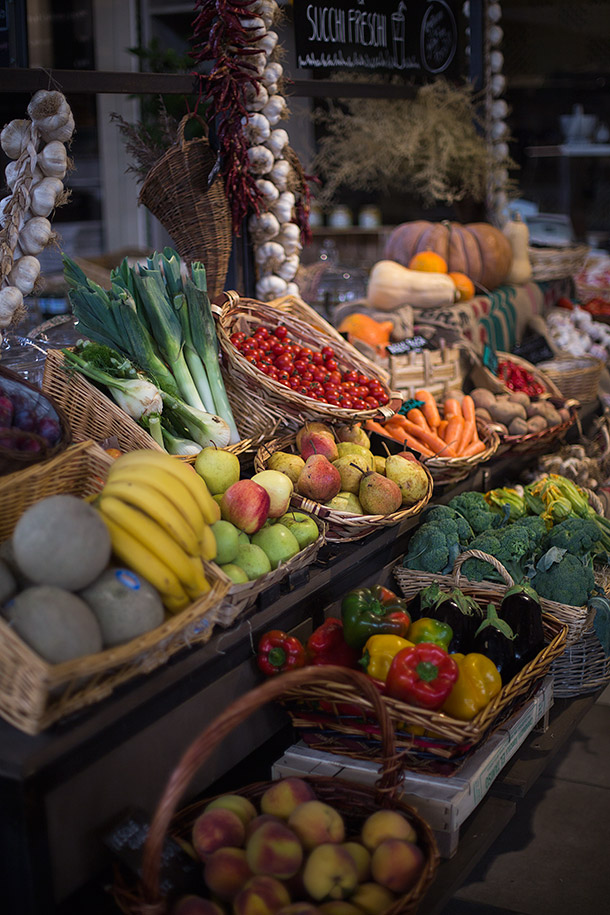 Florence was a random stop for me to add since I had done little research on it and all I knew about the location was the famous Florentine steak. How foolish of me to assume such a thing because I was quite enchanted with what Florence has to offer and will absolutely return to enjoy more of the sights and food. Next stop, Rome!