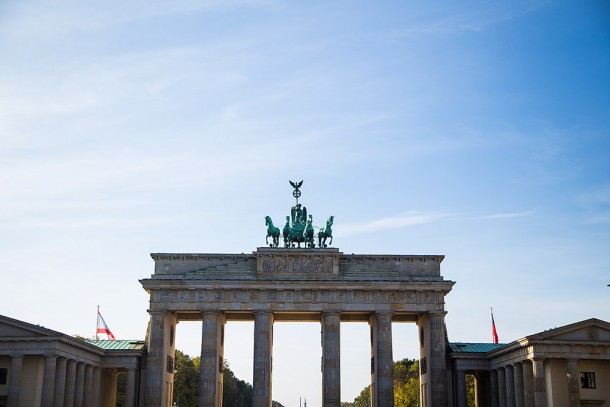 Our first day in Berlin was a rather uneventful one but I will delve into it anyway. Despite nearing the end of our trip with only this destination and the UK left, Matti and I were just as ready to conquer this spot as the last and we already knew the next day was to be packed with much more but I digress.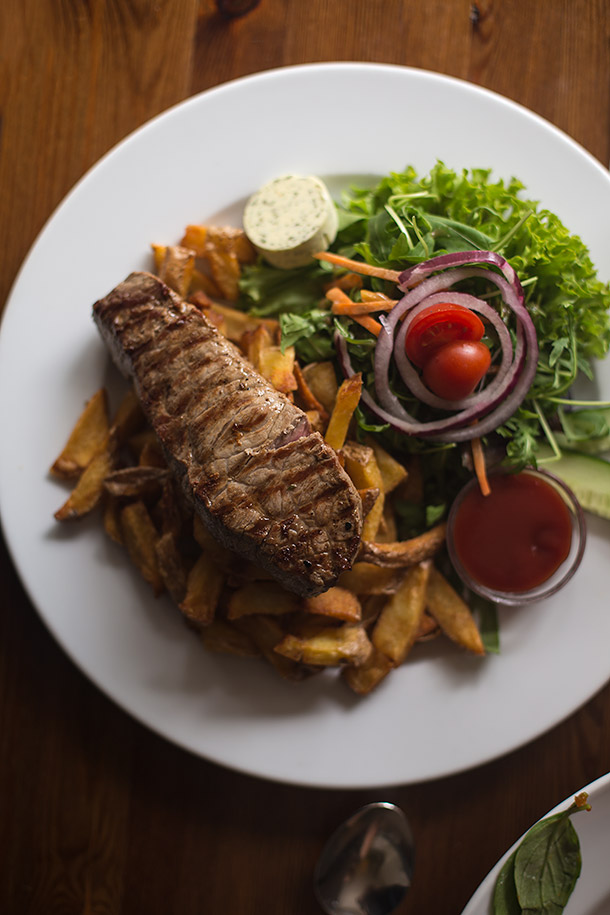 We stopped by a nearby restaurant recommended by our Airbnb host Oz. I ordered a rather non-German dish because they didn't serve much that looked that interesting and I've got to say I wasn't disappointed at all. My meal consisted of a perfectly grilled and seasoned rump steak with extra crispy fries and a wonderful compound butter to top it all off.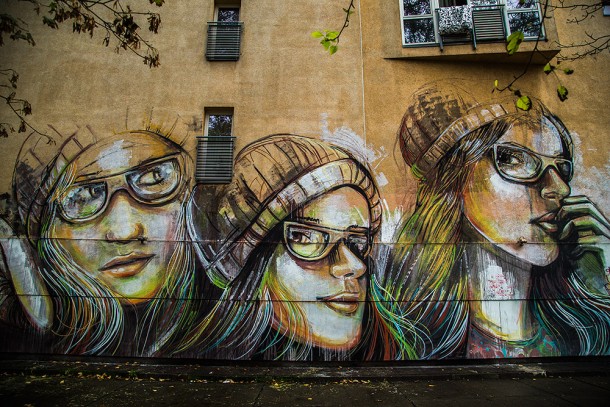 As aforementioned, our first day was more of a confused mess. We wanted to make a free walking tour but ended up realizing that it just wouldn't be possible that day then decided to go to The East Side Gallery but it got dark before we got there so we turned around. As frustrating as it was we collected ourselves and instead relaxed back at Oz's to figure out dinner.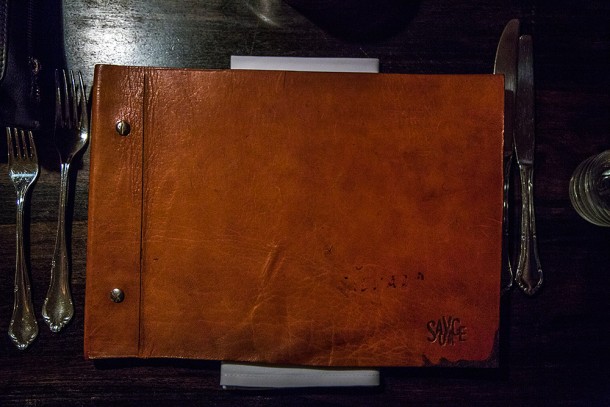 I suddenly remembered the very popular Paleo restaurant Sauvage, recommended by many of my followers as well as my brother Nick whom went to Berlin not too long ago. The day that was once a drag was quickly turned around into a positive. The restaurant itself was gorgeously laid out and had wonderful decor that really matches my style. Mid-ogling, the waitress placed the leather-bound menu in front of me and I knew straight away that this was going to be fantastic.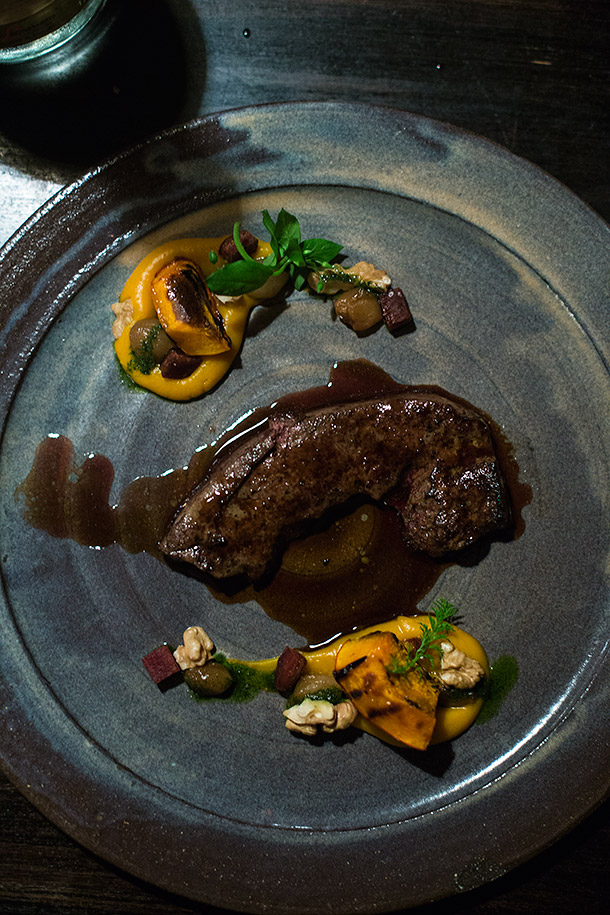 After the Amuse Bouche, my first course came out consisting of pan fried liver, hokaido, sweet and sour pearl onions, dried banana, walnut and parsley oil. I have only had liver once on another occasion than this one and I did not like it, but this one I loved. The liver was tender and the slightly sweet and sour accompaniments did a wonderful job of keeping the flavor of the liver under control to a level that kept it consistently delicious.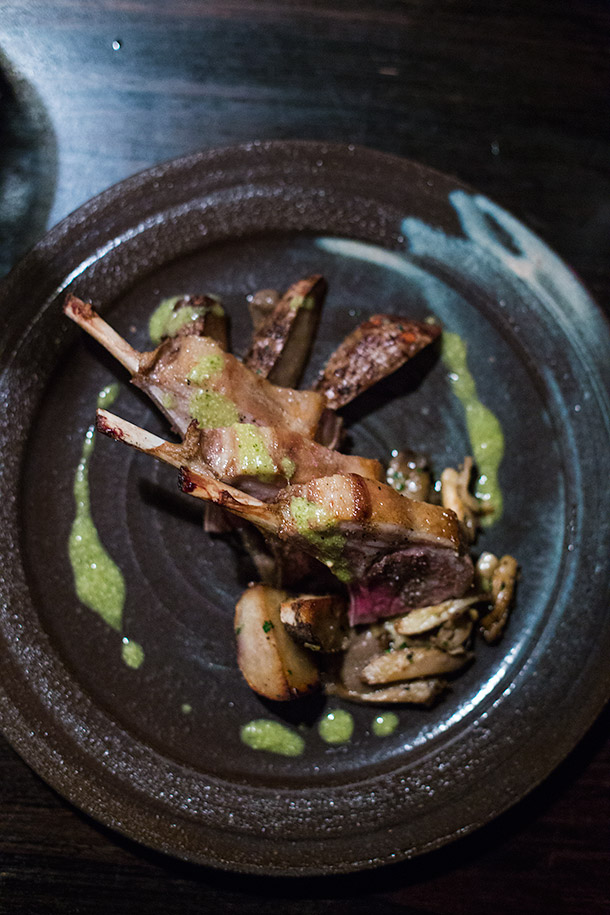 Next came the 2nd course, Rack of lamb with roasted taro root, chanterelle mushrooms, mushroom cream and mustard-sateruja vinaigrette. I've said this before but I'm going to say it again, lamb is such an underused meat and I really think more people should eat it because it really is unique and wonderful. The lamb in this dish was cooked perfectly rare on the inside just the way I like it and the slightly piquant flavored sauce made for a really nice combination.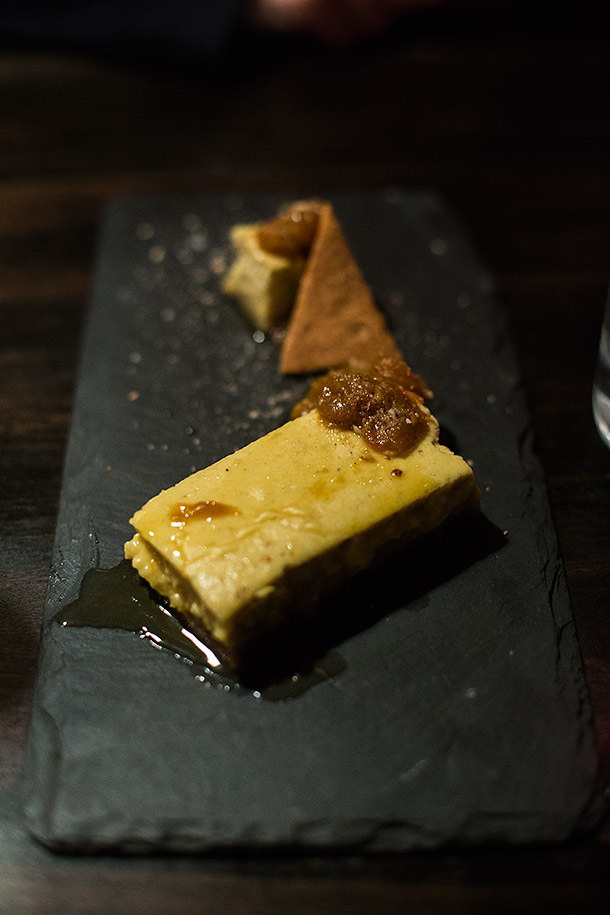 Last but not least came the final course, baked hazelnut and vanilla custard on a date and hazelnut crust, topped with a grape and saffron jam. I don't think this one lasted more than 40 seconds because it was in front of me and then suddenly gone. The custard wasn't overly sweet and had fragrant notes of hazelnut all through the custard, and the grape jam burst with a light saffron flavored sweetness. Come to think of it, I'm not all that surprise I ate it so quickly.
I was lucky enough to meet Boris, the kind owner, whom also generously gave me a copy of his new cookbook Das Paleo-Prinzip. I absolutely fell in love with Sauvage and it is a must go if you find yourself in Berlin.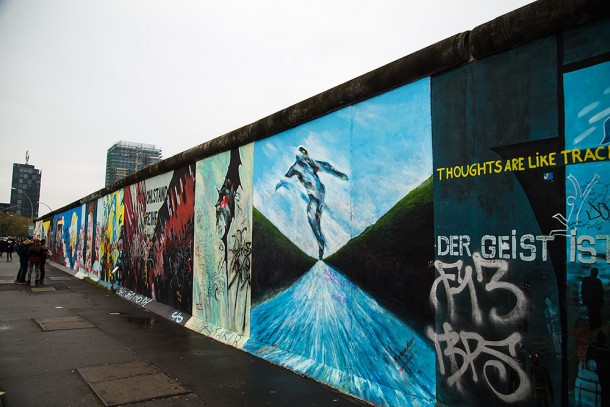 The next day we decided to visit The East Side Gallery which is a section of the Berlin wall that has artists paintings to memorialize the events that occurred during and after the falling of the wall. This piece of art history is about 1.3 kilometers long and we managed to walk all the way along it starting from this end.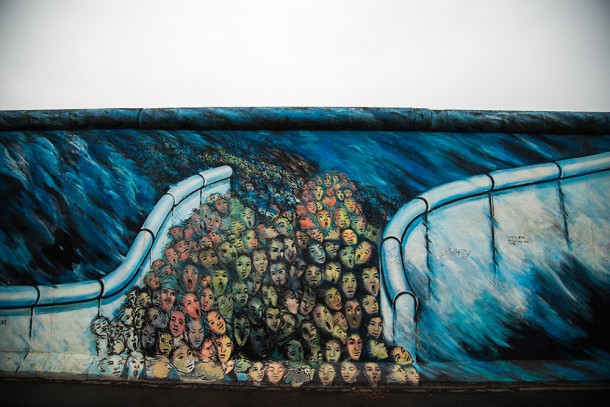 The East Side Gallery was amazing but unfortunately a few groups of imbecilic people have defaced many of the paintings with either graffiti or writing their names on it in pen. A fine example of the "monkey see monkey do" mentality as we saw others write there names just as other had on heavily vandalized paintings. Ironically right next to the sign that says you should not. Call me sensitive but I just hate to see someones artwork about an incredible piece of history ruined by a bunch of fools. Okay, I feel better now.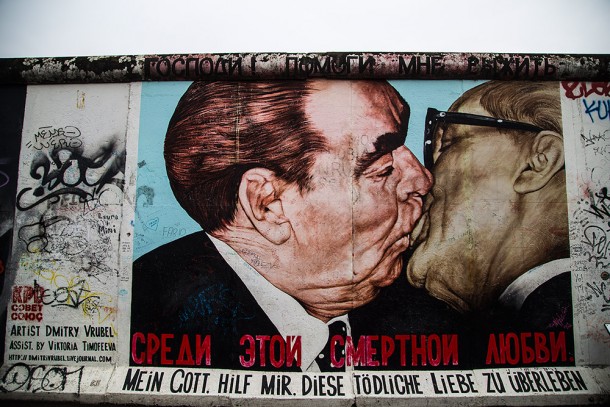 Now this painting is one of the most famous of them all with the name of "My God, Help Me to Survive This Deadly Love". It depicts   Leonid Brezhnev and Erich Honecker at an anniversary of East Berlin becoming a communist nation.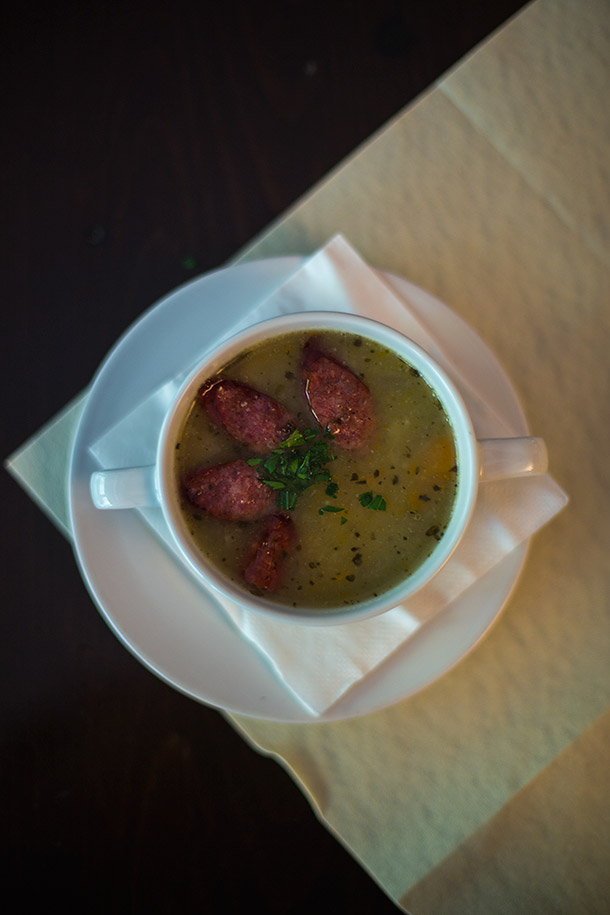 After our walk along The East Side Gallery Matti and I went to Speisehaus. I started with a potato soup and sausage. The soup was perfectly salted and had a wonderful texture.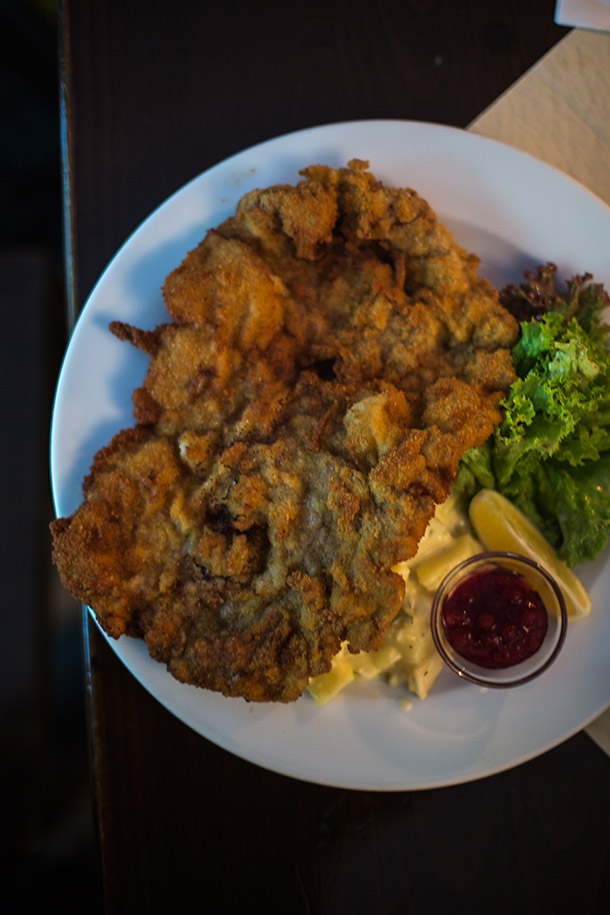 Of course I had to try shnitzel at least once in my life so I ordered it here. Again, don't hate me for eating gluten, I'm here for an experience and I won't deny myself of that. From the first bite to the last, the schnitzel here was incredible. It had a beautifully crispy and thin crust around the tender veal on the inside, on the side was sweet and tart lingonberry sauce that was perfect company with it. The potato salad was also some of the best potato salad I've ever eaten in my life, it was intensely flavored and creamy just like a good potato salad should be. On top of all of these amazing things the salad was perfectly dressed with a lovely tangy dressing.
We were definitely going to come back to this place.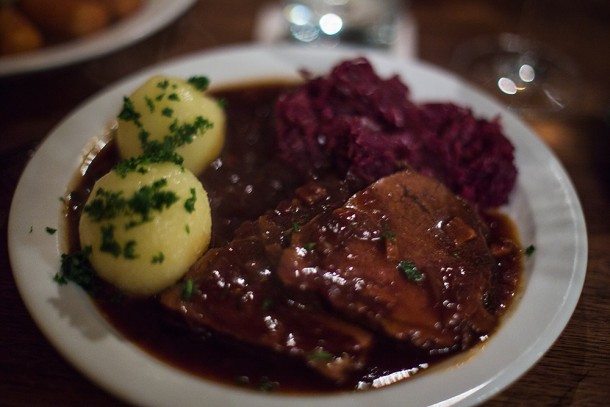 The rest of the day was just a short stroll around the area and eventually going to dinner at Hackethals. I ordered the pot roast with red cabbage and potato dumplings. The beef was wonderfully tender and reminded me of my grandmothers pot roast while the cabbage with slightly sweet and vinegary which made a nice cut to the richness of the beef. A wonderful meal at a charming place, thanks Tripadvisor for saving us on this one.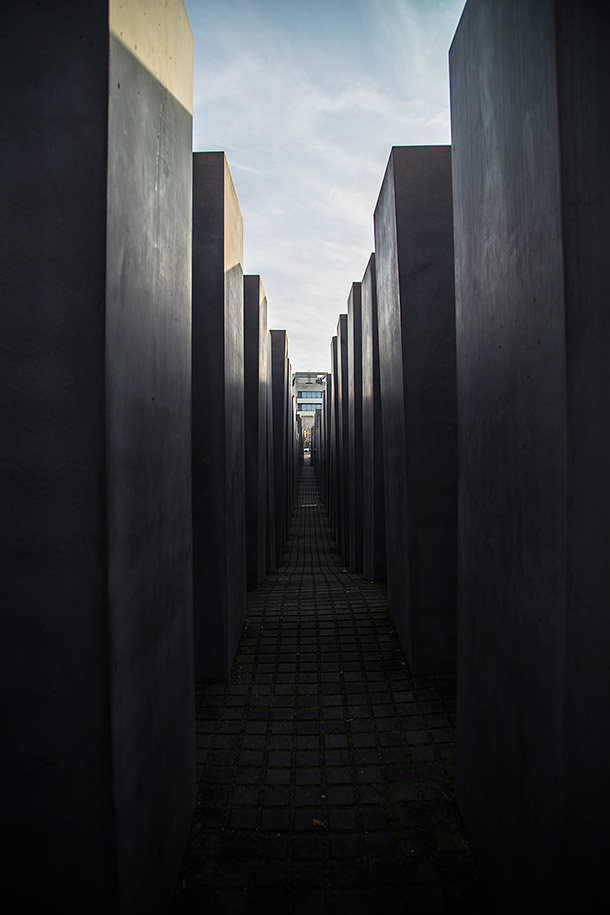 The next day we finally made it to The Sandemans Walking Tour that we had been wanting to go to. One of our first stops was a holocaust memorial right in the center of Berlin that consisted of these solid blocks of stone that were placed all around a single area. Around the edges of the area the blocks are slightly below hip high but as you walk to the center of it, the ground dips down and they slowly tower over you. The artist never gave an explanation of what it meant because he wanted peoples minds to come up with what it meant to them. So what does it mean to you?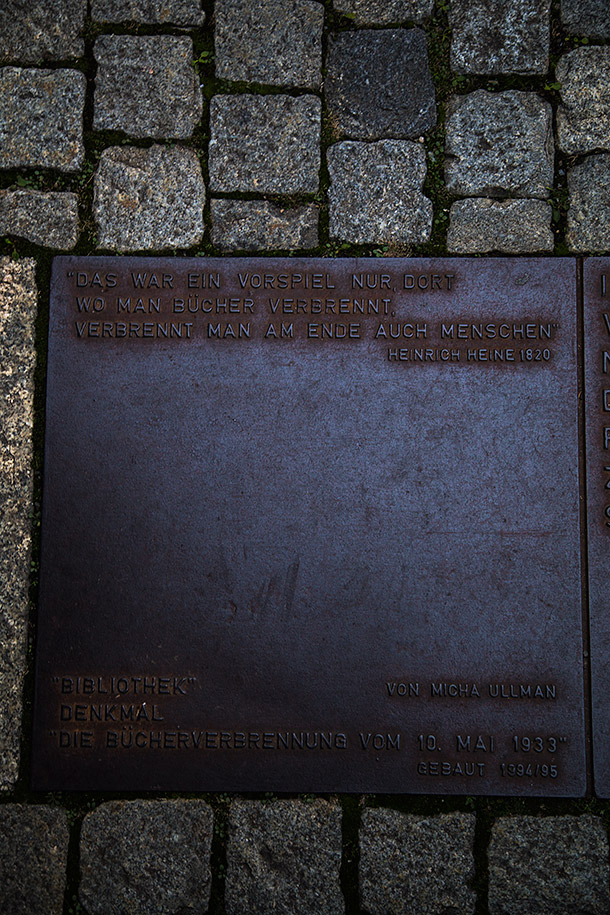 After many stops we finally visited our last stop which was the book burning memorial. Near the memorial was a metal plate in the ground that had the quote from Heinrich Heine saying "where they burn books, at the end they also burn people". Eerily he actually wrote this before the actual book burning in Bebelplatz occurred. Cool but slightly creepy.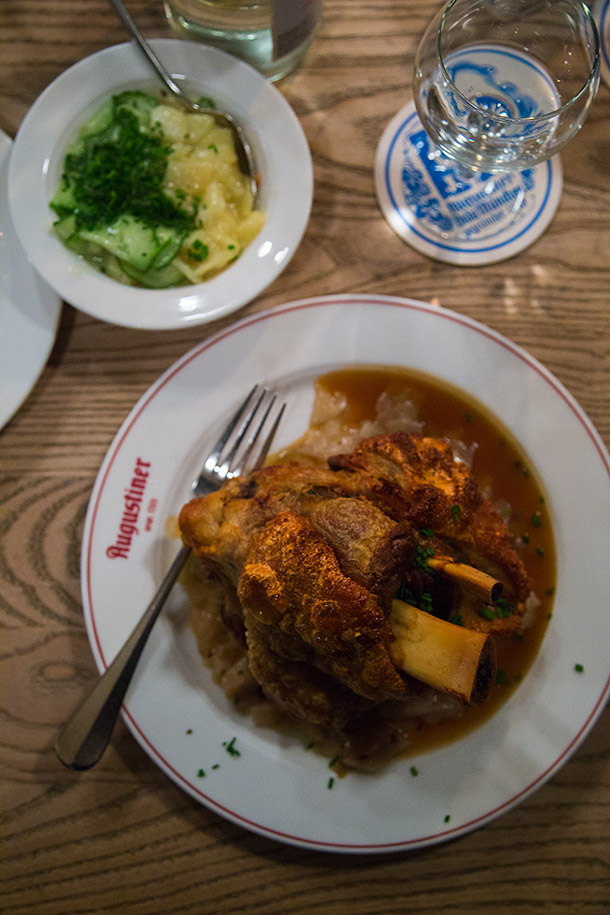 We stopped at a restaurant recommended by the guide and I ordered the crispy pork knuckle over cabbage. The pork knuckle, obviously, was the best part. Tender meat surrounded by crunchy crackling, it truly doesn't get much better than that.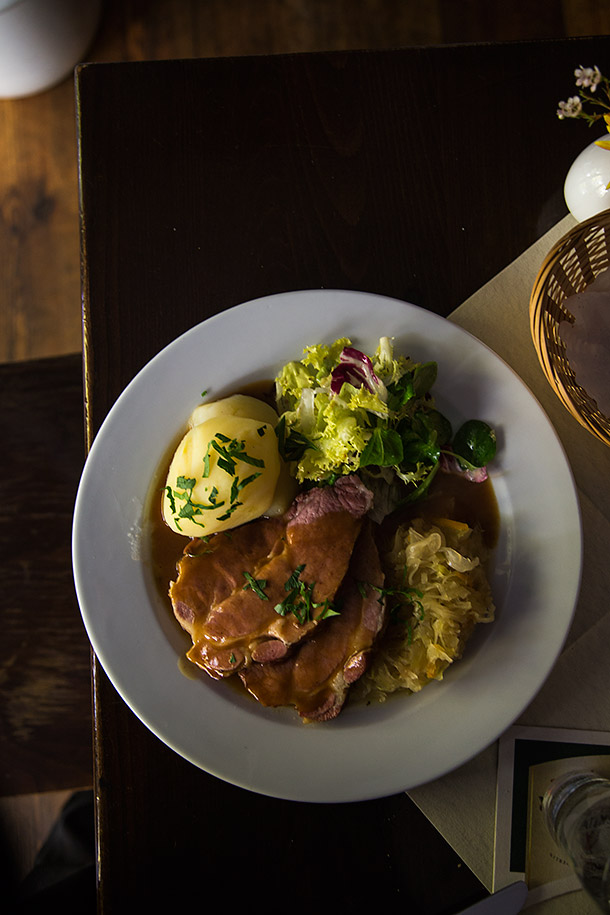 Our last day in Berlin was planned to be at a Flea Market, but first we stopped by Speisehaus for another go at their delicious food. This time I ordered their smoked pork chop with sauerkraut and boiled potatoes. Don't let the sound of this dish deter you because I assure you it was one of the best things I had eaten in Berlin. The pork was moist and succulent and had a rich brown sauce generously poured over it as well. Even the boiled potatoes had a wonderful taste from the juices of the sauerkraut that it had soaked up. A definite runner up for my last meal on earth.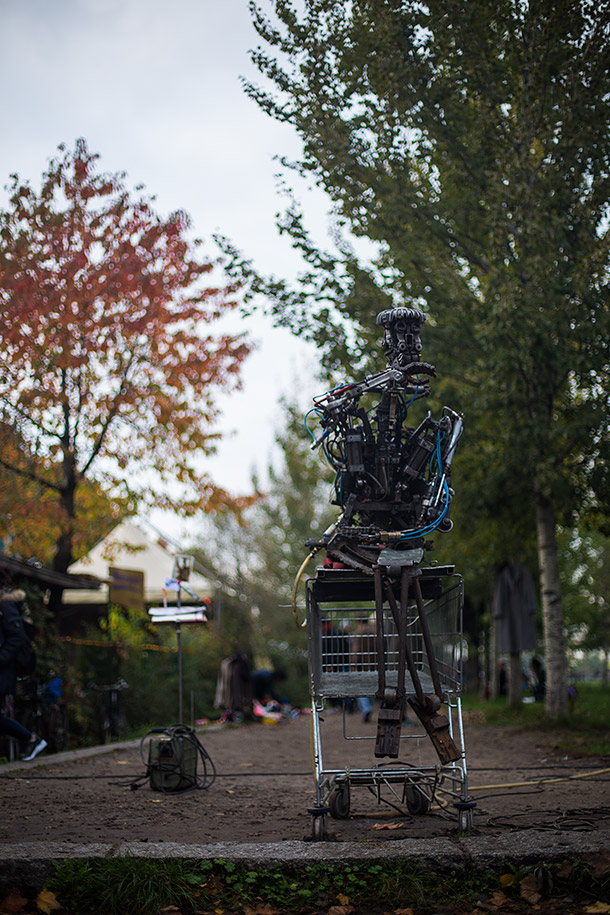 We approached The Mauerpark Floh Market and right at the entrance we noticed a hydraulic powered robot that was being run by some random guy. I'm not sure if he built it or not but it sure was entertaining and then again we are in Germany, home of some of the best engineers.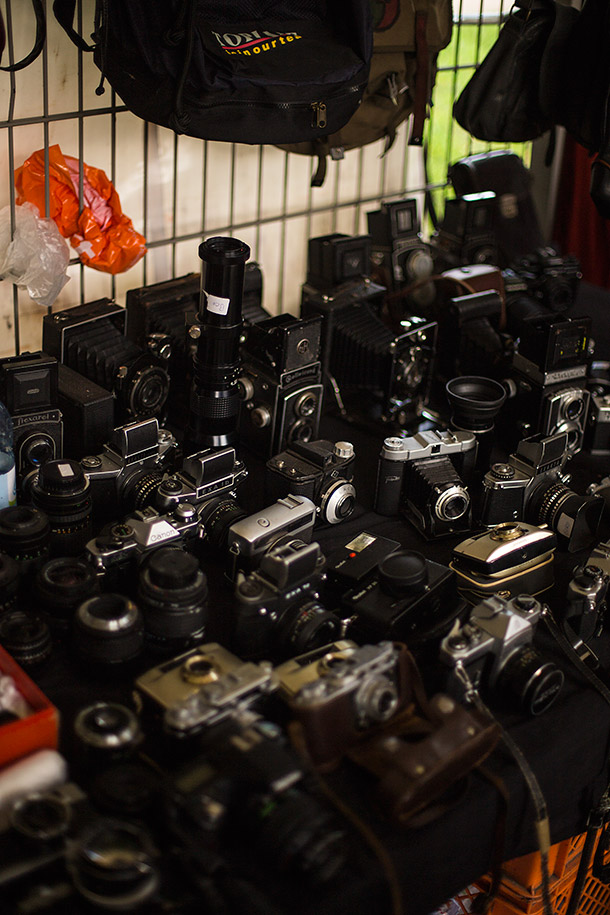 Brimming with excitement to see what else was to be discovered Matti and I wandered through the market where old cameras, hand made bags, vintage clothes, and vintage kitchen appliances and utensils line the tables and shelves. Towards the end of the day we heard a crowd roaring from the distance so we chose to seek it out to find the source, it was a giant karaoke crowd. We sat laughing, cheering, and applauding at the brave people who stepped in the center stage until dark. It was quite a magical experience.
So, thanks Berlin for having us. Next up and last up is London!