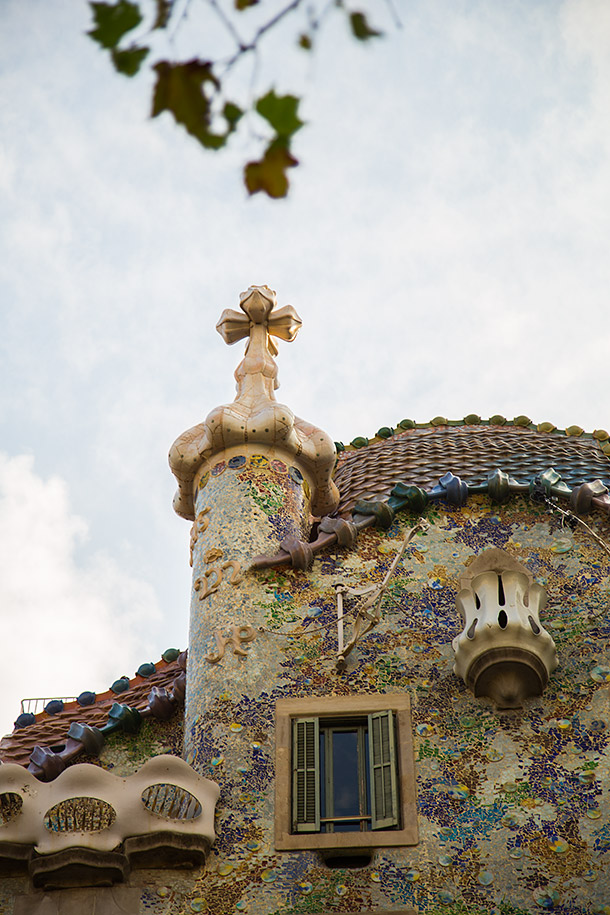 At this point in this trip I realized that it is wise to take a part of the first day to go to the market and supply ourselves with food. Tight budgets don't always allow us to eat out all the time. The idea is that if we want to eat out at an expensive but nice spot we can simply cook food the day before to save up a little extra euros to spend the following day at said restaurant.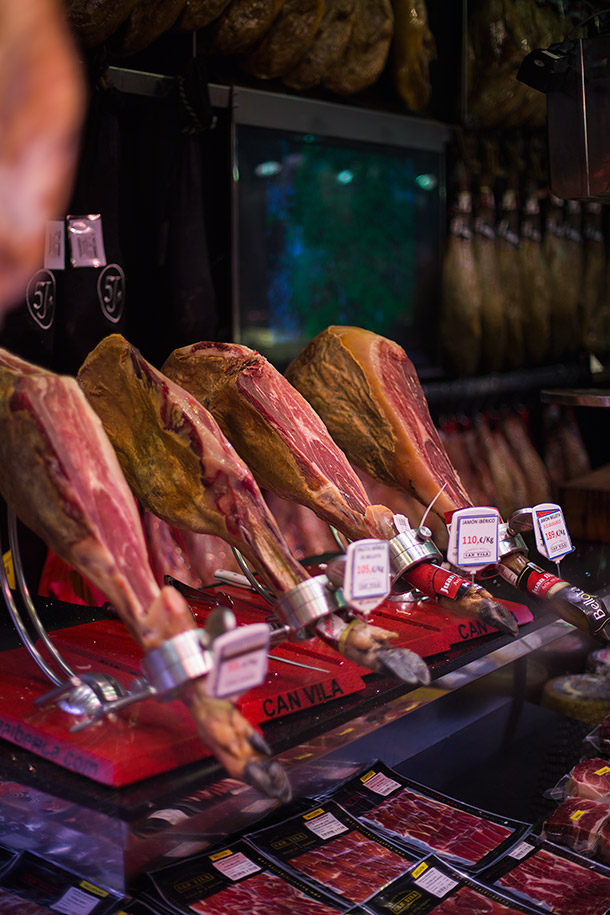 The market I chose to venture to was called La Boqueria, and was suggested to us by Albert, one of the people we were staying with.  Entering this market was extremely exciting for me because it was lined with beautiful Iberico ham legs. These wonderful and famous hogs are fed strictly acorns and sometimes olives, and are allowed to roam the pasture for the best of the jamón. I feel that most of you are more accustomed to the term prosciutto but this is the same thing. After tasting some of this Iberico ham I really don't know if I can ever eat regular prosciutto and truly enjoy it as much.
The Iberico ham truly is the best I've had in my life. It's perfectly salted, almost sweet in fact, and melts in your mouth.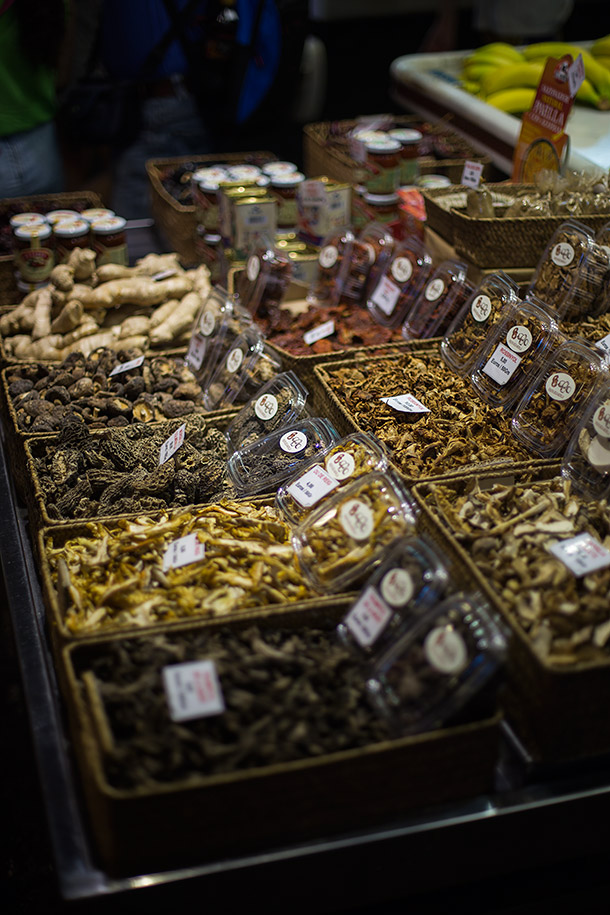 After I was done ogling the beautifully cured legs, which Matti found slightly creepy (I have no idea why), we moved on to the rest of the massive market. Of course only to move on to more ogling of other things such as baskets overflowing with a variety of mushrooms.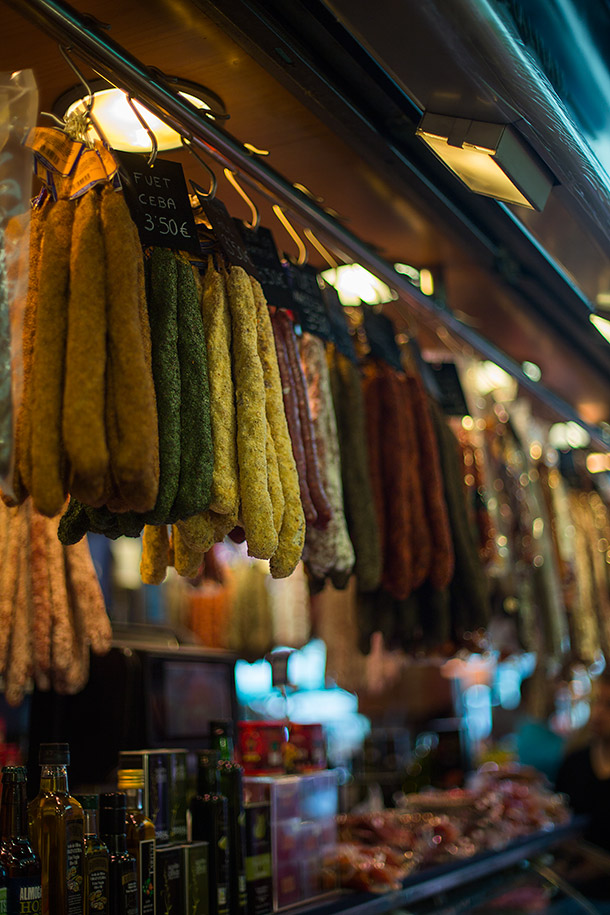 Or more beautiful charcuterie hanging from above.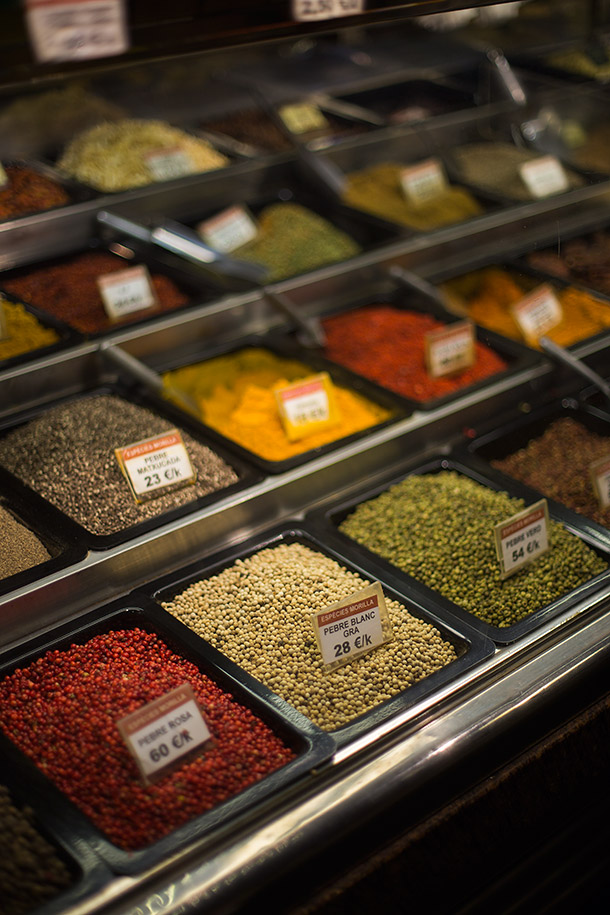 Or a massive selection of spices.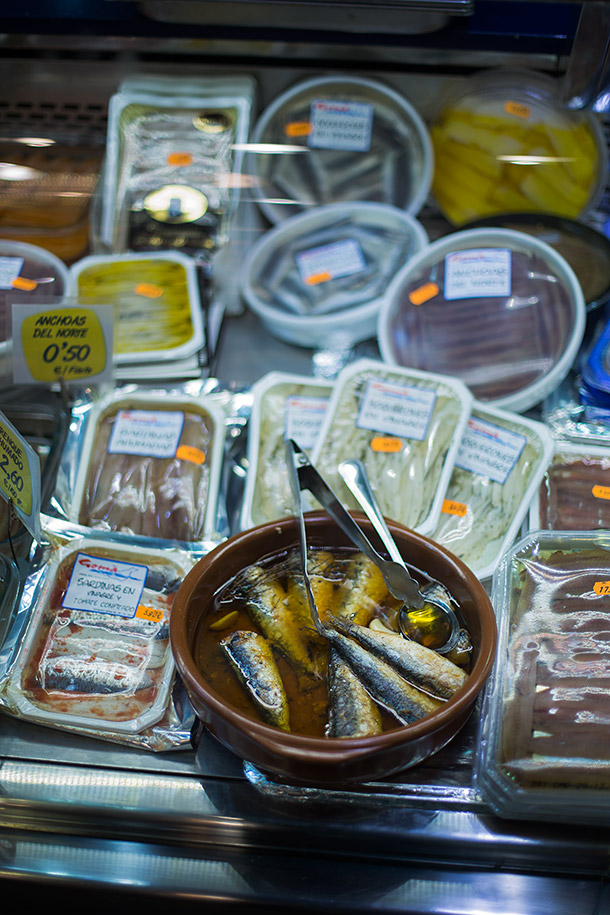 A plethora of fish choices. Actually, they seem to really enjoy their seafood here. Not to my surprise since they are so close to the coast. But even the majority of the locals are more outgoing than most people who are near the coast in America. Marinated sardines, fermented anchovies, you name it they love it.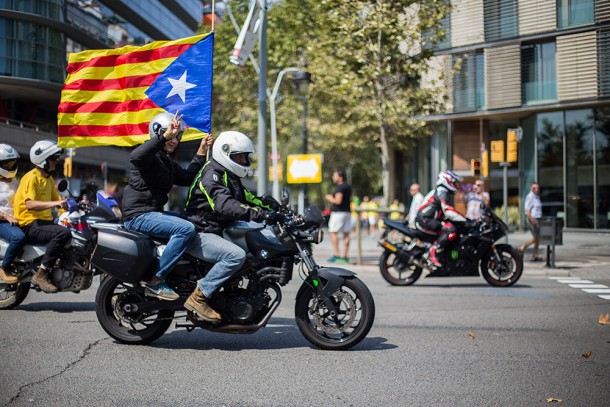 After that we took a quick trip to Casa Batlló which is the first image of this post. Very interesting to look at but quickly boring if you do not have the money left to go inside. The rest of our trip here Barcelona after that was actually starting to take turn in the wrong direction and we quickly became flustered to find something to do. Our hosts did give us good recommendations but a lot of the time when we needed them to ask questions they were not there and we spent a good amount of our time trying to find good but affordable restaurants.
Despite this we were very uplifted by the spirit of the locals on Catalunya's Independence day. People raced down the main roads holding their fluttering flags on motorcycles. They honked their horns and waved their flags and put their hands up in the air.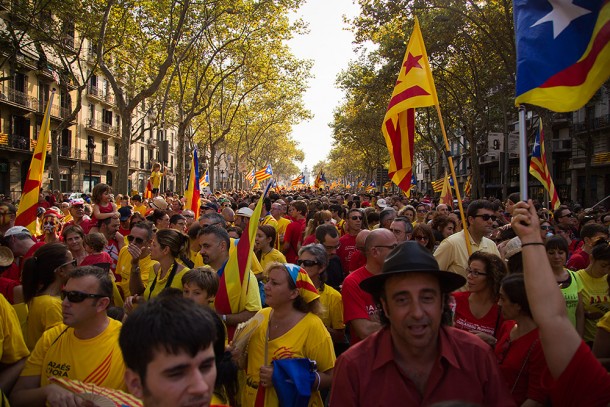 That doesn't even compare to the incredible amount of people that flooded the street, stood, and chanted. At first sight we were unsure of what they were all doing but after a quick research on google we found that they were forming their flags colors with the people in the street.  The excitement was live and constant, these people love where they live.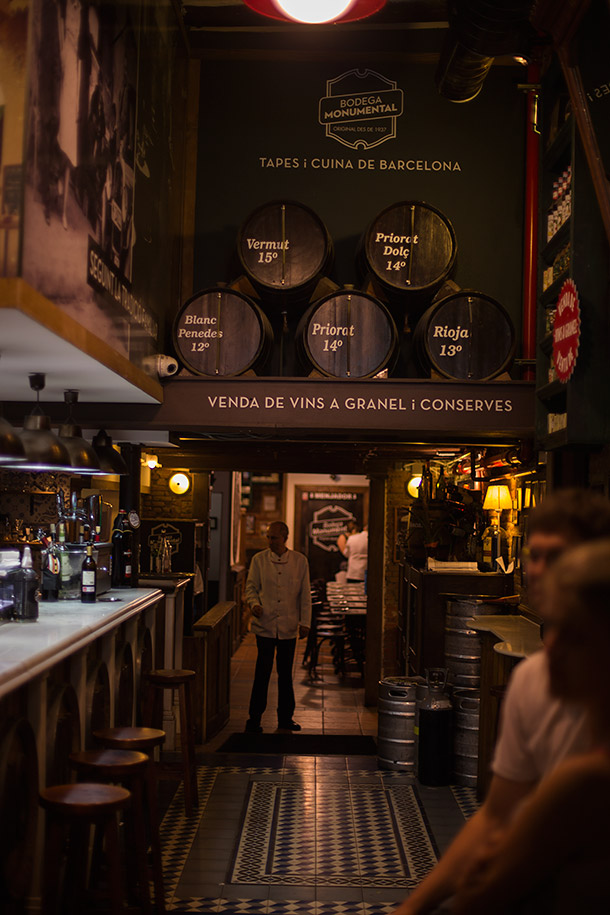 On our last day I believe we definitely ended on a good note. We walked to the recommended Bodega Monumental restaurant. On arrival I was very pleased with the atmosphere and way the restaurant was designed. Very much my style in the very front, and in the back they had old bottles lining the shelves and ropes that lined near the ceiling.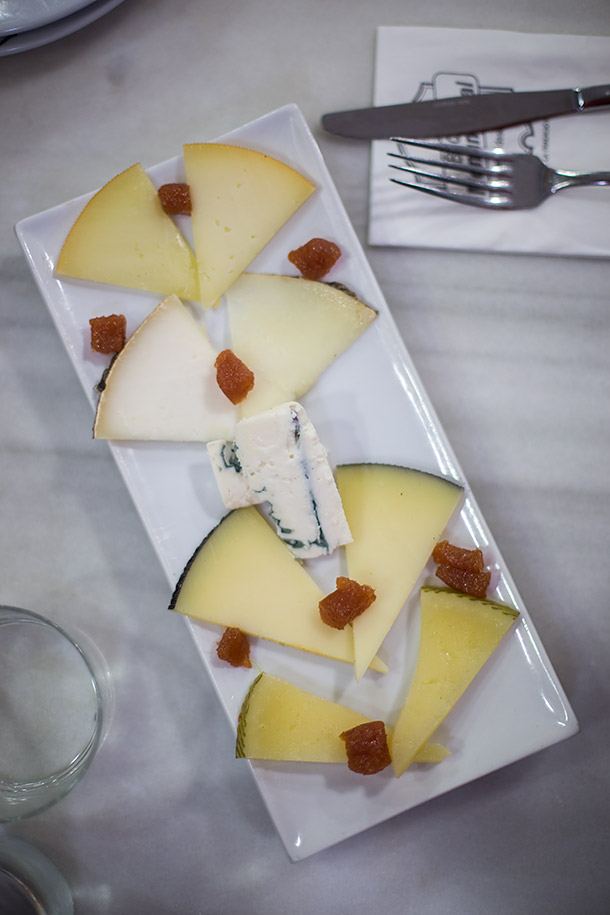 Since it was our last night I ordered as many things as my budget would possibly allow. I ordered a couple tapas, which included an assorted cheese platter. I don't recall all of them but the manchego was by far my absolute favorite. It was served with a fruit jam to eat with the cheese which was a really nice salty sweet contrast that greatly enhanced the overall flavor of the cheese.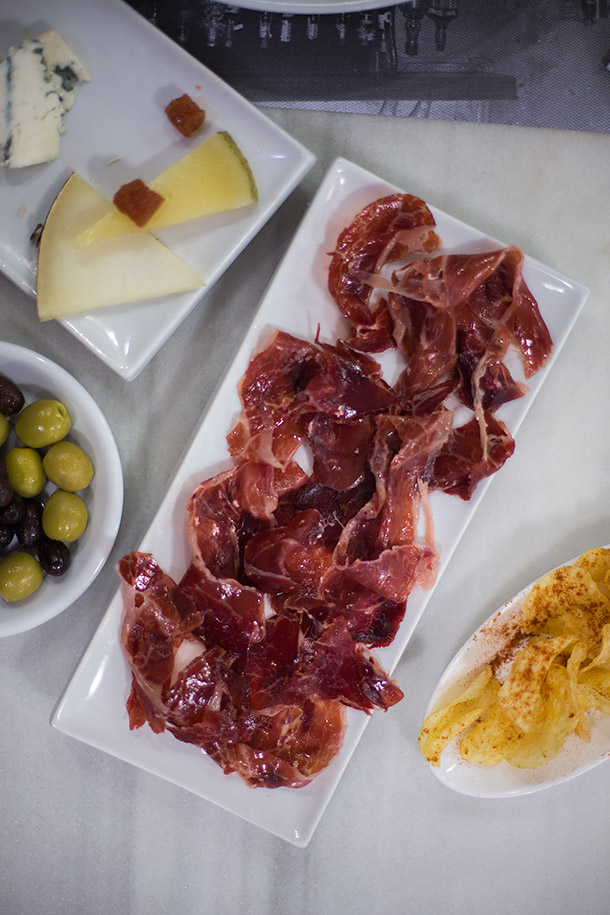 Next I received my Iberico Jamón which is by far the best Iberico ham that I have ever eaten in my life. It was buttery, perfectly textured without any chewy parts whatsoever, and melted in your mouth. You can actually see parts of it where the fat is actually starting to shimmer on the outside because it was so delicate and thinly sliced that the heat rendered the fat on it slightly.  This made it very easy to devour the whole platter. I paired it with the cheese platter as well as the local spanish olives. Matti only got a few pieces in before the platter was soon entirely clean, but I have to admit that I don't feel that bad about it.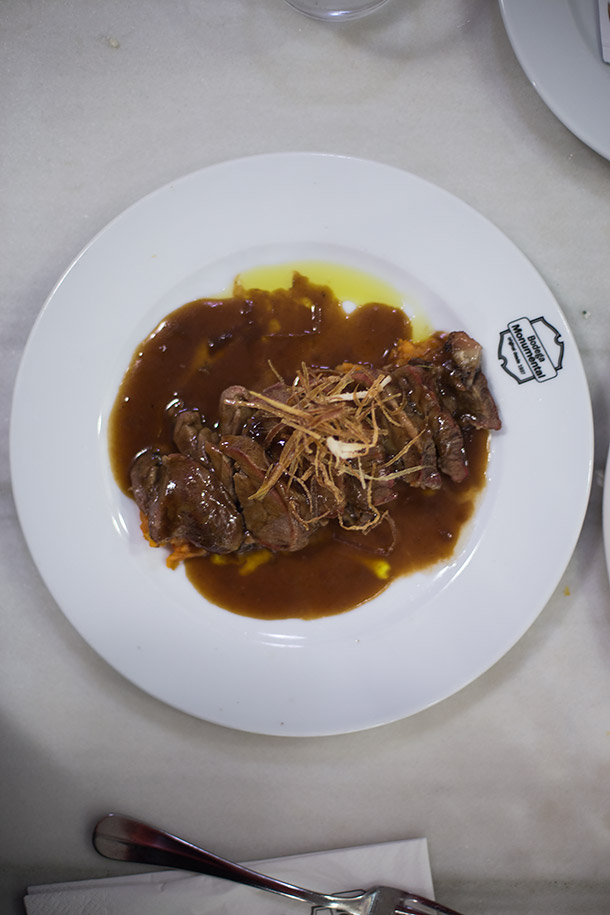 Then came the braised pork cheeks with sweet potato and crispy onions. You cannot really see the sweet potatoes because they are hidden under the tender braised meat but I assure you that it paired very well. The tender meat and smooth sweet potato made for a wonderful texture as well as a nice flavor accompaniment.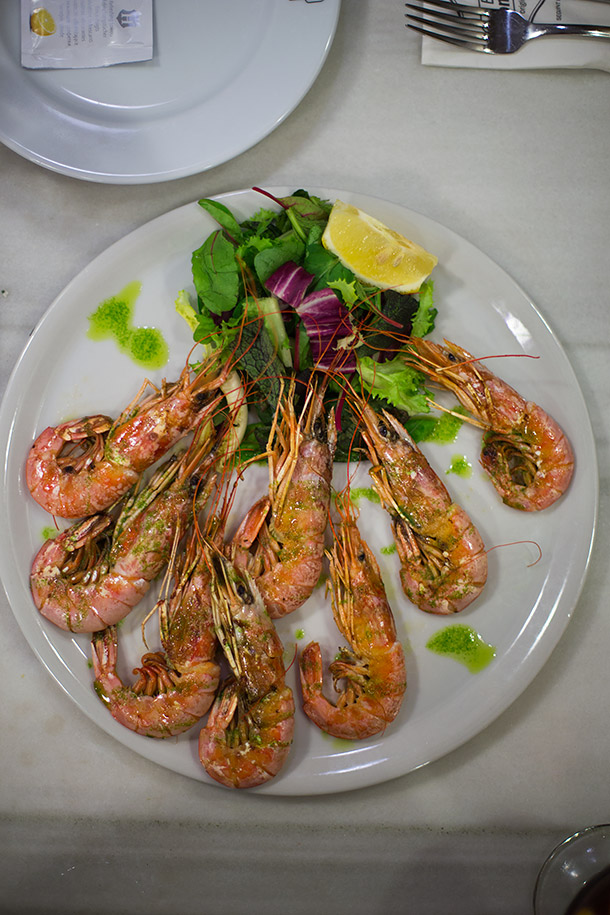 The last thing to come that I ordered was the langostinos. They were cooked to perfection and served with an olive oil green sauce. This meal was a perfect end to our stay in Barcelona. I'm glad we ended on a great note and hope to maybe come back with more knowledge of where to go next time I'm here.