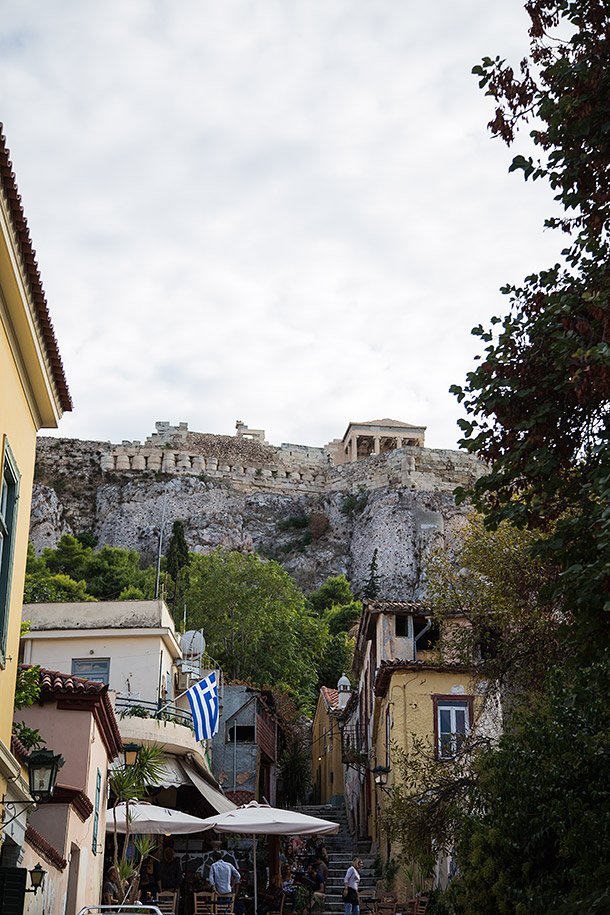 Matti and I spent one day in Bari, Italy since we had to take the Ferry out from there to Patras and then take a bus from Patras to Athens. While relaxing in our Hostel in Bari we met another traveling couple, Sven and Manuela from Germany, that mentioned they were also going to Athens. Since they were taking the same Ferry to Athens we traded numbers, and decided to go on a walking tour with them the next day. Also as a quick warning, you will see more than one greek salad in posts about Greece and I'm unashamed of that.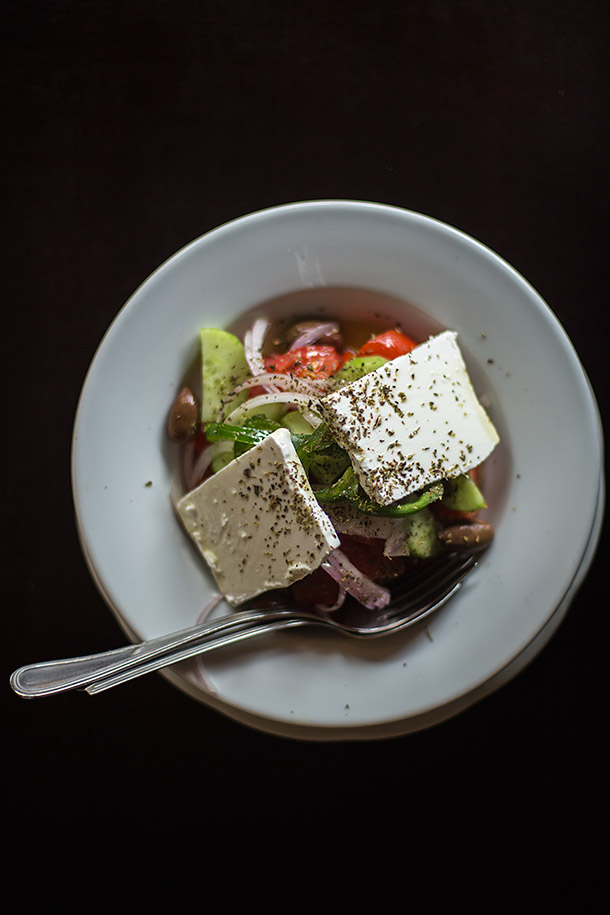 The following morning Matti and I woke up (fashionably late of course) giving us just barely enough time to grab something to eat on the way there.  We stopped by Smile Restaurant which seemed like a touristy spot that I did not want to go to but the hunger was too strong so we went ahead and stopped there. To my surprise it was actually owned by a sweet family with traditional and great greek recipes. We of course started with a greek salad which of course consists of only cucumber and tomato and maybe some other additions such as onions and green bell pepper. It was drizzled generously with olive oil and had light and creamy feta on top of it which was lightly seasoned with oregano.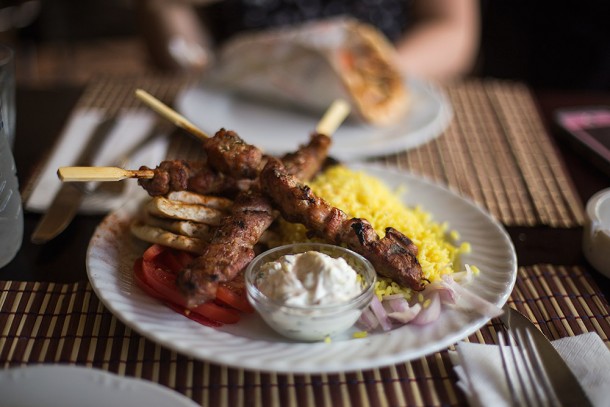 I even had a small chat with one of the owners about my cookbook and how to make a proper tzaziki. They were all very sweet and their food was very fairly priced and delicious. I ordered a lamb gyro as well as their pork souvlaki plate. Again with the gluten, I know, but like I said last time, I don't know I will be here again and it's a learning experience for me, therefore it's worth the sickness if there is any. Oddly enough I actually haven't gotten sick from anything yet, which is highly unusual to me. Their souvlaki meat was perfectly seasoned and tender and their tzaziki was thick, fragrant, and to die for.  The gyro really spoke for itself, it was a textural wonderland and was packed full of flavors that all worked in unison.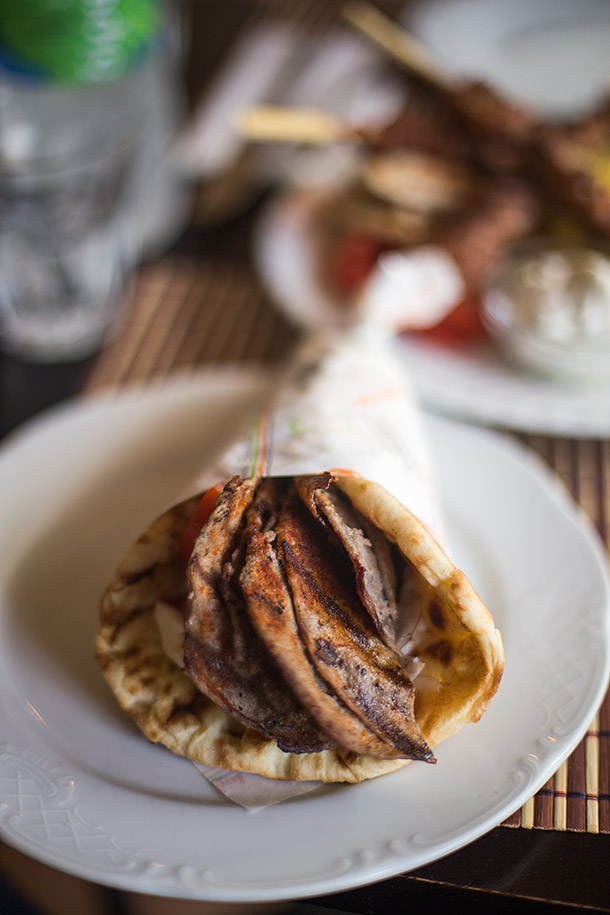 Satisfied and ready to move on to the walking tour we met up with the group. As we walked along the various greek historical sites we chatted with the other members of our group and made a second set of friends Phoebe and Matilda from Australia. These two were backpacking around Europe as well, in fact, Phoebe had already been here for almost 6 months. She really puts our travels to shame with her veteran status.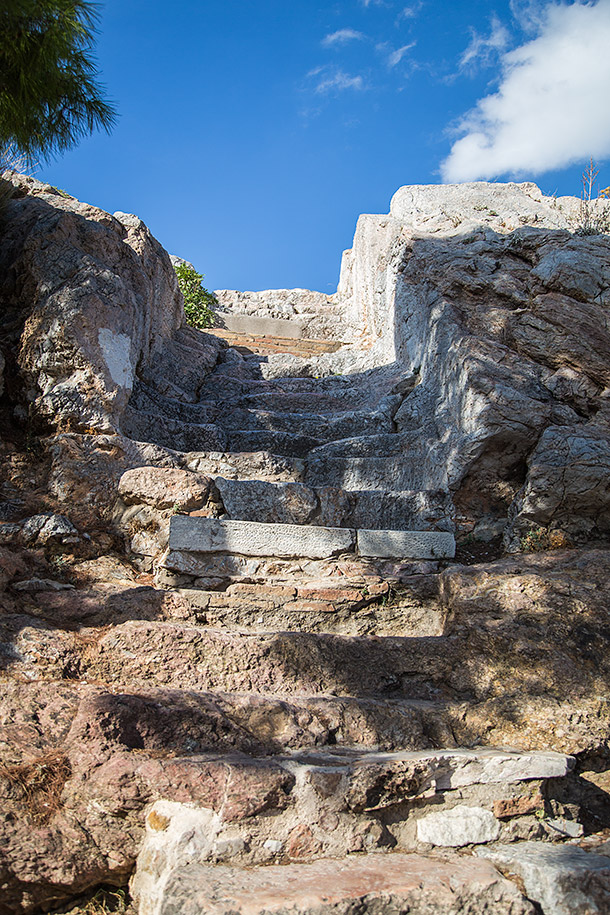 We walked along the outside the acropolis on a cobblestone path that led through rows and rows of olive trees and wild rosemary as the guide, a knowledgeable man who called himself "English George", explained many of the classic greek stories and made little jokes about some of the silly pieces of history. Along the way we stopped by a very famous rock where Saint Peter gave the first Sermon in Greece to try and persuade the Greeks to follow Christianity.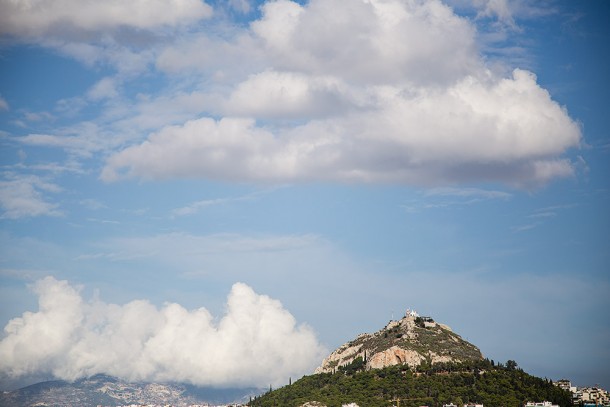 At the top of the rock everyone was silent as they gazed at the beautiful view that was ahead of them. "English George" gave us a short bit of the history and promptly reminded us to "take pictures or Facebook will never forgive us". This is true in many ways, so of course I whipped out my camera an took some shots.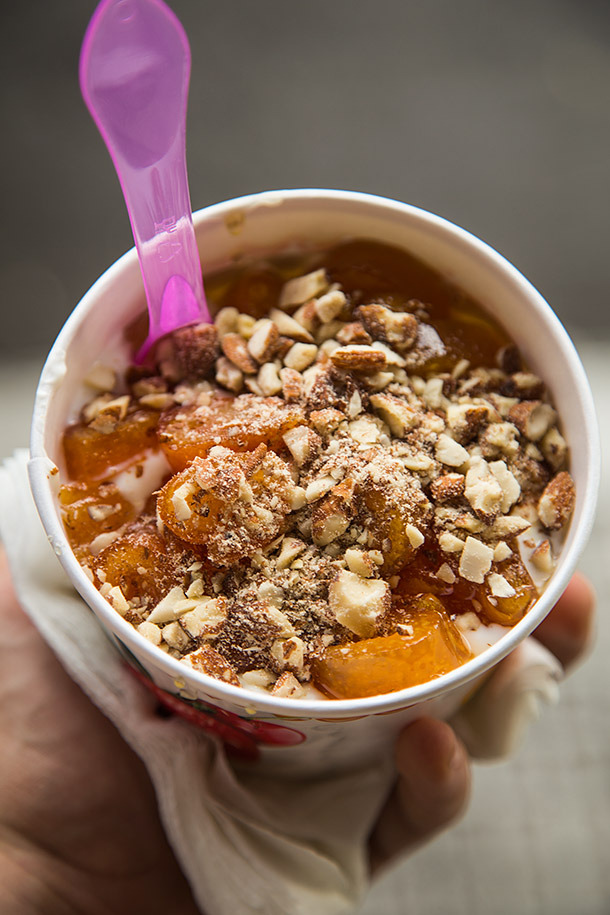 We dipped down into the Plaka part of Athens for a quick break from the tour and everyone briefly went separate ways to get something to snack on. I grabbed some greek yogurt topped with candied orange and toasted almonds. Real greek yogurt in Greece is significantly different from greek yogurt in America as far as I've experienced. It's so incredibly thick it sticks to your spoon like a stiff meringue and is so beautifully smooth that it's irresistible on its own, and it's made a must have once there are toppings on it.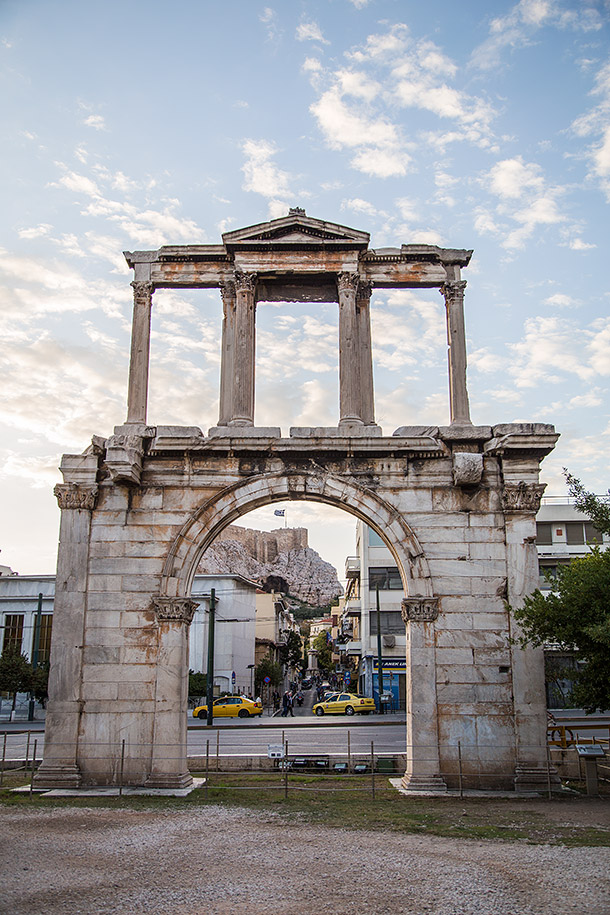 The last place we were brought to was the famous Arch of Hadrian. It was initially built to separate Athens from Hadrians "great" new city. By looking through the Arch you can clearly see the beautiful acropolis and on the opposite was Hadrians city. The only downside is that Hadrian never finished his city while the Acropolis stood tall, proud and clearly finished.
One thing that really struck me as interesting was that birds refused to fly over the Acropolis itself. No one really knows why but the Greeks believed that Athena herself guarded it and would punish birds who flew over it. Then again there is the scientific theory that some believe which is that a certain mineral could be deterring our flight enlightened friends, but I choose to believe the Greek mythology version since I'm quite a fan of it.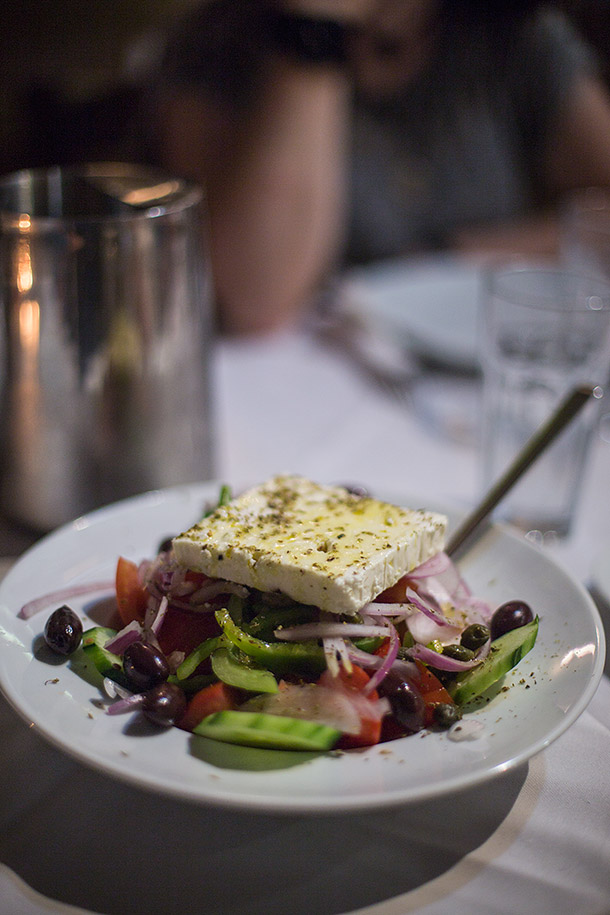 The arch was the last location on our list so we thanked English George and tipped him and in return he recommended a restaurant for Matti and I to go to. The whole tour group actually ended up following us to the restaurant for a traditional greek meal, and eventually helped us find our way there. We ordered a greek salad yet again to start with. Classic, and done properly with a generous chunk of creamy and rich feta.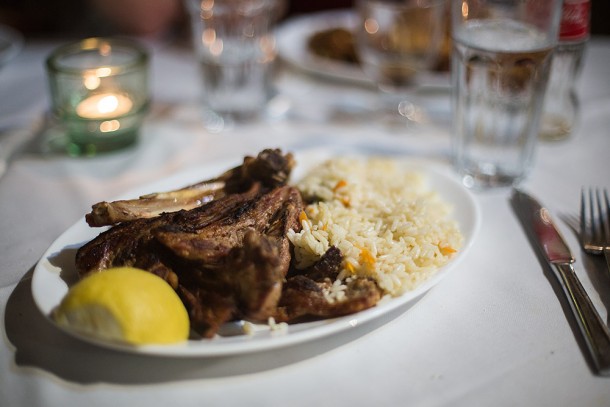 My main was simply grilled lamb chops and rice. Simple, yet incredibly delicious, with perfectly cooked and juicy lamb and nicely seasoned rice with onion and carrot in it.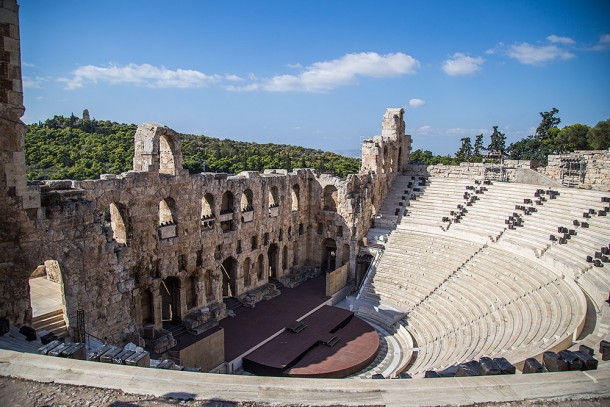 The following day we met up again with a few of the people that were a part of our tour group, Matilda, Phoebe, Sven, and Manuela. We met at the same spot and purchased tickets to actually go inside of the acropolis rather than walk around it. Along the small trek to the top of the Acropolis we stopped at the stadium which actually still has different shows running at it from time to time.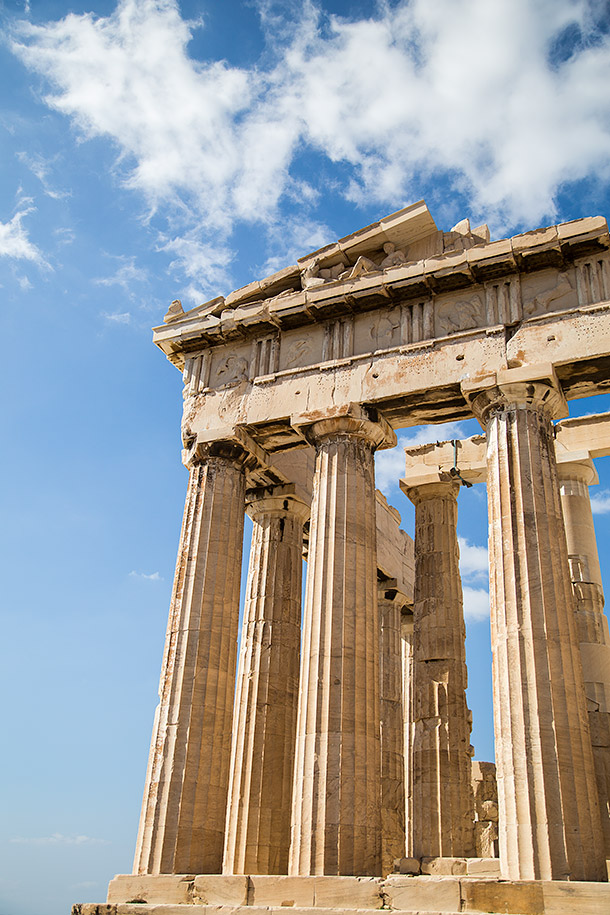 Finally we made it to the very top to feast our eyes on the Acropolis itself. It's sheer size was so befuddling when paired with the thought that people built this with the very little technology they once had and yet it's still a magnificent standing building.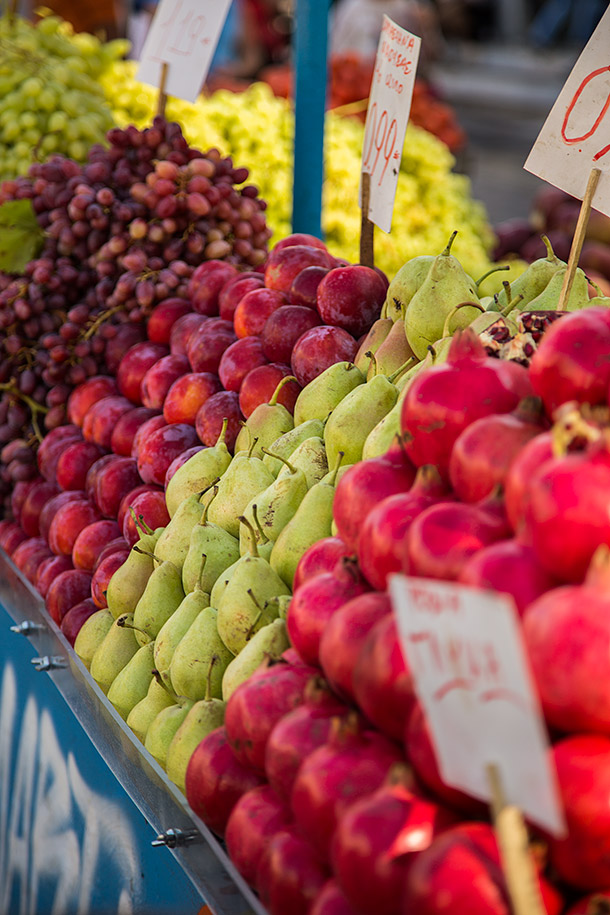 We continued to walk along and around the area chatting, shopping, eating and eventually moving on to planning our next destination due to exhaustion.  Sven and Manuela sadly had to split up with us but decided to continue our adventure with Phoebe and Matilda in Mykonos as our next stop.