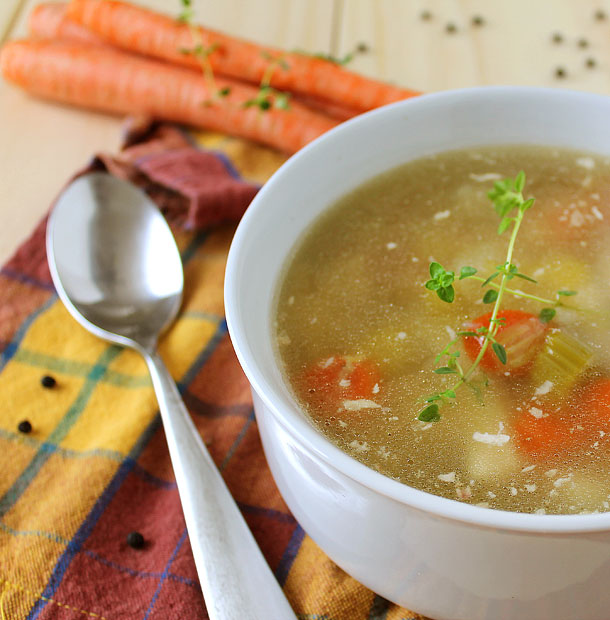 Good old fashioned chicken soup the way my mom makes it. This soup is a fun simple recipe that will keep your families hunger at bay and most likely knock them out within the next few hours of eating it. My mom always serves this when there is a crowd and its a really cold day.
1 whole chicken 4½ - 6 lb (preferably pasture raised)
2-3 quarts water
140g (about 3½ - 4 stalks) celery
84g (1/3 large) red onion
46g (1½ large) carrot
3 cloves garlic
2 sprigs of thyme
1-2 sprigs of rosemary
salt and pepper to taste
Clean and cut up whole chicken by seperating wings, breast, backbone, legs and thighs.
Remove skin from chicken breasts but keep skin on everything else.
Pour water into large stock pot enough to hold at least 4 quarts and place cut up chicken in water.
Turn burner on medium high heat.
Once water reaches boil turn to medium to medium low and simmer for about 10 minutes and then add onion, celery, garlic, salt and pepper to taste.
Simmer on medium low heat for 30 minutes, then add thyme and carrots.
Simmer on low for another 30 minutes.
Once meat falls off bones skim as much of the fat that has risen to the top( this is very important, if you don't do this you will have greasy textured soup)
Once you have skimmed as much fat off the top transfer chicken with a slotted spoon to a separate bowl to debone, once deboned, return chicken meat only, to the pot and add rosemary sprigs.
Simmer at low heat for 10-20 minutes
Serve with zucchini noodles or whatever other add-ins you like.
Recipe by
Slim Palate
at https://slimpalate.com/moms-chicken-soup/