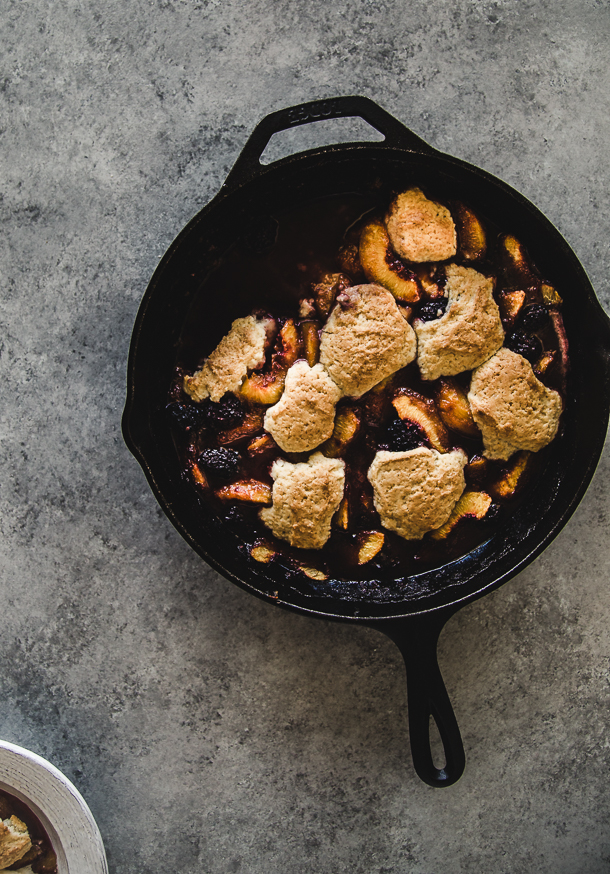 Filling:
2½ lbs peaches peeled (see video on how to peel them)
1 cup blackberries *optional*
6 tablespoons granulated sugar (cane or coconut)
juice of ½ a lemon
½ teaspoon cinnamon
small pinch salt
Biscuit Topper:
½ cup plus 2 tablespoons All purpose flour or cassava flour
3 tablespoons granulated sugar (cane or coconut)
1 teaspoon baking powder
¼ teaspoon salt
3 tablespoon butter, cold, cut into cubes
¼ cup milk plus 2 tablespoons
Preheat your oven to 350 degrees Fahrenheit.
Cut peaches into half inch slices.
In a medium bowl toss the peaches and blackberries(if using) with the lemon juice, cinnamon, granulated sugar for filling. Mix thoroughly.
Grease a cast iron skillet or baking pan with butter and add your fruit mixture to the pan. Bake for 10-15 minutes.
While that's baking go ahead and make your biscuit topper by whisking together your flour, sugar, baking powder, and salt together until incorporated. Add your cold cubed butter to the flour and blend it into the flour using your hand or a pastry blender to crush the flour and butter together until you get a crumbly looking mixture.
Once crumbly add the cold milk and mix together with a spoon until a loose sticky batter like dough comes together.
After your peaches have baked for 10-15 minutes, pull them out of the oven and drop tablespoon sized dollops of the biscuit dough directly on top of the peaches. Make sure to space them apart as they will spread a little bit.
Once you've used all of your mixture, add your cobbler back to the oven and bake again for another 40-45 minutes, until the biscuits are golden.
Pull from the oven and let cool slightly and serve big spoonfuls, juices and all. Add vanilla ice cream if you wish.