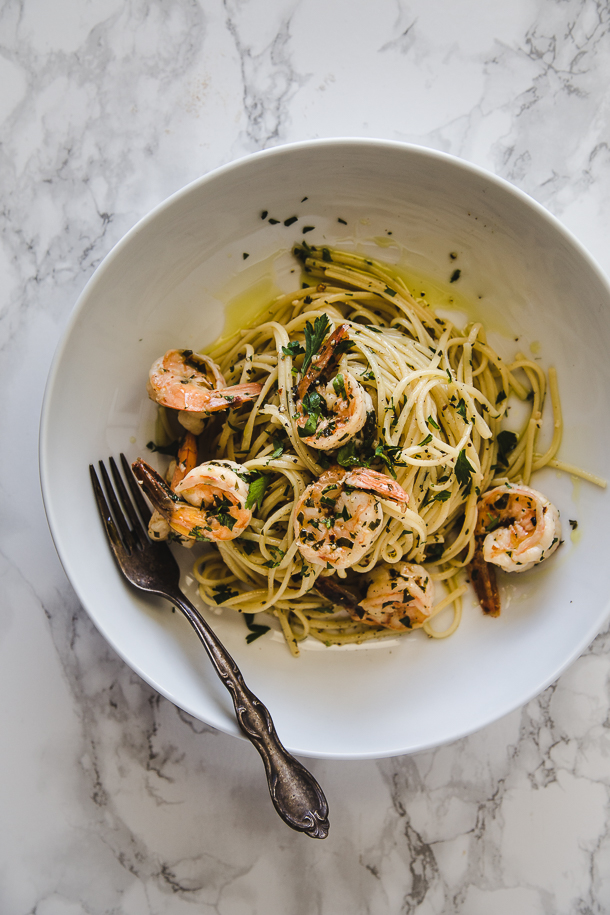 Cook time: 15 mins
Total time: 15 mins
1 pound shrimp peeled and deveined
2.5 tablespoons butter
1 tablespoon extra virgin olive oil
3 cloves garlic, peeled and minced
½ cup white wine such (don't use a sweet wine, only dry wines like chardonnay)
1 lemon of lemon juice
½ teaspoon red pepper flakes
¼ cup fresh chopped parsley
salt to taste
black pepper to taste
Extra virgin olive oil for drizzling
Heat butter and 1 tablespoon olive oil over medium heat until butter is completely melted and bubbling. Add garlic and red pepper flakes. Stir to incorporate, saute for about 30 seconds or until fragrant.
Increase heat to medium high and add white wine and lemon juice. Once it comes to a boil add the shrimp in an single even layer so that all the shrimp lie flat on one side. Keep heat the same and boil for 2-3 minutes, then flip all of the shrimp to their other side and cook for an additional minute.
Remove from the heat, season with salt and pepper to your taste, then add the fresh chopped parsley. Toss to distribute seasoning and chopped parsley evenly.
Serve with whatever you like! If serving with pasta, gluten free pasta, cook pasta according to package directions, drain, and add the pasta in with the shrimp scampi and toss to coat. Do the same with zucchini noodles, sauce the zucchini noodles until they're cooked through before tossing them with the shrimp scampi. Or you can just serve the shrimp scampi with veggies on the side or atop rice or potatoes. When serving garnish with chopped parsley and olive oil. Enjoy!