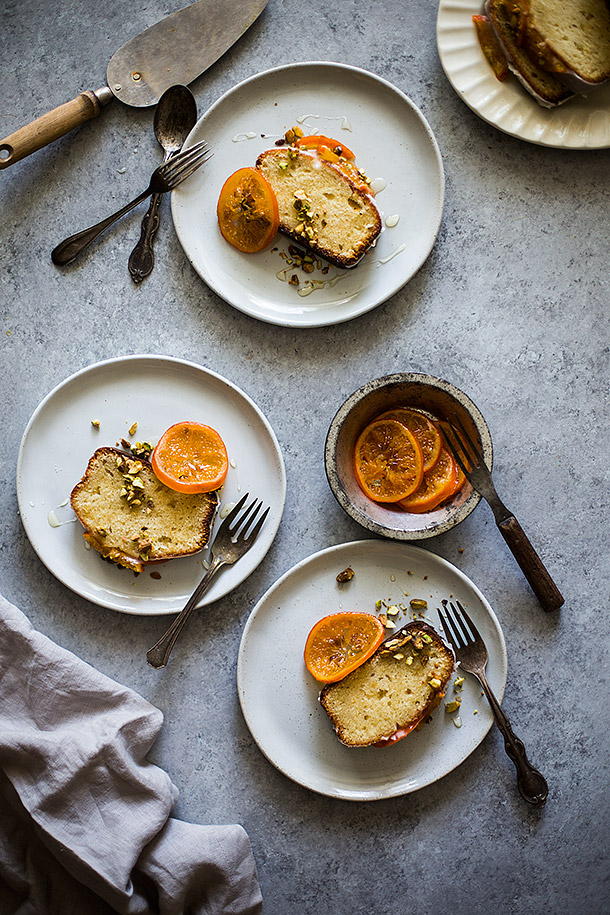 French Yogurt Almond Cake
Prep time: 15 mins
Cook time: 1 hour
Total time: 1 hour 15 mins
Cake
¾ cup full fat yogurt
1 cup all purpose flour or all purpose gluten free flour
1 cup cane sugar or coconut sugar
2 teaspoons baking powder
¾ cup almond flour or ground almonds
½ tablespoon lemon zest
½ tablespoon orange zest
½ cup melted coconut oil, plus extra not melted for greasing
2 eggs
1 teaspoon vanilla extract
¾ teaspoon fine sea salt
Sliced Candied Oranges (see recipe) *optional
Icing:
1 cup powdered sugar
whole milk or coconut milk
Preheat the oven to 350 degrees Fahrenheit. Grease a standard loaf pan with extra coconut oil and dust with flour; tap out any excess.
In a medium sized bowl whisk together the almond flour, all purpose flour, or gluten free all-purpose flour, baking powder, and salt, until combined.
In a large bowl add the sugar, lemon zest, and orange zest. With your hands, squeeze and rub together the citrus zest with the sugar until the sugar becomes slightly moistened and is fragrant. Add the eggs, yogurt, vanilla extract, and ½ cup of melted coconut oil to the sugar mixture. Whisk until well combined. Add the dry ingredients into the wet and fold it together until well combined and no clumps remain. You can whisk at this point if the clumps won't combine.
Pour the batter into the prepared loaf pan and bake in the oven for 50-60 minutes, until the top is golden brown and a toothpick comes out clean.
Take loaf out of the oven and leave it to cool in the loaf pan for 15 minutes. Carefully run a knife around the edges to loosen and pop out the loaf and place on a cooling rack until completely cool.
Optionally, In a medium sized bowl add the powdered sugar, and whisk with milk, drop by drop, until you get a slightly runny icing. Drizzle icing over the top of the loaf and decorate with candied oranges. Slice and serve immediately. Can be made 3 days ahead but I recommend holding off the icing until you are ready to serve.
Recipe by
Slim Palate
at https://slimpalate.com/french-yogurt-almond-cake/