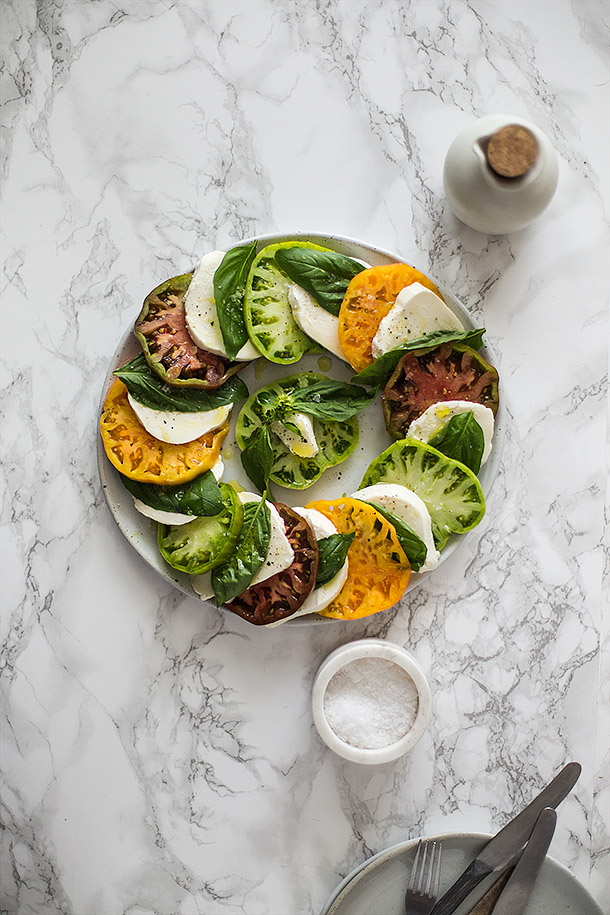 Prep time: 5 mins
Total time: 5 mins
4 medium-large Heirloom tomatoes (any color)
2, 8-ounce balls of fresh mozzarella
2 bunches of fresh basil (10-15 basil leaves)
flakey sea salt to taste
extra virgin olive oil for drizzling
fresh cracked pepper to taste
Slice the tomatoes and mozzarella into ½ inch rounds.
Pick the leaves off of the basil stalk so that you leave the whole leaf intact.
Place a round of mozzarella on a large plate, followed by a basil leaf, and then layer a tomato on top so that the tomato is leaning up against the mozzarella to reveal some of the basil, and some of the cheese. Repeat the process alternating cheese, basil, tomato, all the way around the plate until it connects like you see in the photo. You can do this either around the rim of the plate like I have or you can do it in a straight line on a serving tray, it's totally up to you.
Drizzle generously with a good quality extra virgin olive oil, sprinkle with flakey sea salt, and crack some fresh black pepper on top.
Serve immediately or refrigerate and serve later in the day.