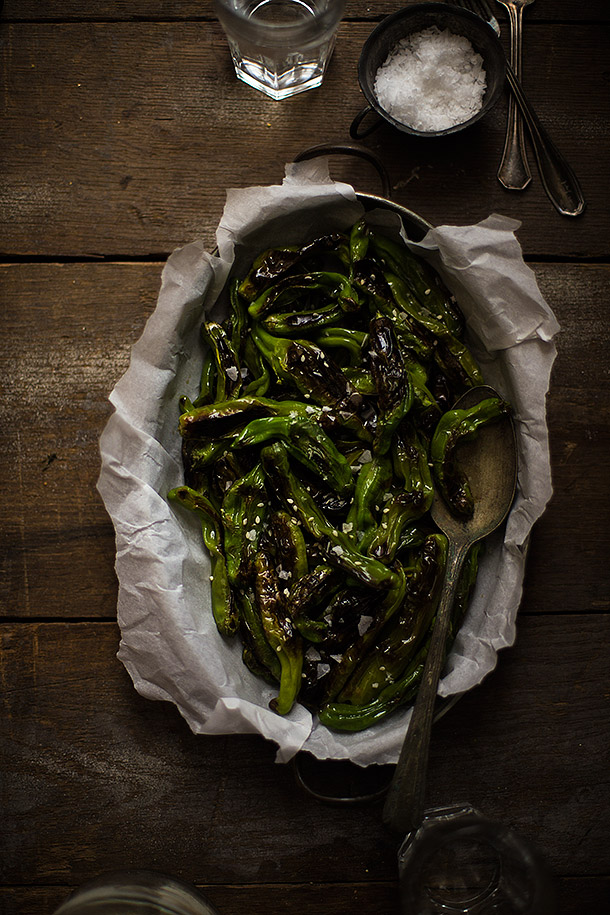 Prep time: 1 min
Cook time: 6 mins
Total time: 7 mins
A quick and easy recipe for charred shishito peppers. A wonderful starter or hors d'oeuvre for a group of people to share.
2 cups shishito peppers washed and patted dry
2 tablespoons bacon fat or ghee (clarified butter)
flakey sea salt for seasoning
sesame seeds for seasoning
Heat the bacon fat or ghee in a large cast iron skillet over medium high heat until very hot.
Add the whole shishito peppers so they lay in an even layer without much crowding. Sear them for 2-3 minutes and then shake the pan and flip them over so most of the charred sides face up. Sear them for another 2-3 minutes until nicely browned.
Place the cooked shishito peppers in a serving dish and season generously with flakey salt and lightly with sesame seeds.
Serve immediately.
Yep, that easy. You're welcome to use more or less shishito peppers depending on how many people you are serving. If you use more then just be sure to make them in batches to avoid overcrowding the pan.
Recipe by
Slim Palate
at https://slimpalate.com/charred-shishito-peppers/