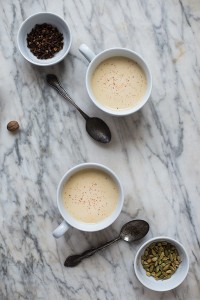 Prep time: 3 mins
Cook time: 21 mins
Total time: 24 mins
4 cups raw milk or 2 cups coconut milk and 2 cups unsweetened and unflavored almond milk
1 cinnamon stick
4 cloves
1 star anise
1½ inch knob ginger peeled and sliced into ¼ inch slices
1 teaspoon cardamom pods
1 tablespoon plus 1 teaspoon loose leaf black tea
¼ cup honey (this is optional and can also be reduced if you'd like it less sweet)
½ vanilla bean scraped of beans
2, 1½ - inch pieces of orange peel
nutmeg for grating
Add the milk or coconut milk and almond milk to a medium sized sauce pot and bring to simmer.
Add all of the ingredients except for the nutmeg.
Stir and allow to simmer for a minute. Turn off the heat and let steep for 20 minutes.
Strain the tea with a mesh strainer into a teapot or something that will allow you to pour it easily. Press the remaining ingredients against the strainer with the back of a spoon to squeeze any remaining liquid out of it.
Serve the tea with a light grating of fresh nutmeg over the top of each serving. You can also refrigerate it and reheat it or serve it cold. If serving cold just serve it in glasses with ice and grate fresh nutmeg over the top.