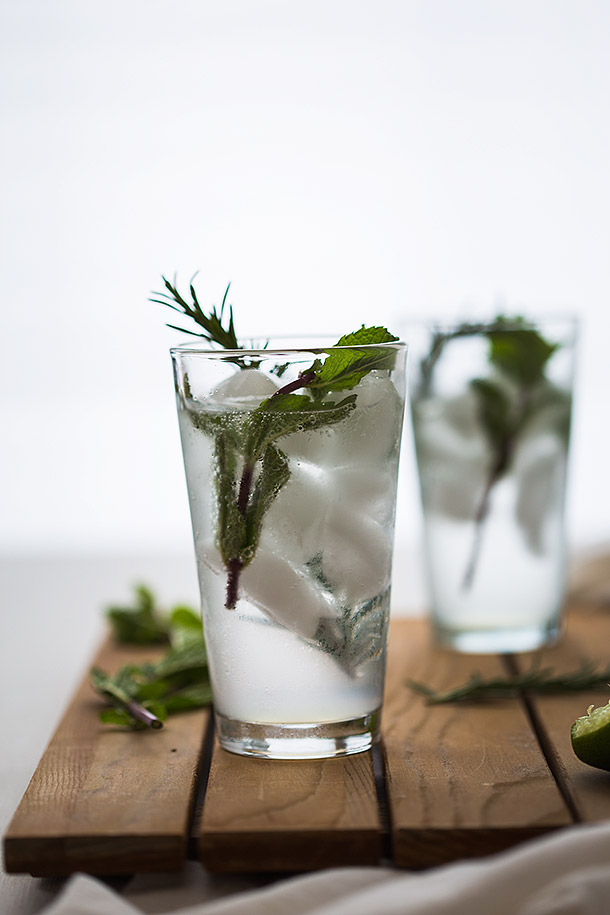 Prep time: 7 mins
Total time: 7 mins
An easy recipe for a refreshing and fragrant spring drink.
25 oz. bottle mineral water (soda water)
4 sprigs rosemary
4 sprigs mint
1 lime cut into 4 wedges
*optional* 2 tablespoons maple syrup
In four large glasses squeeze 1 wedge of lime into the bottom each glass. Add ½ tablespoon of maple syrup if using along with the lime and stir together.
Add desired amount of ice, I usually add about ½ way up the glass. Lightly bruise the herbs but leaving them in tact but squeezing them in your hands or battering them with the heel of your hand. Stick 1 sprig of rosemary and 1 sprig of mint into each glass.
Pour the mineral water into each glass and allow to sit for about 30 seconds to let the herbs steep and serve immediately.
If you're using maple syrup I do want to let you know that this soda isn't incredibly sweet. It's just a slight sweetness that I've given it. You can always add more. I would recommend about 1 or 1½ tablespoons per glass if you want it sweeter.
Recipe by
Slim Palate
at https://slimpalate.com/rosemary-mint-soda/