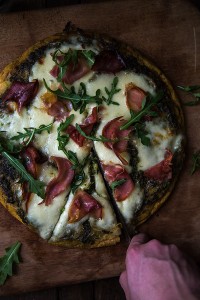 Prep time: 30 mins
Cook time: 35 mins
Total time: 1 hour 5 mins
Pesto:
2 cups packed fresh basil leaves
½ cup extra virgin olive oil
4 cloves garlic, peeled
⅓ cup walnuts or sunflower seeds for nut free
½ teaspoon salt
Crust:
2½ cups tapioca starch, divided
⅓ cup coconut flour
1 teaspoon baking soda
1½ teaspoons cream of tartar
1 teaspoon salt
4 large eggs, beaten
¼ cup filtered water
3 tablespoons coconut oil, melted
Toppings:
*Optional* 8 oz fresh mozzarella (also known as buffalo mozzarella) *see notes
3 slices prosciutto, torn apart
¼ cup baby arugula
Assemble the pesto by first grinding the garlic and walnuts or sunflower seeds in a food processor until smooth. Then add the basil, salt, and blend until you get a smooth paste. If your food processor has a spout opening slowly drizzle in the olive oil as you blend it until it's completely incorporated. If it doesn't have a spout then just add all the olive oil and blend it until smooth, scraping down the sides to make sure all the olive oil is in the pesto. Preheat your oven to 350 degrees fahrenheit and line a baking sheet with parchment paper.
In a medium sized mixing bowl, place 2 cups of the tapioca starch, coconut flour, baking soda, cream of tartar, and salt. Stir the dry ingredients with a spoon until combined.
Create a small hole in the center of the flour mixture and pour the eggs into the hole. Pour in the water and slowly blend the eggs and water in to the flour. Add the melted coconut oil and blend again until the mixture starts to come together and resemble a dough.
Add the remaining ½ cup of tapioca starch and, using your hands, knead the starch into the dough. This will create the real dough texture you are looking for. Form the dough into a ball and place it on the parchment lined baking sheet. Carefully form the dough into a pizza shaped curst by pressing outward in a circle with your hands. Massage a bit of the coconut oil onto your hands will keep a nice smooth surface on the dough. Keep working until you have the shape you want; it should be about ⅜ inch thick, with slightly thicker edges.
Bake the crust for 20 minutes, until it is cooked through. Remove from the oven and increase the oven temperature to 450 degrees fahrenheit.
Cover the curst with a thin layer of the pesto (store the rest in the fridge in a mason jar or a container with a tight fitting lid), mozzarella, and prosciutto, in that order. Place into the 450 degree oven for 10 minutes, or 15 minutes if using mozzarella. Once it's done cooking top it with the baby arugula and serve.
The mozzarella is entirely optional, you can make this dairy free by not adding this component. My opinion is that it's necessary to have the cheese since this is a pizza but if you can't have it then it will still be delicious.
Recipe by
Slim Palate
at https://slimpalate.com/paleo-pesto-and-prosciutto-pizza/