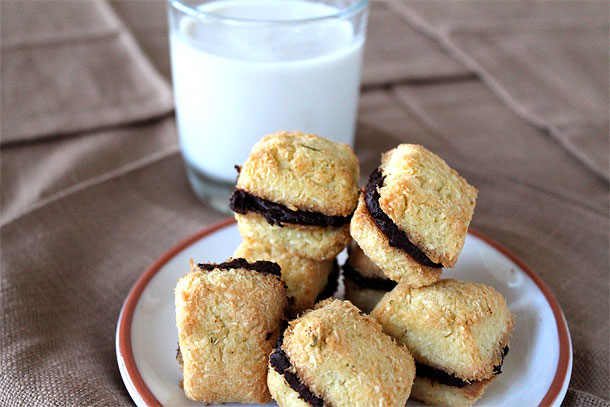 Chocolate Ganache stuffed Coconut Lime Macaroons
Prep time: 10 mins
Cook time: 20 mins
Total time: 30 mins
Smooth dark chocolate ganache sandwiched in between two chewy, crumbly coconut lime infused macaroons.
Coconut lime Macaroons
1 cup coconut shredded
½ cup almond flour(could use coconut flour but you would probably have to double the amount of eggs and I cannot vouche for any use of coconut flour and having the same consistency. I used almond flour to add butteryness to the macaroons)
30-40 Drops stevia(equal to about half of a teaspoon of liquid stevia)
2 tablespoons coconut oil melted
1 teaspoon lime zest
1 teaspoon lime juice
2 eggs
pinch of salt
Chocolate Ganache
¼ cup coconut oil melted
½ cup cocoa powder
½ teaspoon vanilla extract
stevia to taste(I used 40 drops of Sweetleaf Steviaclear Stevia drops)
2 Tablespoons of cold water
Coconut Lime Macaroons
Preheat oven to 350 degrees.
In a medium sized bowl combine shredded coconut, almond flour, lime zest, salt and combine.
In a small bowl combine eggs melted coconut oil, and lime juice and mix lightly.
Pour wet into dry and mix until thourougly combined.
Form into any shape you like (just make sure they aren't too thick) on a parchment lined baking sheet.
Place in preheated oven for 15-20 mins or until they are slightly browned. (while they are baking you can start making the ganache to save time)
Place on cooling rack and allow to cool for at least 10 minutes before assembling.
Chocolate Ganache
Combine melted coconut oil, cocoa powder, vanilla, and Stevia in a small bowl and mix until thoroughly combined.
Now here's where the magic happens, once fully mixed and there are no clumps add the cold water and mix.
Your mixture should thicken after mixing for a little and you should have a very thick and smooth ganache ready for spreading on the macaroons.
Assembly
This part is fairly simple. Once the macaroons have cooled and your ganache is ready simply divide the ganache among half of the macaroons. Use the other half to sandwich on top of the ganache covered macaroons and voila! You may have a macaroon left over due to an uneven number of macaroons but all the more reason to taste test right then.
I highly suggest you make the macaroons slightly thinner than those in the picture. They will be much easier to eat, have a better consistency and they will make slightly more sandwiches.
Recipe by
Slim Palate
at https://slimpalate.com/chocolate-ganache-stuffed-coconut-lime-macaroons/