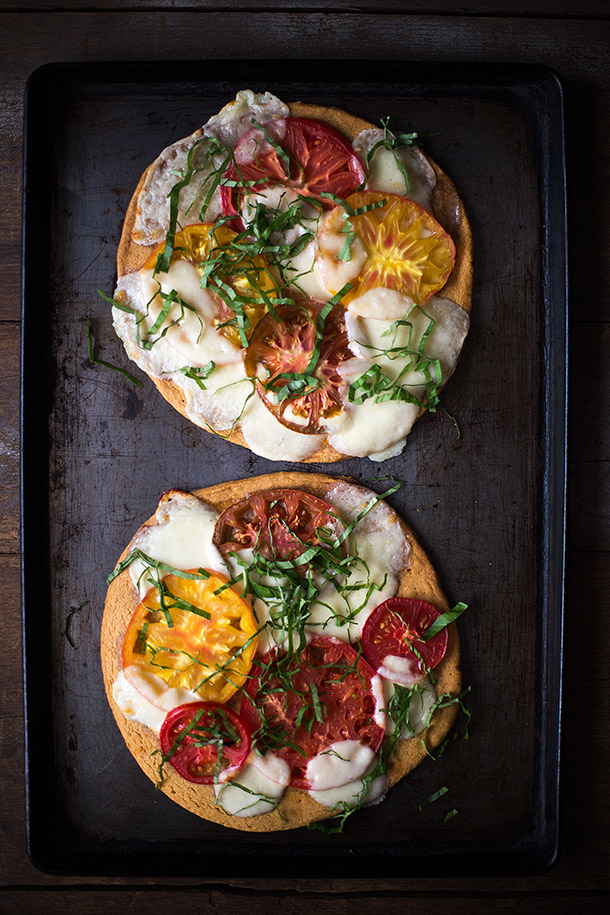 Heirloom Tomato Pizza Margherita
Prep time: 10 mins
Cook time: 35 mins
Total time: 45 mins
2-3 medium heirloom tomatoes sliced ½ inch thick slices
8 ounces fresh mozzarella sliced ¼ inch thick slices (buffalo is the same thing practically)
6 large basil leaves
For the crust:
1½ cups arrowroot starch/powder/flour
½ cup coconut flour
½ cups melted ghee
3 eggs
2 tablespoons warm water
½ teaspoon salt
½ teaspoon baking soda
extra virgin olive oil for drizzling
Preheat the oven to 400 degrees Fahrenheit. Line 2 large baking sheets with parchment paper (or 1 if you only have one, I'll explain what to do if that's the case later in the recipe)
In a stand mixer or food processor combine all the ingredients and mix for about 15 seconds, until a loose dough forms. Stop mixing and let sit for 5 minutes, then mix again until a ball of dough forms. If a ball of dough never forms but the mixture is completely incorporated and thoroughly mixed then it's ready. Take half the dough and place it on a sheet of parchment paper and carefully shape into a ball, place another sheet of parchment paper and roll into a circle with a rolling pin until it's a little under ¼ of an inch thick. Repeat this process with the remaining dough with new sheet of parchment.
Carefully remove the top parchment paper from the dough, then cut the parchment around the dough so that you have a circle of parchment paper about an inch larger than the circumference of the dough. Do this with both crusts.
Place the crusts on the parchment lined baking sheets (only 1 per baking sheet), if you only have one baking sheet then you will have to do 2 batches of the pizza. Bake the crust for 15 minutes then remove and allow to cool for 10 minutes.
Increase the oven heat to 450 degrees fahrenheit. Scatter the tomato and mozzarella all around the crust overlapping some tomatoes with cheese and place back into the oven for 10 minutes. Stack the basil leaves on top of each other and roll like a cigar and slice thin to get ribbons. Garnish the finished pizzas with basil evenly, drizzle with a little bit of olive oil, then serve immediately.
Recipe by
Slim Palate
at https://slimpalate.com/heirloom-tomato-pizza-margherita/