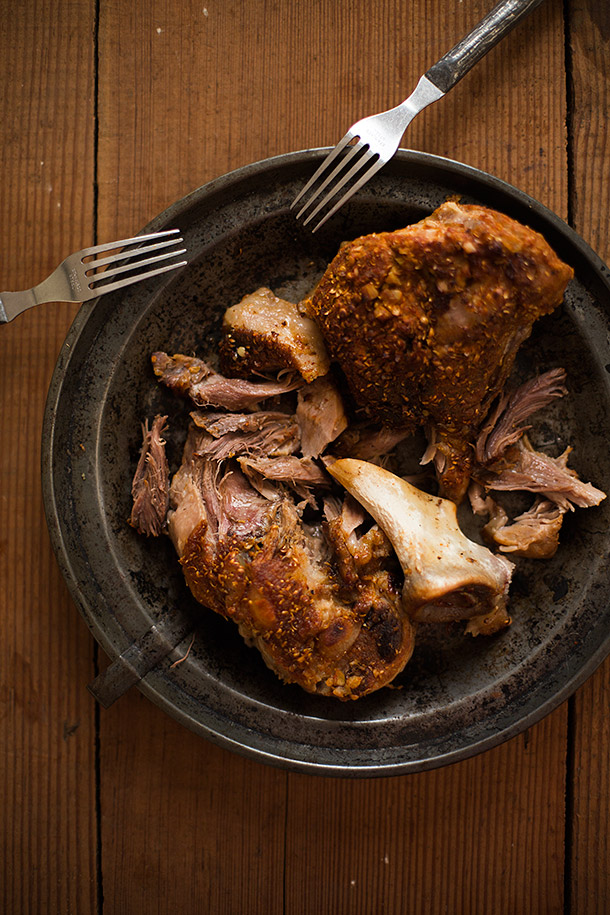 Yuzu Braised Pulled Pork with Coriander
Prep time: 10 mins
Cook time: 3 hours
Total time: 3 hours 10 mins
3-4 pound bone in pork shoulder roast or boston butt
¼ cup yuzu juice (if you don't have yuzu juice you can substitute lime or lemon juice if you like and it will still be good)
½ cup unseasoned rice vinegar or white wine vinegar (make sure to get unseasoned rice vinegar to make sure it doesn't have any additives like sugar)
½ cup water
1 teaspoon fish sauce
1 tablespoon mirin (look for additive free miring like this one)
Spice Rub:
1 tablespoon coriander seeds
2 teaspoons paprika
¼ teaspoon salt
¼ teaspoon black pepper
4 cloves garlic minced
small pinch of nutmeg
Pour the coriander seeds into a small dry pan over medium heat and toast, shaking the pan frequently to prevent burning for about 3 mins or until fragrant. Place the toasted coriander seeds into a spice grinder or mortar and pestle, and grind until it's only slightly coarse and mostly ground.
Mix all of the ingredients in the spice rub including the now toasted and ground coriander in a small bowl until thoroughly incorporated. Rub the spice rub all over the pork roast and refrigerate over night if you have the chance. (the overnight refrigeration is not necessary but does add a far deeper penetration of flavor in the final product).
Preheat the oven to 300 degrees. In a large dutch oven or heavy bottomed pot with a tight fitting lid add the yuzu juice (or lemon or lime juice), rice vinegar or white wine vinegar, water, fish sauce, and mirin. Place the pork roast into the braising liquid and cover with a tight fitting lid and place into the preheated oven.
Let cook for 3 hours, then carefully remove the lid from the roast and broil it for 3-4 minutes or until the outside begins to turn slightly golden brown. Remove the pot from the oven and take the pork roast out of the pot and place it on a cutting board tented with foil. Slightly defat the braising liquid and bring it to a boil. Boil and reduce the liquid begins to thicken and until only about ⅓ of a cup of it remains.
Shred the pork into chunks with two forks and toss in the reduced braising liquid and serve.
Recipe by
Slim Palate
at https://slimpalate.com/yuzu-braised-pulled-pork-with-coriander/