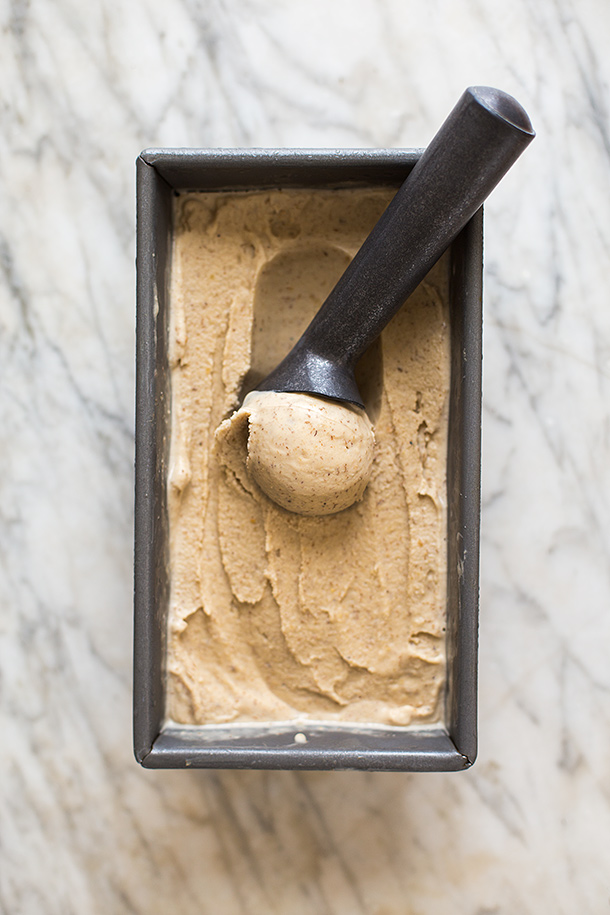 Caramelized Banana Hazelnut Ice Cream
Rich, and creamy caramelized banana ice cream with a touch of toasted hazelnut that's egg free and has a dairy free option. Adapted from
Dairy-Free Ice Cream
by Kelly Brozyna.
2 ripe bananas at room temperature
2 tablespoons of butter, ghee, or coconut oil (best with butter or ghee but can be made dairy-free with coconut oil
⅓ cup coconut sugar finely ground in a spice grinder or food processor
1 can full fat coconut milk
2 tablespoons of water
1 cup almond milk, cashew milk, or hazelnut milk
2 teaspoons vanilla extract
2 teaspoons lemon juice
½ cup of hazelnuts
pinch of sea salt
Peel bananas and cut them into ½ inch slices. Heat a medium sized pan with 2 tablespoons of butter, ghee, or coconut oil over medium heat. Once hot add all of the bananas in a single layer in the pan and let cook for 3 minutes undisturbed. Flip them and caramelized for another 3 minutes.
Carefully remove the caramelized bananas from the pan and transfer them to a blender. Add 2 tablespoons of water to the pan while scraping the bottom of the pan with a wooden spoon to remove any stuck bits. Pour water with browned bits into the blender.
In a small skillet toast hazelnuts shaking the pan often to avoid burning over medium heat for 5-8 minutes or until skin is easily peeling off and hazelnuts are lightly browned in some spots and the nuts become fragrant. Transfer the nuts to a dishtowel and vigorously rub off the skins. Place the now skinned and toasted hazelnuts in a food processor and process, scraping on the sides occasionally, until you get a nut butter consistency.
In the blender add the coconut milk, coconut sugar, and blend until smooth. Then add your choice of milk, vanilla extract, lemon juice, and sea salt, and puree until completely smooth. Transfer the ice cream mixture to a bowl and refrigerate for at least 4 hours or overnight.
Once the mixture is thoroughly chilled churn in your ice cream mixer according to your manufacturers directions and add the toasted hazelnut butter as soon as the ice cream begins to thicken a lot in the ice cream maker.
Recipe by
Slim Palate
at https://slimpalate.com/caramelized-banana-hazelnut-ice-cream/