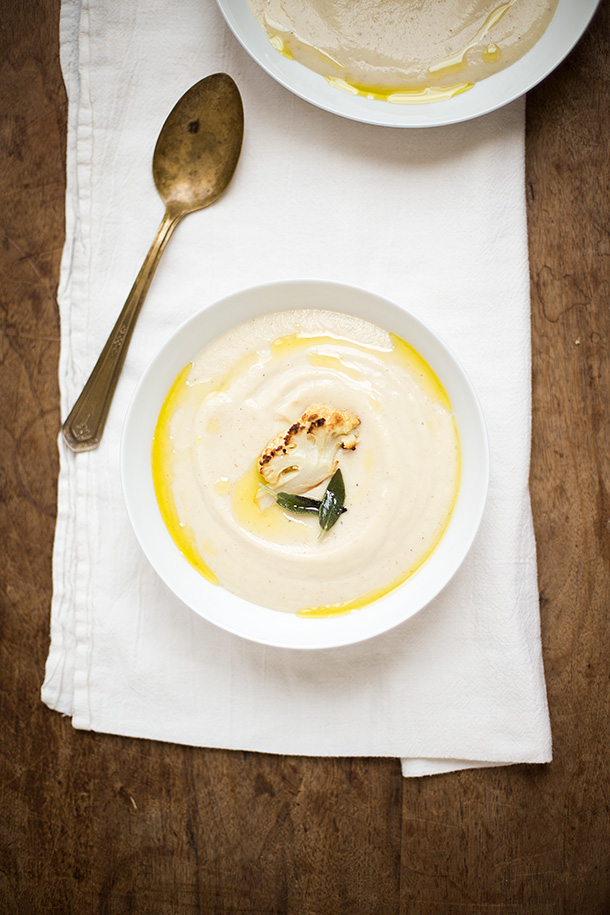 Roasted Cauliflower Soup with Fried Sage
Prep time: 20 mins
Cook time: 1 hour 5 mins
Total time: 1 hour 25 mins
Large Head of Cauliflower cut into florets
5 tablespoons of ghee or fat of choice, melted and divided (can be made dairy free with lard or coconut oil)
1 large yellow onion thinly sliced
4 cloves of garlic peeled and thinly sliced
3 cups chicken stock
1 can full fat coconut milk
salt and pepper to taste
For Fried Sage (optional but worth the small amount of extra work):
1 bunch of sage leaves separated
¼ cup of lard, ghee or high heat cooking fat
Preheat the oven to 425 degrees fahrenheit. In a large bowl add cauliflower florets and pour over 3 tablespoons of the melted ghee or fat of choice, season with salt and pepper, and toss well to coat with fat. Spread cauliflower onto a large baking sheet to form a single layer and place into the oven for 45-50 minutes or until cauliflower florets are golden browned on the edges and tender.
If making the fried sage go ahead and start making it while the cauliflower is roasting in the oven by heating the lard, ghee, or high heat cooking fat of choice in a small skillet over medium heat until hot and add sage (3-4 leaves at a time) and let fry for 4-5 seconds and place on a paper towel to drain, season with salt. Once you're finished you can store the frying fat that you used to fry the sage to re-use later (it's sage infused now!).
Once the cauliflower is finished (you can save 4 small roasted florets for garnishing) heat remaining 2 tablespoons of ghee in a large pot or dutch oven and add onions and garlic and sauté for 3-4 minutes or until onions begin to soften, add roasted cauliflower, chicken stock and season with salt and pepper. Bring to a boil then reduce heat to low and simmer for 15 minutes, stirring occasionally.
Remove from the heat and stir in coconut milk then carefully add all of the contents in the pot to a blender as to avoid splashing. Blend until smooth and serve garnished with fried sage leaves and a roasted cauliflower floret if you saved one.
Recipe by
Slim Palate
at https://slimpalate.com/roasted-cauliflower-soup-with-fried-sage/