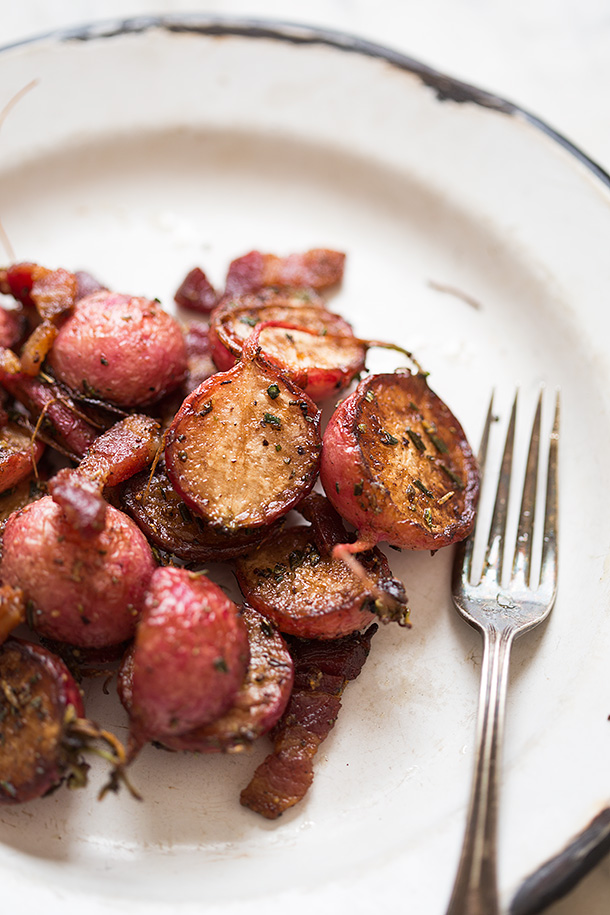 Sautéed Radishes With Bacon And Rosemary
Prep time: 5 mins
Cook time: 15 mins
Total time: 20 mins
An easy and unique recipe for crispy on the outside and tender on the inside radishes with briny and smokey bacon. Recipe adapted from
Bon Appetit
.
2 bunches radishes stems removed and sliced in half
5 ounces of bacon chopped into ½ inch thick slices
1 tablespoon chopped rosemary
2 garlic cloves peeled
salt and pepper to taste
optional balsamic vinegar for finishing
In a medium sized skilled cook bacon on medium heat while stirring often until most of the fat has rendered out and it starts to become crispy. Carefully remove the bacon leaving as much bacon fat in the pan as possible.
Increase the heat to medium high heat and add radishes to the pan and season with salt and pepper while trying to have as many of them cut side down as possible for 3-4 minutes. Toss the radishes and add rosemary continue cooking for 8-10 more minutes while alternating from medium high and medium heat to prevent excessive smoking until the radishes are easily pierced with a fork.
Reduce heat to medium, garlic cloves over radishes and toss once more and allow to cook for about 1 more minute, then serve with a drizzle of balsamic vinegar if using.
Recipe by
Slim Palate
at https://slimpalate.com/sauteed-radishes-with-bacon-and-rosemary/